29 August 2020
WB14 limousine tender
The new WB14 limousine tender by Wooden Boats in Viareggio combines classic styling with advanced composites for good looks and high performance
Combining composite materials and latest generation technologies with classic lines. This were the guidelines for the creation of the WB14 limo tender, the latest custom model launched by the Wooden Boats shipyard for a premium Italian shipyard.
Wooden Boats was set up in 2012 by Marco Arnaboldi (Studio Arnaboldi) based on his experience as former director of AB Yachts, which he founded in 1992 with his father to apply the cutting-edge technology of waterjets and sandwich construction to fast yachts.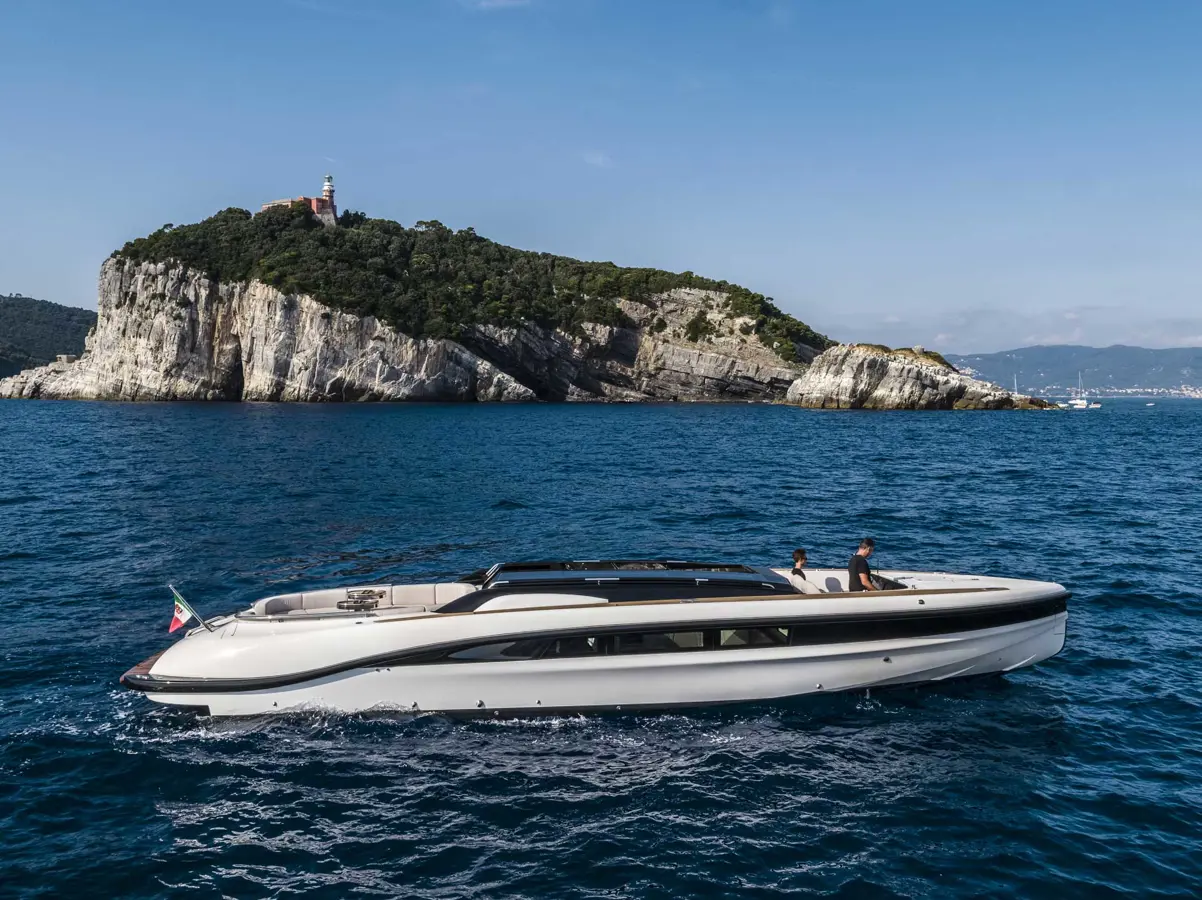 WB14 limo tender. Photo: Copyright © Wooden Boats.
This Italian shipyard has collaborated with leading Italian brands such as Benetti, Sanlorenzo, Pershing, Baglietto and Rossinavi and has designed, engineered and built 18 unique custom tenders in less than eight years. It has also worked with top designer names including Giorgio Cassetta, Guido de Groot, Marco Casali and Achille Salvagni.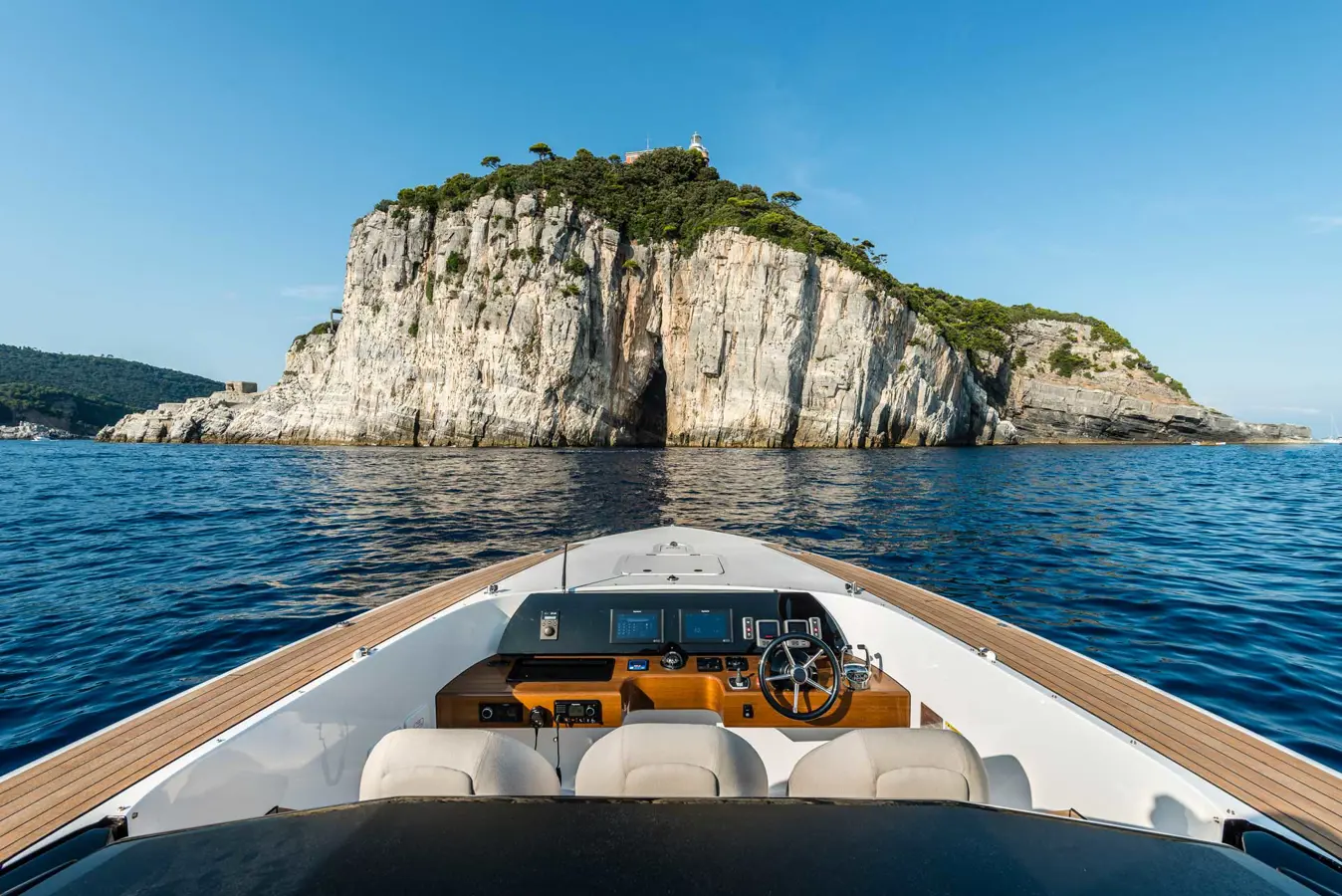 WB14 limo tender. Photo: Copyright © Wooden Boats.
Although Arnaboldi's original mission was to combine wood – the most noble of boatbuilding materials that has outstanding mechanical properties – with advanced carbon composites, Wooden Boats also specialises in construction using advanced composites alone. For example, the WB14 limo tender is built of carbon fibre using vacuum resin infusion for a weight of just over 7 tonnes and a top speed of 40 knots with relatively modest 370-hp engines.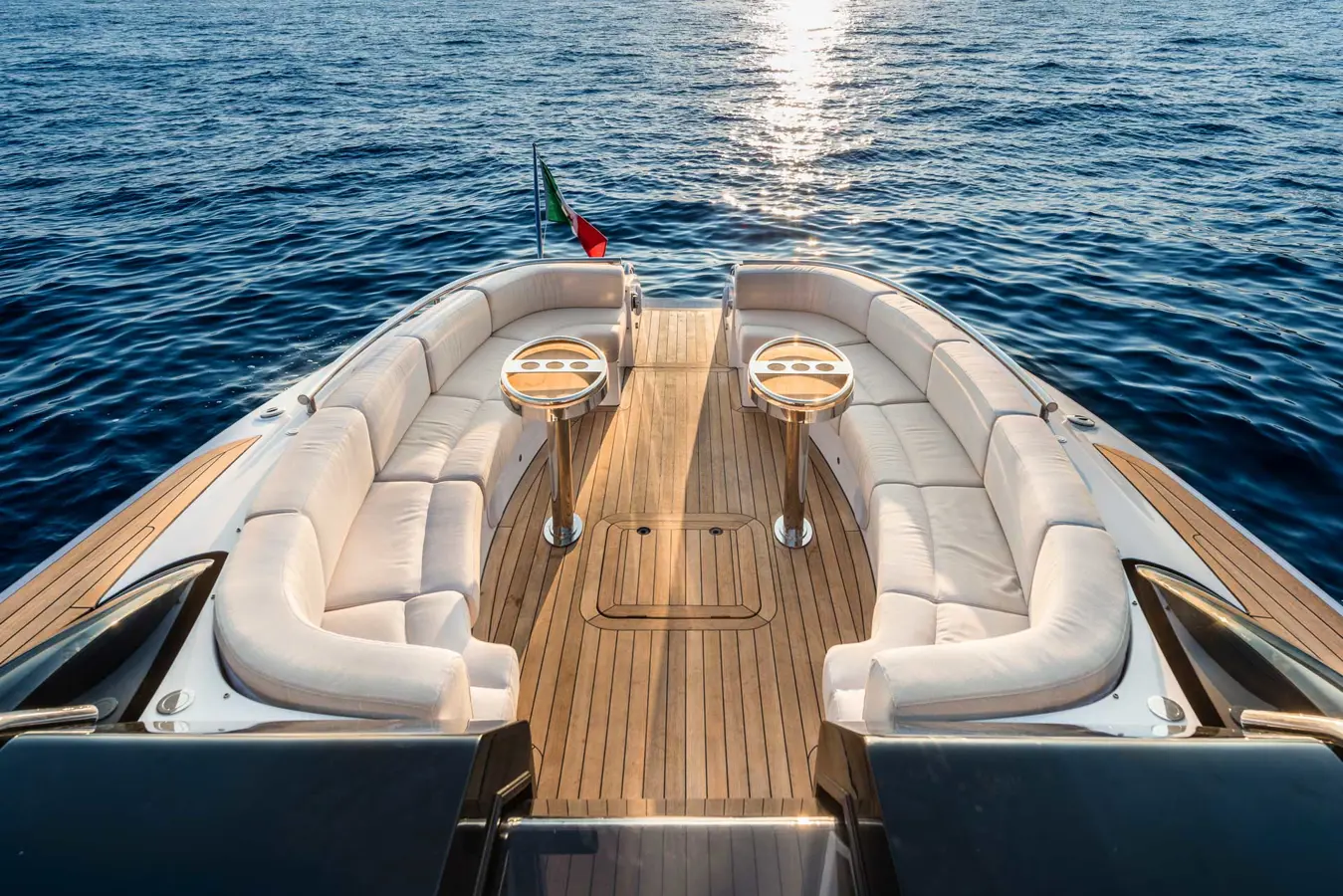 WB14 limo tender. Photo: Copyright © Wooden Boats.
Inspired by traditional Venetian taxi boats. The sleek, low-slung exterior styling of the WB14, designed by Giorgio Cassetta, with its forward helm station and aft guest cockpit is typical of traditional Venetian taxi boats, with two generous sofas to fully enjoy the navigation. The interior design is also by Giorgio Cassetta.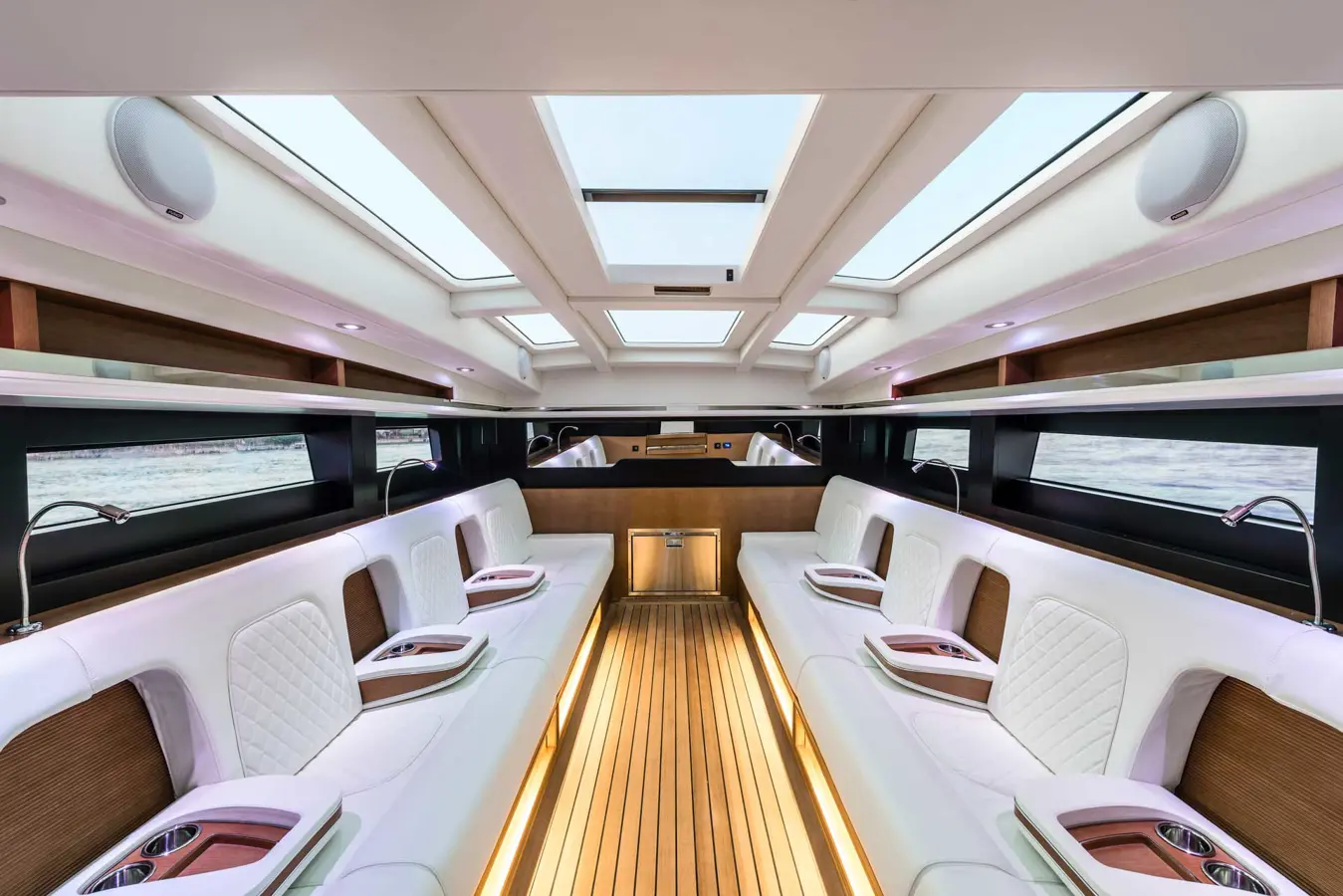 WB14 limo tender. Photo: Copyright © Wooden Boats.
The sunken deckhouse is accessed via four steps and provides comfortable seating for up to 14 guests in the teak-lined, leather-upholstered and fully air-conditioned interior. The sightlines when seated are at the same height as the side windows and sliding glass skylights ensure plenty of natural light and ventilation flood the interior, allowing guests to feel in direct contact with the surrounding environment. LED lights mean that various lighting scenarios can be selected and smart details include the fold-down seat backs with glass holders.
Last but not least, a very topical issue today, the automatic sanitization by means of an ozone system produced by Proteasrl, another family company. This special system ensures automatic sanitization on board after each use.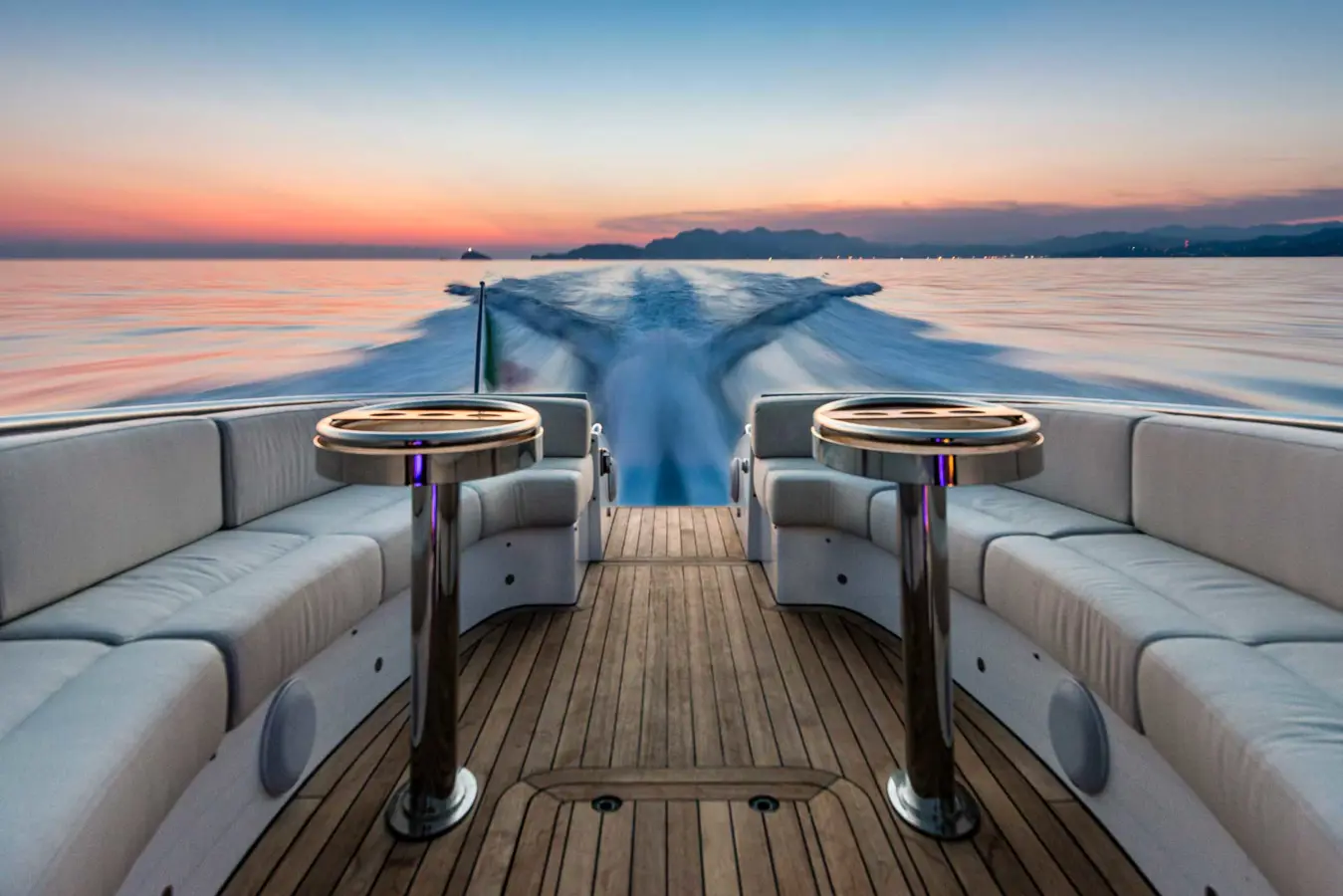 WB14 limo tender. Photo: Copyright © Wooden Boats.
One technical aspect that Arnaboldi is particularly proud of is the patented launch and retrieval system that has been built into the tender. Furthermore, the entire superstructure can be lowered to adapt to the height of the garage of two metres, and then be raised to ensure the average internal height during use.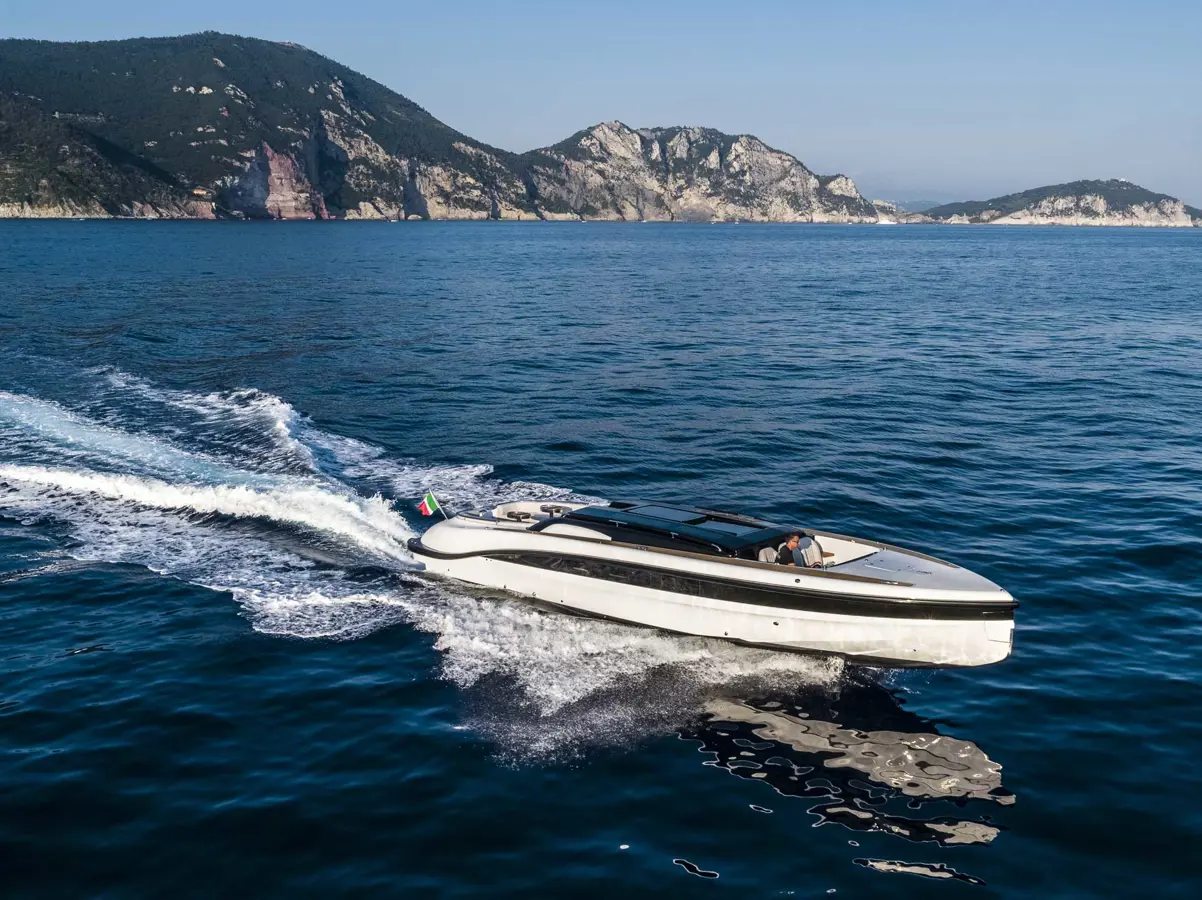 WB14 limo tender. Photo: Copyright © Wooden Boats.
"Tender operations can be tricky for the crew when conditions are less than ideal," says Arnaboldi. "So we engineered three self-winding winches, two aft and one forward, into the design. All the crew have to do is hook on the crane cables and then use the synched remote controls to safely winch the tender up to the right height and the gantry crane retracts into the side-loading garage on the mothership."
Wooden Boats is a natural extension of the studio's innovative approach to yacht building and aims to combine elegant design with efficient engineering and outstanding performance.
Edited by Maria River
Text source: © Wooden Boats Press Office
Photos: Copyright © Wooden Boats
All rights reserved. Reproduction prohibited.
Copyright © Sisterscom.com

AVION LUXURY MAGAZINE
in digital version
DESTINATIONS Aruba, un viaggio ai Caraibi. HOTELS Un Bvlgari Hotel a Roma. JETS La serie Phenom 300 di Embraer - La cabina Executive di Bombardier. CARS Bugatti Chiron Profilée -1000 Miglia Experience UAE.
YACHTS Grande 26M di Azimut - Nautica e benessere con Arcadia. WATCHES Planetarium Dunes of Mars Limited Edition.