30 July 2019
Wally brightens up the Mediterranean summer
The iconic brand, part of Ferretti Group, teams up with Phi Beach in Costa Smeralda, Sardinia
Wally partners with the chic Mediterranean venue by providing a Wallytender to serve as an exclusive concierge boat for the summer season.
Sardinia is a hugely popular cruising destination for owners of Wally yachts, both sail and power. With this in mind, the brand has teamed up with one of the region's most exclusive party venues: Phi Beach on Sardinia's stunning Costa Smeralda attracts yacht owners, UHNWIs and high-end holidaymakers from all over the world each summer.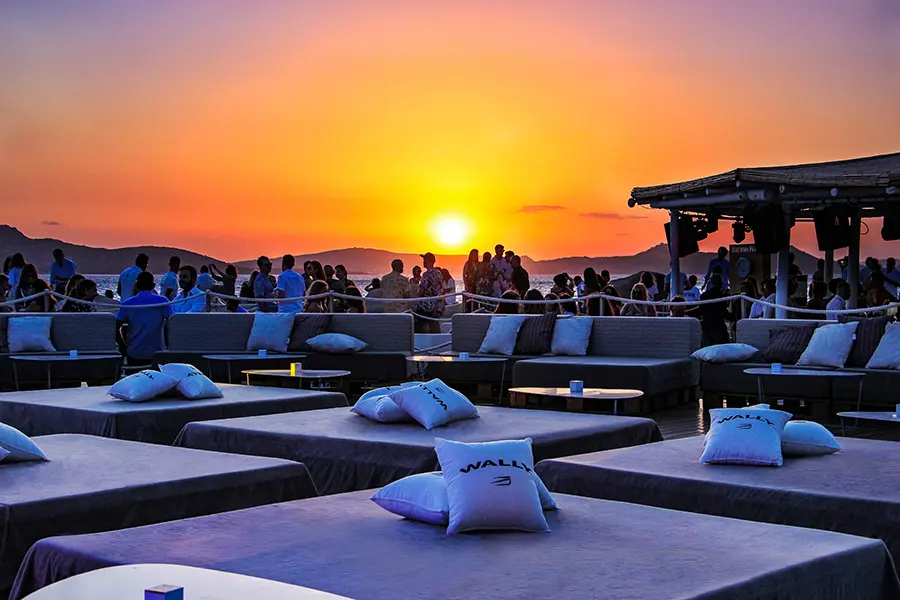 Wally, part of the Ferretti Group the most successful conglomerate of the yachting industry, has partnered with the Mediterranean venue, one of Europe's top summer venues, by making a Wallytender available for the cruising season to serve as an exclusive concierge boat for transferring VIPs to the club from locations such as Porto Cervo and the islands of the archipelago of La Maddalena.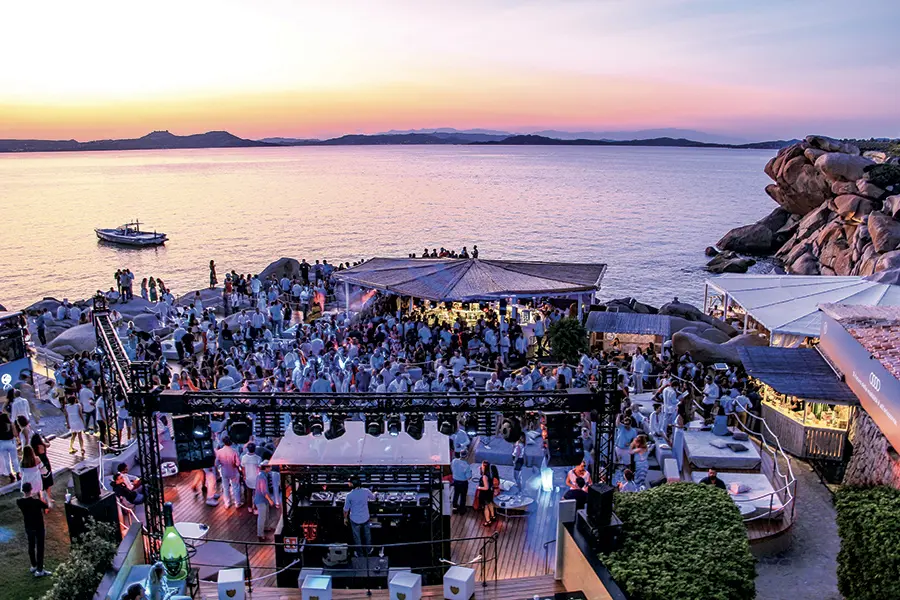 "Wally is the perfect yachting partner for Phi Beach in terms of both brand image and client base," says Stefano de Vivo, CCO of Ferretti Group and Managing Director of Wally. "I don't think you'll find a yacht owner in the Costa Smeralda who's not visited the venue at least once. Intimate, exclusive and impressive, it's a magical place that rocks in the summer!"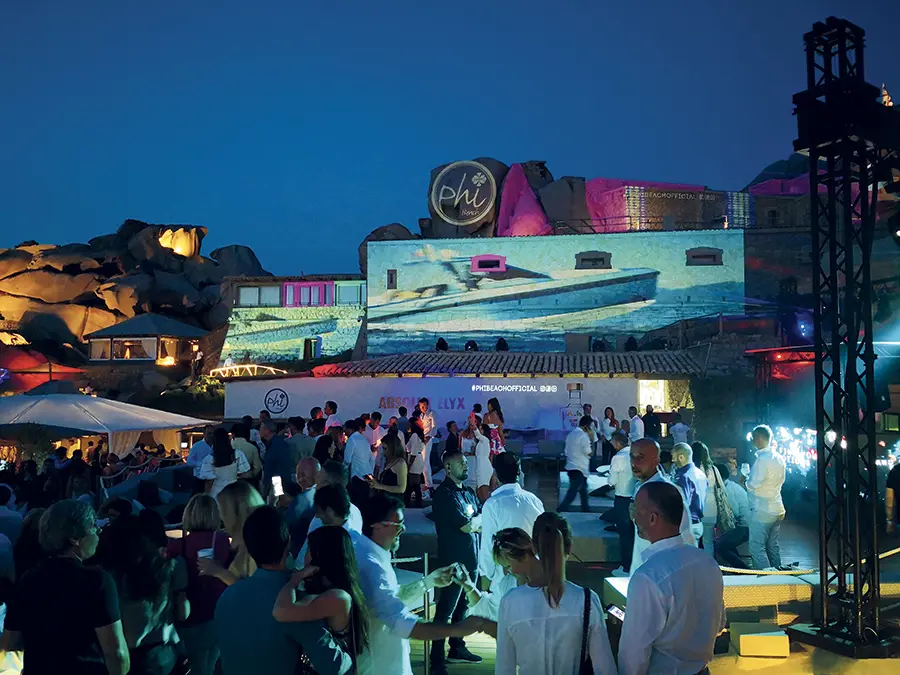 "Winning partnerships are those created by players that share the same objectives, the same creative spirit and the same concept of beauty," says Luciano Guidi, CEO of Medex Srl and owner of Phi Beach. "For this reason, I'm especially proud to be able to collaborate with a brand such as Wally that is internationally recognised as the creator of some of the most beautiful boats in the world. In particular, a Wallytender represents dynamism, functionality and perfection – concepts that also define Phi Beach and Ferretti Group."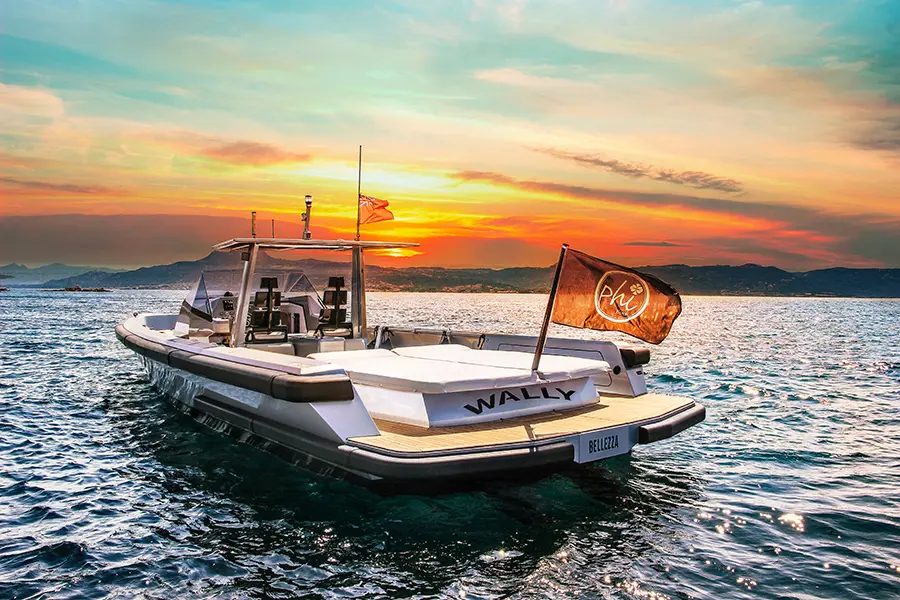 In addition to the Wallytender, there is a selection of cocktails named in honour of Wally and Wally branding appears throughout the venue, from the main dance floor and seaview terraces to video projections.
There is also on display a model of the brand new 48 Wallytender, the first joint product from Wally and Ferretti Group, which will make its international debut at the Cannes Yachting Festival in September.
Wally
Wally is the world leader in yachting innovation, combining the latest technology with contemporary design, constantly looking at ways of improving on the water enjoyment with performance, comfort, and style. Founded in 1994 by Luca Bassani, passionate and visionary yachtsman, Wally changed the entire concept of cruising yachts and created groundbreaking sailing and power boats which are unmatched reference points in yachting and in the design world. In 2019 Wally became part of the Ferretti Group. Wally is the only yachting brand to be a two-time winner of the ADI Compasso d'Oro, the world's most important award for quality and design. 
Edited by Lisa Maria River
Source and photos: Wally Press Office
All rights reserved. Copyright © Sisterscom.com
AVION LUXURY MAGAZINE
in digital version
DESTINATIONS Aruba, un viaggio ai Caraibi. HOTELS Un Bvlgari Hotel a Roma. JETS La serie Phenom 300 di Embraer - La cabina Executive di Bombardier. CARS Bugatti Chiron Profilée -1000 Miglia Experience UAE.
YACHTS Grande 26M di Azimut - Nautica e benessere con Arcadia. WATCHES Planetarium Dunes of Mars Limited Edition.