21 June 2023
The new Maestro 88 by Apreamare
The new full-custom semi-planing yacht destined to change the way we navigate and experience the sea: surprising volumes, timeless elegance, and superior quality of life on board
Great projects, like great stories, can arise by chance, from the passionate and joyful intuitions of its protagonists. So it is in art or science, so it is in boating as well. This is the case for the Maestro line by Apreamare, which traces its origins to a restaurant in Genoa during the 2005 Boat Show, when the first sketches were drawn on a piece of paper. The fervent and creative mind of Cataldo Aprea conceived a motor-yacht to navigate in absolute safety and comfort, with great style.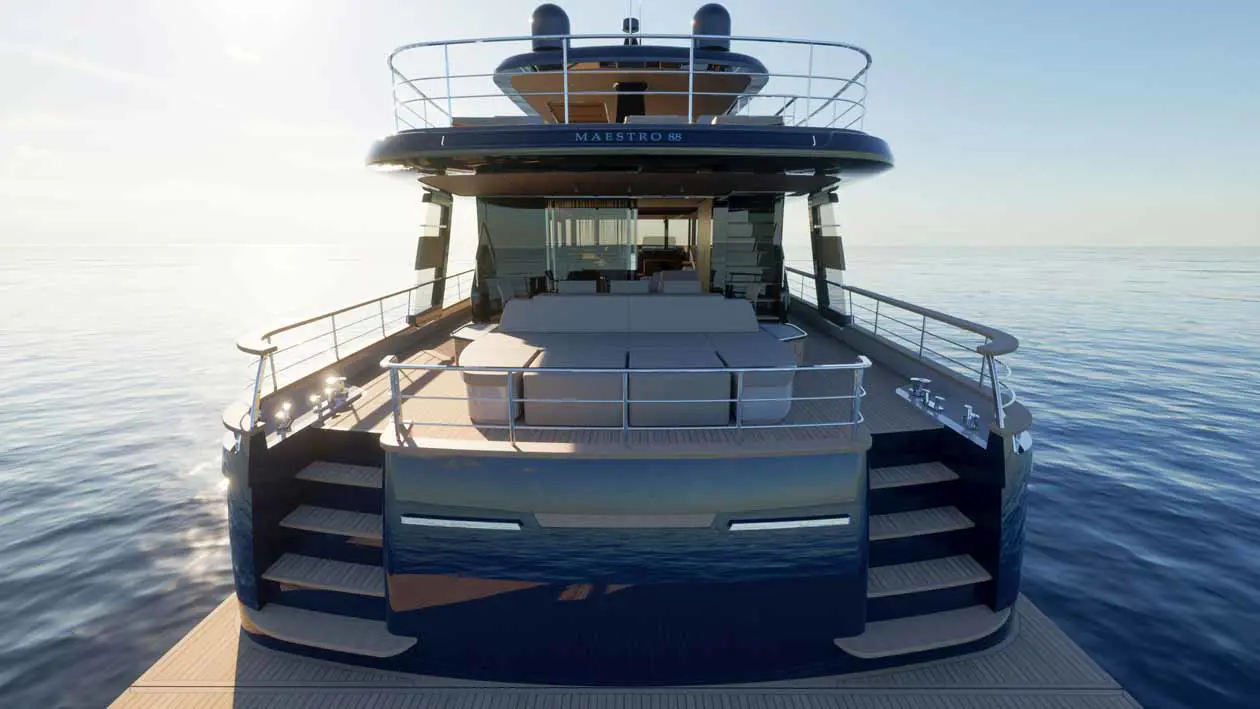 Maestro 88 by Apreamare. Copyright © Apreamare.
The success of the concept has inspired a new challenge for the Sorrento-based shipyard, addressed to Architect Marco Casali and Engineer Umberto Tagliavini. The challenger is a repeated and faithful Apreamare owner, eager for a larger boat capable of guaranteeing long and safe voyages in all weather conditions and a superior quality of life on board. After the initial evaluation, the shipyard and owner converge on the idea of a new flagship of over 27 metres in overall length, while remaining below the 24-metre regulatory threshold – and thus, the new Maestro 88 is born, a fully customized navetta with a semi-planing hull. While she strongly recalls the family-feeling of the previous Maestro line, the new flagship introduces innovative solutions and a fresh interpretation of style, form, and livability, just like the now iconic Gozzo line.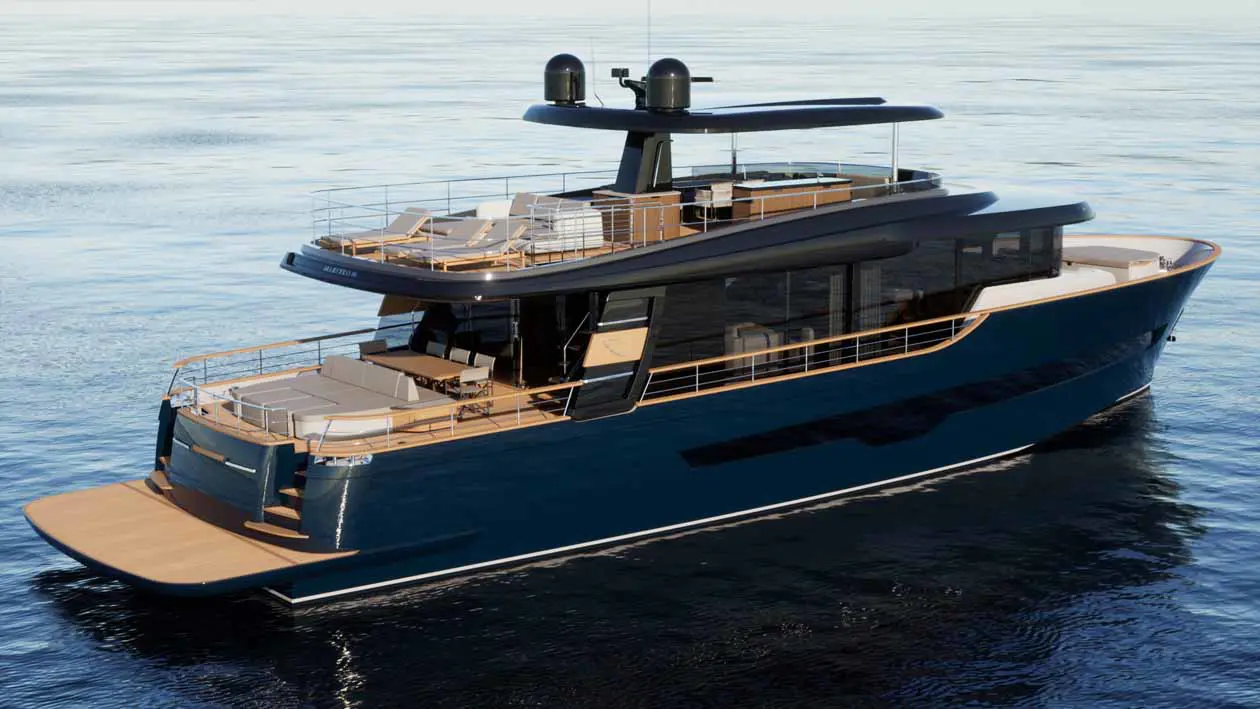 Maestro 88 by Apreamare. Copyright © Apreamare.
Starting from design imperatives and stylistic cornerstones, which form the basis for the large and livable cockpit and the unmistakably coordinated exteriors and interiors, Umberto Tagliavini of Marine Design proposed a dedicated hull geometry to tame the sea, even in adverse weather conditions, ensuring the complete safety and comfort of guests on board. Departing from her sisters in the previous Maestro line, rather than fully committing to planing, the hull is now semi-planing and optimized to face any seas and cruise at 18 knots in absolute comfort and silence, with the possibility to reach over 22 knots as maximum speed.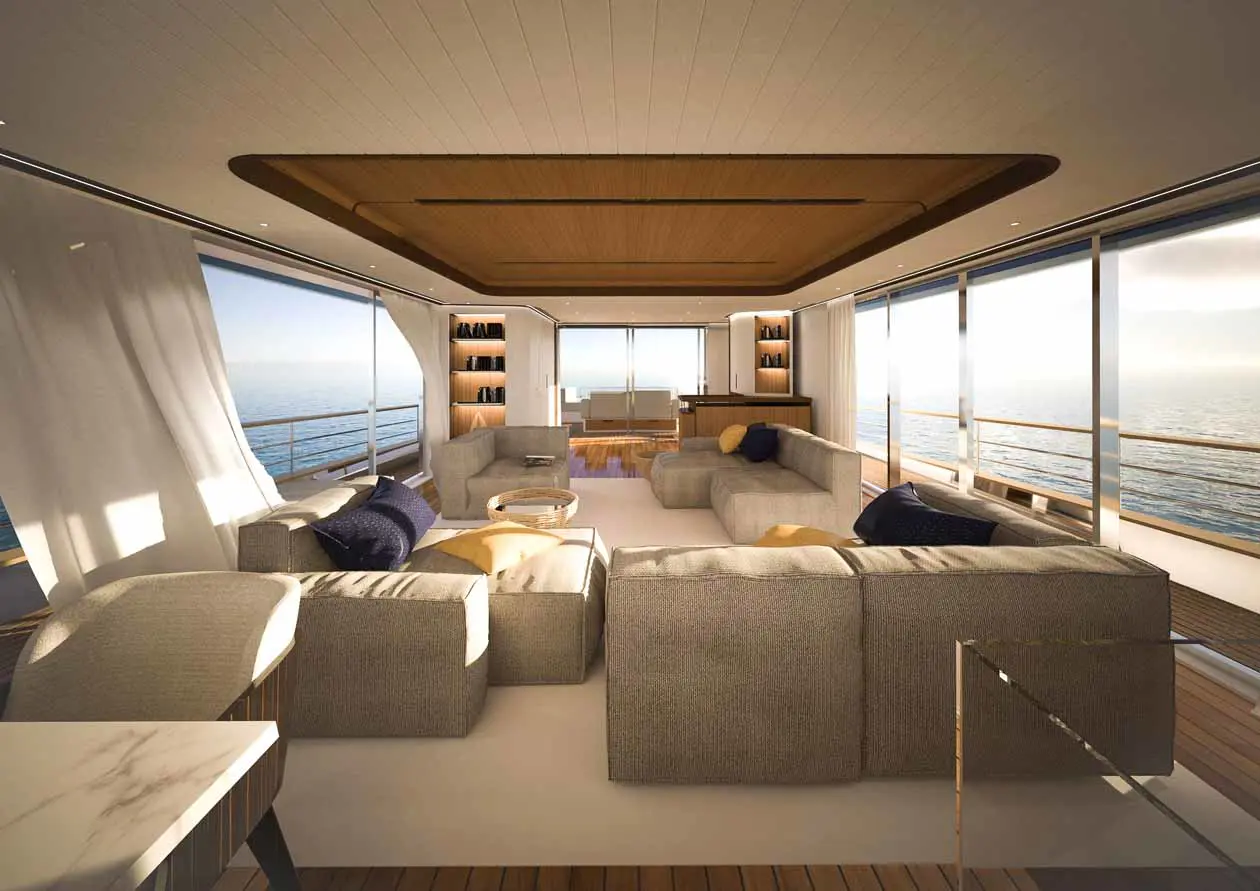 Maestro 88 by Apreamare. Copyright © Apreamare.
Regarding propulsion options, the shipyard offers two efficient 1,600hp MAN engines, which will have 8,000 liters of fuel available for a maximum range of 1,000 nautical miles at a speed of 10 knots. For his boat, the owner has chosen a larger engine configuration, a pair of 2,000hp MAN drives that guarantees a perfect balance of weight and power for long-range sailing with efficiency and a peaceful environment on board.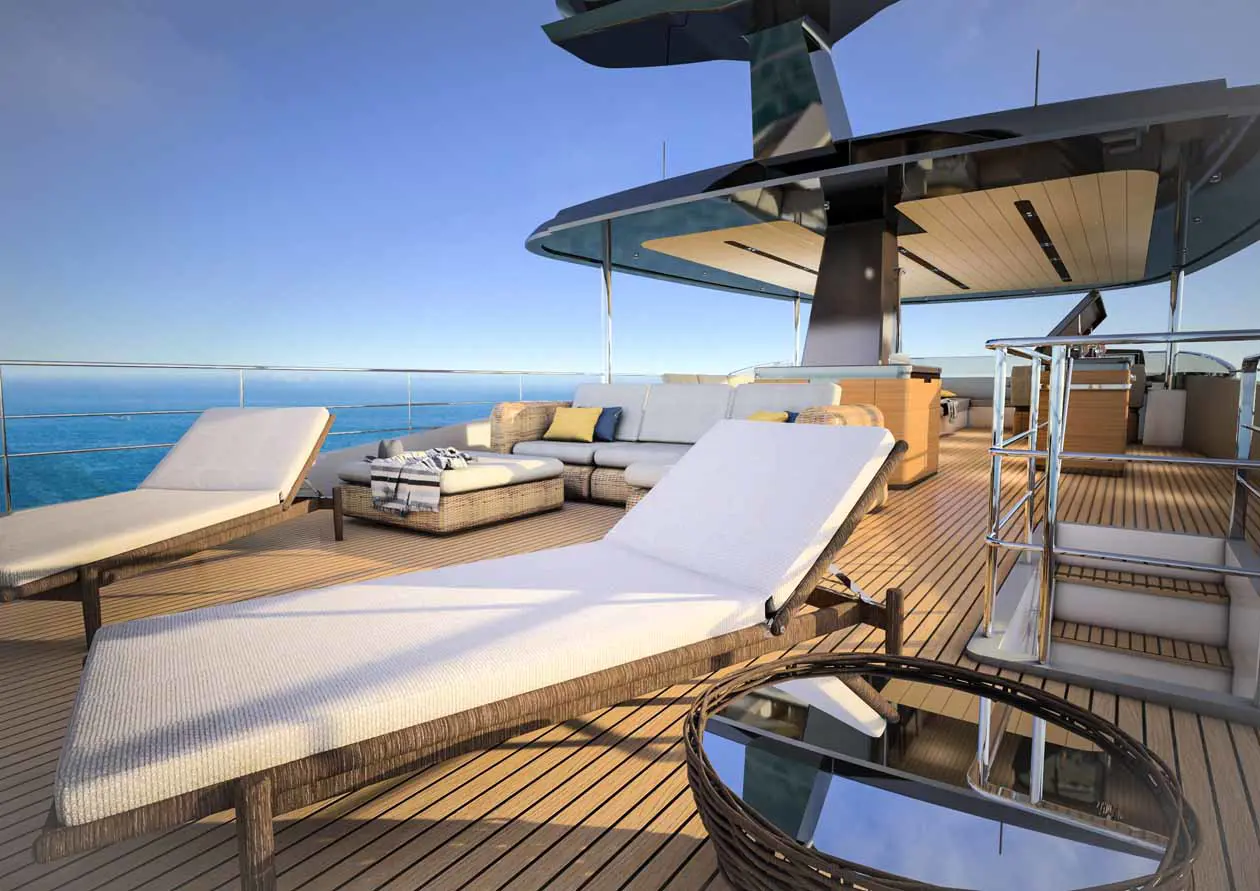 Maestro 88 by Apreamare. Copyright © Apreamare.
The external lines, endowed with great elegance and visual impact by the hand of Marco Casali of Too Design, continuously dialogue with the indoor, which were designed to experience 360 degrees of sea. Compromises and renunciations were not permitted, resulting in continuous and direct visual contact with the outdoor. The connection with the marine element finds its natural quintessence on the large aft deck, in the bow lounge, across the sprawling beach club and through the long sliding glass windows. The expansive glazing also characterize the hull for a good part of its length, sending lots of light below deck, bringing out the chromatic games and nuances, and embellishing the marine reflections which are projected into the interiors.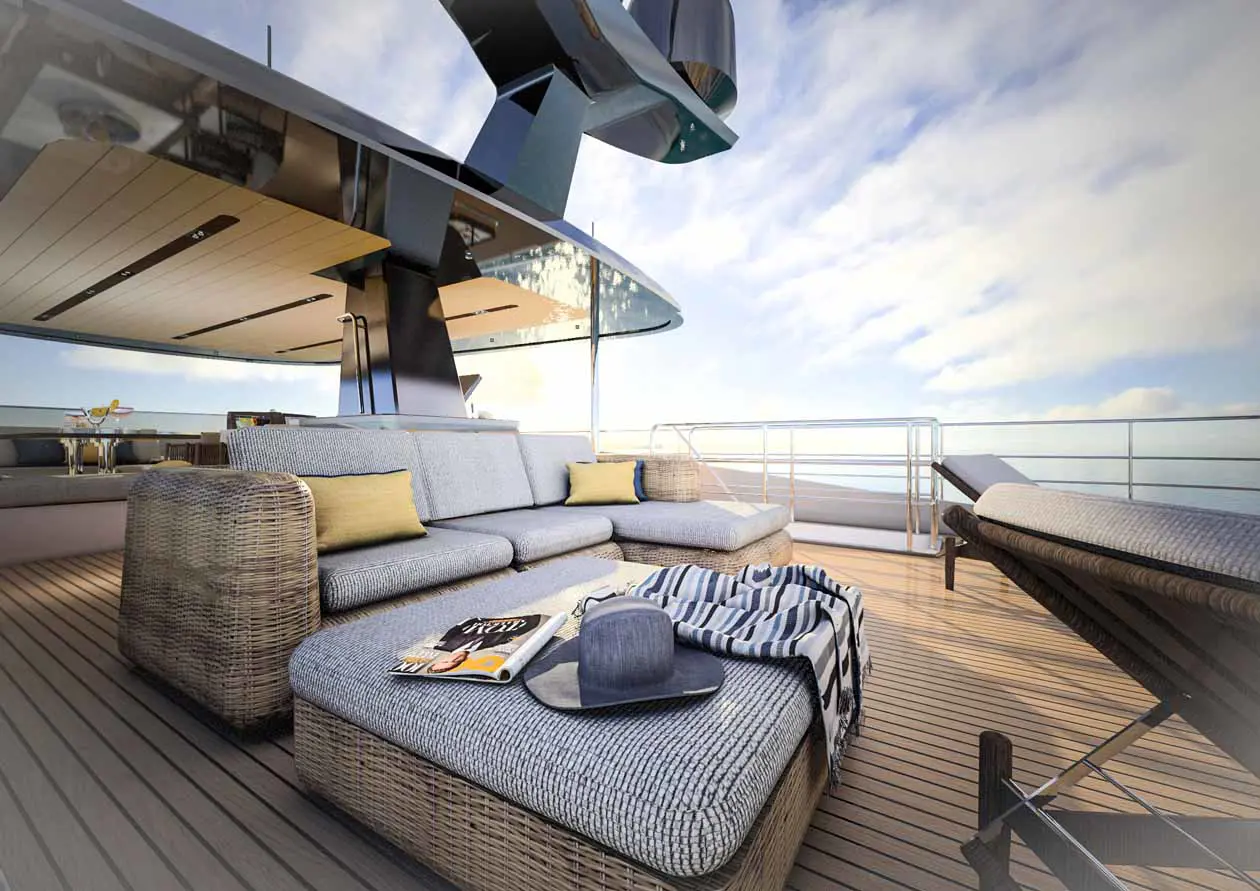 Maestro 88 by Apreamare. Copyright © Apreamare.
To solidify the sense of enhanced safety, a bow high above the water has been designed with an 80 cm rail, a pleasant frame to protect free circulation onboard, and for greater freedom of movement on deck.
On the flybridge – which demands to be experienced both at anchor and at sea, offering numerous spaces dedicated to relaxation and boasting an elegant galley module with wet-bar – a T-Top with a light and captivating design stands out. The entire surface area of this part is covered with solar panels to power the onboard systems. For the entertainment of guests or for romantic getaways, the transom garage can house a 4-metre tender and numerous water toys.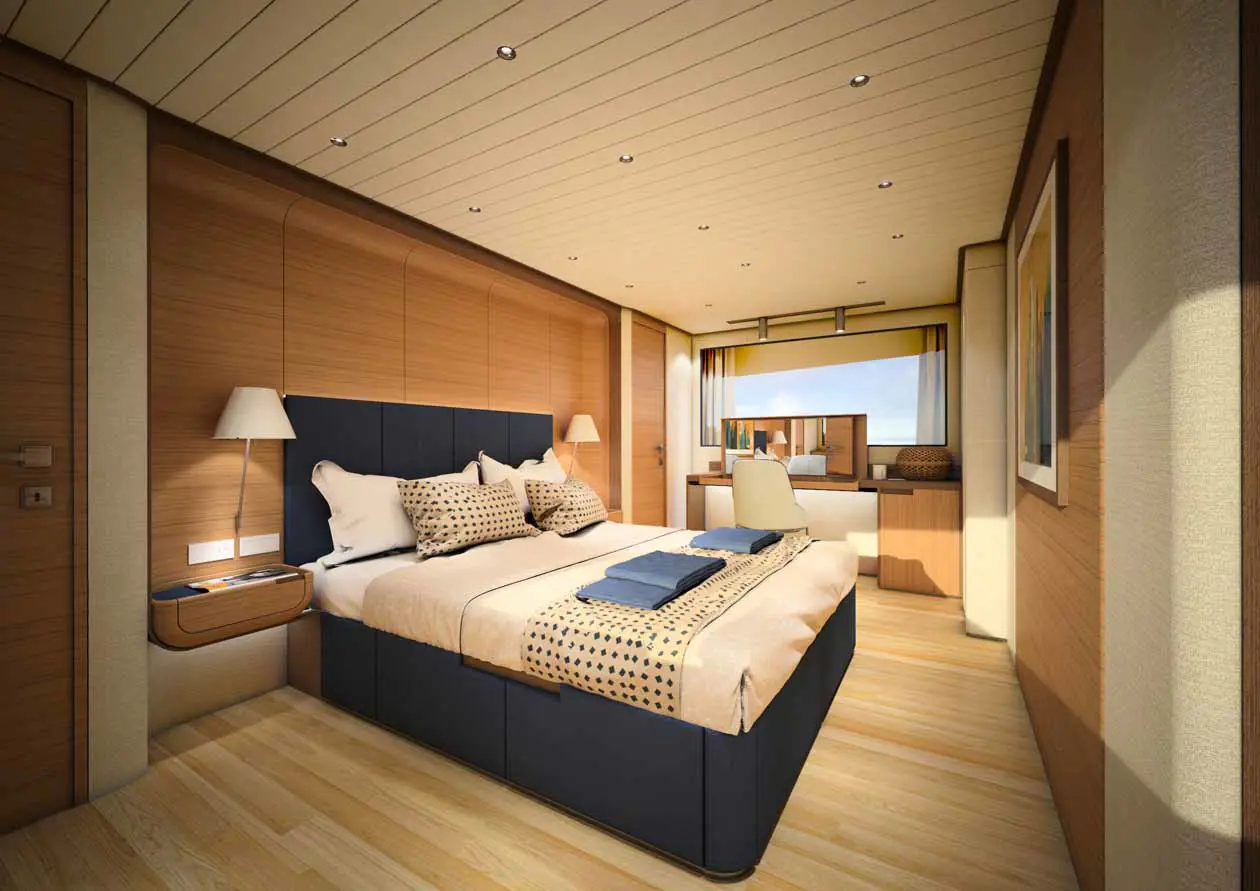 Maestro 88 by Apreamare. Copyright © Apreamare.
The interiors are fully personalized, customizable in the number of cabins, furnishings and concept. Hull number one of the Maestro 88 will be launched with 4 cabins, 4 bathrooms, and a studio and relaxation corner with an electric piano, but future owners will have the option of having more cabins – up to five for guests and two for crew to accommodate a total of four. The flexibility of the Maestro 88 is a further confirmation of the Apreamare construction philosophy, operating as a "boutique" shipyard, capable of responding to any need for customization through an infinite choice of materials, essences, fabrics and colours, and thanks to the skilled hands of the internal workers, who are real artisans of excellence.
AVION LUXURY MAGAZINE
in digital version
DESTINATIONS Aruba, un viaggio ai Caraibi. HOTELS Un Bvlgari Hotel a Roma. JETS La serie Phenom 300 di Embraer - La cabina Executive di Bombardier. CARS Bugatti Chiron Profilée -1000 Miglia Experience UAE.
YACHTS Grande 26M di Azimut - Nautica e benessere con Arcadia. WATCHES Planetarium Dunes of Mars Limited Edition.