11 April 2020
Numarine launched Hot Lab decoration package for the 32XP superyacht range
The explorer model gets even hotter with new interior touches
Numarine
, the European high performance
motor-yacht
shipyard headquartered in
Istanbul
, announces a collaboration with Hot Lab. The renowned
Milan
based studio has designed a new
exclusive decoration
package for the 32XP
superyacht
range.
"It's a great pleasure for our shipyard to partner with such an amazing and innovative design team," commented Omer Malaz, Chairman of Numarine. "Their work is so inspiring, elegant and timeless. We're happy we can offer Hot Lab styling to our clients and we are keen to develop our partnership going forward."
"Our studio did many yachts in Turkey, we have already four yachts under construction now, and of course we are very familiar with Numarine," said Antonio Romano, co-Founder and Partner at Hot Lab. "Last summer, Numarine team invited us to visit their shipyard and check the production. Their organization, workflow and the quality truly amazed us. The 32XP is a very well designed product. With the new package by us, we just offer nice extra touches for the decoration to add more freshness to this superyacht's styling."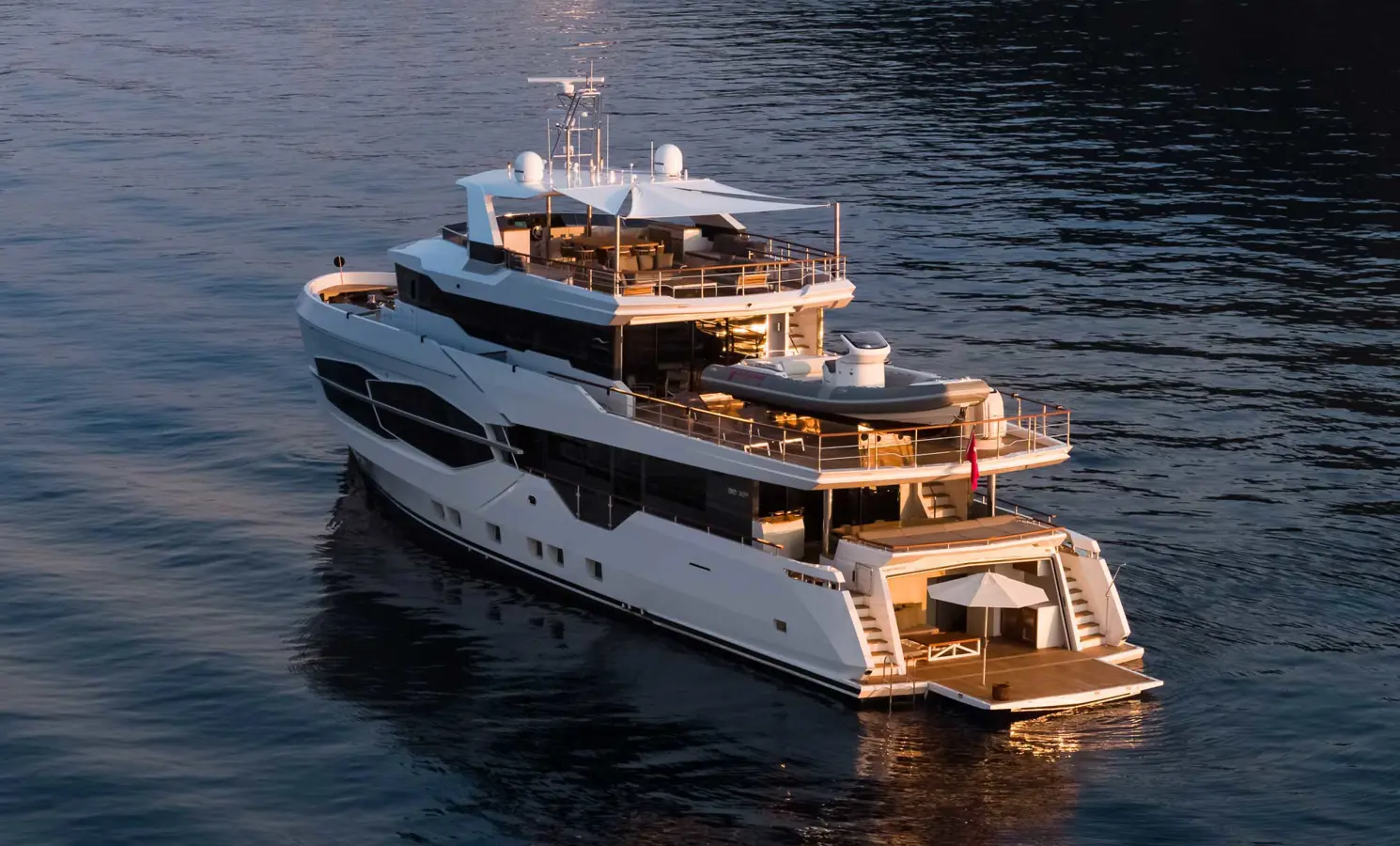 Numarine 32XP. Photo: Copyright © Credits Jeff Brown.
Sophisticated styling
The 32XP is, arguably, one of the most successful compact expedition vessels on the market with three units delivered over the last three years and two more under construction. Now the model gets even hotter with the new exclusive design solution. The Hot Lab decoration package for the Numarine 32XP is homey, surprising, entertaining. A combination of new materials, color palette and interior solutions creates additional value to the boat. The package for the 32XP is 100% custom. Together with clients, Hot Lab designers sit down and decide what exactly needs to be implemented to fit their needs. 
"We do not touch the layout of the 32XP because it is perfect, it's only about materials and finishes" added Romano. "An owner can choose this package even if he or she has already purchased the yacht three-four months before the delivery."
"I would like to see more and more yachts' interiors becoming a sort of box, the most delicate and well refined as possible, capable of containing the real essence of a boat: being on water," said Enrico Lumini, Chief Designer and Partner at Hot Lab. "I would compare the styling for the 32XP to a sportsman. He gave everything he had no matter if the cameras are there or not."
Hot Lab mostly uses white and bright palette for the decoration of the 32XP, which is evident on renderings, and that creates a special feeling on board. 
"My favorite features of the package are the spaciousness of the master cabin and the homey effect of the saloon, with an intensive use of loose furniture which really makes you feel like the only important thing is the box you are onboard and how it is going to take wherever you want," added Lumini.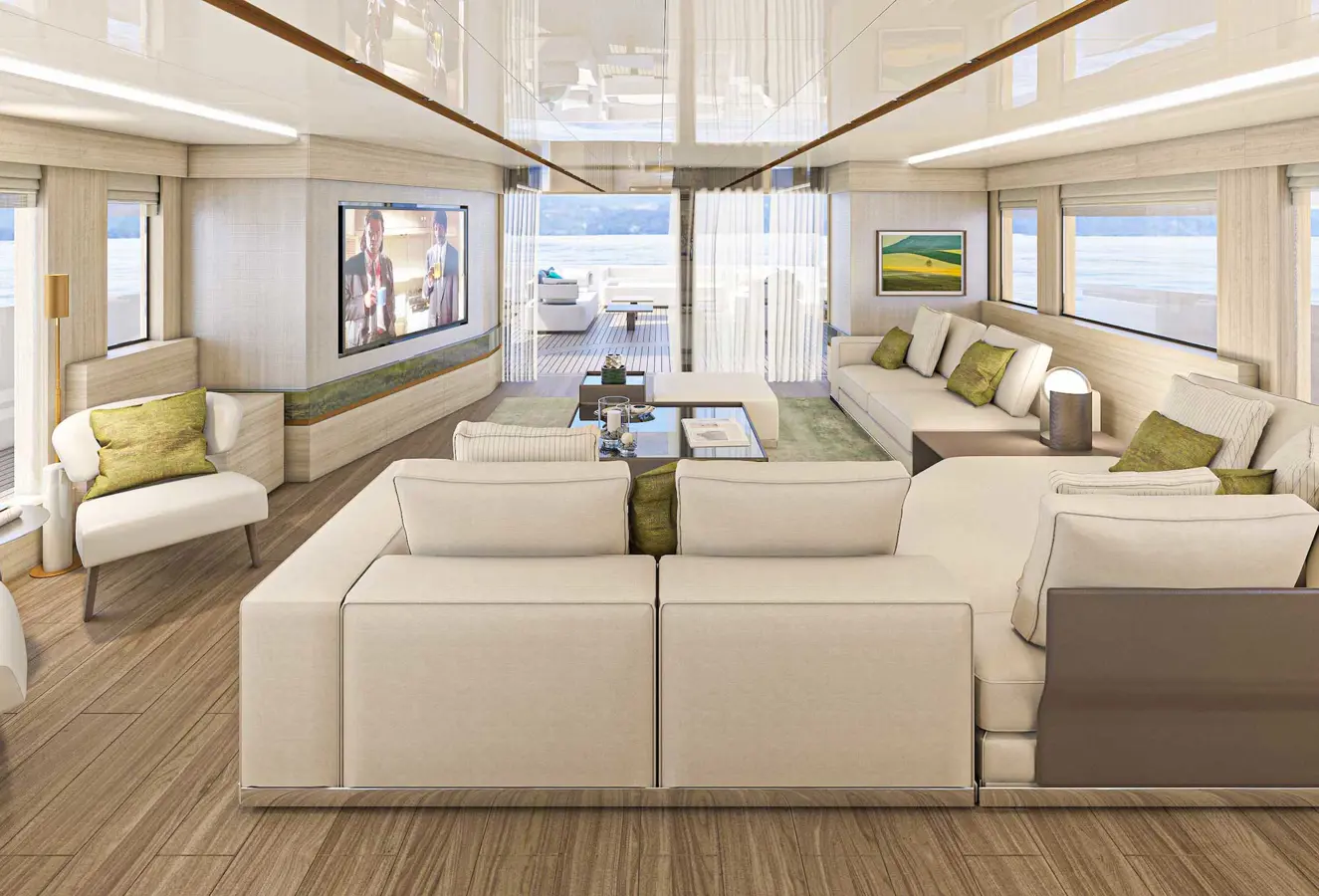 Numarine 32XP. Photo: Copyright © Credits Jeff Brown.
Perfect compact explorer
The 32XP is a perfect example of a compact explorer yacht. While being just under the limit of 300 GT category. She offers incredible volumes of internal living spaces on board, with her steel hull and GRP superstructure allowed to create unique layouts internally and customized external spaces. Simplicity of use, engaging styling and the seamless integration of systems are key principles of the yacht. As Numarine's Founder and Chairman Omer Malaz puts it, hi-tech companies and devices that run the world now inspired him to create this beautiful model. The yacht is easy to manage thanks to a user-friendly interface developed by Energy Solutions, and the captain runs her without an engineer.
View from outside
The 32XP, as well as other models in the series, looks very different comparing to the shipyard's performance models. The styling is by Can Yalman, the renowned design partner of Numarine responsible for all of the shipyard's distinctive model lines. Her silhouette is deliberately rugged, powerful and hefty with extensive angular windows. The vertical bow is another contemporary feature added to the yacht and it has a purpose to cut through the water with ease. The hull's shape, which is designed by Numarine's long-standing collaborator, naval architect Umberto Tagliavini, is beneficial to the internal volumes.
Modern, spacious layout
Like all Numarines, the interior of the 32XP is fully customized to reflect the Owner's preferences in terms of layout, design, fabrics and materials. There is a spacious main saloon and several outside areas to socialize, including a large couch area with bimini and cocktail table forward of the wheelhouse and a huge flybridge. The 32XP may have up to six cabins for up to 12 guests, including the master suite forward on the main deck. Another roomy VIP cabin is on the upper deck aft. It opens up via sliding doors to the incredibly large open deck. In navigation, it can fit a spectacular 9-meter RIB tender and two PWCs with the help of the 2.5 Tons crane. Below deck forward, the 5-person crew quarters provide ideal spaces for the captain with his private cabin + ensuite, and four crewmembers in two doubles with ensuite.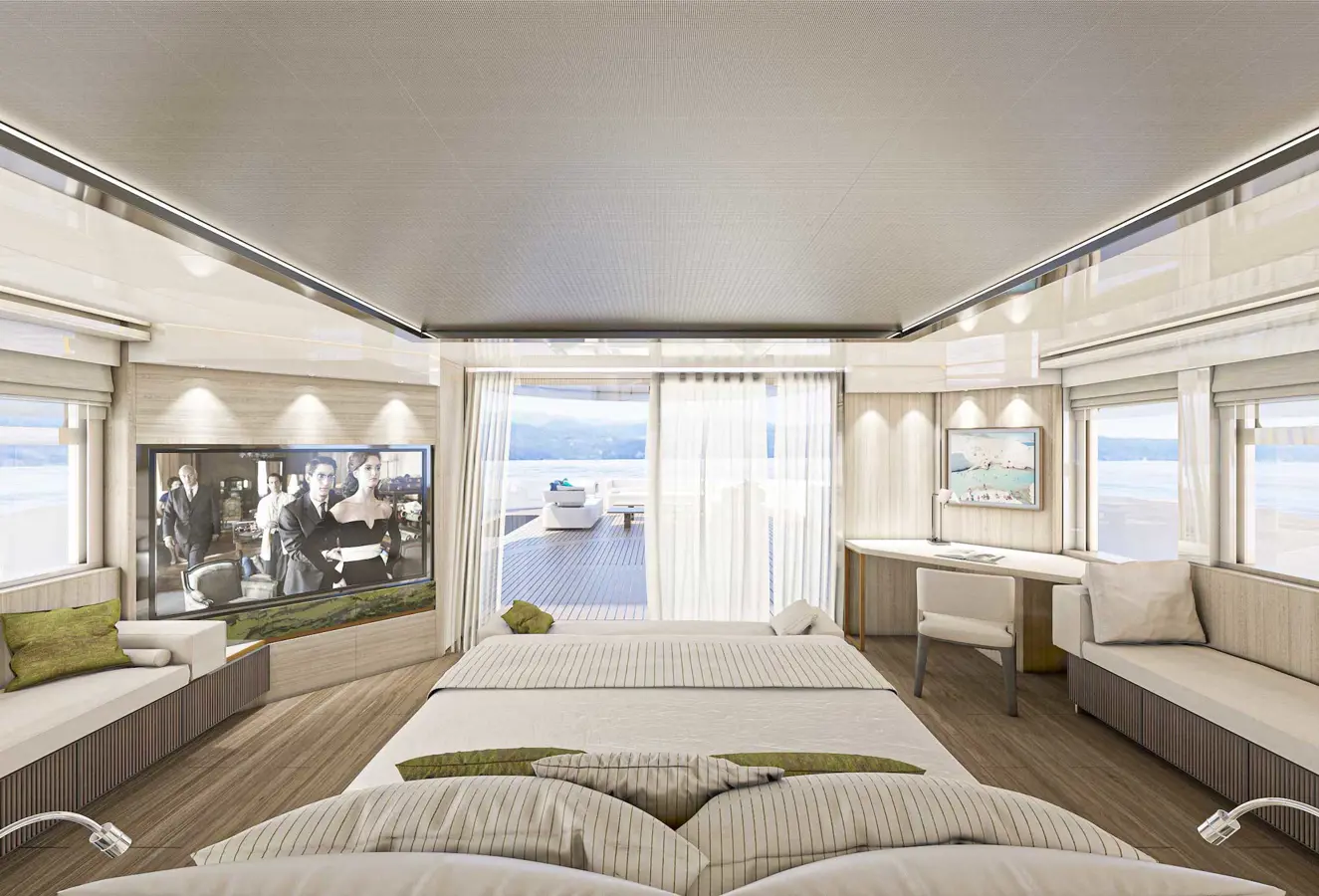 Numarine 32XP. Photo: Copyright © Credits Jeff Brown.
Silence is perfection
The Numarine 32XP has surpassed even DNV Class 1 Comfort Class in terms of the elimination and reduction of all noise and vibration sources and achieved comfort levels of a high quality 50-meter megayacht in a 32 meters superyacht. The 32XP can easily make night passages during long voyages that is why the highest level of comfort while underway was so important to achieve. Numarine's longstanding partner Silent Line, run by Sjaak van Cappellen, developed and installed the solutions to provide the right ambiance. In order to do that, they have disconnected cabins from the yacht's structure, which is unique for a 32.5-metre yacht. Usually, said van Cappellen, this advanced technology is applied on much bigger megayachts over 80 metres in length. Therefore, the owner can sleep well and is unaware when the 32XP is cruising. Even with the engines running, the noise level at the Owner's suite is under 37 decibels; it is quiet like a library. While the yacht is at anchor, this number is down to 30 decibels, which is a spectacular accomplishment.
Efficient performance
The series of explorer superyachts, established by Numarine, the XP Series, is minimalistic, yet sophisticated. Compact, yet spacious. Glamorous, yet reliable and seaworthy. The Numarine 32XP has a very efficient displacement hull that gives her a top speed of 14 knots, a cruise speed of 12 knots, and an inspiring 4,000 nm range at 8 knots.
Global player
Recently, the shipyard sold four more units of the 26XP (hulls # 7, 8, 9 and 10) model and one more unit of the 32XP(hull #4). Therefore, the total number of the XP Series sales reached 14 units. With over 220 meters of superyachts in length under construction in 2020, Numarine claims the third place in the explorer yacht construction in the entire world.
Edited by Lisa Maria River
Text source: © Numarine Press Office
Photos: Copyright © Credits Jeff Brown
All rights reserved. Reproduction prohibited. 
Copyright © Sisterscom.com 
AVION LUXURY MAGAZINE
in digital version
DESTINATIONS Aruba, un viaggio ai Caraibi. HOTELS Un Bvlgari Hotel a Roma. JETS La serie Phenom 300 di Embraer - La cabina Executive di Bombardier. CARS Bugatti Chiron Profilée -1000 Miglia Experience UAE.
YACHTS Grande 26M di Azimut - Nautica e benessere con Arcadia. WATCHES Planetarium Dunes of Mars Limited Edition.