14 July 2023
New wallywhy150 at Cannes Yachting Festival 2023
Unparalleled exterior spaces on a 78-foot yacht was at the heart of the concept behind the wallywhy150, which sports a raised pilothouse design
New wallywhy150 ready for Cannes Yachting Festival 2023 (12-17 September). The wallywhy150 was created by the experienced Wally-Ferretti Group Engineering team, with Studio Vallicelli Design responsible for her exceptional interior design.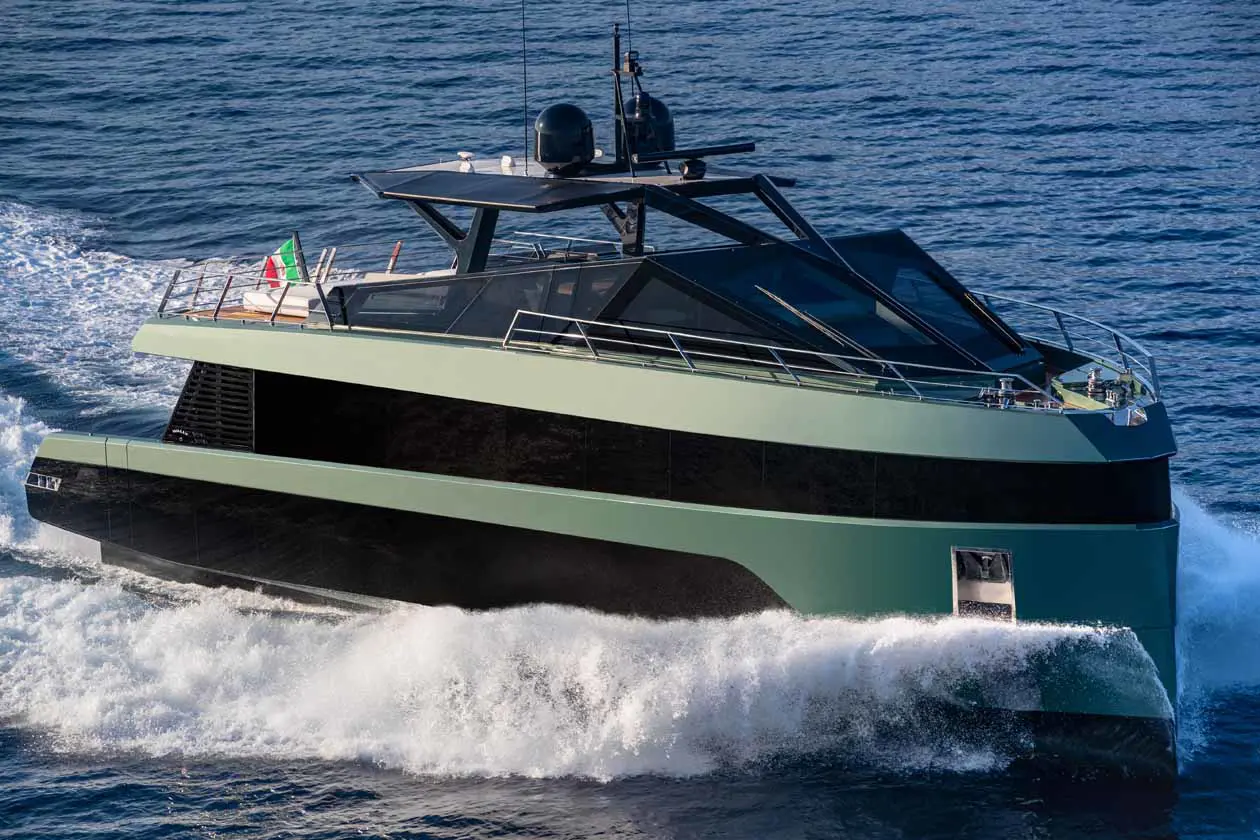 wallywhy150 - Copyright © Credits Gilles Martin Raget.
Wally's goal was to anticipate market demands developing a yacht capable, once again, of being ahead of its time, starting from those innovative features that made the wallywhy200 successful. With its 24-meter length and 150 GT, the wallywhy150 is a flexible yacht, ideal for experienced owners who fully understand and appreciate the skillful use of space, the considerable living areas and its unmistakable personality. For nearly 30 years Wally has been designing and building cutting-edge yachts, which have led to epochal changes in yacht design.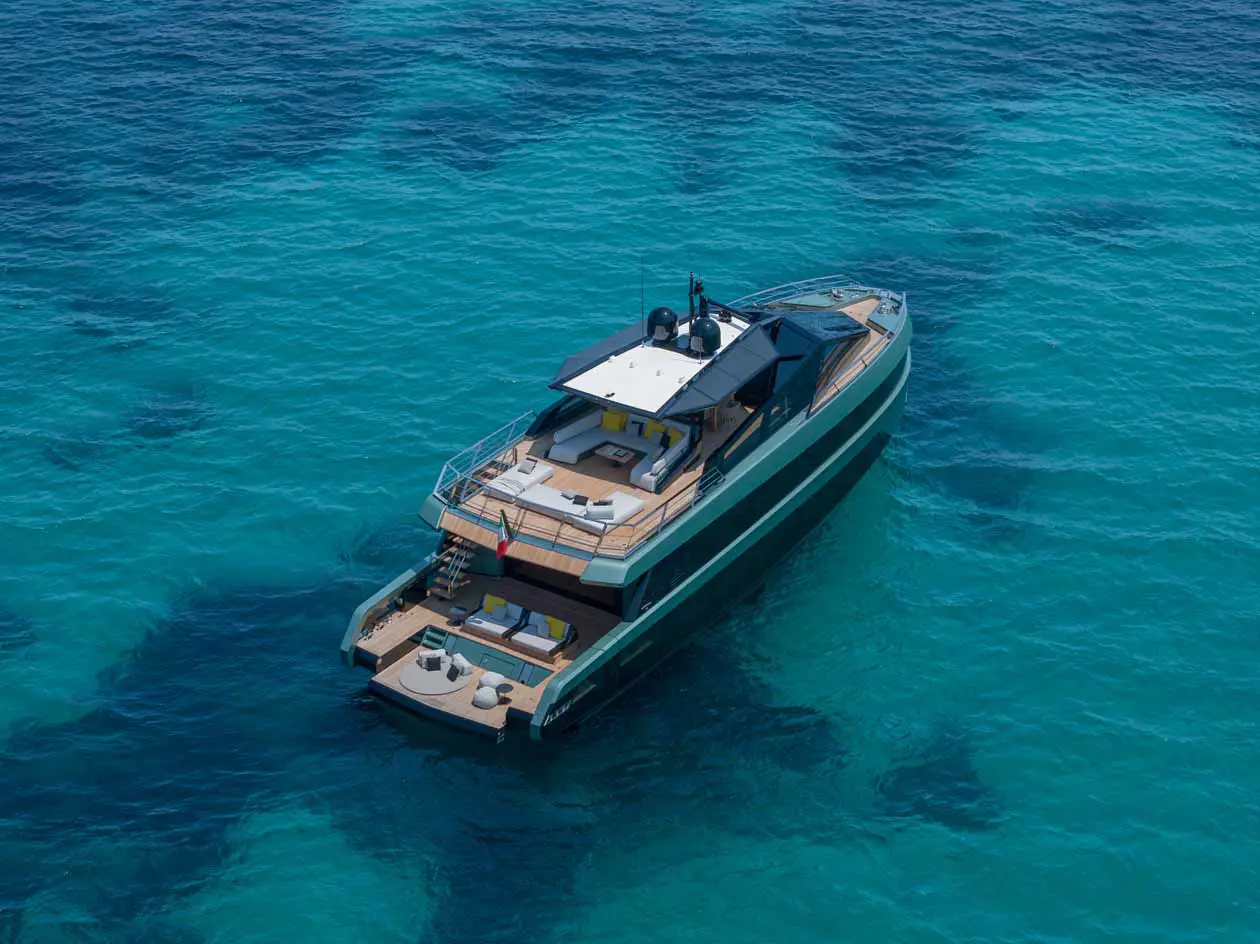 wallywhy150 - Copyright © Credits Gilles Martin Raget.
The exterior areas of the wallywhy150 are unmatched for her size: the upper deck is completely open, giving an enormous amount of protected space on top. On board owner and guests can enjoy a full dining setting on the sundeck, a sunbathing area, a shaded lounge and much more – almost the full length of the boat is outside. Another important detail of the wallywhy150 is the floor-to-ceiling glass which dominates the design of the vessel.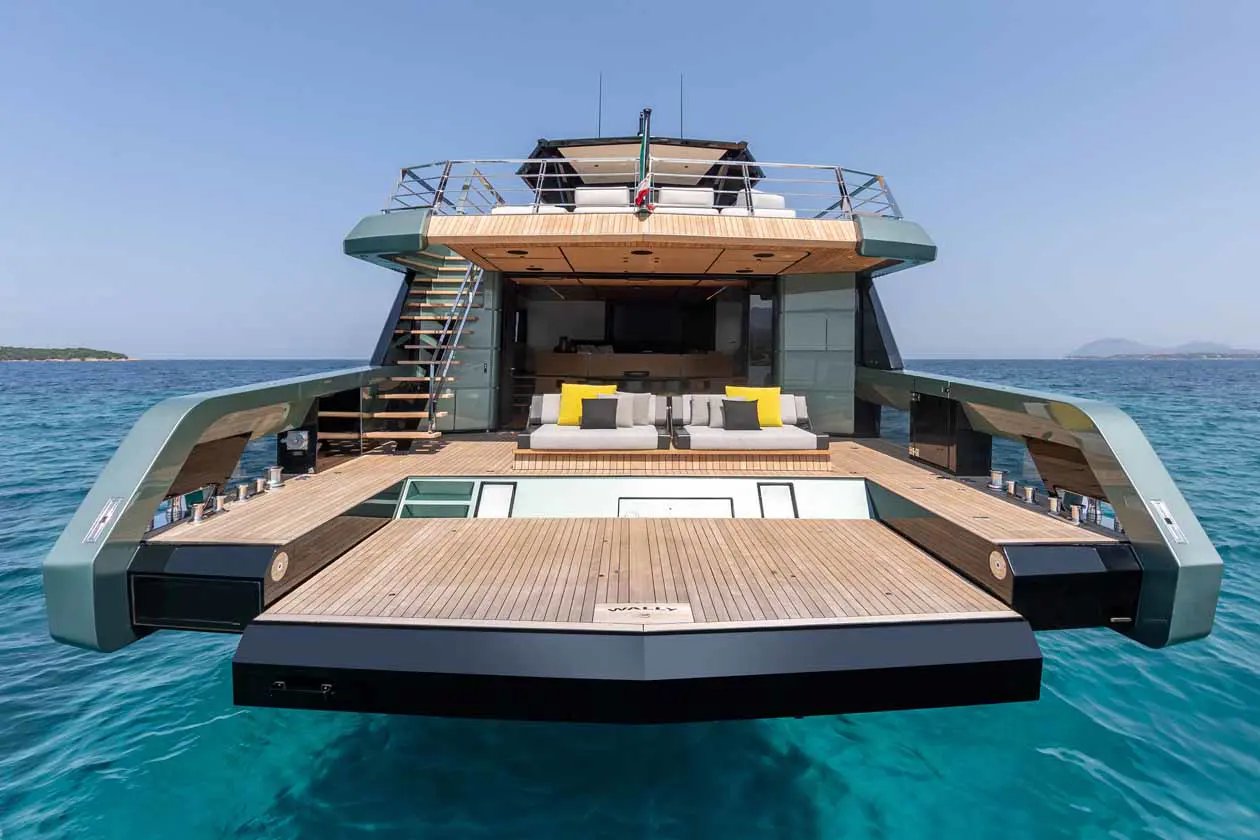 wallywhy150 - Copyright © Credits Gilles Martin Raget.
Accommodation on board the wallywhy150 includes a master cabin located forward on the main deck – as on the wallywhy200 – which showcases 270-degree panoramic views and a stunning, grand "amphitheatre of the sea" design, thanks to her unusually high bow.
Additional accommodation is found on the lower deck, which can either be configured in 1 VIP cabin + 1 double and 1 twin guest cabin layout or in a 2-VIP cabin layout, with all of the staterooms benefitting from the illuminating effects of their huge windows which create an airy and modern feel on board.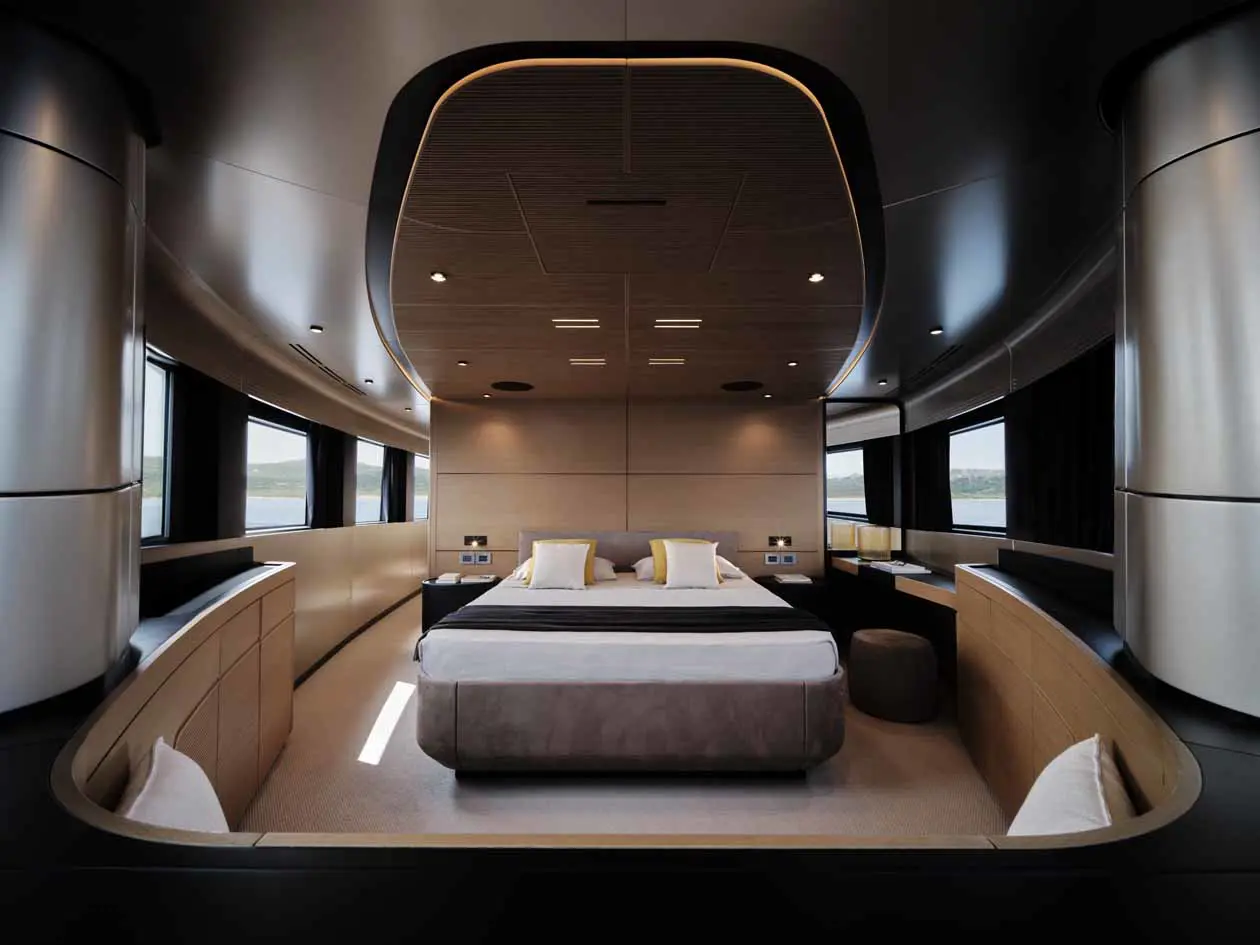 wallywhy150 - Copyright © Credits Tony Meneguzzo.
It is the simplicity and accessibility of the layout which makes it so appealing to a huge range of clients – it offers the ultimate flexible platform for those looking to expand the horizon of traditional planing-craft usage. This is the first vessel with direct access to the sea at cockpit level with no stairs necessary – it is effectively a floating loft on the water.
wallywhy150 - Copyright © Credits Tony Meneguzzo.
The aft deck of the wallywhy150 offers a large, unencumbered platform – including both a hydraulic multipurpose ladder and a rising platform. Owners are able to outfit this area as desired, with the capacity to bring all types of water toys on board, as well as a large 3,90-metre (12'8'') tender.
When powered by her optional three IPS1350 engines, the wallywhy150 can reach a maximum speed of 23 knots, or 21 knots with the standard propulsion of three IPS1200 engines.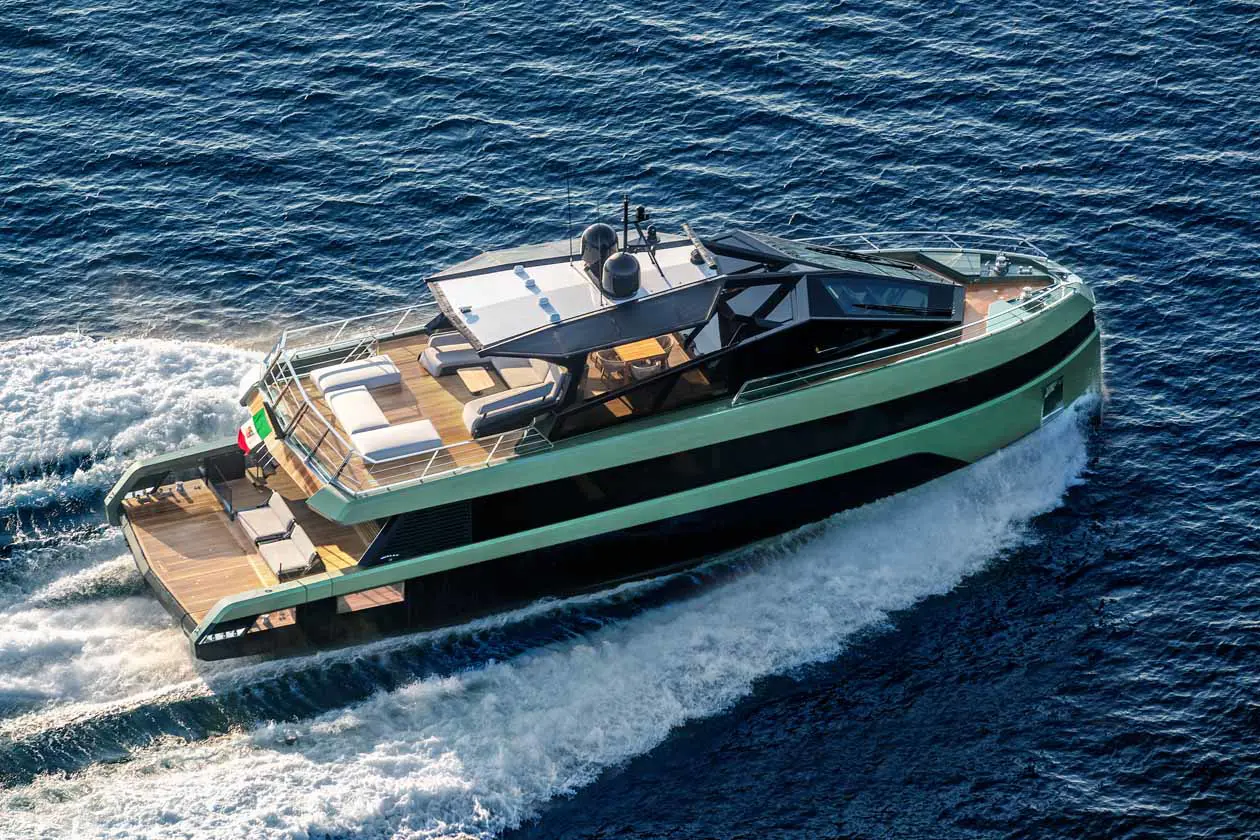 wallywhy150 - Copyright © Credits Gilles Martin Raget.
World leader in yachting innovation and part of Ferretti Group, Wally combines the latest technology with contemporary design, constantly looking at ways of improving on the water enjoyment with performance, comfort and style. Founded in 1994 in Monaco by Luca Bassani, passionate and visionary yachtsman, Wally changed the entire concept of cruising yachts and created groundbreaking sailing and power boats which are unmatched reference points in yachting and in the design world. Wally is the only yachting brand to be a two-time winner of the ADI Compasso d'Oro, the world's most important award for quality and design.
AVION LUXURY MAGAZINE
in digital version
DESTINATIONS Aruba, un viaggio ai Caraibi. HOTELS Un Bvlgari Hotel a Roma. JETS La serie Phenom 300 di Embraer - La cabina Executive di Bombardier. CARS Bugatti Chiron Profilée -1000 Miglia Experience UAE.
YACHTS Grande 26M di Azimut - Nautica e benessere con Arcadia. WATCHES Planetarium Dunes of Mars Limited Edition.