04 January 2023
Dutch Falcon: new take on Van der Valk Flybridge line
The kind of timeless aesthetic for the Van der Valk brand with motoryachts renowned for never being excessively avant-garde, always retaining an emphasis on the elegant and contemporary
Van der Valk in the Netherlands has delivered the 26-metre Dutch Falcon. The launch model for an innovative new take on the yard's award-winning Flybridge range, she marries a proven-in-practice aluminium hull with a sleek-lined superstructure and show-stealing slabs of glass. And her highly experienced owner, a true perfectionist who has built more than 20 boats himself, is delighted with every aspect.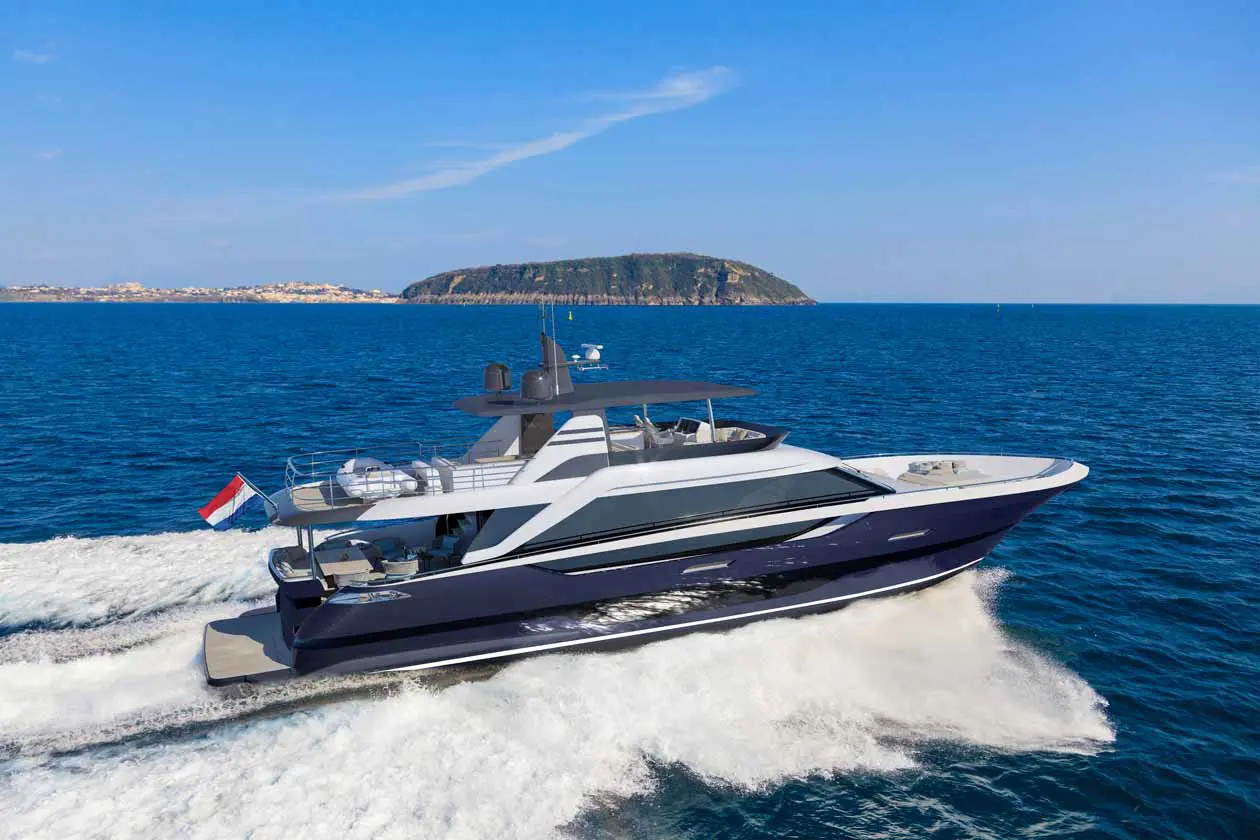 Van der Valk, Flybridge 25M, Dutch Falcon, Exterior, render. Copyright © Van der Valk.
Dutch Falcon also represents a major milestone for Volva Penta as she carries the 10,000th IPS 30 drive unit. The two companies have an impressive shared history as the 20-metre Amara launched by Van der Valk in 2007 featured the first such drive on an aluminium yacht in the world. It's a longstanding partnership in power provision that has benefitted many Van der Valk clients, including the owners of Dutch Falcon who are reaping the rewards of her triple IPS 1050 drives.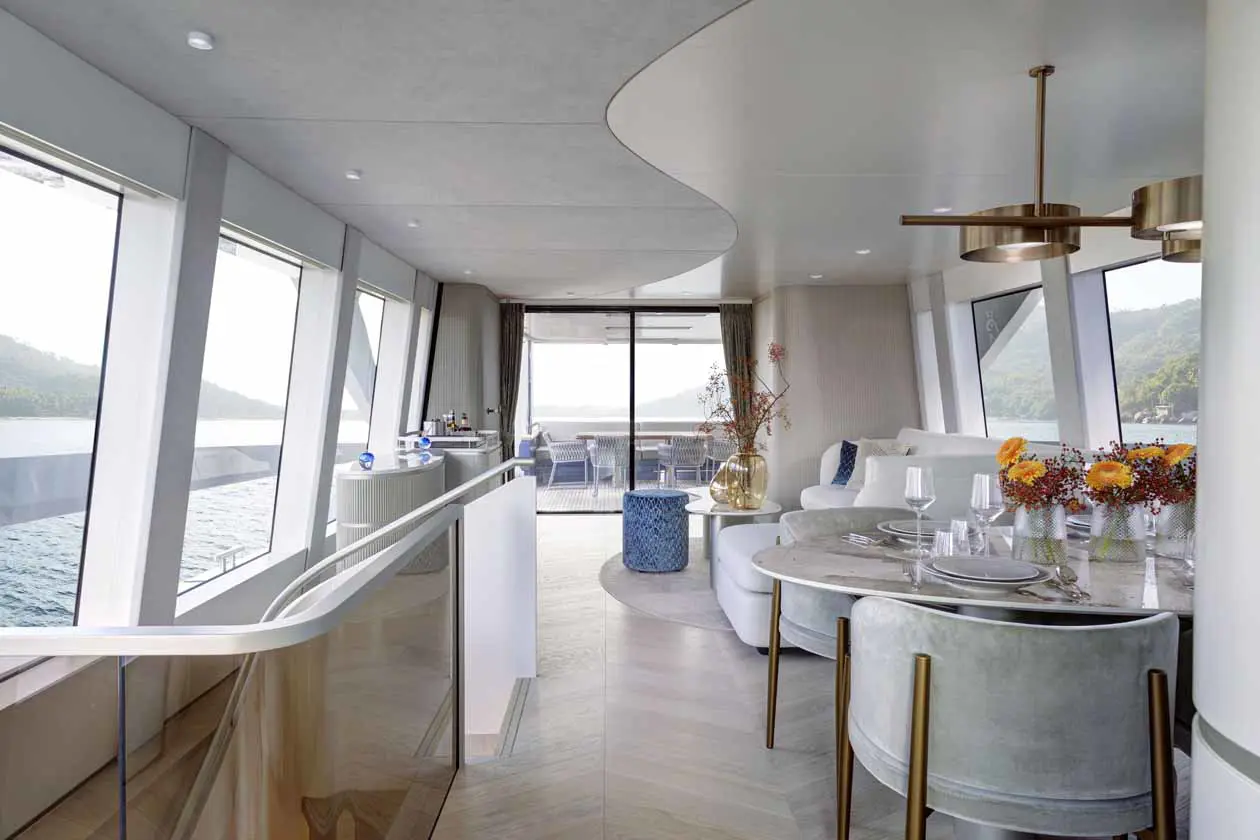 Van der Valk, Flybridge 25M, Dutch Falcon, salon. Copyright © Van der Valk.
Comfort levels are further assured thanks to the installation of Humphree zero-speed stabilisers with carbon fibre fins, a highly efficient system when it comes to roll reduction at anchor and underway. Everyone aboard Dutch Falcon can enjoy splendid views through the floor-to-ceiling windows in the main salon and glass creates a bright and open ambience within the interior.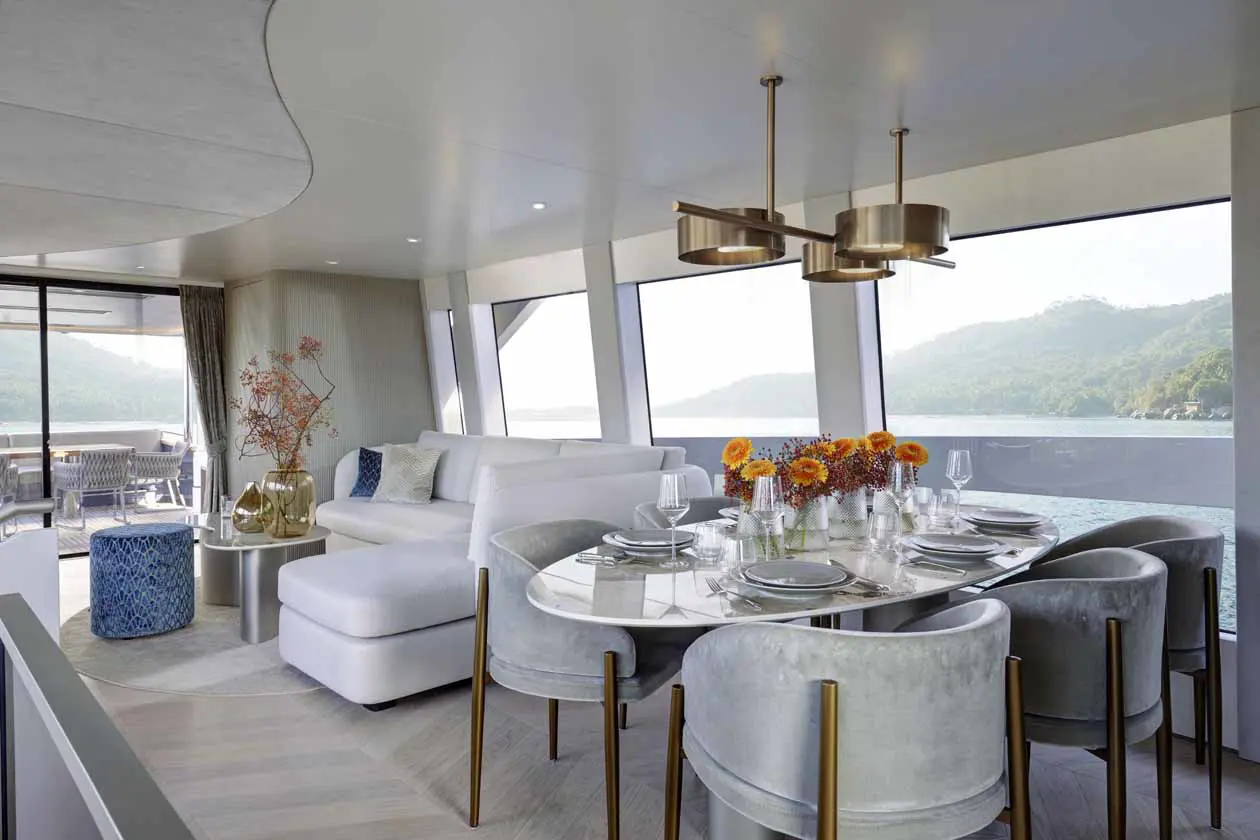 Van der Valk, Flybridge 25M, Dutch Falcon, salon. Copyright © Van der Valk.
The same philosophy is seen on the outer areas too. An impressive aft deck some 4.5 metres in length includes a delightful al fresco dining area and room for the owners of Dutch Falcon to place two lounging chairs in one of their favourite spots to watch the world go by. Spacious enough to easily house and launch a Williams 395 SportJet tender, the aft deck also serves as a great platform from which to go swimming. Meanwhile, a large sunbathing area on the foredeck offers further options for all kinds of relaxation and the flybridge has many choices too with another dining area behind the exterior helm station. Flexibility is key throughout: loads of space translates into loads of choice for future owners of this Flybridge.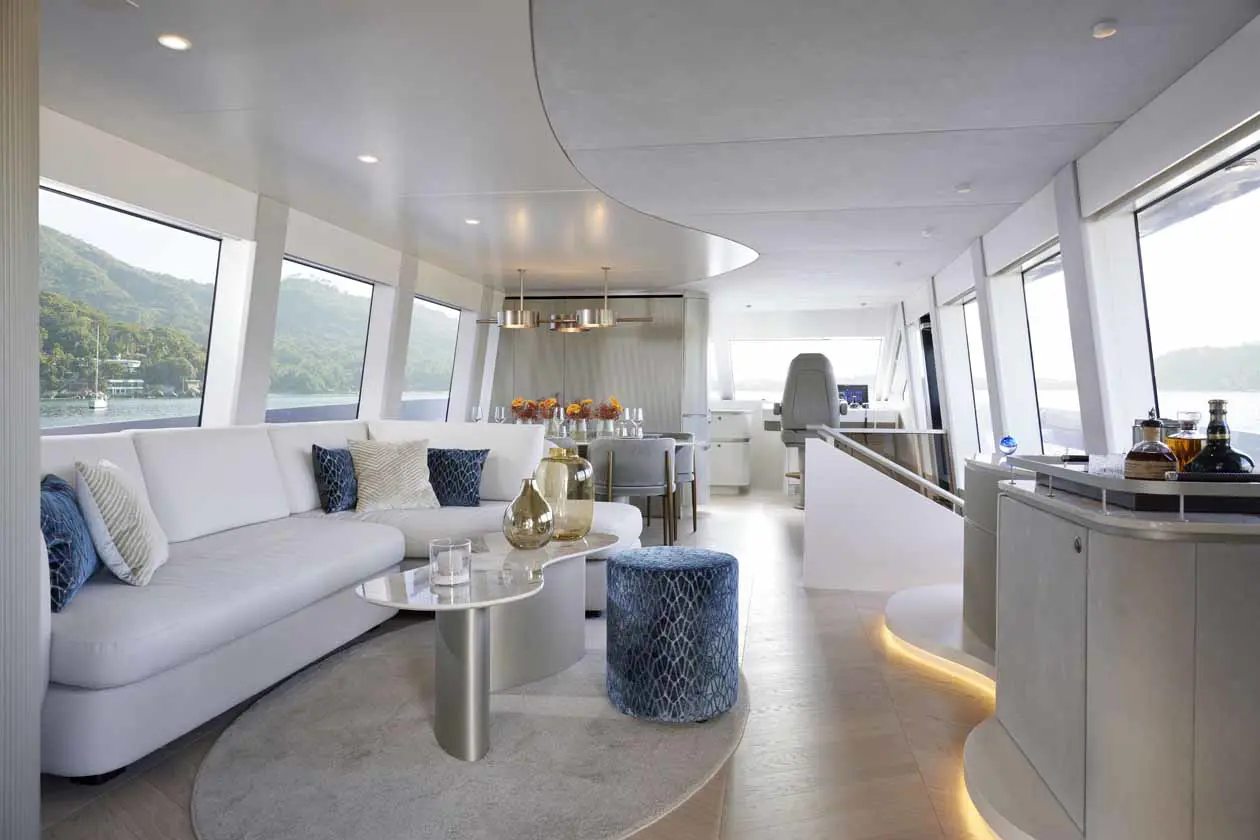 Van der Valk, Flybridge 25M, Dutch Falcon, salon. Copyright © Van der Valk.
These outdoor assets are superbly blended within a new exterior profile drawn by renowned Dutch designer Cor D. Rover. His rethink of the Van der Valk Flybridge line (fifteen of which have been sold since its launch in 2007) gives extra élan to the lines and shapes as well as bringing in more glazing to the hull and superstructure.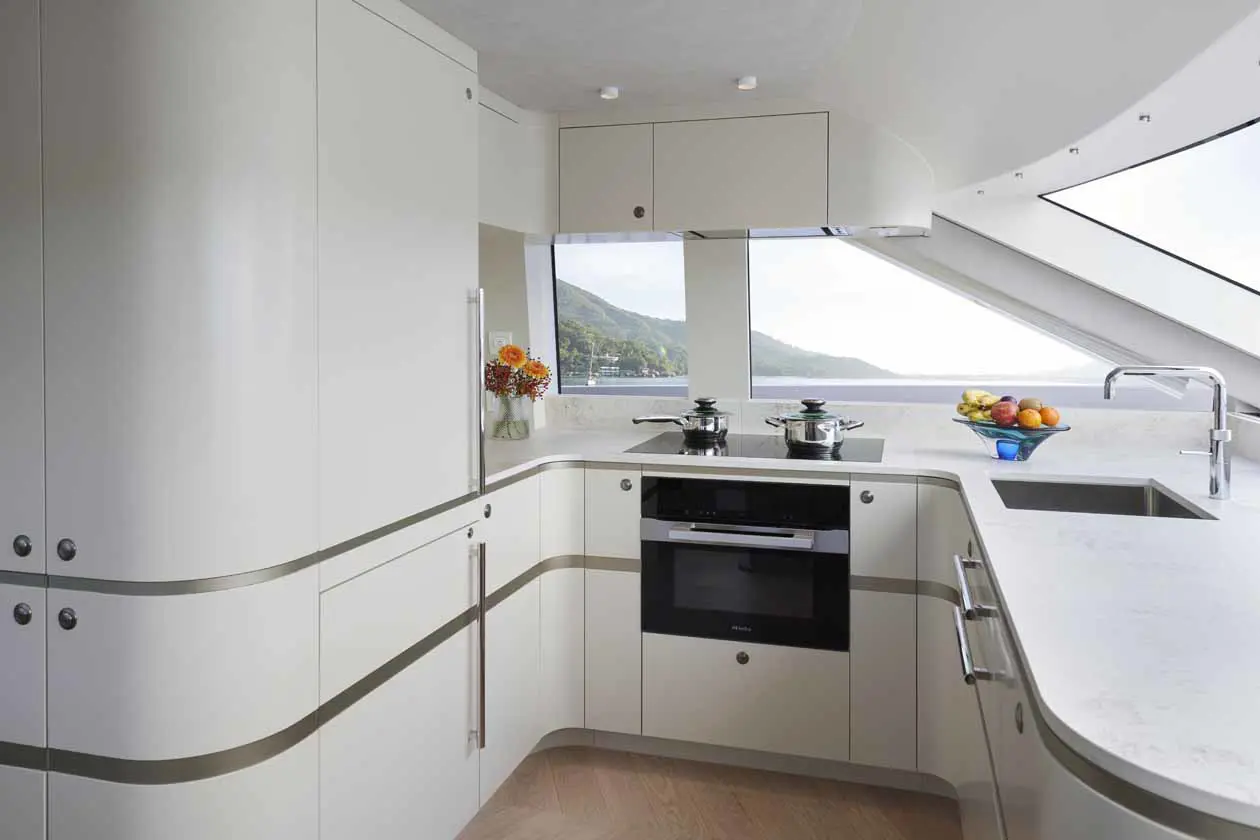 Van der Valk, Flybridge 25M, Dutch Falcon, gallery. Copyright © Van der Valk.
Talking of elegance, Dutch Falcon has a lovely Horizon Blue metallic livery, a favourite colour of the owners that also includes tones of purple and grey. It supports the way in which the exterior design draws attention to the windows, with the gunwale dropping down to allow more natural light to infuse the interior as well as further enhance the views outside. The main salon furniture is not attached to the side walls or window mullions in order to accentuate this feeling of freedom.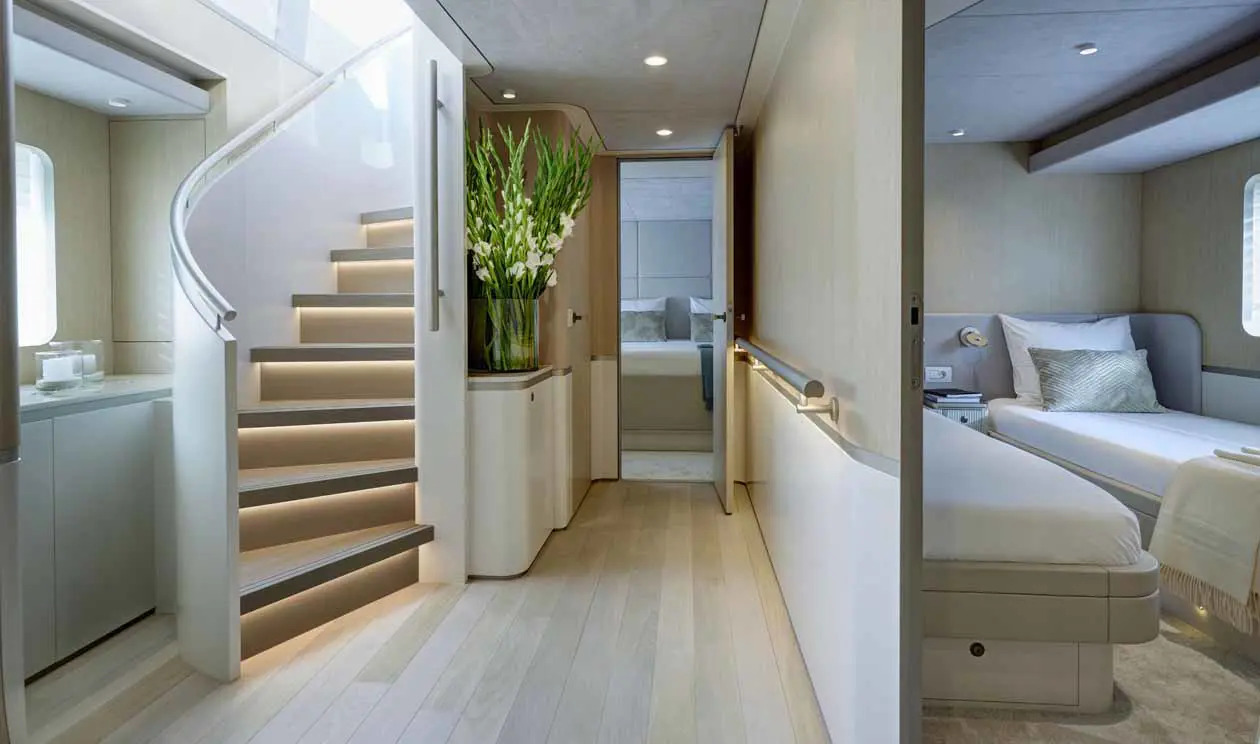 Van der Valk, Flybridge 25M, Dutch Falcon, corridor. Copyright © Van der Valk.
The entire main deck is on a single flush level, from the bridge to the aft deck via the galley, eight-seater dining room, lounge and bar. There is also a large day head here in order to keep the lower deck strictly private for those staying overnight, with room for 20 or more people to party on the main deck without needing to intrude on the accommodations. Having a bathroom on the main deck is also handy for when people pop in from the water and prefer not to go below deck.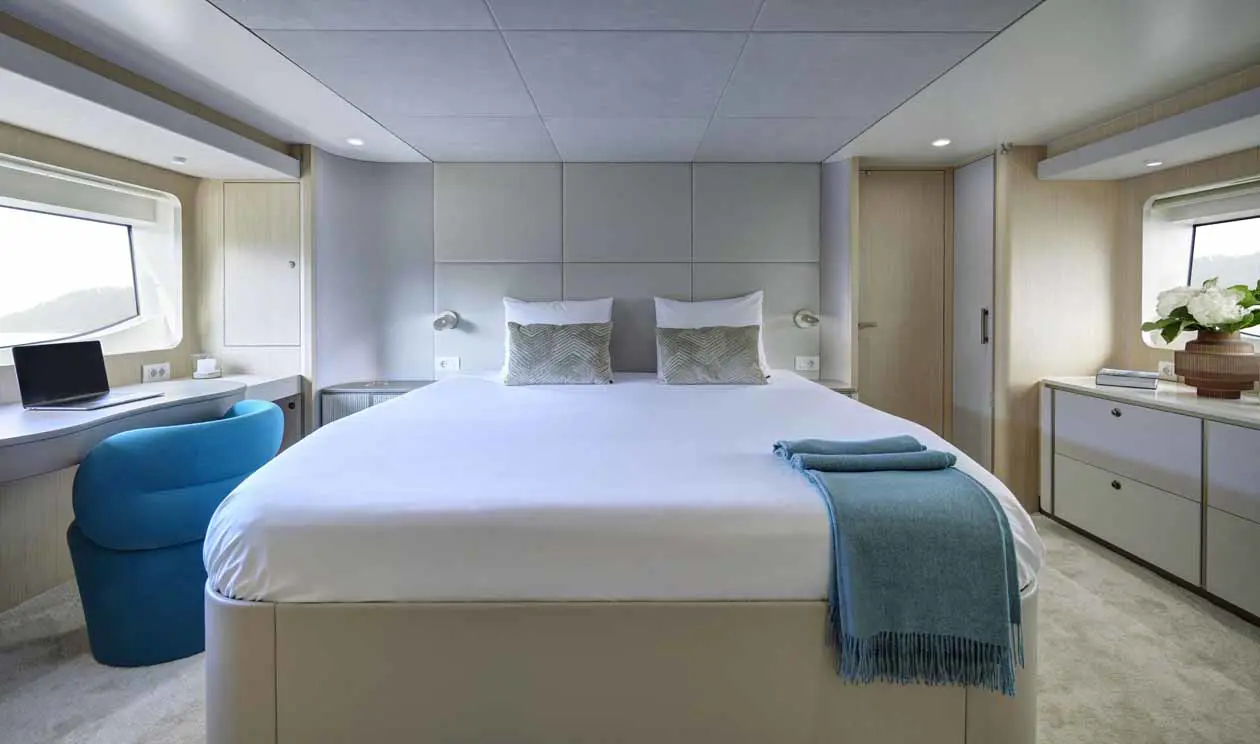 Van der Valk, Flybridge 25M, Dutch Falcon, owners stateroom. Copyright © Van der Valk.
Those who are staying onboard will certainly enjoy their sleeping quarters as Dutch Falcon has impressive volume for a 26-metre yacht. The master suite is full-beam and fitted with a vanity table (which could also be converted into an office area if desired). There are two amidships cabins, a VIP and another that can be converted from a double to a twin. The two-person crew cabin in the bow can also serve as a children's cabin, with a connecting door to the VIP. Again, flexibility is key.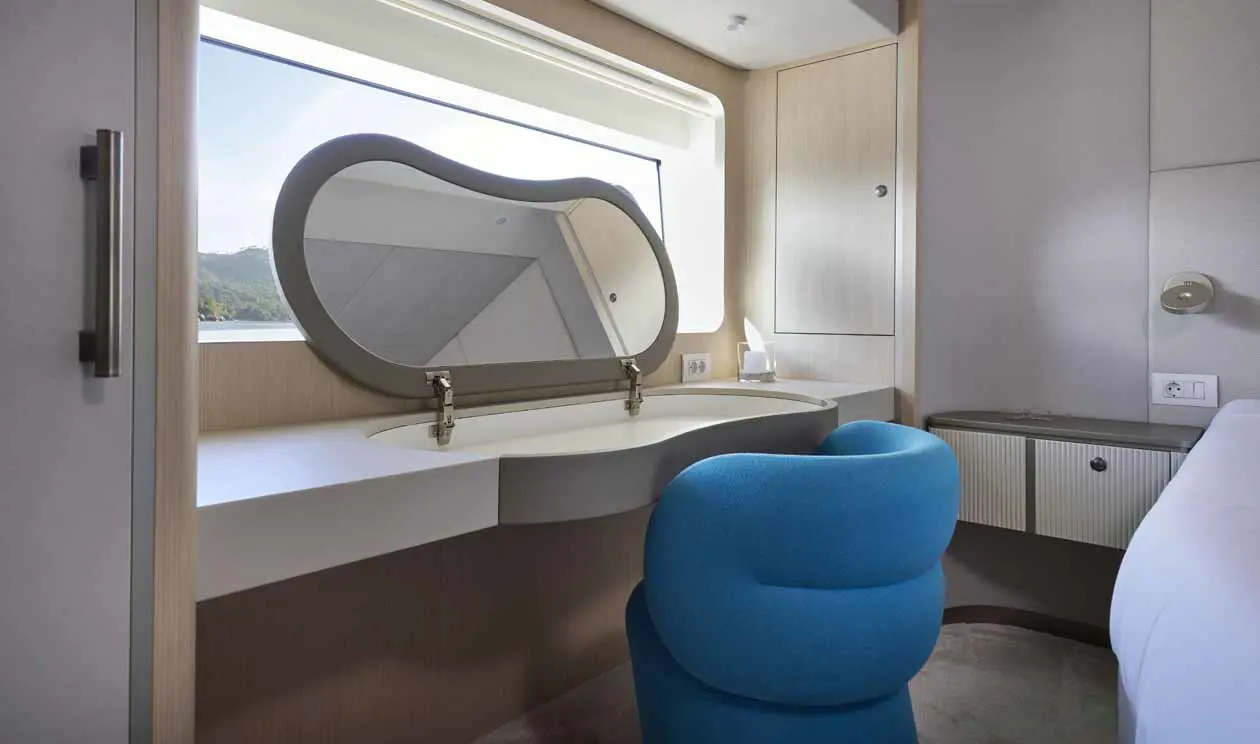 Van der Valk, Flybridge 25M, Dutch Falcon, owners stateroom. Copyright © Van der Valk.
Interior designer Carla Guilhem and her team have made the most of this spaciousness to create a calm and contemporary style. Mirroring the design theme of the Flybridge as a whole that revolves around relaxation and homeliness, the interior has a wealth of round shapes and organic forms. As befits this high-end residence, a sense of comfort is established by the use of suede, leather and a range of fabrics and finishes with light natural oak wood and various wood textures and fluted panels adding to the neutral scheme. A palette of off-white and grey hues is mixed with pop-up colours in the accessories and upholstery.
AVION LUXURY MAGAZINE
in digital version
DESTINATIONS Aruba, un viaggio ai Caraibi. HOTELS Un Bvlgari Hotel a Roma. JETS La serie Phenom 300 di Embraer - La cabina Executive di Bombardier. CARS Bugatti Chiron Profilée -1000 Miglia Experience UAE.
YACHTS Grande 26M di Azimut - Nautica e benessere con Arcadia. WATCHES Planetarium Dunes of Mars Limited Edition.