09 March 2022
CAOZ 14 refit by Nauta Design
Modern and warm, airy and welcoming. New open-space layout, improved ergonomics and revisited lighting design
Caoz 14 (previously named Selene and Parsifal IV) is a graceful 56m Perini Navi sailing yacht launched in 2007. Following on from their win in the Best Refit category for the Vitters yacht G2 at the 2019 World Superyacht Awards, Nauta Design was tasked by the owner to refresh her aging interior design.
The owner's brief aimed at opening up spaces longitudinally, so that guests could have a deep field of view, and transversally to have a full-beam salon with spectacular views of the surrounding seascape from both sides. Most of all, as a yacht destined for family use it had to have the feeling of "harmony, peace and light."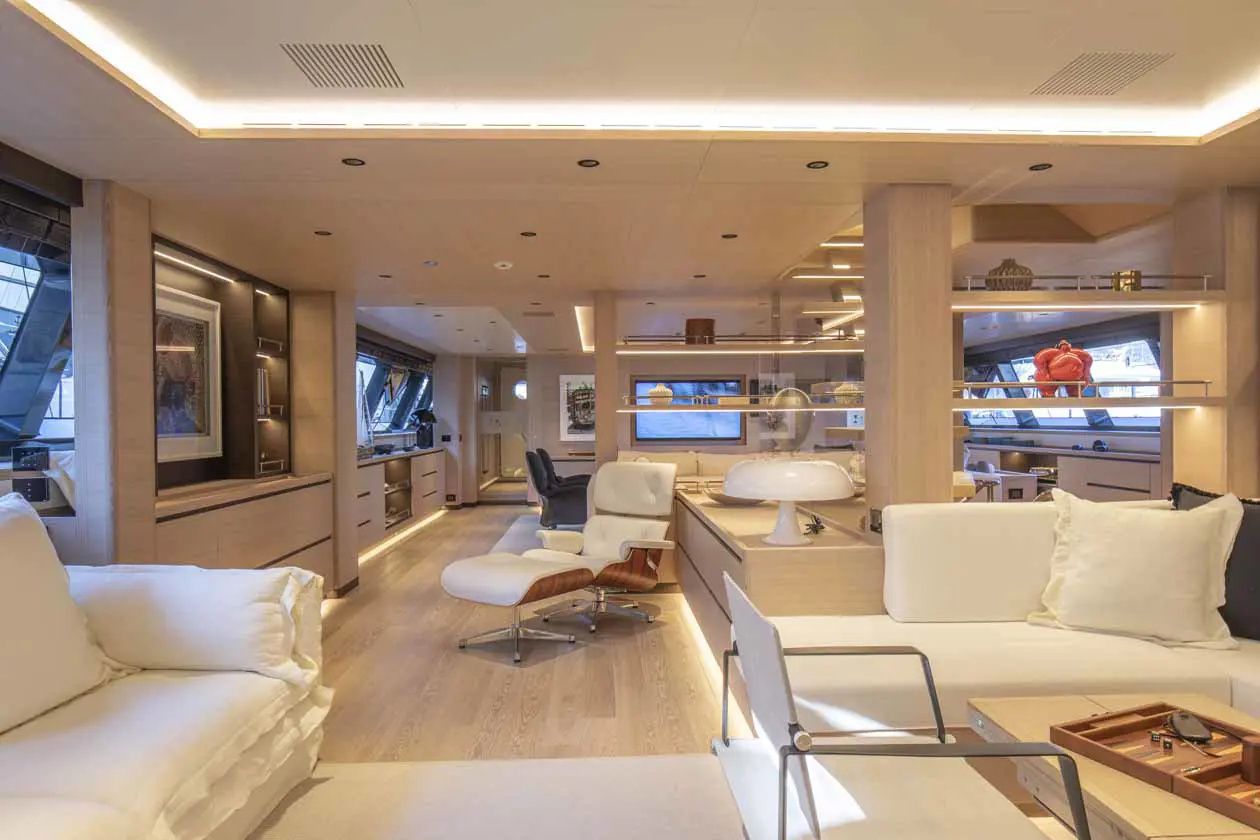 CAOZ 14 refit by Nauta Design. Photo Credits Post-refit: Copyright © Giuliano Sargentini.
"We wanted to update the yacht starting with interiors that would be modern and warm, airy and welcoming," says the owner. "We had an immediate feeling and connection with Nauta Design, Massimo Gino and Mario Pedol. Their team understood what we wanted to do very well, and they interpreted our initial brief in an exceptional way."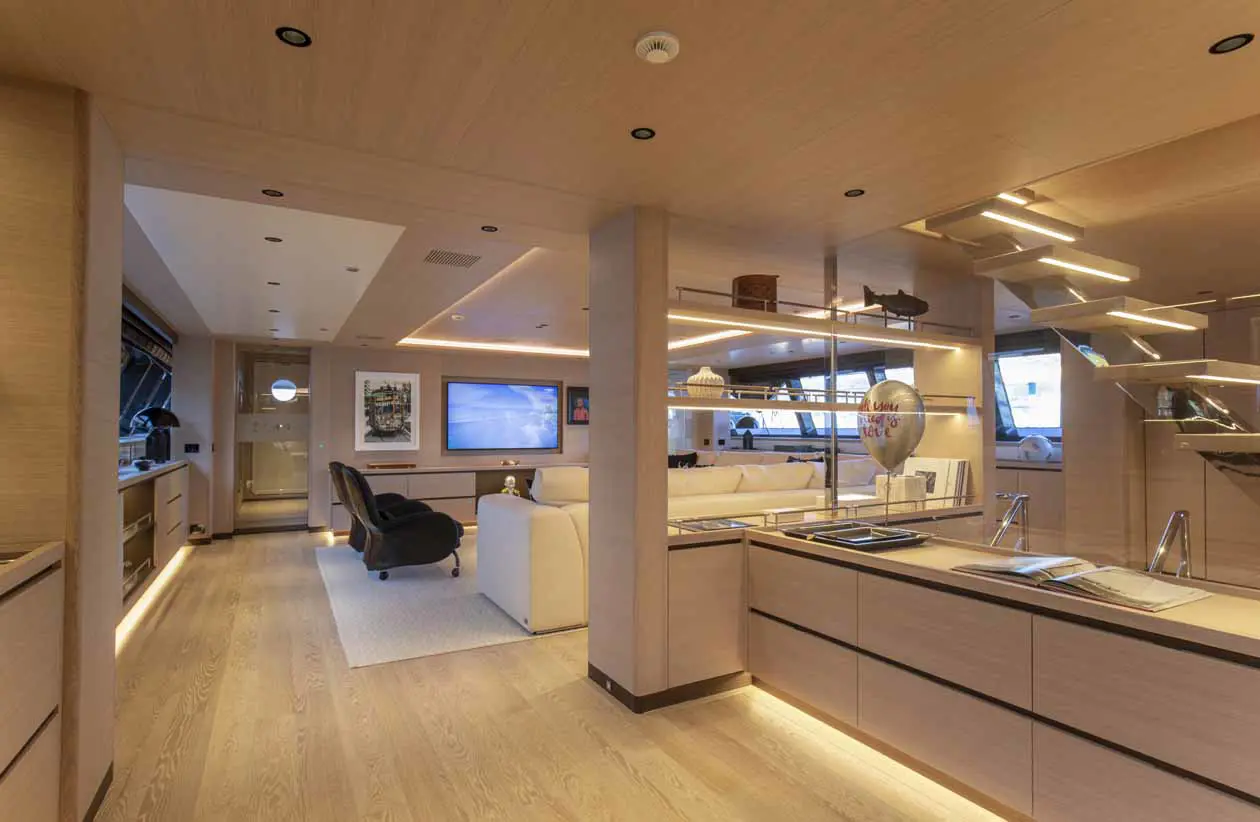 CAOZ 14 refit by Nauta Design. Photo Credits Post-refit: Copyright © Giuliano Sargentini.
Nauta focused attention on transforming the old-fashioned dark tones and series of separated or enclosed spaces into an open and connected contemporary environment, as well as introducing its signature clean and balanced lines to enhance the onboard lifestyle according to the owner's brief. For example, a crew corridor along the port side of the main salon had a negative impact on the sense of airiness which, combined with the dark colour palette, made the space feel a bit oppressive. The stairwell was also enclosed by bulkheads and led to a sense of confinement.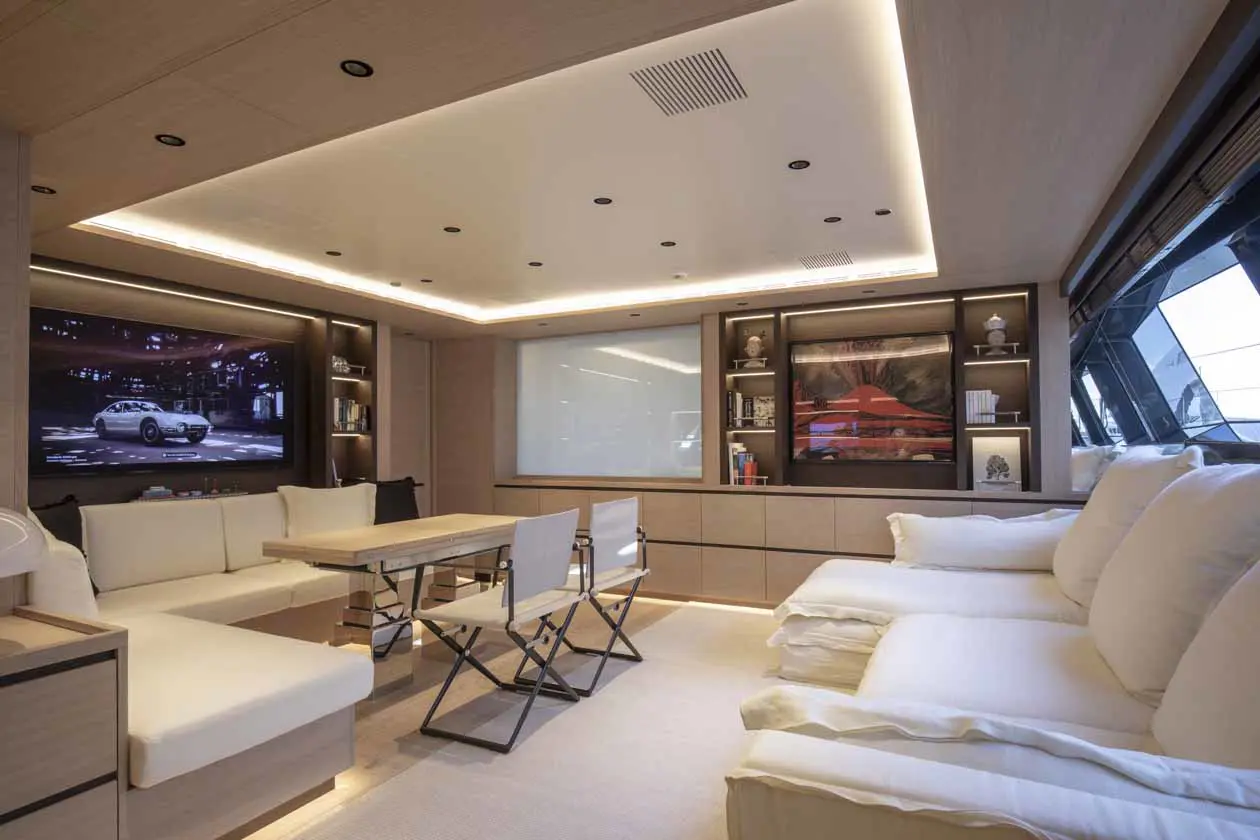 CAOZ 14 refit by Nauta Design. Photo Credits Post-refit: Copyright © Giuliano Sargentini.
"Our objective was to open up spaces and let the beauty of the yacht's natural surroundings in,"
says
Mario Pedol
, co-founder of Nauta Design in
Milan
.
"To this end, we worked to eliminate structures and impediments that blocked the views and complicated movement through the yacht."
Nauta started by redefining the yacht's layout to open up the visuals from port to starboard and fore to aft. First of all, the crew corridor was eliminated so that the main salon became full beam with views on both sides. The stairway was also redesigned to be less intrusive with floating treads inserted in a central spine, all encased by a transparent structure.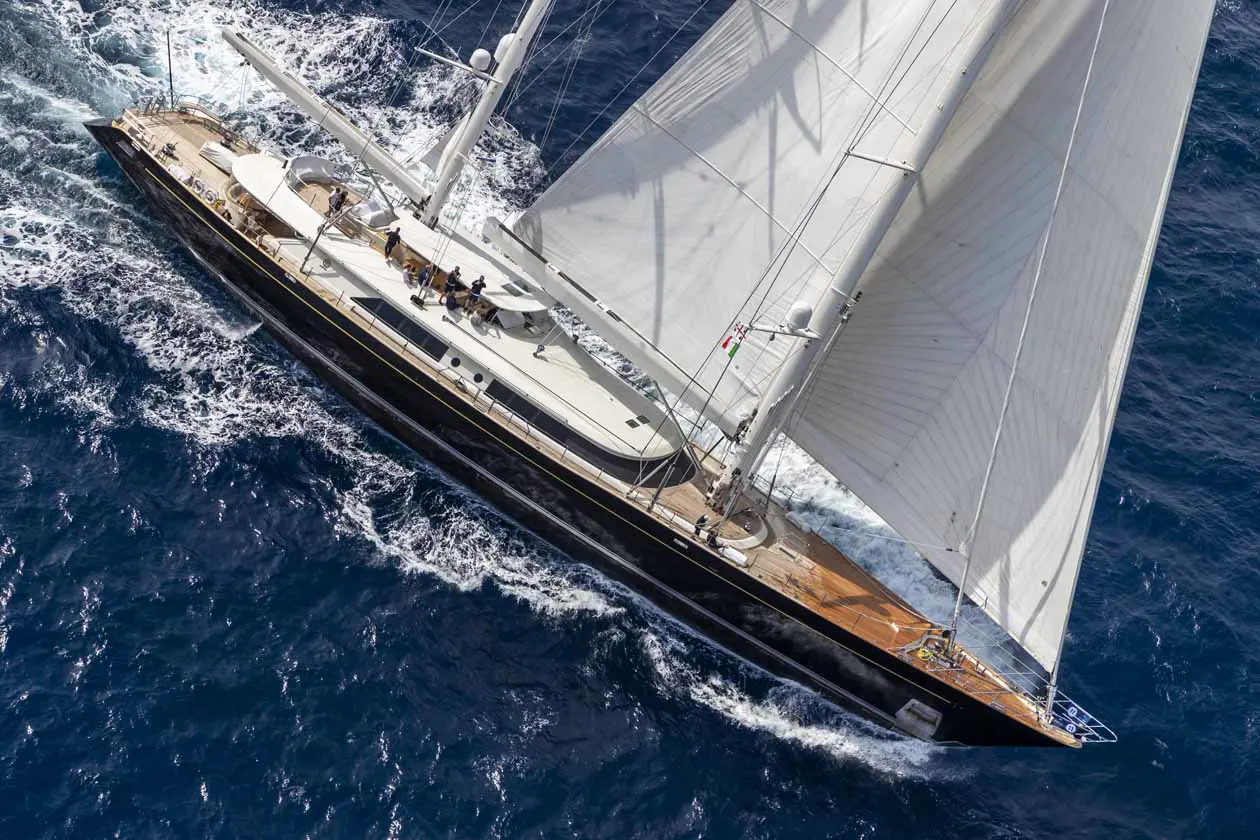 56m Perini Navi SY CAOZ 14. Foto Credits Sailing Courtesy: Copyright © Perini Navi.
The forward section of the saloon was redesigned and hosts now a multipurpose relax area, with a comfortable TV lounge and an extendable coffee/lunch table: a less formal, yet cozy area, which can be used also as playroom for kids. To open up the interior still further, a Smart Glass panel was inserted into the bulkhead between the TV lounge area and the wheelhouse. This window can be made opaque for privacy, but when in transparent mode it provides sightlines all the way to the bow to create the sensation of a continuous, uninterrupted space. Along the same line of thinking, the heavy swinging doors between the aft cockpit and the main saloon were replaced with automatic sliding glass doors to bring light inside and connect the interior with the exterior.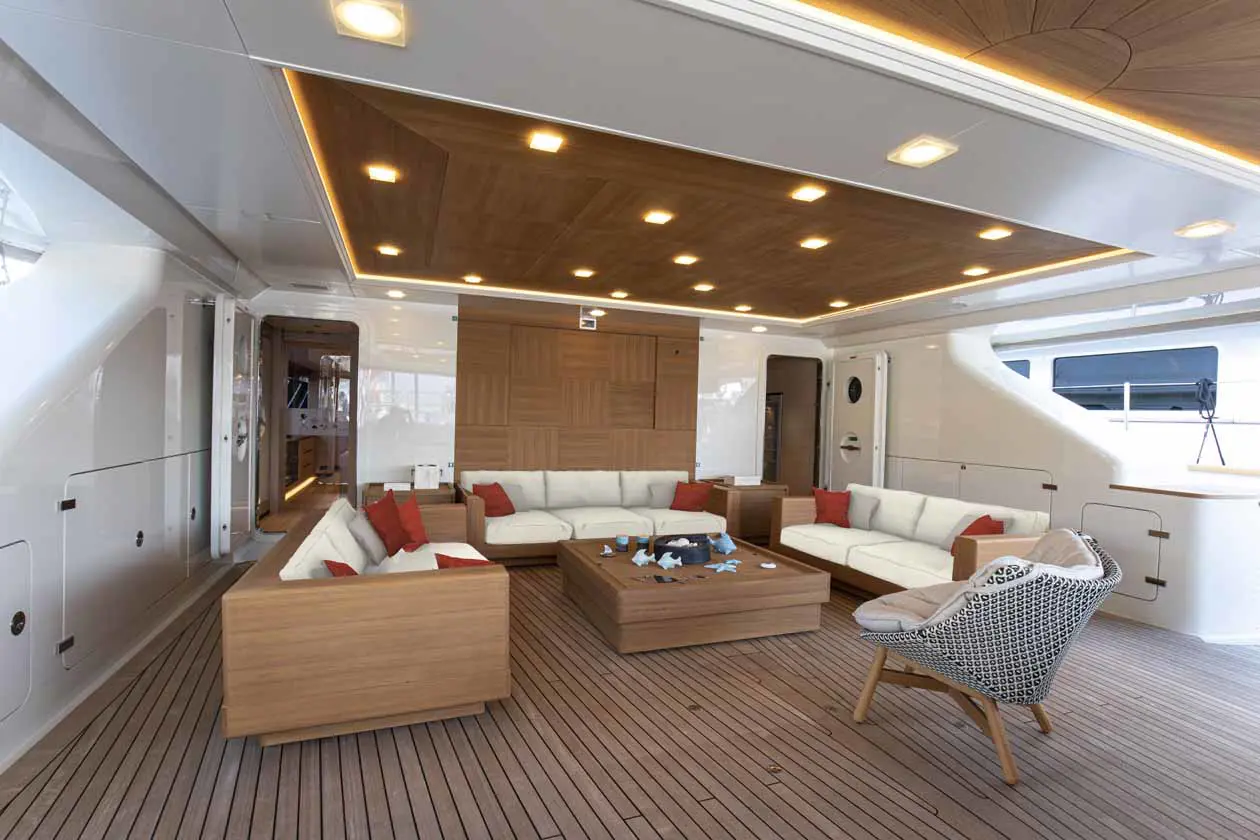 CAOZ 14 refit by Nauta Design. Photo Credits Post-refit: Copyright © Giuliano Sargentini.
Embracing all these improvements is an all-new colour palette comprising light-toned oak wood, white lacquer and brighter flooring. The studio worked closely with the owner's wife to choose loose furnishings and fabrics, such as the carpets by Kashtall, Dedon outdoor seating, Eames lounge chair and pouf by Vitra in the main saloon, and other items.
Another important part of Nauta's work was to evaluate ergonomics, work paths and functionality to make on board life as comfortable as possible and to satisfy the owner's brief for lots of spaces for books, art and other collections," says Pedol. "This part of the job involved creating niches, shelves and other storage spaces, both open and closed.
56m Perini Navi SY CAOZ 14. Foto Credits Sailing Courtesy: Copyright © Perini Navi.
Nauta was also careful to make sure that certain elements could be transformable or convertible. The dining table, for example, has a sophisticated system for adjusting the height and expanding it for different uses and situations.
Careful attention was paid to lighting and Nauta teamed up with Cantalupi to create a system that offers different lighting scenarios through ceiling spotlights, rope lights in the shelving and along the kickers. These elements are complimented by lighting fixtures from top design houses Fontana Arte, Oluce and Artemide. A new domotic system was installed for controlling everything from lighting to opening and closing the window blinds.
AVION LUXURY MAGAZINE
in digital version
DESTINATIONS Aruba, un viaggio ai Caraibi. HOTELS Un Bvlgari Hotel a Roma. JETS La serie Phenom 300 di Embraer - La cabina Executive di Bombardier. CARS Bugatti Chiron Profilée -1000 Miglia Experience UAE.
YACHTS Grande 26M di Azimut - Nautica e benessere con Arcadia. WATCHES Planetarium Dunes of Mars Limited Edition.