18 May 2023
Baglietto T52, the 52 m displacement yacht pencilled by Francesco Paszkowski Design
Presented in Portofino as a world premiere, this model is the first with hybrid propulsion
"This is a much-awaited moment for us - comments Baglietto CCO Fabio Ermetto - Being the first model in the T52 line to mount a hybrid propulsion, hull No. 10238 marks a crucial step - also in terms of research and development - in our shipyard's path towards sustainable yachting - a path we have been pursuing with firm determination".
The first T52, the 52 m displacement yacht pencilled by Francesco Paszkowski Design, was presented yesterday as a world première over the last few days in Portofino. This model is also the first to mount a hybrid propulsion.
The occasion also provided the perfect stage to present OFFICINA BAGLIETTO, the training project by YAC offering young talents the opportunity to learn not only about nautical design - the Italian boat builder's core business - but, more in general, about the luxury market, with a special focus on product design, fashion design, and jewellery design.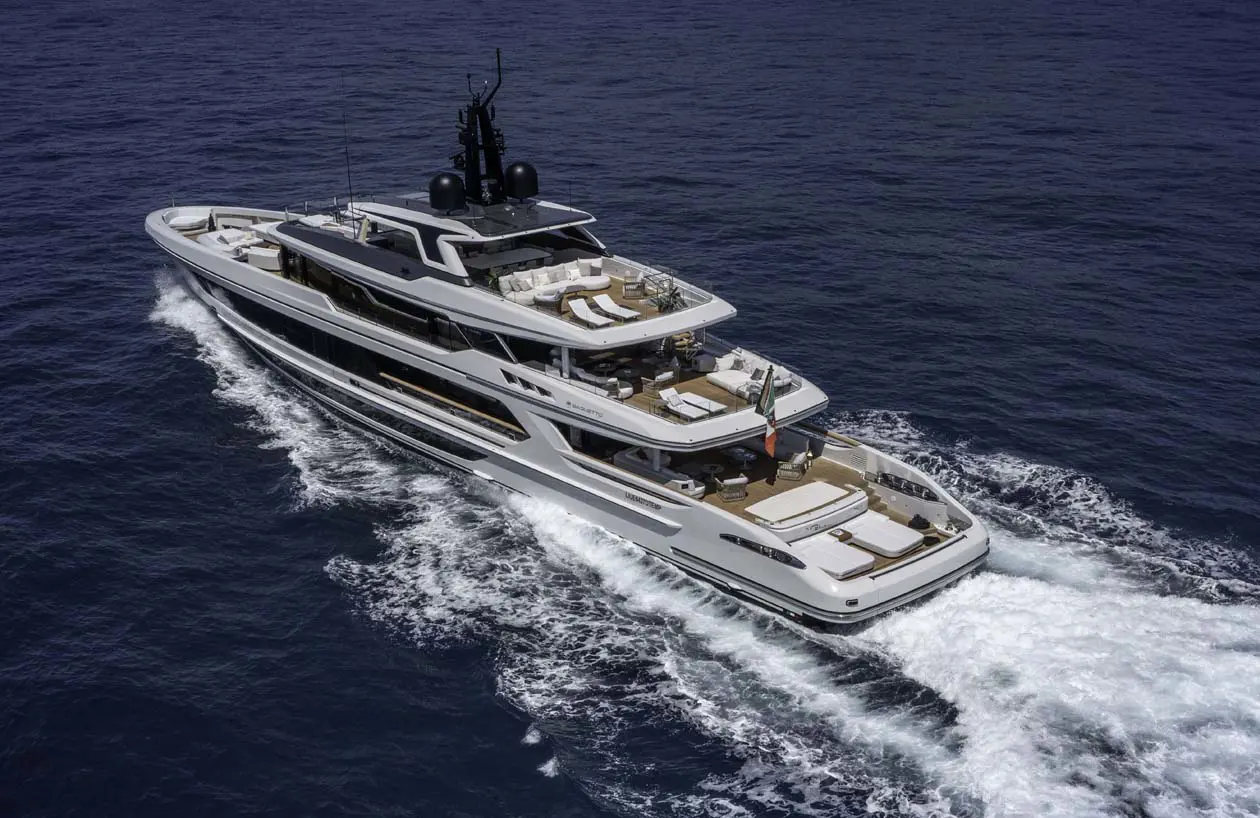 Baglietto T52, the 52 m displacement yacht pencilled by Francesco Paszkowski Design. Copyright © Baglietto SpA.
"There could be no better place than the Marina di Portofino to present our first hybrid-propulsion 52 m yacht, marking the first step towards delivering on our pledge for a more responsible and sustainable yachting - comments Baglietto CEO Diego Michele Deprati. Moreover, the OFFICINA BAGLIETTO project reflects our shipyard's ever-growing commitment not only to building world-class yachts, but also to developing highly valuable projects, with a unique focus on and consideration for the new generations".
The event was supported by several internationally renowned partners that share Baglietto's values and passion: Antinori, Bentley Milano, Eleventy, FPArt, Frette, Il Bisonte, Leone Limentani, Miller Harris, and Taurus, who made this yacht even more precious and contributed to making this world première a truly special and exclusive occasion.
Hull No. 10238, the first T52, is fitted with a hybrid propulsion system that will allow to choose a more efficient cruising mode, curbing both consumption and environmental impact. When cruising in electrical diesel mode, the T52 can indeed boast a range of up to 7,600 nm, and remain at anchor up to 10 hours relying on the batteries only. Her two MTU 16V2000M86 engines, however, also enabling her to reach quite an impressive maximum speed of 17 knots and a range of 3,600 nm in traditional navigation mode.
The lines penned by Francesco Paszkowski Design reinterpret the classical design elements of Baglietto's traditional steel displacement yachts under 500 GT in a highly contemporary, distinctive style, conveying a very strong personality.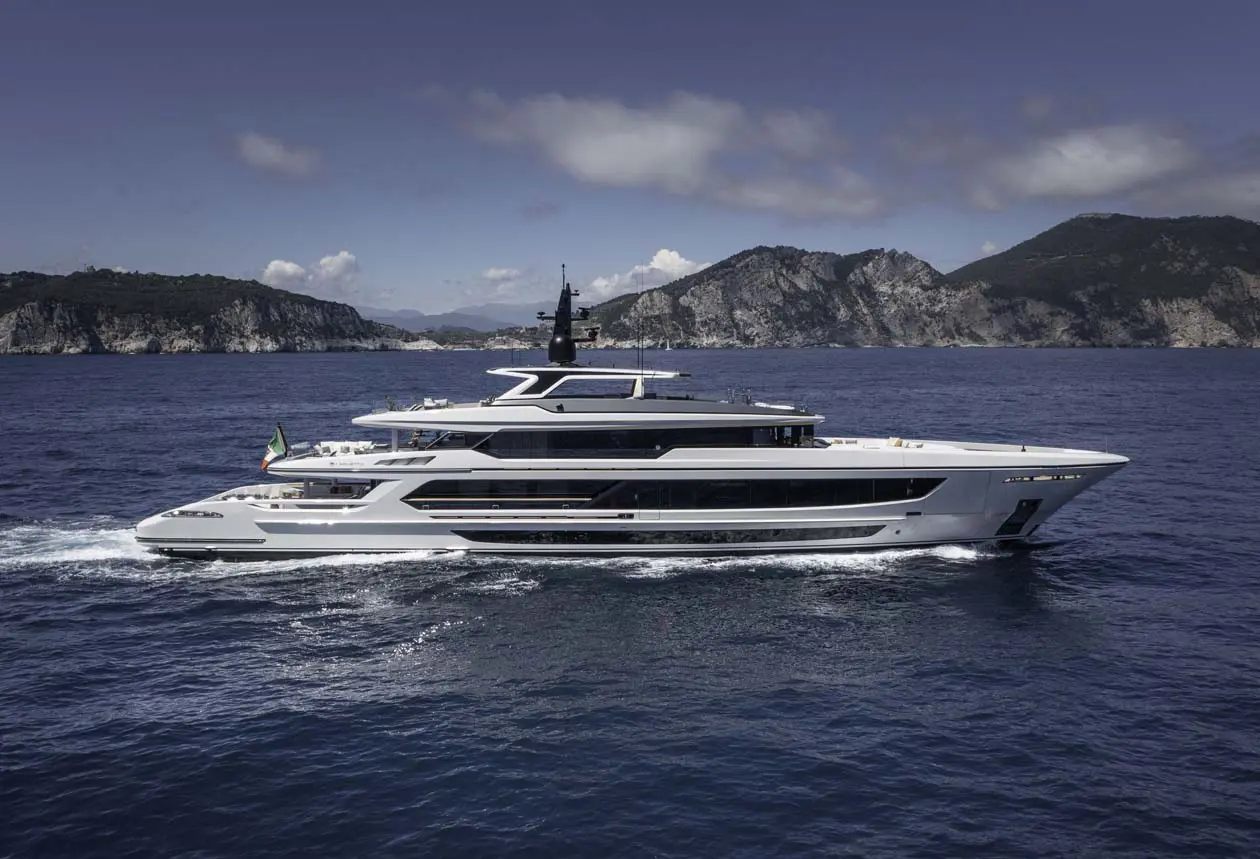 Baglietto T52, the 52 m displacement yacht pencilled by Francesco Paszkowski Design. Copyright © Baglietto SpA.
"The T52 designed for Baglietto offers extremely comfortable exteriors and truly impressive volumes, allowing to enjoy life in the open air to the fullest. Two examples, in addition to the spacious sun deck, can be found at the bow, with the passerelle connecting the sun deck and the upper deck to create a huge, almost uninterrupted space, and in the aft part of the main deck" comments Francesco Paszkowski. The interiors too - also designed by FPD in cooperation with Margherita Casprini - have a very strong personality: "The interiors perfectly reflect the Owner's personality and his wish for a sober, contemporary atmosphere. This has been achieved by selecting classical materials to obtain an elegant, linear style and then adding a modern touch with the furniture", explain Francesco Paszkowski and Margherita Casprini.
All onboard areas share the same design and style consistency. Natural materials have been used throughout the yacht: teak for the floors; lacquered surfaces, natural and almond-shaded leather for the furniture; Botticino marble for the bathrooms; burnished metal and satin-finished stainless steel for details; and fabrics in light colours or in shades reminiscent of the light grey of stone, in a harmonious blend that highlights the Owner's desire for a fresh, carefree atmosphere. The same design concept and style has been applied to the many custom pieces of furniture, choosing brands like Frendi Casa, Dedon and Tribù and selecting fabrics in natural nuances skilfully combined with leather, wood, and marble for the furnishings.
Just like her seven sister ships, the first T52 too has truly unique features that perfectly meet today's market demands. Close contact with the sea is ensured by the original open stern featuring a beach club that develops over 3 levels and has already become a hallmark of Baglietto's new course. The large pool can easily be concealed thanks to an ingenious up-down movable floor that further extends the available deck surface when the pool is not being used.
On the upper deck, the wide floor-to-ceiling windows opening on 3 sides create a pleasant "al fresco" lounge, with a conversation area and a dining area to be enjoyed in all weather conditions. The approximately 24-metre-long sundeck - another distinguishing feature on Baglietto yachts - is unmatched on a vessel of this size and volume, and follows in the wake of Baglietto's traditional displacement yachts.
Edited by editorial staff, Avion Luxury Magazine
Text source and photos: Copyright © Baglietto SpA Press

AVION LUXURY MAGAZINE
in digital version
DESTINATIONS Aruba, un viaggio ai Caraibi. HOTELS Un Bvlgari Hotel a Roma. JETS La serie Phenom 300 di Embraer - La cabina Executive di Bombardier. CARS Bugatti Chiron Profilée -1000 Miglia Experience UAE.
YACHTS Grande 26M di Azimut - Nautica e benessere con Arcadia. WATCHES Planetarium Dunes of Mars Limited Edition.