22 June 2021
A Personal Note 73's Spring-Summer 2022 CO-ED Collection
A high-end street style. Lines, patterns and antithetical colours to combine them with sartorial expertise, creating a great 'Made in Italy' product with an international taste
For the third consecutive season, APN73, acronym of A Personal Note 73, who debuted in Milan calendar in July 2020 on the occasion of Milan Digital Fashion Week, presents its collection at Milan Menswear Fashion Week. The Chinese brand born in 2019 from the partnership between Italian creative director Andrea Pompilio and fashion multinational JNBY is once again Milan's calendar in a digital format.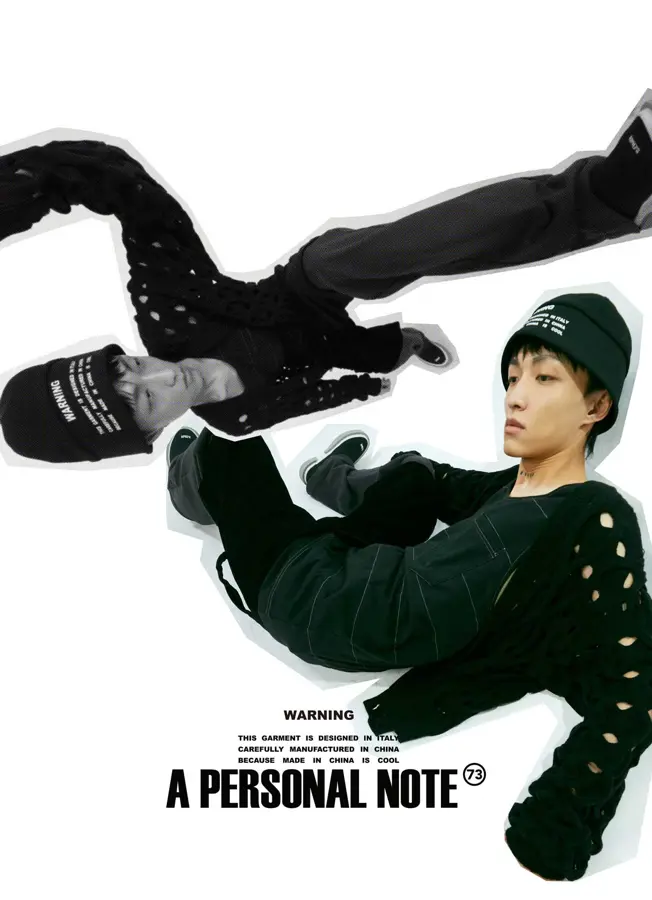 A Personal Note 73's Spring-Summer 2022 CO-ED Collection. Photo: Copyright © APN73.
"I am thrilled to be showing once again in
Milan
with a new digital content produced in China for my venture project with JNBY. Milan is my home, my headquarter and my fashion centre and I look forward to bringing again
APN73's vision of Asian contemporary fashion
to my city " said
Andrea Pompilio
.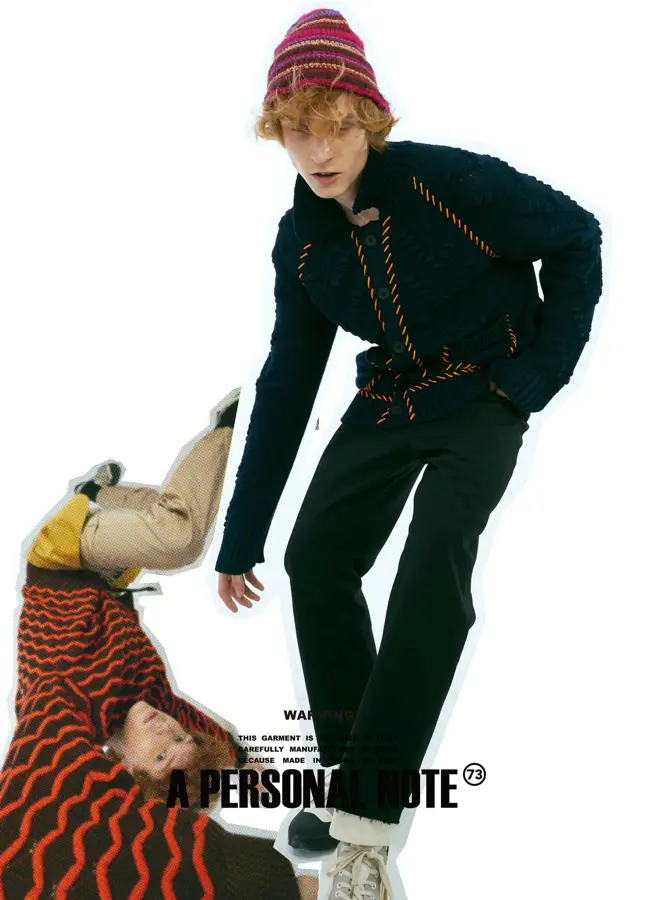 A Personal Note 73's Spring-Summer 2022 CO-ED Collection. Photo: Copyright © APN73.
Inspiration for
APN73 SS22
stems from
Pompilio
's attraction for
California's easy-going
and relaxed intentional fashion clash and wants to represent a send off to restrictions, welcoming the
return of freedom
and a
free lifestyle
. Through
intentional and bold contrasts of clashing colours
,
patterns and styles
, the collection conveys a feeling of hope. A longing for new beginnings and new unexpected and
unusual styles' encounters
from which it derives the irony of a
wardrobe clash
. To Pompilio the
clash
and positive energy of
California street-styles
resonates the vibrant and creative fashion jumble/blend of
contemporary Chinese cities
such as
Beijing
,
Shanghai
and
Hangzhou
,
APN73's headquarter
.
A Personal Note 73's Spring-Summer 2022 CO-ED Collection. Photo: Copyright © APN73.
A Personal Note 73's SS22 collection
will be presented through the lenses of
WARDROBE CLASH?!
. Set in
Shanghai
, the video was directed by
Chen Wang
and produced by lumastudio and showcase the collection with the brands'
usual surreal mood
, between
fashion movie
and
runway film
.
Shanghai's vibrant settings become the main visual backdrop behind a SS22 CO-ED line up made of bold contrasts. Flash frames of a runway set in the dark and the fluo neon lights effects, signature of APN73's identity, break the fast and hectic flow of the main story, producing a lively rhythm. Building from the virtual reality concept explored last season, the move translate that concept into young generations's everyday life in China.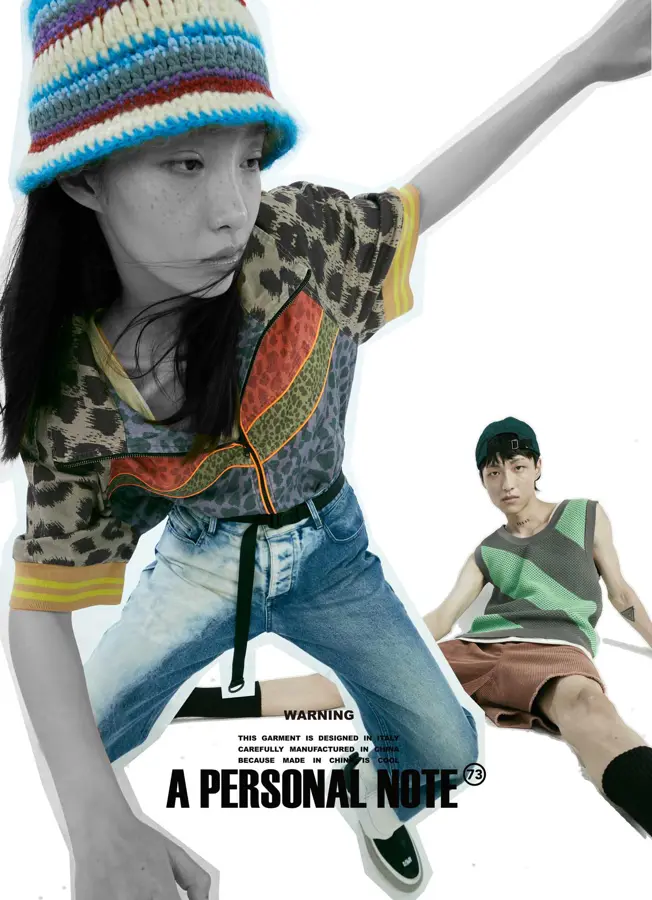 A Personal Note 73's Spring-Summer 2022 CO-ED Collection. Photo: Copyright © APN73.
"I wanted to relate to last season concept, virtual reality, as I believe virtual has become nowadays an essential part of everyday life. At the same I wanted to re-connect the virtual dimension to real life in Chinese cities such as Shanghai, to stress the idea of a contemporary life increasingly suspended in between virtual game and reality" in the words of Pompilio.
A Personal Note 73's Spring-Summer 2022 CO-ED Collection. Photo: Copyright © APN73.
Tributing California 90's culture, APN73 SS22 collection is feature the brand's signature oversize, comfy and baggy shapes in a summery colour palette combining bright tones of pop orange, light blue and brilliant shades of green with darker mono-tones of grey, black, navy, dark and military green. As a liaison to previous seasons, the collection plays with iconic patterns' contrasts. Traditional Italian check and stripes patterns dear to Pompilio are styled with 90's Californian lifestyle inspired patterns, such as palms and animalier, which is reinvented in variations of dark grey-black, light purple-white and rust-orange. Warm and dark tie-dyes melt with hints of natural warm colours such as camel, beige, rust chocolate and coffee applied to a variety of natural technical and functional fabrics spanning cotton-linen, cotton canvas, nylon and are combined with the checked and stripe cotton popeline signature of Pompilio.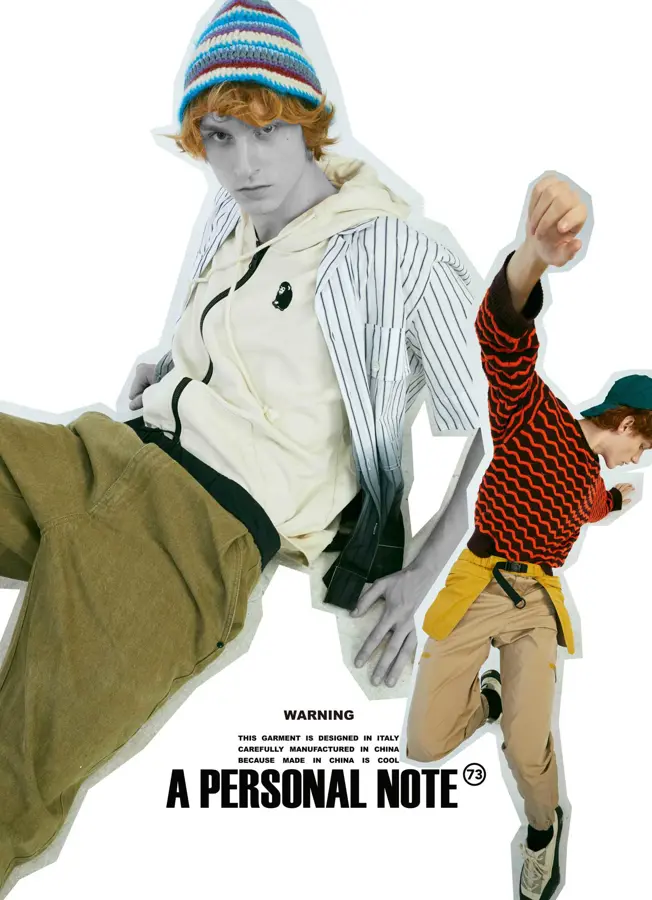 A Personal Note 73's Spring-Summer 2022 CO-ED Collection. Photo: Copyright © APN73.
APN73 - A Personal Note 73
APN73 was launched in 2019 by JNBY in partnership with Italian designer Andrea Pompilio and IBIC, as a made-in-china young spin-off of the eponymous brand created by the Italian designer. APN73 is an acronym of A Personal Note 73, which plays on the homophony of the initials of Andrea Pompilio's name. Indeed A Personal Note 73, wants to retrace his creative path and represents a sort of "personal diary" of the designer's cross-cultural experiences, starting from his year of birth, 1973. APN73's aesthetics blends diversified cultures, high street fashion and artistic characteristics to reinterpret the classic in a playful way and with a contemporary twist, under the brand's claim "Warning: this garment is designed in Italy and carefully manufactured in China, because made in China is cool". With a modern urban design that combines elegance, delicacy and pragmatism, APN73 combines workwear and military uniform with traditional Italian tailoring. Through contrasting colours and diverse elements, the design interprets a delicate yet contemporary urban asian aesthetic to create a high-end street style.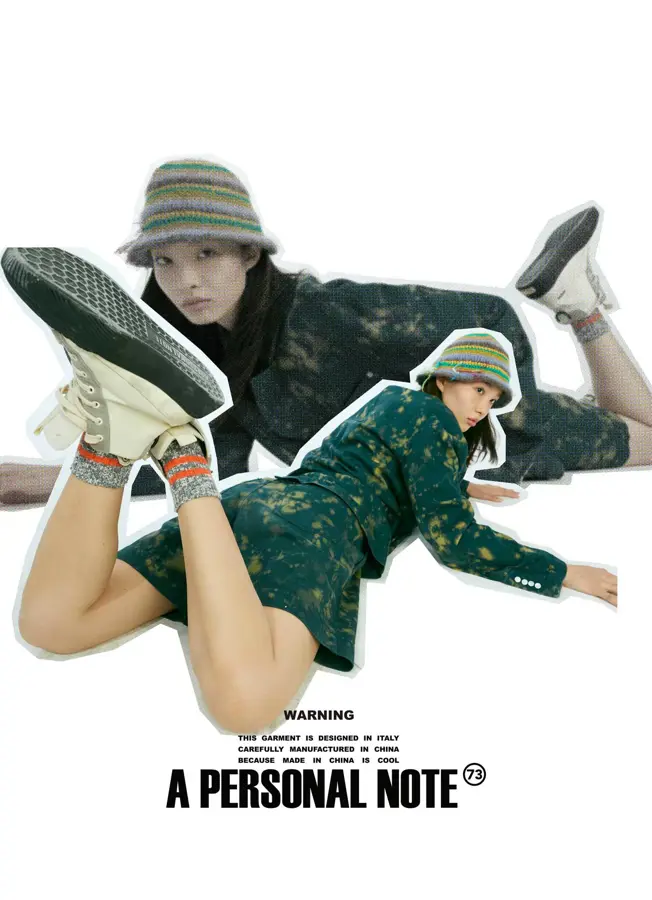 A Personal Note 73's Spring-Summer 2022 CO-ED Collection. Photo: Copyright © APN73.
"I have always been attracted by cultural diversity and thanks to my creative collaborations, which took me often to Asia, I was able to explore the mixes of cultures. This partnership and the launch of the APN73 project have given me the opportunity to closely appreciate Chinese contemporary society and understand its emergent fashion trends and quality of production" said the artistic director and co-founder Andrea Pompilio.
After the launch event in China, APN73 chose
Milan
for its international debut joining Milan Fashion week's menswear calendar in July 2020 within Milan Digital Fashion Week. The brand has since then shown in Milan calendar in a digital format.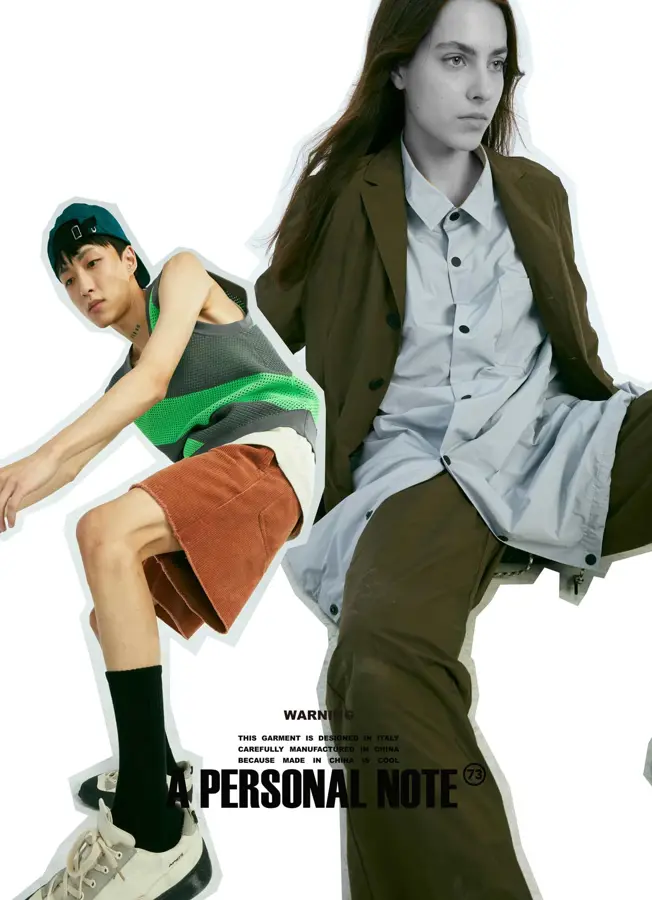 A Personal Note 73's Spring-Summer 2022 CO-ED Collection. Photo: Copyright © APN73.
Andrea Pompilio
Andrea Pompilio
was born in Pesaro in 1973, in a highly creative environment. His father, was an architect and his mother, a passionate painter. His whole family has been involved in the clothing industry for generations.His grandparents owned several boutiques in Pesaro, where Pompilio developed a passion for tailoring as well as military style clothing, two key elements of his collections nowadays. Following a master degree at Istituto Marangoni, several collaborations with world-leading brands such as
Prada
in
Milan
,
Calvin Klein
in
New York
and
Yves Saint Laurent
in
Paris
. In January 2010, the launch of the eponymous collection Andrea Pompilio for AW2010/2011, hosted for several editions as special guest brand at Pitti Immagine Uomo. In 2011 the Who's on Next? contest's award by Vogue Italia.
Andrea Pompilio. Photo: Copyright © Andrea Pompilio.
In 2013, the start of the collaboration as creative director with Japanese sportswear brand Onitsuka Tiger for a capsule-collection encompassing footwear, apparel and accessories. Soon after Pompilio is selected by Giorgio Armani to host his SS14 catwalk at 'Armani Teatro' for a remarkable debut at Milan Fashion Week. Not long after that, the Italian tailoring group Canali appointed him as creative director. Andrea Pompilio's style is ironic, contemporary and international and so is his soul. He likes to play with lines, patterns and antithetical colours only to combine them with sartorial expertise, creating a great 'Made in Italy' product with an international taste.
JNBY
JNBY Group, one of the most influential designer brand fashion house in China, was founded in 1994 with its headquarters located in Hangzhou, China, and focuses on creative design, research and development of process and technology to produce and sell branded apparel. Operating under the core values of "Better Design, Better Life", JNBY Group is devoted to building China's best platform for design. The group embraces a multi-brand strategy combining the synergies of multiple brands aimed to "Interpret Tastes with Design, Quality Life", to actively and continuously shape brand image, and offer meaningful and quality lifestyles to the multi-dimensional retail market. JNBY adhere to offer distinctive couture of superb quality, pursue uniqueness, be a constructive market disrupter and seek for unceasing innovation. JNBY cares about the cultural expression behind clothing, but also the novelty of a life that celebrates independent thinking, personalised expression and distinctive trends.
AVION LUXURY MAGAZINE
in digital version
DESTINATIONS Aruba, un viaggio ai Caraibi. HOTELS Un Bvlgari Hotel a Roma. JETS La serie Phenom 300 di Embraer - La cabina Executive di Bombardier. CARS Bugatti Chiron Profilée -1000 Miglia Experience UAE.
YACHTS Grande 26M di Azimut - Nautica e benessere con Arcadia. WATCHES Planetarium Dunes of Mars Limited Edition.