15 February 2023
The Globetrotter Platinum by Arnold & Son
A watch decorated with the traditional motifs of haute horlogerie and dedicated to the Earth, our most precious asset
By cladding its Globetrotter in 950 platinum, Arnold & Son continues to bring its unique perspective to time throughout the world. The platinum exalts the colour grey, and pays a wonderful tribute to the explorers of the 18th century. Aboard the ships of the British Navy, John Arnold's chronometers were essential tools for exploring the world, travelling and discovering new horizons.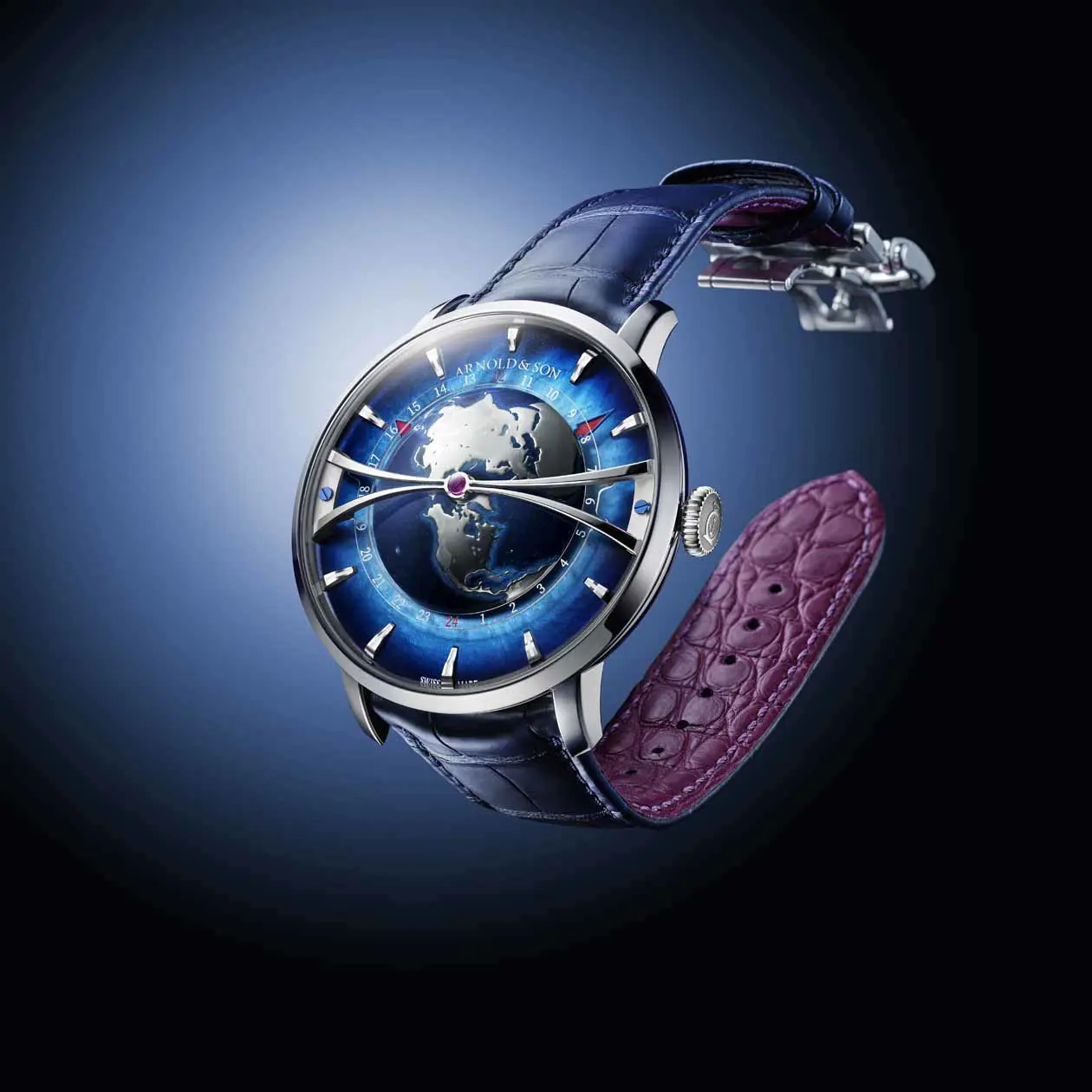 Globetrotter Platinum by Arnold & Son. Copyright © Arnold & Son
Mantenendo un design essenziale, Arnold & Son riafferma il valore, l'eleganza e la modernità del Globetrotter. Gli indici sfaccettati, applicati su due piani, sono realizzati in oro 18 carati con rivestimento Super-LumiNova. La parte inferiore del quadrante, che circonda il globo, è in madreperla con sfumature blu. L'anello delle ore universali è in zaffiro trasparente. L'ora locale si legge attraverso le lancette rosse che puntano gli indici, mentre per la lettura delle ore del mondo bisogna tracciare visualmente una longitudine immaginaria dal rubino del ponte centrale all'anello di 24 ore.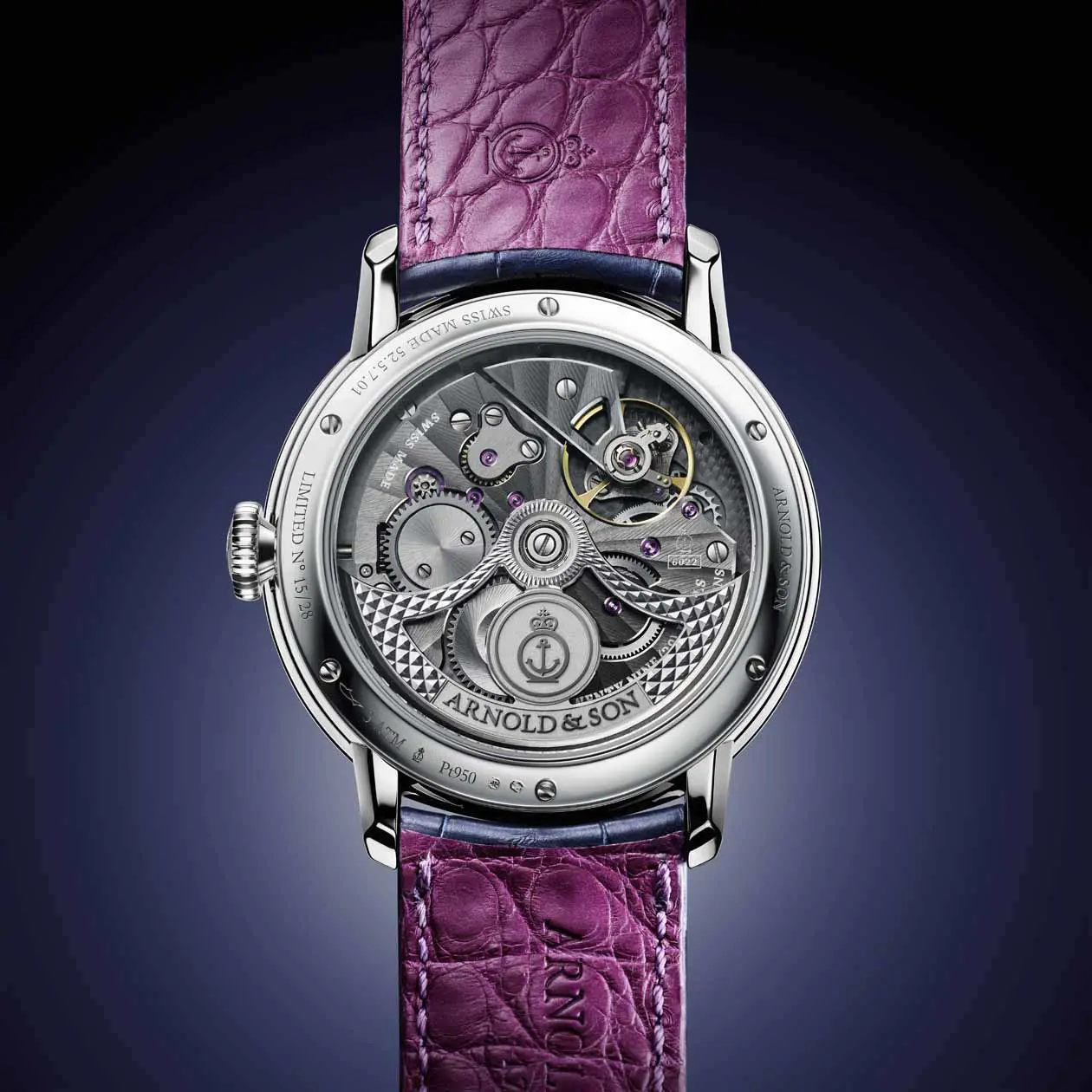 Globetrotter Platinum by Arnold & Son, back. Copyright © Arnold & Son
The Globetrotter Platinum features a central globe depicting the northern hemisphere, spanned by an immense bridge in 18-carat gold. The detail of its openworked design is taken to the extreme. Its various elements are either chamfered, polished or satin-finished. This taut-lined arc is the Globetrotter's visual signature and holds a functional jewel at its centre to mark the axis of universal time. For the first time ever, the Globetrotter's 45 mm diameter case is embellished with the most prestigious metal used in watchmaking: 950 platinum.
Globetrotter Platinum by Arnold & Son, night. Copyright © Arnold & Son
Continuing to explore streamlined design, Arnold & Son emphasises the precious, elegant and modern character of its Globetrotter timepiece. The appliques indexes on two planes are faceted and crafted from 18-carat gold with a touch of Super-LumiNova. The lower part of the dial encompassing the world map is in mother-of-pearl tinted in graduated shades of blue. The universal hours ring is in transparent sapphire crystal. Local times are indicated by red arrows pointing to the markers, while world times can be read off by visualising imaginary longitudes from the jewel in the central bridge to the 24-hour ring.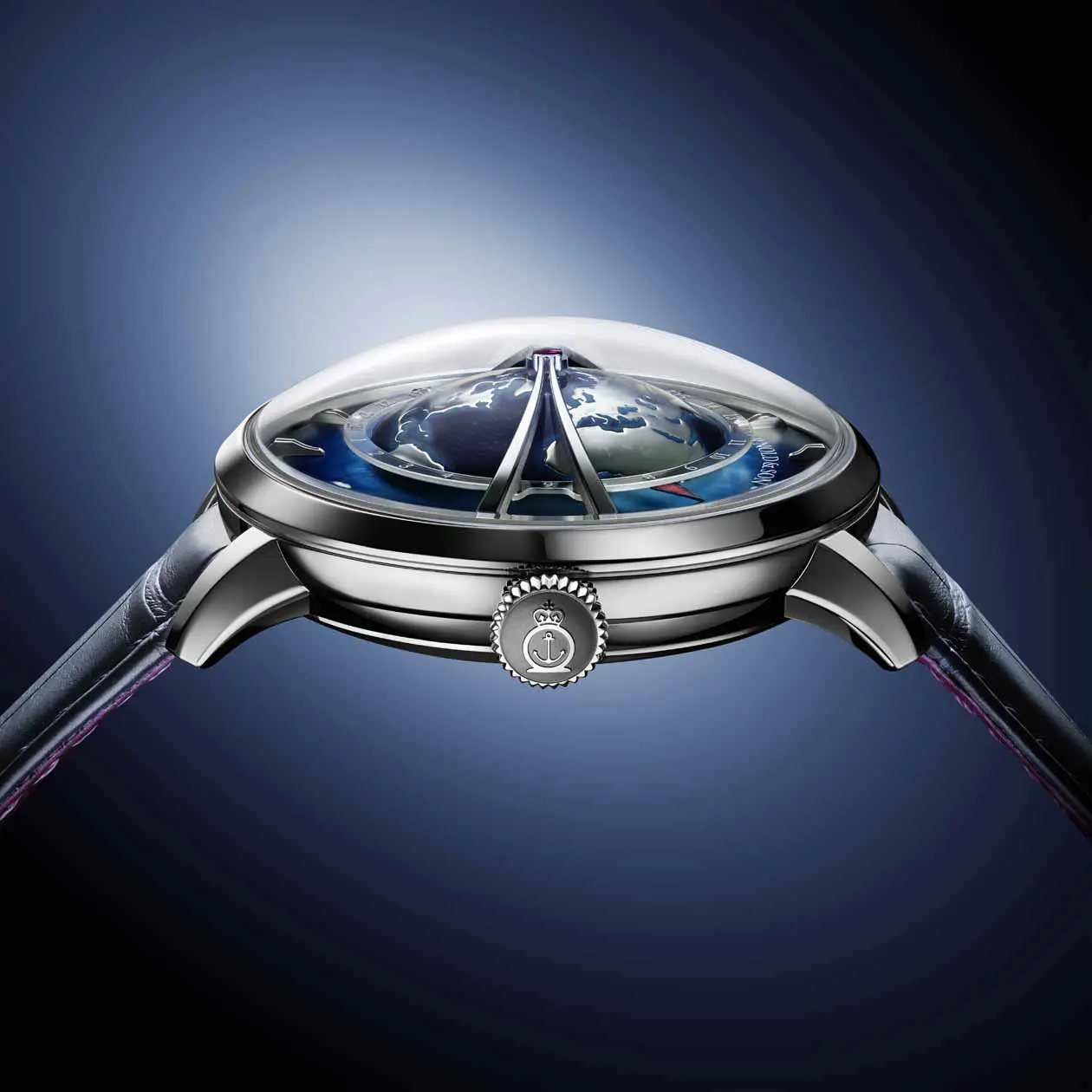 Globetrotter Platinum by Arnold & Son, profile. Copyright © Arnold & Son
The Globetrotter Platinum is equipped with the House's automatic A&S6022 movement which, like all those produced by Arnold & Son, was entirely developed, manufactured, decorated, assembled, adjusted and cased-up at the brand's Manufacture in La Chaux-de-Fonds. Its 22-carat gold oscillating weight features a skeletonised 'Clous de Paris' guilloché motif. The A&S6022 movement is also decorated with traditional fine watchmaking motifs: a circular-grained main plate, Côtes de Genève stripes radiating from the centre, satin-finished wheels, polished and chamfered screws. It also features a specific NAC finish – a type of plating that uses precious metals similar to platinum. This creates a particularly high-quality anthracite finish that perfectly matches the Globetrotter Platinum's 950 platinum case, both in terms of colour and character.
AVION LUXURY MAGAZINE
in digital version
DESTINATIONS Aruba, un viaggio ai Caraibi. HOTELS Un Bvlgari Hotel a Roma. JETS La serie Phenom 300 di Embraer - La cabina Executive di Bombardier. CARS Bugatti Chiron Profilée -1000 Miglia Experience UAE.
YACHTS Grande 26M di Azimut - Nautica e benessere con Arcadia. WATCHES Planetarium Dunes of Mars Limited Edition.