17 July 2022
Perpetual Moon 38 Gold, Moonlight
Staying true to its tradition as a watchmaker that values accuracy and its legacy of high-sea navigation, Arnold & Son has ensured that this moon-phase timepiece will remain accurate for 122 years
Perpetual Moon 38 Gold is dedicated to the Earth's only permanent natural satellite. Arnold & Son has incorporated its new astronomical moon-phase calibre into an ultra-slim 38 mm red-gold case. This indication appears in the aperture of a shimmering blue mother-of-pearl dial. A sumptuous diamond setting illuminates the hour-markers, crown, lugs and bezel. Glittering by day, scintillating by night, Perpetual Moon 38 Gold makes radiance its hallmark.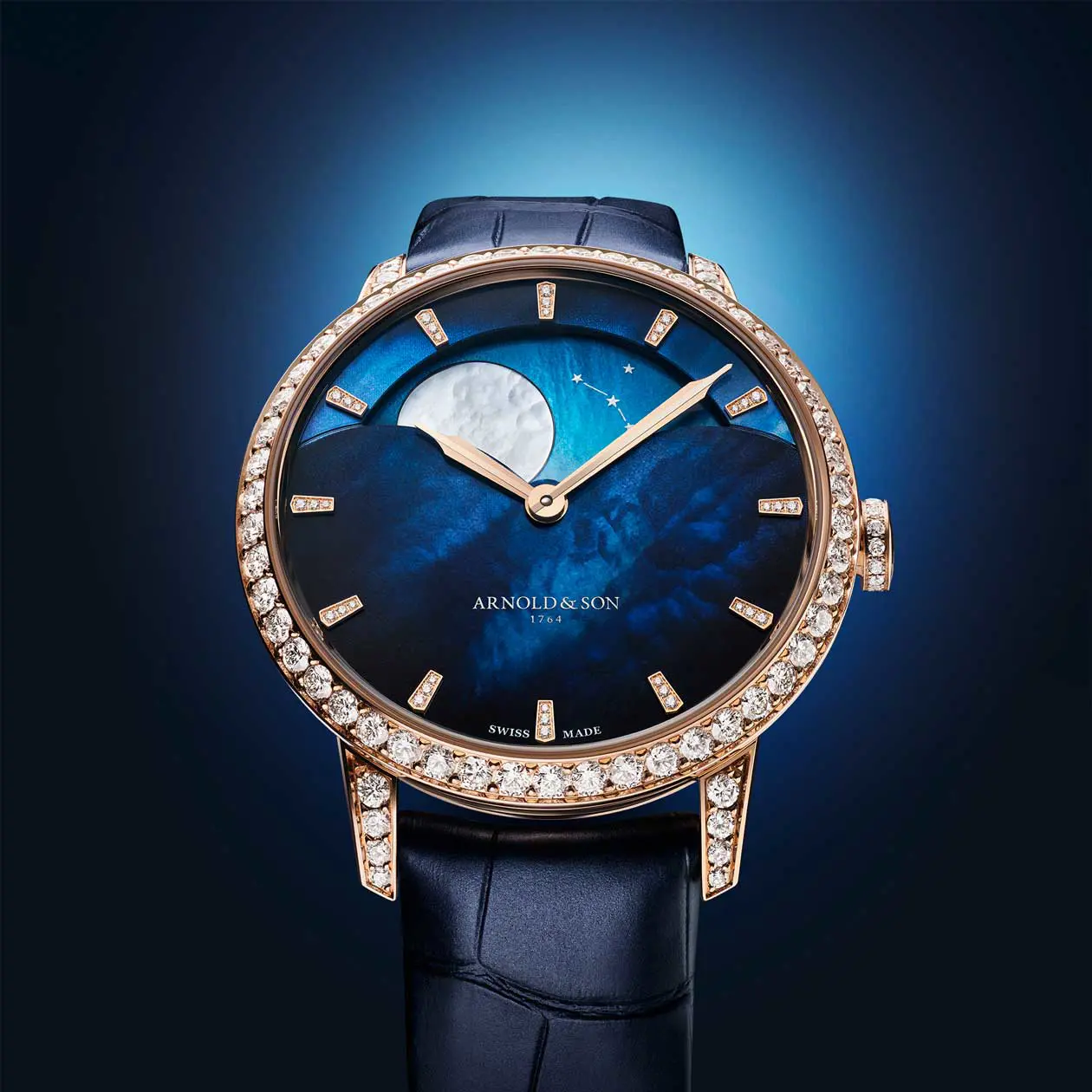 Perpetual Moon 38 Gold, Moonlight, by Arnold & Son. Copyright © Arnold & Son.
The moon-phase complication is the most poetically and charmingly showcased watch function, but that is not all. The moon is large, influential and powerful, both in the sky and at Arnold & Son. It shapes our lives, our oceans, gravity and the appearance of our nights. It is this celestial body that reigns supreme on Perpetual Moon 38 Gold.
Arnold & Son is expanding its moon-phase collection with this creation in red gold (5N). The harmonious blend of complication, design, proportions and gem-setting firmly establish the Perpetual Moon 38 collection as part of a subtle and distinguished world.
Perpetual Moon 38 Gold is adorned with 138 diamonds for a total of ~2.61 carats, but nonetheless remains firmly rooted in the watchmaking codes of the La Chaux-de-Fonds Manufacture, which is steeped in John Arnold's marine chronometer heritage. This jewel is therefore also a timepiece powered by a finely crafted manual-winding calibre.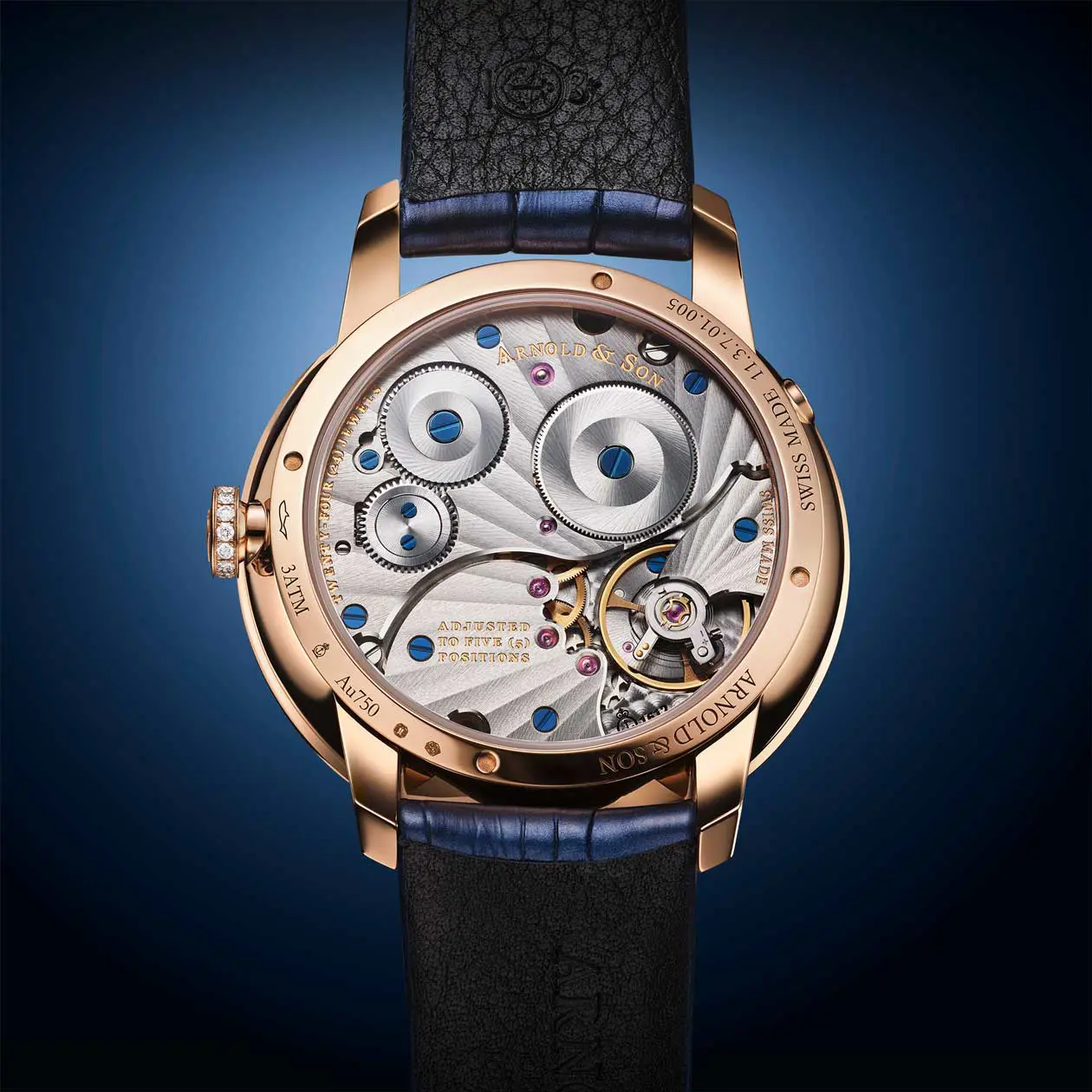 Perpetual Moon 38 Gold, Moonlight, by Arnold & Son. Copyright © Arnold & Son.
Everything follows on from the spirit of this complication. Beneath the delicately blue-tinged mother-of-pearl dial with an openworked upper section, a large sky disc, also in mother-of-pearl, bears a white moon adorned with Super-LumiNova and hand-painted shadows. Nearby, the Ursa Major and Cassiopeia constellations complete the scene.
Perpetual Moon 38 Gold thus presents two faces. The first is the gem-set gold case and its mother-of-pearl dial evoking daytime. The other glows with a cold blue light to represent the night, when the stars painted with luminescent material shine and when the moonlight truly comes into its own.
Perpetual Moon 38 Gold transposes the exacting watchmaking standards that have always guided Arnold & Son into an entirely new women's calibre, the smallest in its collection.
At 29.4 mm, the A&S1612 movement was designed to fit the new 38 mm diameter case that is just 10.44 mm thick. This manually wound movement with an autonomy of 90 hours thus perpetuates the range of Arnold & Son calibres with impressive power reserves.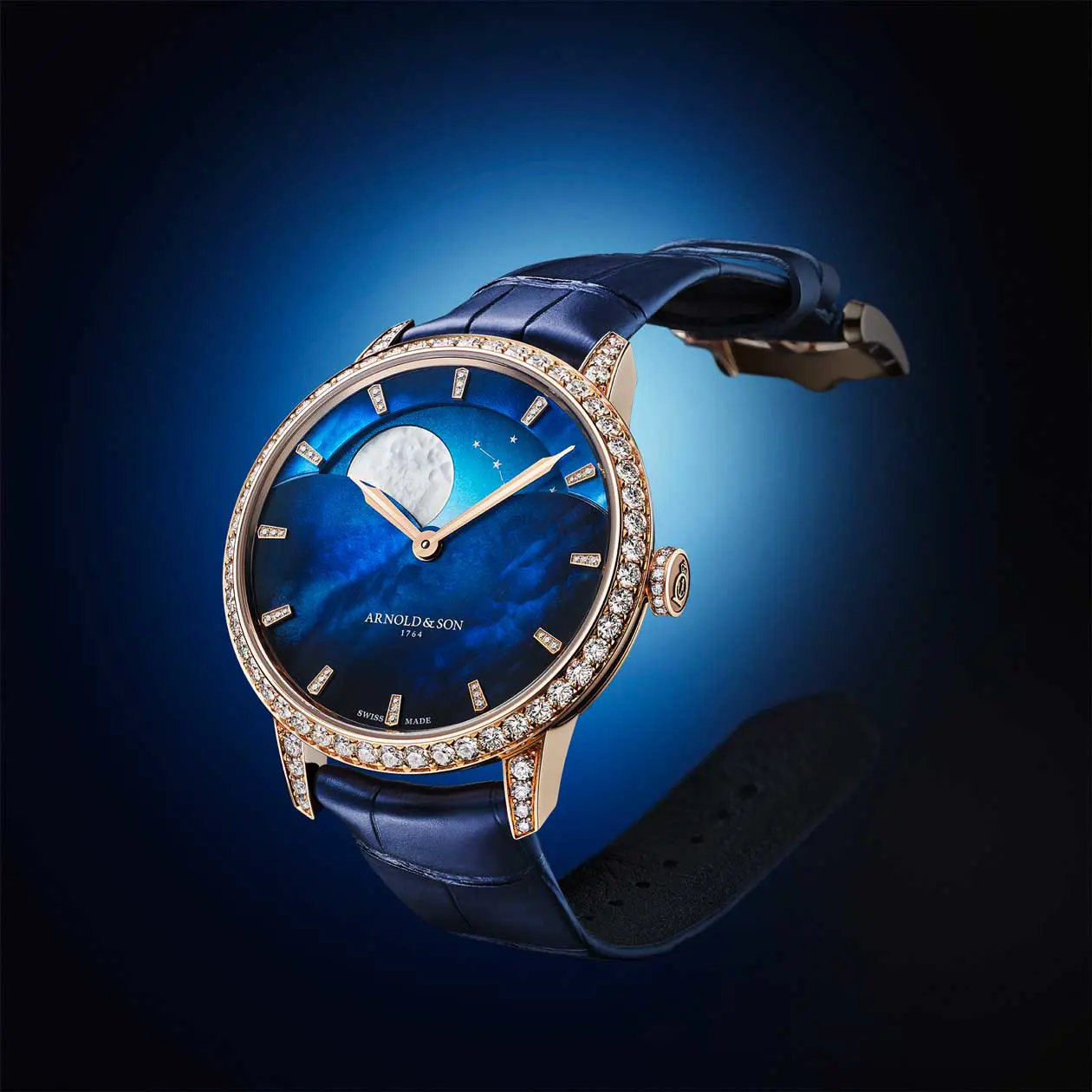 Perpetual Moon 38 Gold, Moonlight, by Arnold & Son. Copyright © Arnold & Son.
Arnold & Son draws on its iconic complication by presenting a large moon disc on this A&S1612 calibre. The various crescents displayed between 10 o'clock and 2 o'clock faithfully recreate the appearance of the Earth's satellite.
Staying true to its tradition as a watchmaker that values accuracy and its legacy of high-sea navigation, Arnold & Son has ensured that this moon-phase timepiece will remain accurate for 122 years. Thus when kept constantly wound, it would take more than a century for the moon on the timepiece to experience a time lag with its real-life counterpart in the sky.
AVION LUXURY MAGAZINE
in digital version
DESTINATIONS Aruba, un viaggio ai Caraibi. HOTELS Un Bvlgari Hotel a Roma. JETS La serie Phenom 300 di Embraer - La cabina Executive di Bombardier. CARS Bugatti Chiron Profilée -1000 Miglia Experience UAE.
YACHTS Grande 26M di Azimut - Nautica e benessere con Arcadia. WATCHES Planetarium Dunes of Mars Limited Edition.