03 January 2023
Girard-Perregaux Cosmos unique pieces
The Cosmos performs its swansong with three unique creations: an exemplar of Haute Horlogerie
Since it was founded in 1791, Girard-Perregaux has become known for crafting exquisite expressions of Haute Horlogerie. Throughout its history, the Maison has repeatedly united exceptional chronometric performance, bewitching aesthetics and extraordinary craftsmanship. The Cosmos upholds this reputation.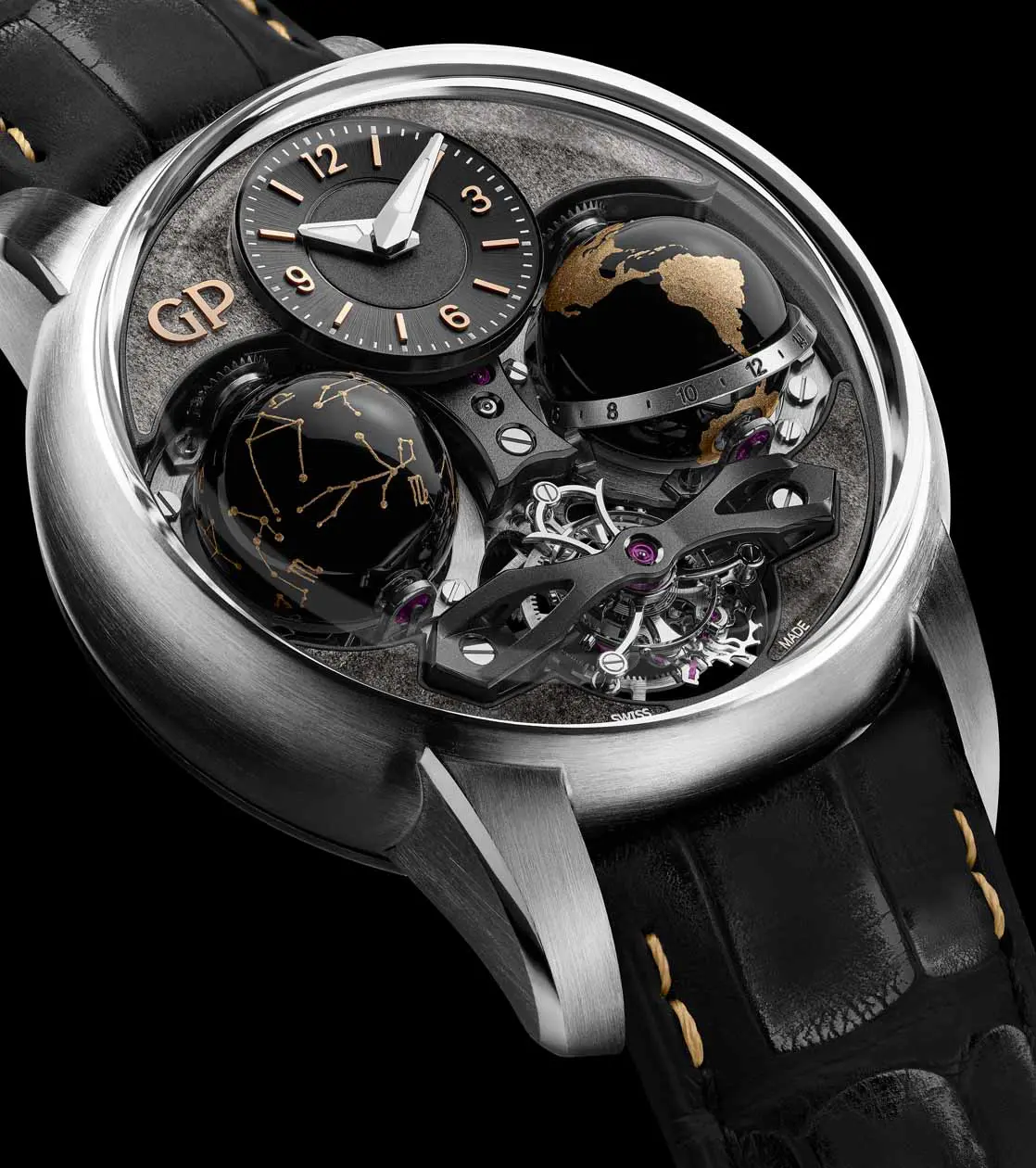 Cosmos by Girard-Perregaux. Copyright © Girard-Perregaux.
First released in 2019, the Cosmos wonderfully demonstrates Girard-Perregaux's horological prowess. Equipped with three exceptional complications, the model encompasses technical virtuosity, uncompromising finishing and artisanal craftsmanship. Now, Girard-Perregaux has chosen to create three unique versions of this model featuring aventurine, obsidian and onyx, and, lastly, a combination of spectrolite and aventurine. These three models are the final edition of the Cosmos model and serve as a fitting swansong for this exceptional watch.
The Cosmos is equipped with three complications, including a tourbillon, a mechanism designed to counter the adverse influence of gravity on the regulating organ. Presented at the base of the dial, the tourbillon features a titanium lyre-shaped cage. This is held in position by Girard-Perregaux's signature Neo Bridge, a contemporary interpretation of Constant-Girard's famous 'arrow-shaped' bridge of the 19th century.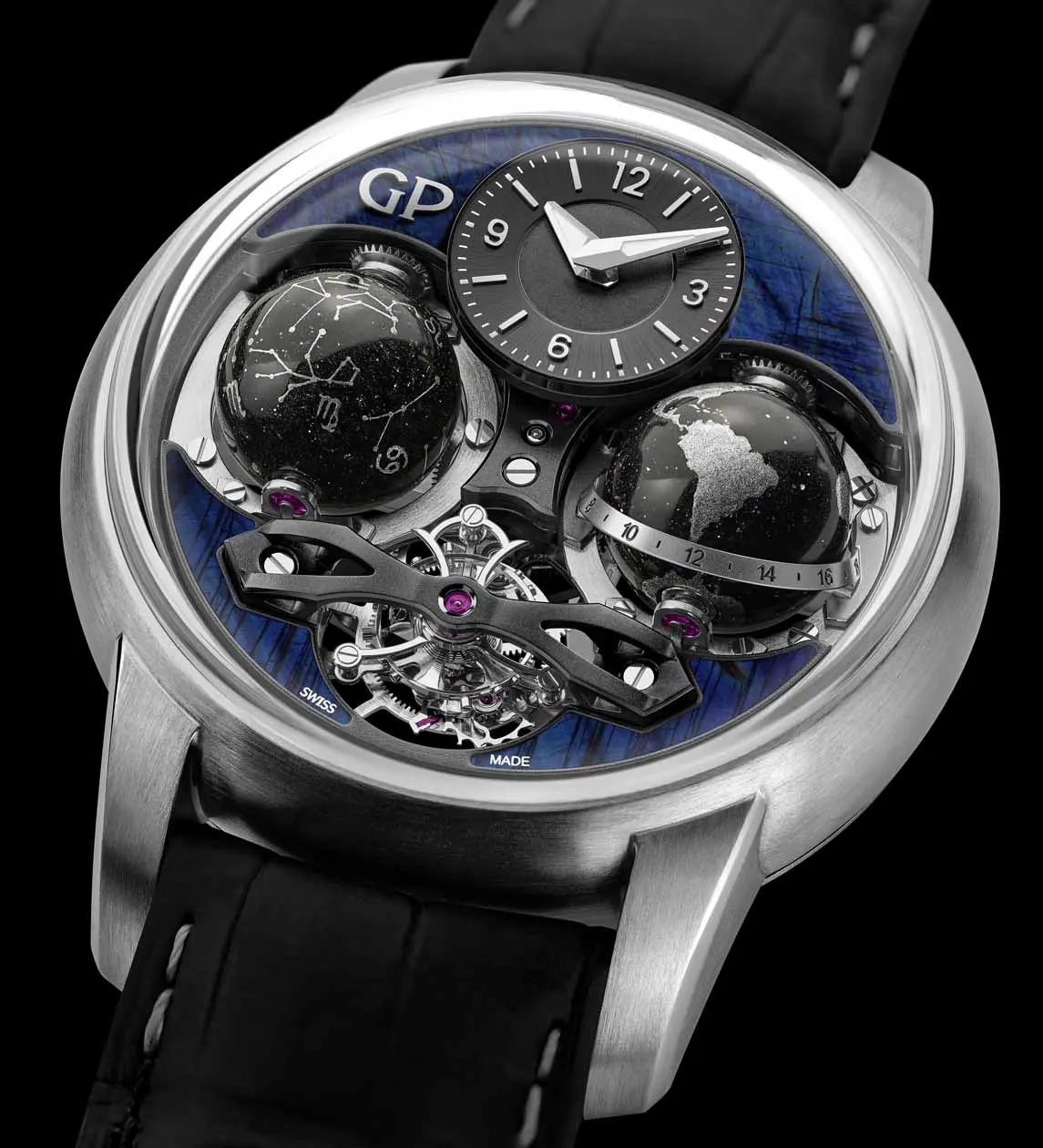 Cosmos by Girard-Perregaux. Copyright © Girard-Perregaux.
Complementing the tourbillon, the watch is equipped with two additional complications, a terrestrial globe and a celestial globe. The terrestrial globe, located at 3 o'clock, serves as a day/night indicator. Positioned opposite, at 9 o'clock, a celestial globe displays the constellations of the Zodiac. All three unique pieces feature two-part dials, formed of aventurine, obsidian or spectrolite. Likewise, the globes are made of black aventurine, black aventurine or onyx. Each set of globes is endued with golden micro-painting, painstakingly executed by hand, a process that takes no less than 14 hours to complete.
The Sun revolves around the Earth every 24 hours, the time it takes for the terrestrial globe to rotate 360°. Celestial time equals the rotation period of a celestial object, namely 23 hours and 56 minutes. The different pace of each globe is barely perceptible to the human eye, however, Girard Perregaux has ensured that both globes rotate at the correct speed, demonstrating its unrelenting attention to detail. Unlike the real world, viewing constellations on the dial of this model is not impeded by light pollution or limited light.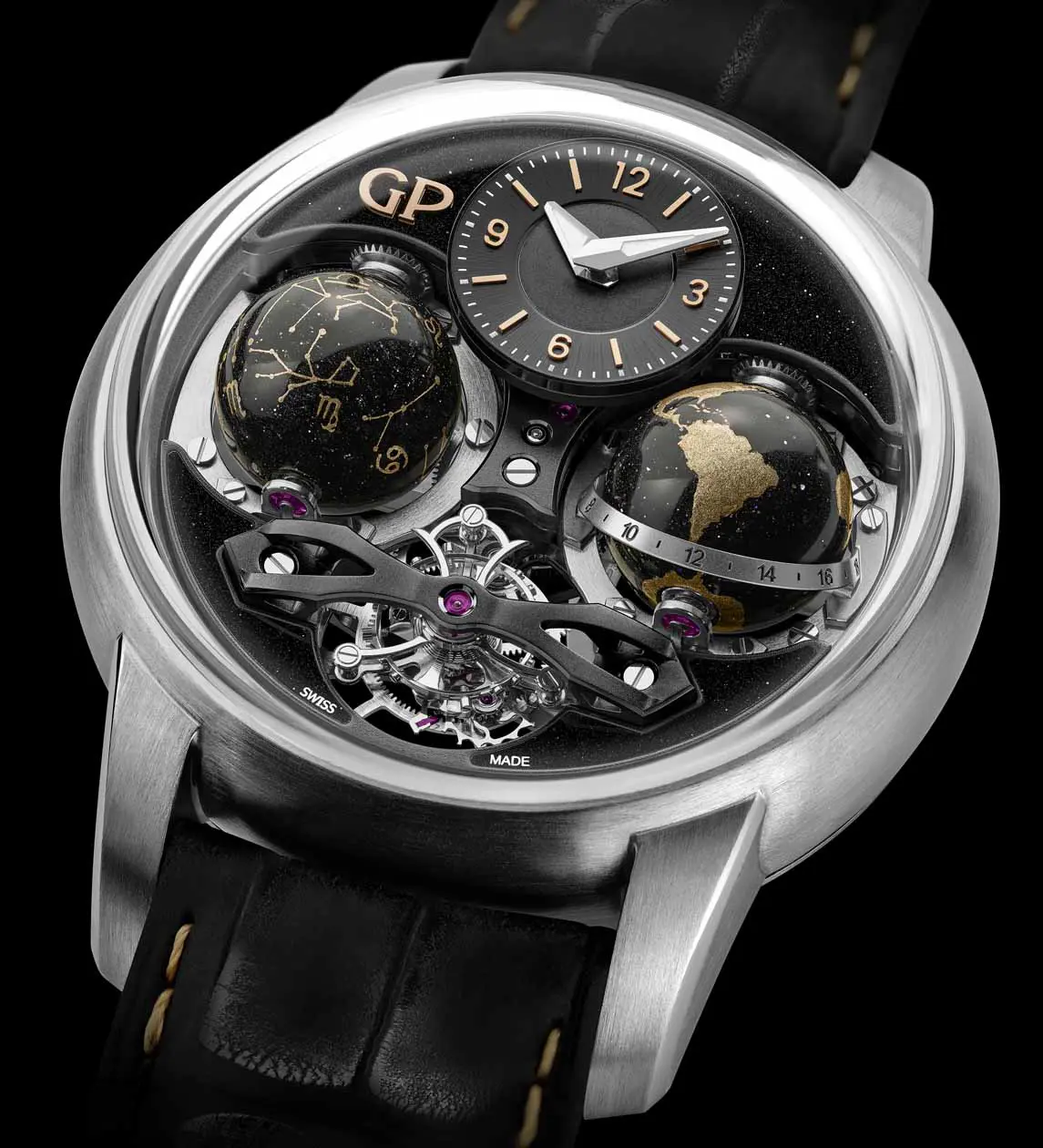 Cosmos by Girard-Perregaux. Copyright © Girard-Perregaux.
A notable characteristic of the Cosmos is that the dial elements are arranged with due consideration to symmetry. The resultant dial layout is balanced and cohesive. Eager to augment this sense of balance, Girard-Perregaux has dispensed with a conventional crown. Instead, an innovative winding and setting system is located on the reverse of the timepiece emulating the styling of pocket watches from yesteryear. The setting system features three engravings, all of which are filled with luminescent ceramic, indicating the purpose of each bélière.
The Cosmos is equipped with the Calibre GP093020, a hand-wound movement enriched with high-end finishing. The titanium Neo Bridge is black PVD-treated, sandblasted and incorporates hand-bevelling. Similarly, the mainplate is black PVD-treated and embellished with circular-graining, sandblasting and bevelling. The lyre-shaped tourbillon cage is made of lightweight titanium, hence it requires less energy to rotate, a factor that contributes to the model's impressive power reserve of at least 57 hours.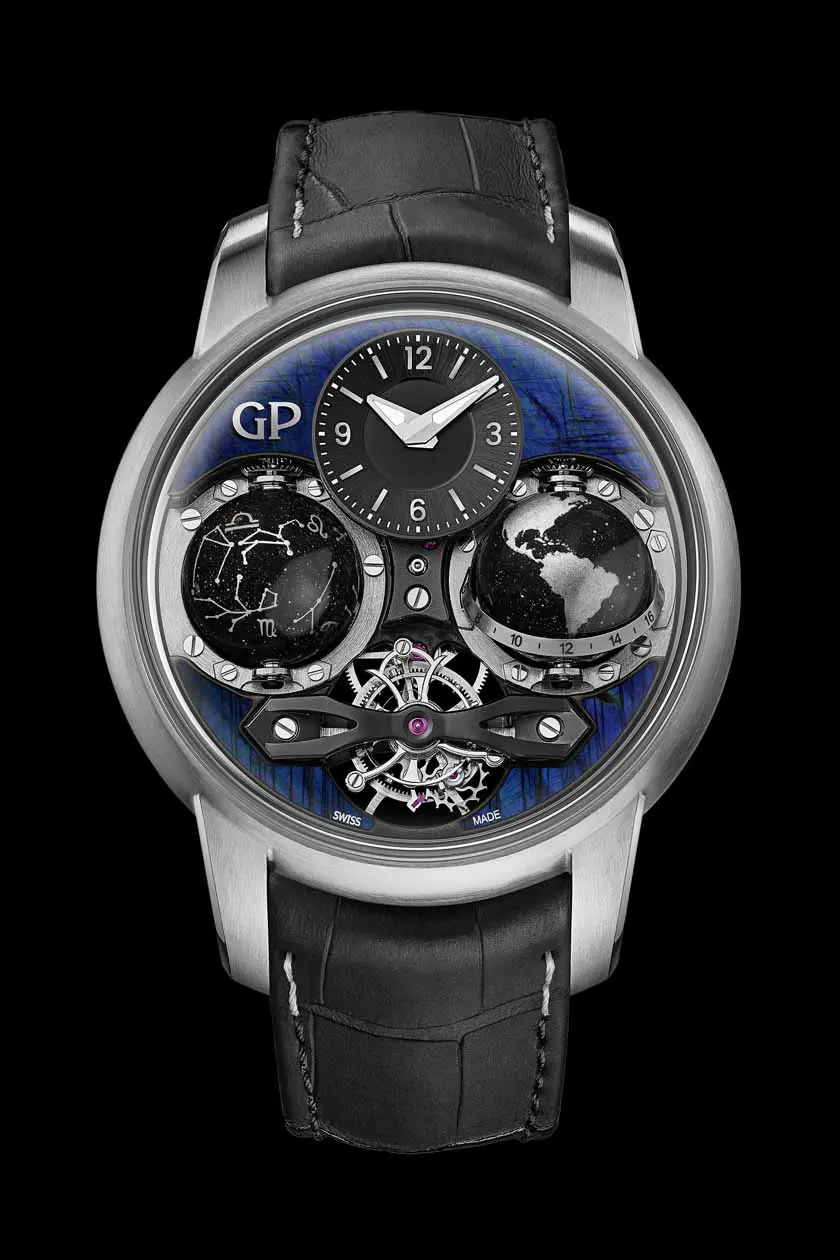 Cosmos by Girard-Perregaux. Copyright © Girard-Perregaux.
In contrast to the flat sapphire crystal to the rear, the front of the watch is endowed with a sapphire anti-reflective 'box', providing a three-dimensional view of the dial area. Its domed shape requires four to five times more material to shape and polish.
The Cosmos fuses the worlds of design, Métiers d'Art and watchmaking excellence. These three models incorporate sumptuous materials, hand-painted globes and a high quotient of watchmaking know-how. However, ultimately, all goods things must come to an end and these three pieces represent the last chapter in what has been a fascinating story. All three Cosmos unique pieces will be sold exclusively by The Hour Glass.
Edited by editorial staff, Avion Luxury Magazine
Text source and photos: Girard-Perregaux Press Office
Photos: Copyright © Girard-Perregaux

AVION LUXURY MAGAZINE
in digital version
DESTINATIONS Aruba, un viaggio ai Caraibi. HOTELS Un Bvlgari Hotel a Roma. JETS La serie Phenom 300 di Embraer - La cabina Executive di Bombardier. CARS Bugatti Chiron Profilée -1000 Miglia Experience UAE.
YACHTS Grande 26M di Azimut - Nautica e benessere con Arcadia. WATCHES Planetarium Dunes of Mars Limited Edition.