02 December 2020
Corum celebrates its unique and emblematic golden Bridge Collection's 40th anniversary
An original rectangular case for the Golden Bridge, an icon in watchmaking
The refined rectangular look of the Golden Bridge is the original case shape of this iconic in-line baguette movement that was introduced 40 years ago by the avant-gardist founder of Corum, René Bannwart.
Golden Bridge Rectangle 40th Anniversary in 18k white gold
For the first iteration of the Golden Bridge Rectangle, Corum added an astonishing play of finely hand-crafted floral engraving on the 18-carat white gold case to create yet another classic edition of the signature Haute Horlogerie timepiece. The acanthus and fern plants are a nod to the "Style Sapin" created in La Chaux-de-Fonds. These floral details have been engraved on all Golden Bridge baguette movements since the timepiece was launched in 1980. This masterpiece is limited to three pieces honoring the three co-founders of the Brand which was born in 1955.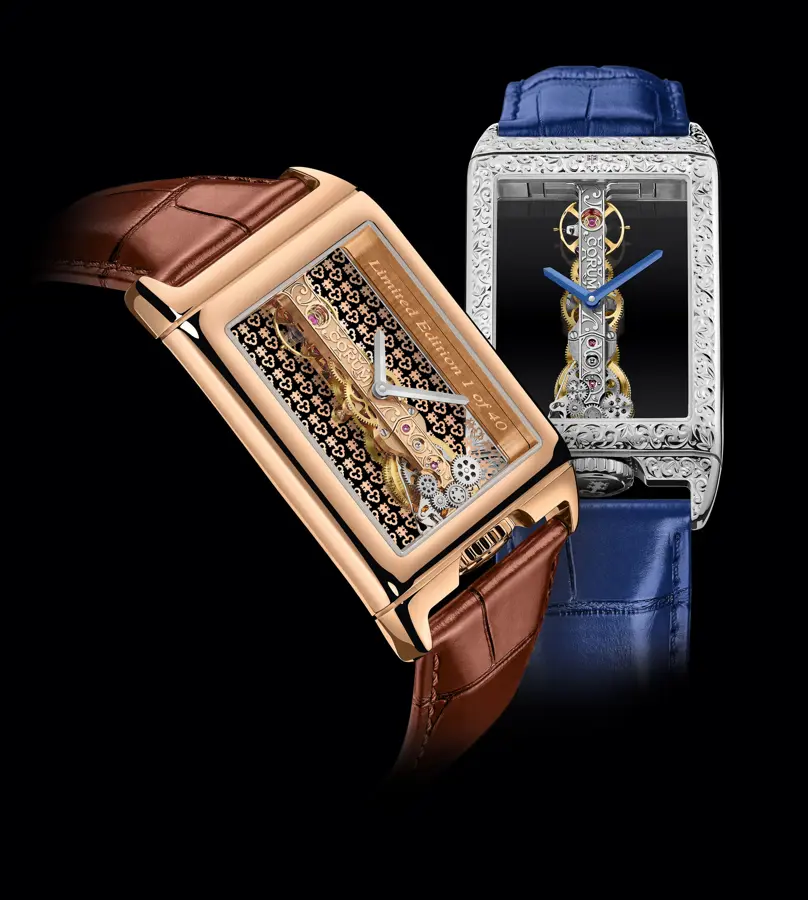 Collezione Golden Bridge di Corum. Photo: Copyright © Corum.
Golden Bridge Rectangle 40th Anniversary in 18k rose gold
While the Golden Bridge is proudly honoring its 40th anniversary, Corum is also celebrating its 65th birthday. The 18-carat rose gold version salutes the 40th anniversary of the Golden Bridge collection with an original "Limited Edition 1 0f 40" engraving inside the watch case at 3 o'clock and honoring 65 years since the Brand's creation with Corum's iconic symbol - the key – on the sapphire case back. Faithful to the roots of the collection, this Haute Horlogerie timepiece features an 18-carat gold Golden Bridge baguette movement.
"We were inspired by the Art Deco period," explained Boon Chong Soon (Corum Marketing and Sales Director), "which formed the basis for some of the first pieces designed by Mr. Bannwart. In including our iconic emblem of the Corum Key on the sapphire case back for the Rose Gold version, and hand-engraving on the entire case of the White Gold, these are not only for the anniversaries of Corum and the Golden Bridge but also a tribute to the artisanal history of watchmaking in La Chaux-de-Fonds."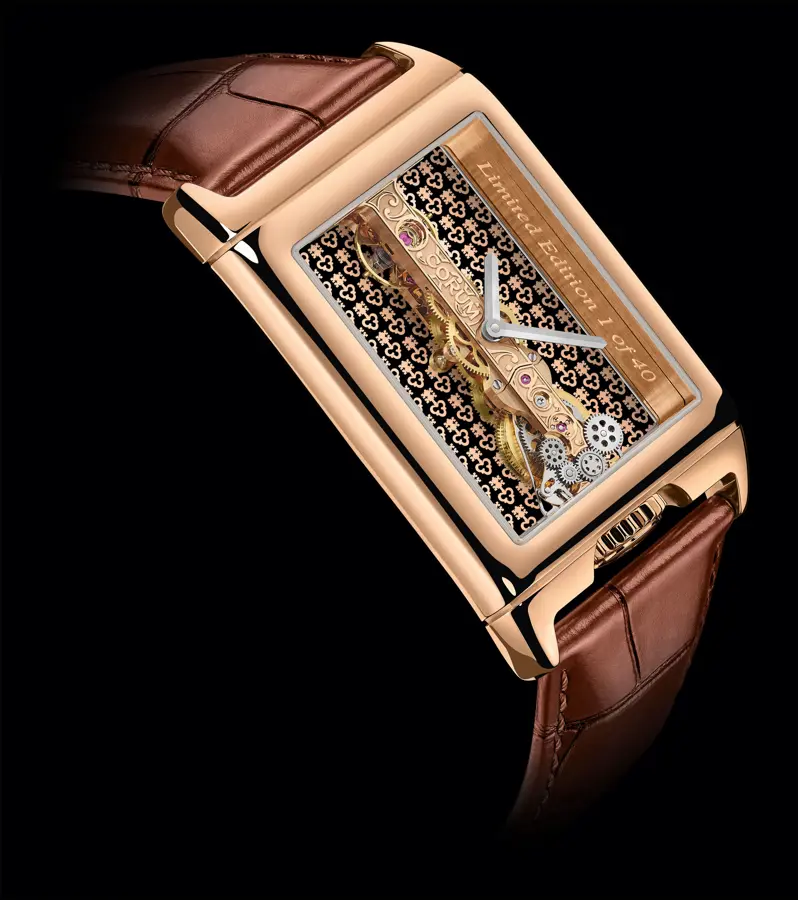 Collezione Golden Bridge di Corum. Photo: Copyright © Corum.
Perfectly proportioned, the Golden Bridge fits beautifully on the wrist, and unlike its role model from 1980, thanks to modern technology this refined version is fully water-resistant to 30 meters. The Golden Bridge Rectangle shows a timeless and discreet elegance, yet focuses on the functionality of its brilliant movement, leading the eye along the path of Caliber CO113's energy transfer from spring barrel at 6 o'clock to the escapement at 12 o'clock.
Edited by Lisa Maria River
Text source: Corum Italia Press Office
Photos: Copyright © Corum
All rights reserved. Reproduction prohibited.
Copyright © Sisterscom.com

AVION LUXURY MAGAZINE
in digital version
DESTINATIONS Aruba, un viaggio ai Caraibi. HOTELS Un Bvlgari Hotel a Roma. JETS La serie Phenom 300 di Embraer - La cabina Executive di Bombardier. CARS Bugatti Chiron Profilée -1000 Miglia Experience UAE.
YACHTS Grande 26M di Azimut - Nautica e benessere con Arcadia. WATCHES Planetarium Dunes of Mars Limited Edition.