26 March 2021
The Continental GT Speed by Bentley
The most capable, performance-focused Bentley ever - with no compromise to comfort or luxury. Designed, engineered, developed and exquisitely handcrafted at Bentley's carbon neutral luxury automotive factory
As Dr. Matthias Rabe, Member of the Board for Engineering at Bentley Motors said "the new Continental GT Speed represents the very pinnacle of performance grand touring. This new model is the most powerful expression of Continental GT values, exciting and dynamic, with unique Speed detailing to enhance the ownership experience and offering customers more control over the character of the car. The world's most luxurious Grand Tourer is now truly more capable than ever before, with a new sportier edge which will appeal to performance-focused drivers. The Speed is the latest chapter in the Continental GT story, helping Bentley customers to create their own extraordinary journeys."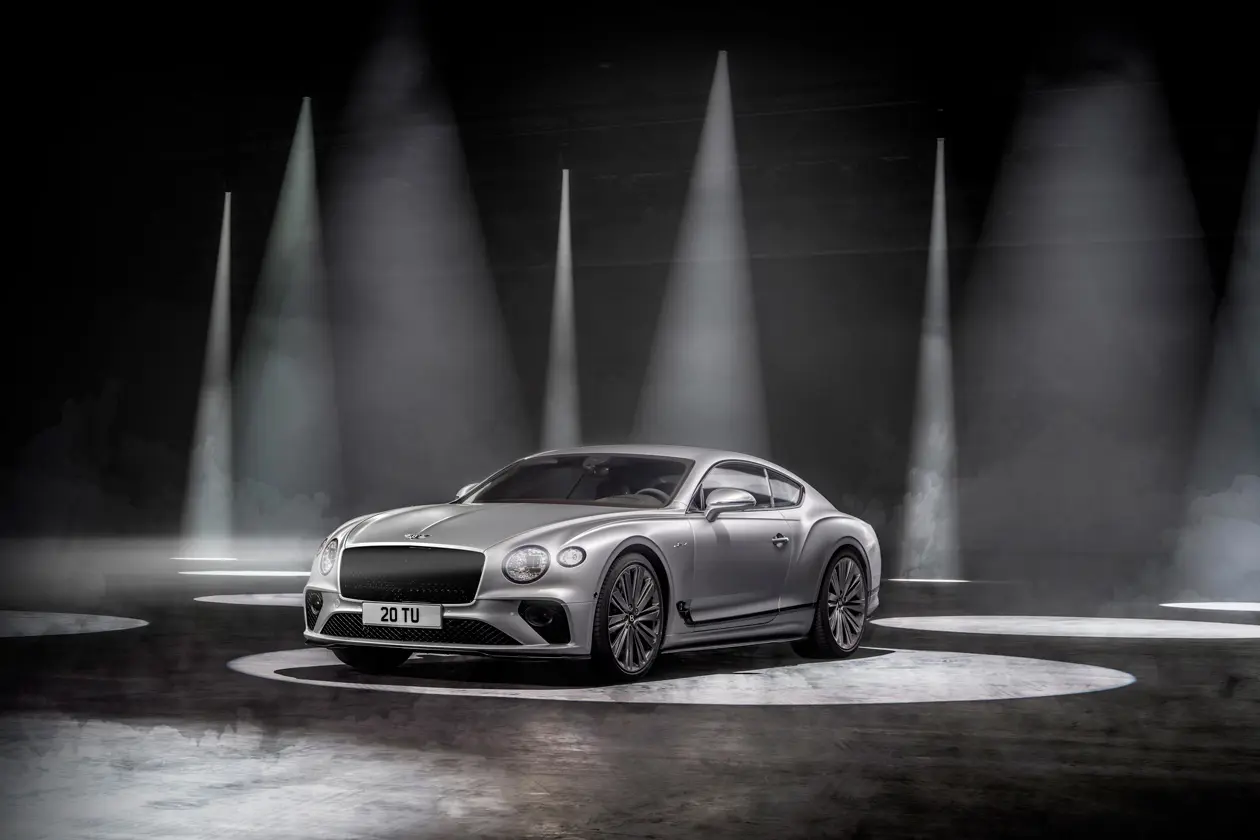 Continental GT Speed by Bentley. Photo: Copyright © Bentley Motors Limited.
The new Continental GT Speed is the most dynamic road car in Bentley's 101 year history and ultimate performance-focused interpretation of the world's benchmark luxury Grand Tourer. Designed, engineered, developed and handcrafted in Bentley's carbon neutral luxury automotive factory, this new third-generation model builds on a long tradition of Speed variants. Originally introduced with the highly-acclaimed, first generation Continental GT Speed in 2007 – itself inspired by the 3-Litre Speed models of the 1920s. The latest GT Speed continues the bloodline by representing the ultimate combination of luxury and performance in a Grand Touring package.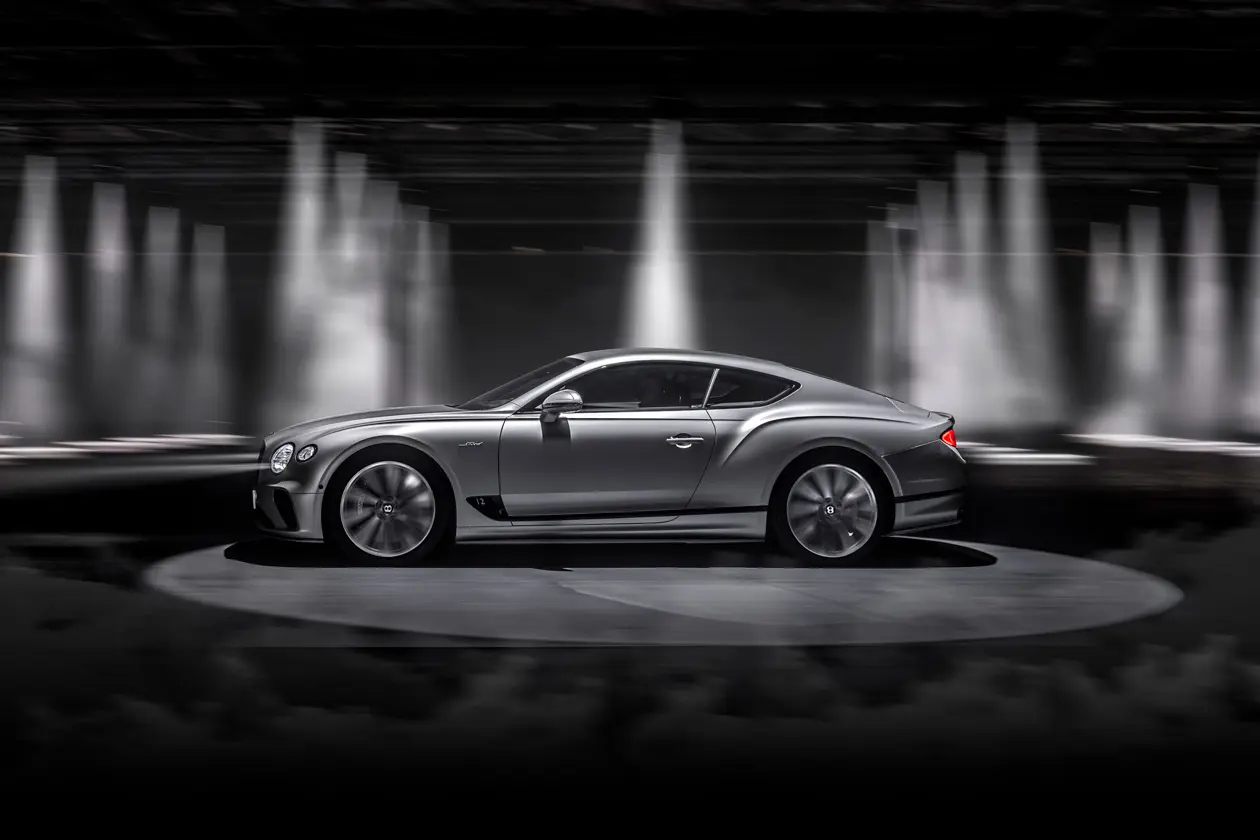 Continental GT Speed by Bentley. Photo: Copyright © Bentley Motors Limited.
At low and medium speeds, the GT Speed's rear wheels are steered in the opposite direction to the front wheels to aid a rapid change of direction, noticeably increasing the feeling of nimbleness. The steering feels sharper and with a quicker ratio, and a commensurate increase in steering feel provides even more driver confidence. At high speeds, the rear wheels steer in the same direction as the front, to improve stability. The system is significantly more active on the GT Speed than it is on the Flying Spur, where its primary purpose is a reduction in turning circle and enhanced high-speed stability. Featuring Active All-Wheel drive, the traction control and torque distribution has been recalibrated in all driver modes to provide a noticeable character shift relative to the standard Continental GT.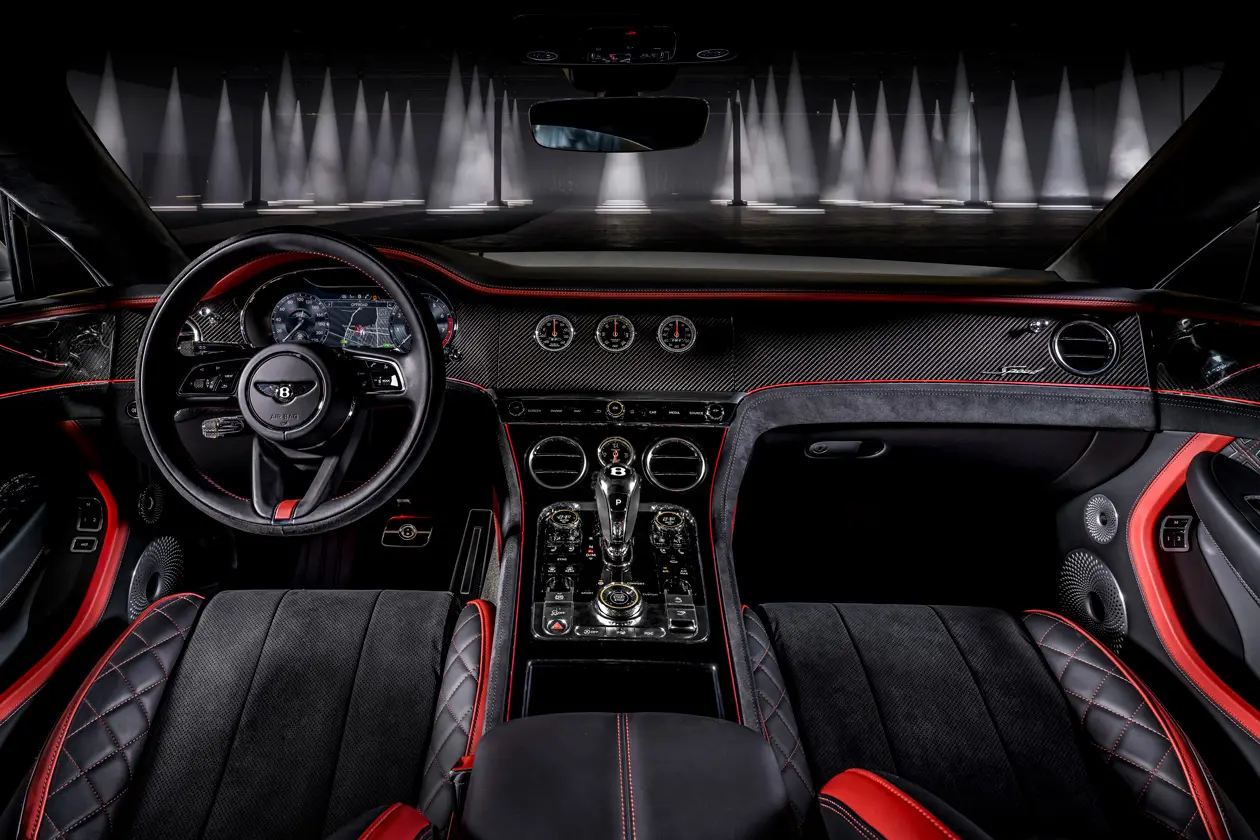 Continental GT Speed by Bentley. Photo: Copyright © Bentley Motors Limited.
For the first time in a Bentley, the latest generation of the Continental GT Speed introduces the use of an electronic rear differential (eLSD). Specifically tuned hand-in-hand with the traction control and active chassis systems, the eLSD provides increased lateral capacity, improved longitudinal stability, enhanced on-throttle adjustability and delivers better traction in adverse road conditions. In Bentley and Comfort mode this provides improved traction, provides a greater level of confidence for the driver and makes the vehicle feel more stable at high speeds. In Sport mode, the eLSD has been tuned to balance on and off throttle adjustability, improved turn-in response and increased straight-line performance. The combined benefit means the Continental GT Speed is now more adjustable and more driver-focussed than ever before without compromising comfort or stability.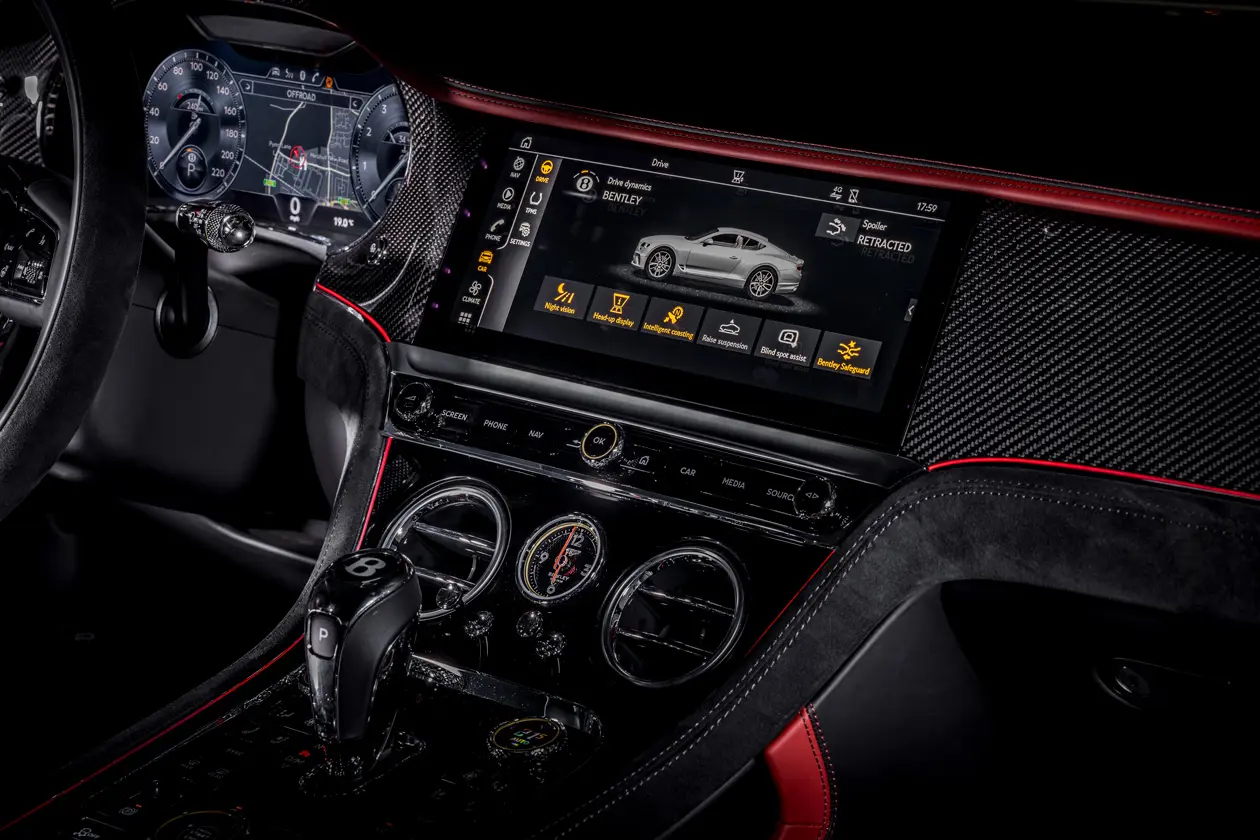 Continental GT Speed by Bentley. Photo: Copyright © Bentley Motors Limited.
Working alongside these systems are the key chassis technologies that deliver body control and ride comfort with no compromise to one another – namely Bentley's three-chamber active air suspension with adaptive damping, and Bentley Dynamic Ride – the 48V active anti-roll control system that Bentley pioneered on the Bentayga and third-generation Continental GT. This innovative system features powerful electric motors within each anti-roll bar to resist body roll. In their firmest setting, the motors can deliver 1300 Nm in 0.3 secs to counteract cornering forces and keep the body level. Meanwhile, depending on the mode, the Electronic Stability Control (ESC) System allows the driver to experience an even greater level of freedom before the Speed's safety systems intervene to correct any anomalies.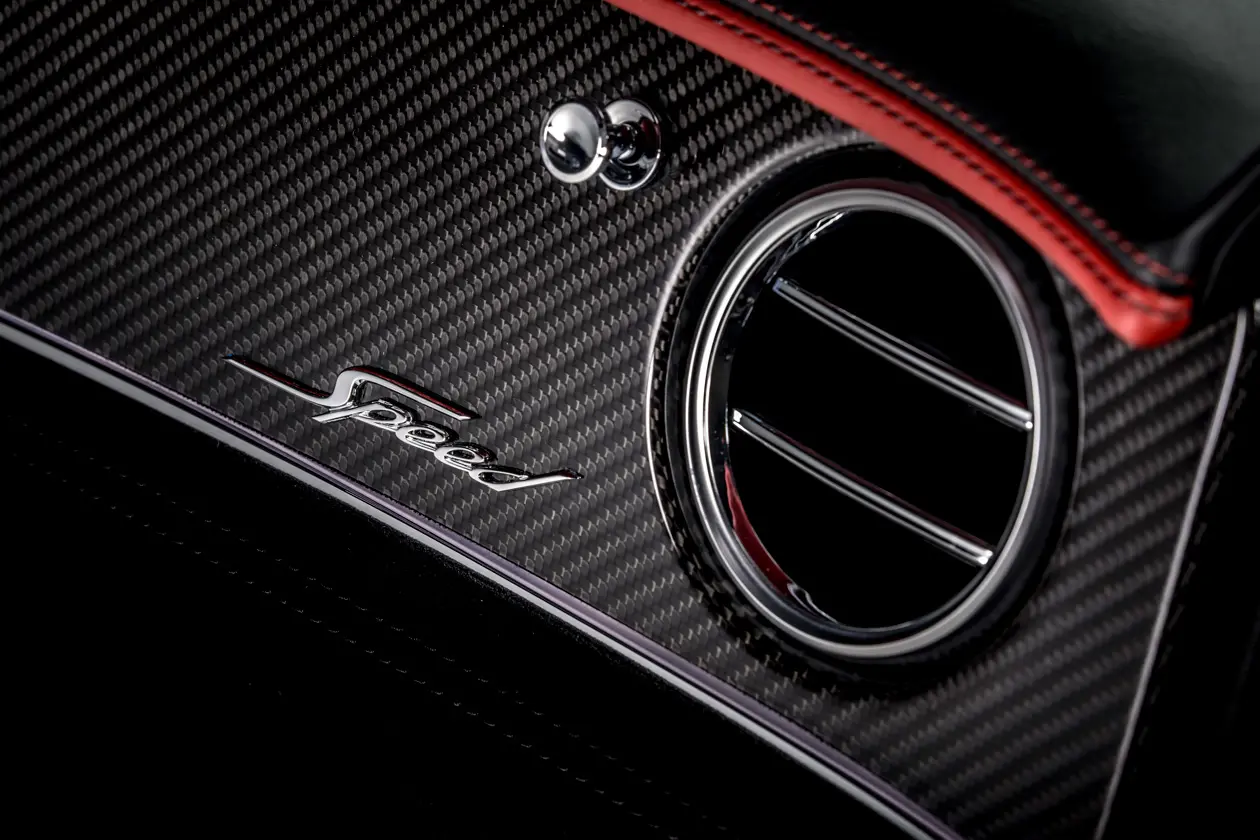 Continental GT Speed by Bentley. Photo: Copyright © Bentley Motors Limited.
To complement the extra capability of the chassis, a newly-engineered Carbon Ceramic brake system has been introduced as an option on the GT Speed. Carbon Silicon Carbide discs provide additional brake bite, with a strong, firm brake pedal feel and excellent brake fade resistance. Ten-piston front callipers and four-piston rears supply incredible braking force – needed when up to 10 MJ of energy are converted to heat in a full stop from top speed. The carbon ceramic material also saves over 33Kg of weight (all of it un-sprung mass) and produces extremely low levels of brake dust, helping to maintain the fresh look of the 22" unique Speed wheels.
The new GT Speed is the ultimate performance-focused expression of Bentley's definitive Grand Tourer, yet maintains the luxury, comfort and usability of its siblings. It is equipped with an uprated version of Bentley's renowned 6.0-litre W12 TSI engine, delivering 659 PS (650 bhp) – a 4 per cent increase of 24 PS over the current W12 model – whilst maintaining an extraordinary 900 Nm (664 lb.ft) of torque. With exceptional handling, this results in a top speed of 208 mph (335 km/h) and 0-60 mph in 3.5 seconds (0-100 km/h in 3.6 seconds), a reduction of 0.1 second.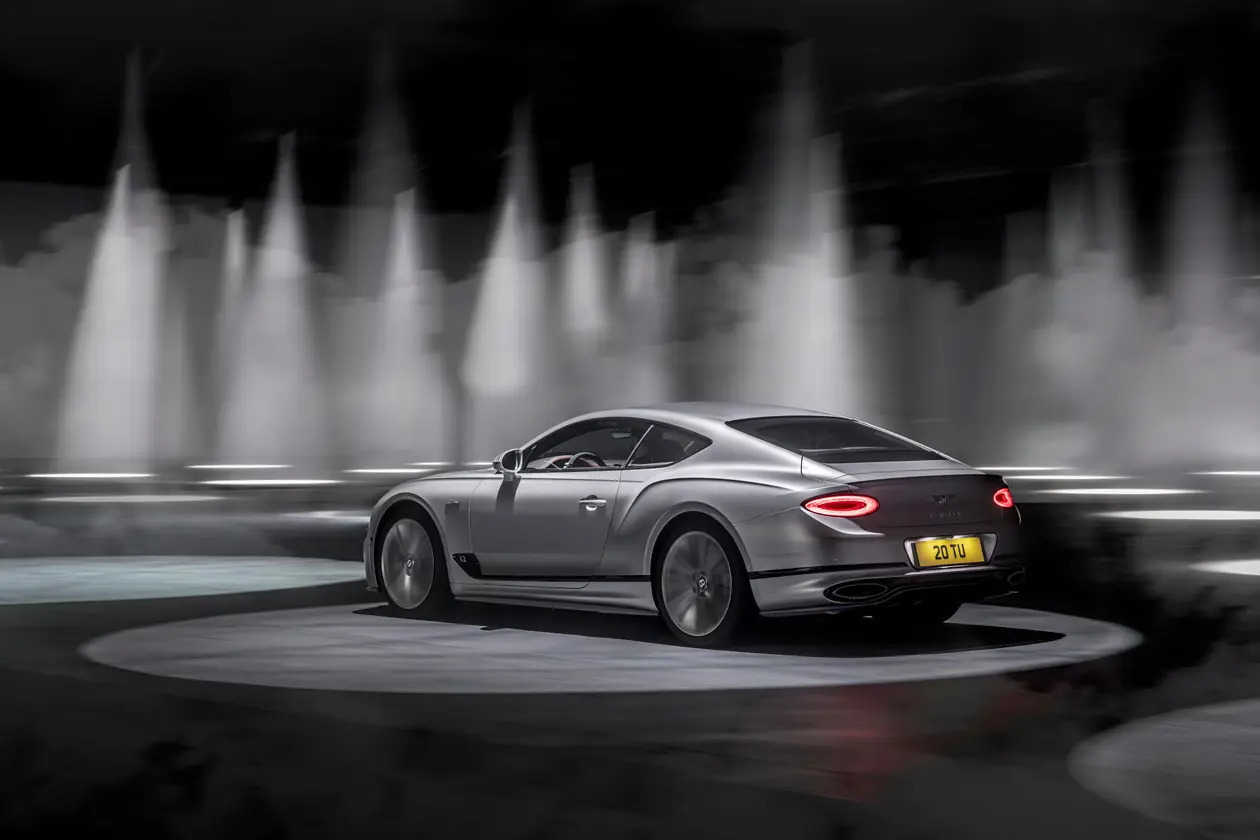 Continental GT Speed by Bentley. Photo: Copyright © Bentley Motors Limited.
The cabin of the new Continental GT Speed showcases Bentley's expertise in creating the world's finest automotive interiors. Handcrafted materials blend with unique trim and badging that are only available in the Speed and can be further personalised if desired. The Continental GT Speed's credentials are further highlighted by a unique duotone colour split handcrafted in hide and matching Alcantara, which is also applied to the steering wheel. The exterior badging is matched with an elegant Speed icon on the passenger fascia. The luxurious interior can be further personalised with a choice of 15 main and 11 secondary hide colours, as well as the use of leather in lieu of Alcantara for the Speed colour split. The centre console can be finished in new dark tint engine turned aluminium, bringing a geometrically perfect machined surface and a beautifully patterned finish. Bentley's Diamond in Diamond quilting is included as standard, and Speed embroidered headrests distinguish the cabin of the most potent Continental GT. Continental GT Speed is available to order in all markets, except mainland China, and is currently not available in EU27, UK, Switzerland, Israel, Ukraine, Norway, Turkey and Vietnam.
AVION LUXURY MAGAZINE
in digital version
DESTINATIONS Aruba, un viaggio ai Caraibi. HOTELS Un Bvlgari Hotel a Roma. JETS La serie Phenom 300 di Embraer - La cabina Executive di Bombardier. CARS Bugatti Chiron Profilée -1000 Miglia Experience UAE.
YACHTS Grande 26M di Azimut - Nautica e benessere con Arcadia. WATCHES Planetarium Dunes of Mars Limited Edition.