16 February 2020
Pagani Imola, a powerhouse of technology for the racetrack and road
Limited-run, just five models built, all sold at Price, five million euros + VAT
"Customer involvement was very much a part of the Pagani Imola project. We wanted to amaze and, fascinated by our ideas and solutions, our customers decided to join the team and acted as test drivers, so to speak. I will never forget the day we consigned one of the cars to its owner, and how he smiled. Despite the fact that it was the first time he had driven his Imola on a race track, he built up his confidence lap by lap, pushing it like a professional racing driver. As he stepped out of the car, he told me that he had never imagined it would be so easy to drive", explained Horacio Pagani, Founder and Chief Designer of Pagani Automobili.
Named after the racetrack on which it was modeled and fine-tuned, the new Pagani Imola is a roadworthy Hypercar with a wholly racing temperament that embodies the maximum expression of Pagani Automobili track technology.  With a limited edition of only five examples built, the Pagani Imola has gone through the severest on-track validation test ever applied to a Pagani car. In addition to the regular and already scrupulous validation process, in fact, Imola has covered over 16,000 km on the track at racing speed - the equivalent to about three times the 24 Hours of Le Mans.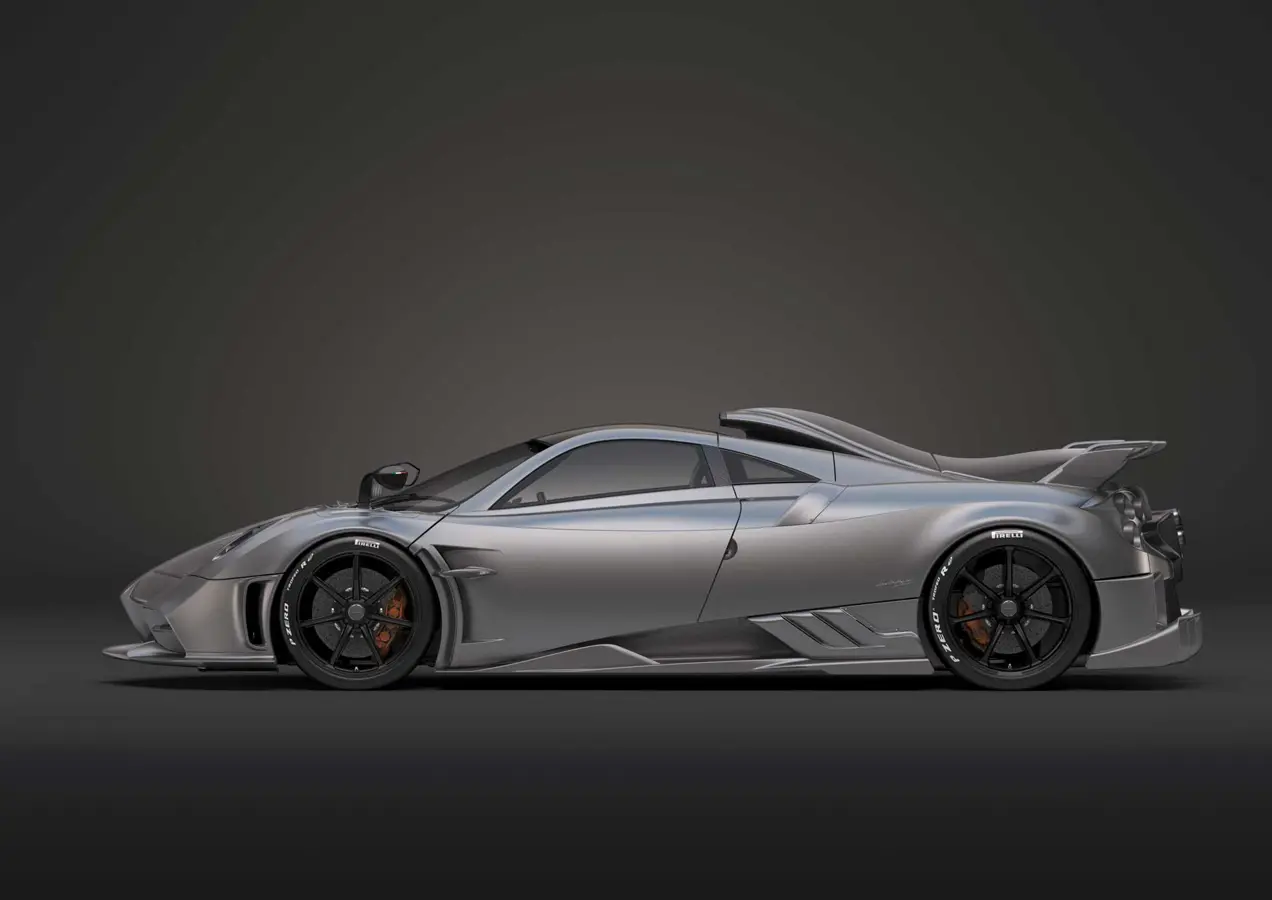 Pagani Imola. Photo: Copyright © Pagani Automobili.
A major step forward in the technological and scientific progress of Pagani Automobili, the Pagani Imola is a vehicle-laboratory where important innovations have been devised, tested and developed. Some of these have been used in the Roadster BC and will be a feature of Pagani's future creations. Experimenting is an inborn part of Pagani Automobili's research philosophy. The training experience acquired back in 2008 with the Zonda R proved priceless since it enabled Pagani Automobili to create the Huayra using solutions tested in extreme conditions. At that time, Pagani Automobili came up with revolutionary ideas like the Carbo-Titanium chassis, as well as geometries, materials and concepts that were hitherto unheard of from the aerodynamic, dynamic and supercar-safety viewpoints. Working in partnership with Pirelli, Pagani Automobili developed tires for the Zonda R using the new MIRS system, subsequently applied to the Huayra and Formula 1 race cars. Similarly, once had laid down the initial specifications, worked on the Imola project in a very open-minded way and with the utmost freedom from the technical viewpoint in our efforts to integrate the innovations as the vehicle took shape. 
"The aerodynamic technology behind the Pagani Imola is evident in three of its key features. The general outline, the internal aerodynamics and the external aerodynamic details, such as the fins, winglets and deflectors", explained Horacio Pagani, Founder and Chief Designer of Pagani Automobili. "We can't say that it's an elegant car. We wanted an efficient vehicle, and just as you'd expect if you were looking at an F1 single-seater, this led us to design a car with additional aerodynamic features. So, although on the one hand these details may detract from the lines and overall aesthetics of the vehicle, on the other, they also allow to improve lap time, ease of driving and especially safety. Speaking of safety, we could have reduced the ground clearance so as to increase the downforce effect by taking advantage of the vehicle's flat bottom. But don't forget, the public roads are very uneven and can lead to the loss of several hundred kilograms of downforce in just a few instants. Well aware of these dangers, we worked very carefully on the upper part and details of the car."
Pagani Imola uses the active aerodynamics system introduced by the Huayra, the first road vehicle ever to be equipped with this technology. This means that each of the four mobile winglets behaves according to the driving circumstances in a dynamic and immediate way and even when braking, by generating an aerodynamic braking action. The suspension geometry has been newly designed to transfer the power and lively 1100 Nm torque to the ground, reduce the dive effect and sway when braking. So much so, the driver can take a corner by braking at the last thousandth of a second.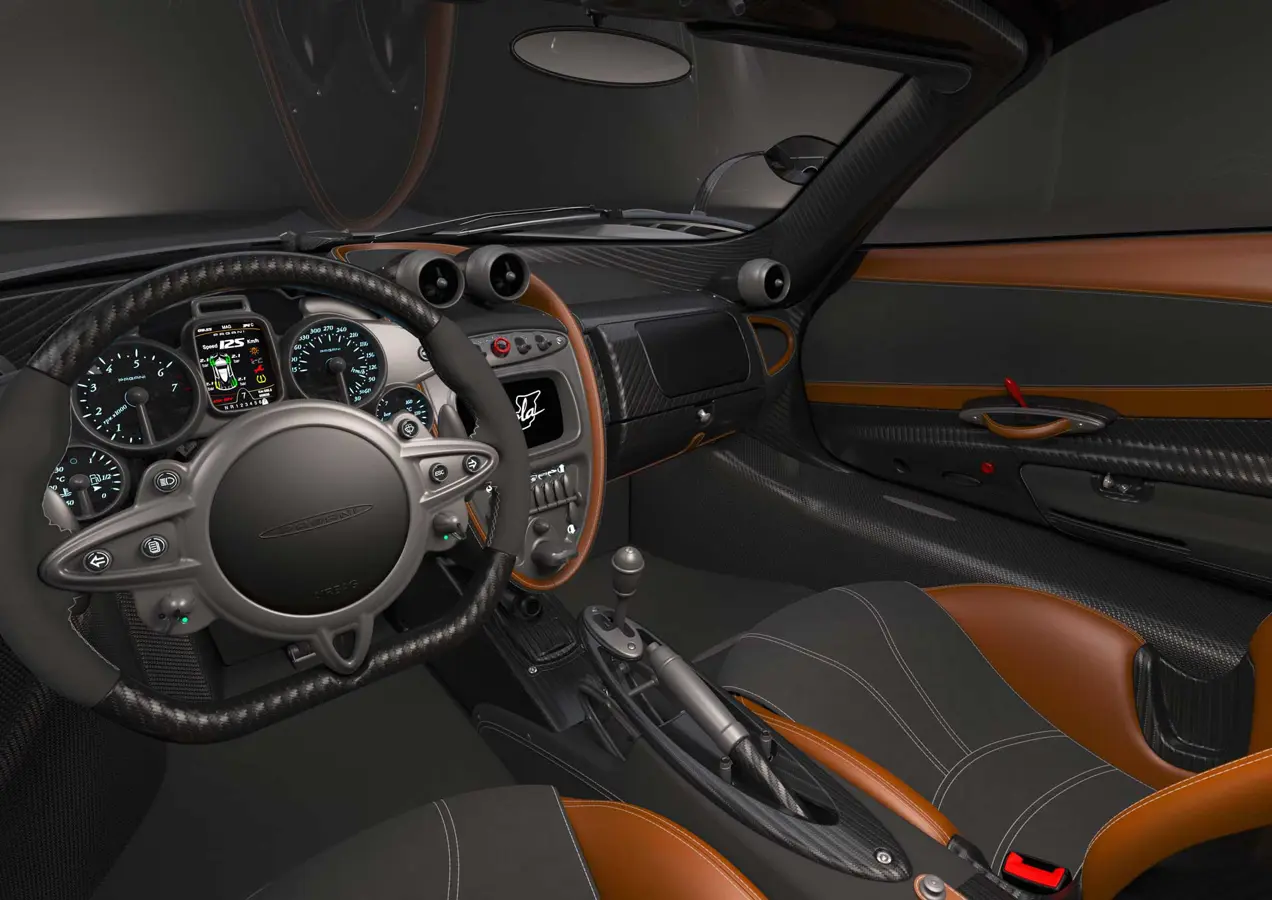 Pagani Imola. Photo: Copyright © Pagani Automobili.
Pagani Automobili applied an electronically controlled system of active shock-absorbers to each wheel and interconnected them with each other. The front suspension is able to vary the ride height in a smart and automatic way. It dialogues with the Central Unit, which handles active aerodynamic control as well as controlling the engine, differential and gearshift functions. Introduction of the SMART GAS system reduces shift time and enhances the racing character of the Imola, while driving pleasure is ensured thanks to active dumpers. 
As always, Pagani Automobili is strongly committed to research into advanced composite materials. The new formula of the Carbo-Titanium HP62 G2 and Carbo-Triax HP62, developed for the ultra-reinforced central monocoque of the Pagani Imola and Roadster BC, was created to reduce weight while increasing torsional and bending stiffness. 
Pagani Imola takes the fanatical attention to weight saving to new heights, with the introduction of Acquarello Light, a new bespoke painting system that represents a further evolution of Pagani's advanced state of the art, allowing to reduce the weight of the paint by 5 kg while maintaining color richness, depth and shine unchanged.
Horacio Pagani: "The paint of a vehicle is not just an aesthetic requirement, but has essential technical functions, such as protecting from external influences and preventing the aging of the material, in particular of advanced composites. We managed to create a protection shield capable of isolating the underlying material from external threats, consequently increasing its impact resistance, and after years of research to optimize our painting system with the aim of significantly reducing weight, we are proud to finally announce the achievement of this milestone with such a special car as the Imola. The new technology will obviously be available on future Pagani models" 
The extreme research for weight saving conducted by Pagani over the years has led to the increasingly extensive use of noble alloys, such as those of aluminum, titanium and chrome-molybdenum steel, allowing a general optimization in terms of mechanical properties and lightness and a greater aesthetic experimentation. On the new born Pagani Imola the effort involved more than 770 forged or CNC-machined components, this time featuring the newly developed texture-look finish specifically applied to the aluminum alloy parts. The innovative braking system built by Brembo has been optimized, through intensive aerodynamic study and countless dedicated tests, to further improve the entire cooling system. Working with Pirelli and the newly created Next MIRS system, Pagani developed tires for a vehicle that would provide excellent performance on track but would also be "communicative" and easy to drive, in true Pagani style.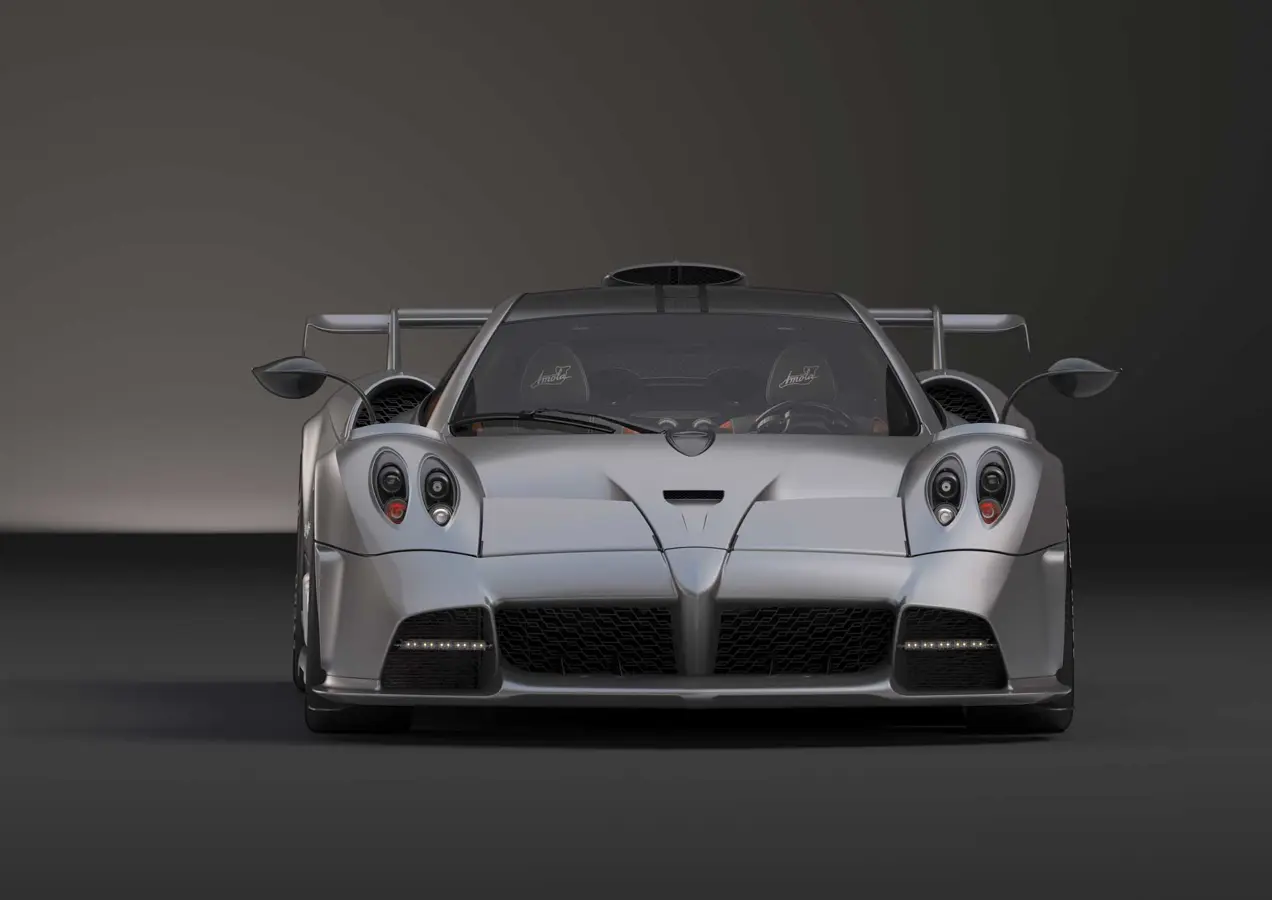 Pagani Imola. Photo: Copyright © Pagani Automobili.
The Imola circuit became a second home while the car was being developed. This is why project code PS-01 was dubbed Pagani Imola, as a tribute to the track where the vehicle was created and which is part of its identity. Since we could test drive on track in different temperature and track surface conditions, we were able to try out new solutions, which we often took to the extreme so as to work out their behavior. For instance, fitting semi-slick tires allowed us to subject different parts of the car to stress that far exceeded - with respect to the suspensions and lateral forces - the stress sustained when road tires are used.
Horacio Pagani, Founder and Chief Designer of Pagani Automobili: "Imola is a sacred place for car enthusiasts. It's a fast, difficult, technical circuit that has always separated the wheat from the chaff, in terms of both men and machines. A circuit that has made the fastest drivers faster, one that has given rise to fierce duels between opponents and gentlemen, and where the sweetest victories and bitterest tragedies have been witnessed. A circuit in the Motor Valley of Emilia Romagna. A place that has given so much to the automotive industry. That has given so much to Pagani." 
Edited by Lisa Maria River
Text source: © Ufficio Stampa Pagani Automobili
Photos: Copyright © Pagani Automobili
All rights reserved. Reproduction prohibited. 
Copyright © Sisterscom.com
About Pagani
Pagani Automobili S.p.A. is an Italian hypercar manufacturer. The company was founded in 1998 by Horacio Pagani and is based in San Cesario su Panaro, Modena, Italy. The philosophy driving the company embraces a concept borrowed from the Renaissance and embodied by the great Leonardo da Vinci who, over 500 years ago, once stated: "Art and Science are disciplines that must walk together hand in hand." Pagani Automobili has a limited and exclusive production rate of about 45 bespoke cars a year, each created in an inspiring way that combines technique and taste, functionality and aesthetics, handcrafted work and technological know-how.
AVION LUXURY MAGAZINE
in digital version
DESTINATIONS Aruba, un viaggio ai Caraibi. HOTELS Un Bvlgari Hotel a Roma. JETS La serie Phenom 300 di Embraer - La cabina Executive di Bombardier. CARS Bugatti Chiron Profilée -1000 Miglia Experience UAE.
YACHTS Grande 26M di Azimut - Nautica e benessere con Arcadia. WATCHES Planetarium Dunes of Mars Limited Edition.