06 April 2022
Mercedes-AMG SL 43: innovative engine technology
Electric exhaust gas turbocharger derived directly from Formula 1™ for the first time in a production vehicle
Following the two variants with V8 engines, Mercedes-AMG presents the SL 43 (combined fuel consumption 9.4-8.9 l/100 km, combined CO2 emissions 214-201 g/km),[1] a technically innovative entry-level model of the newly developed roadster icon. Under the bonnet of the open-top 2+2-seater with fabric soft top is an in-line four-cylinder petrol engine with two litres displacement that provides the befitting propulsion. This is the first time in the world that an electric exhaust gas turbocharger is being used in a production vehicle.
Mercedes-AMG SL 43 Roadster. Photo: Copyright © Mercedes-Benz Group AG.
This technology comes from Formula 1™. The system in the SL 43 is a direct derivative of the development successfully used by the Mercedes-AMG Petronas F1 Team for many years in the premier class of motorsport. The new form of turbocharging guarantees particularly spontaneous throttle response across the entire rev range, thereby offering an even more dynamic driving experience while increasing efficiency at the same time. The turbocharger is operated via the 48-volt electrical system, which also feeds the belt-driven starter-generator (RSG). As a result, the Mercedes-AMG SL 43 has an output of 280 kW (381 hp) and a maximum torque of 480 Nm, plus an additional short-term boost of 10 kW (14 hp) from the RSG in certain driving situations. The new entry-level model in the SL family also shines with extensive standard equipment. In addition, numerous options that enhance comfort and safety offer a wide range of possibilities for individualisation.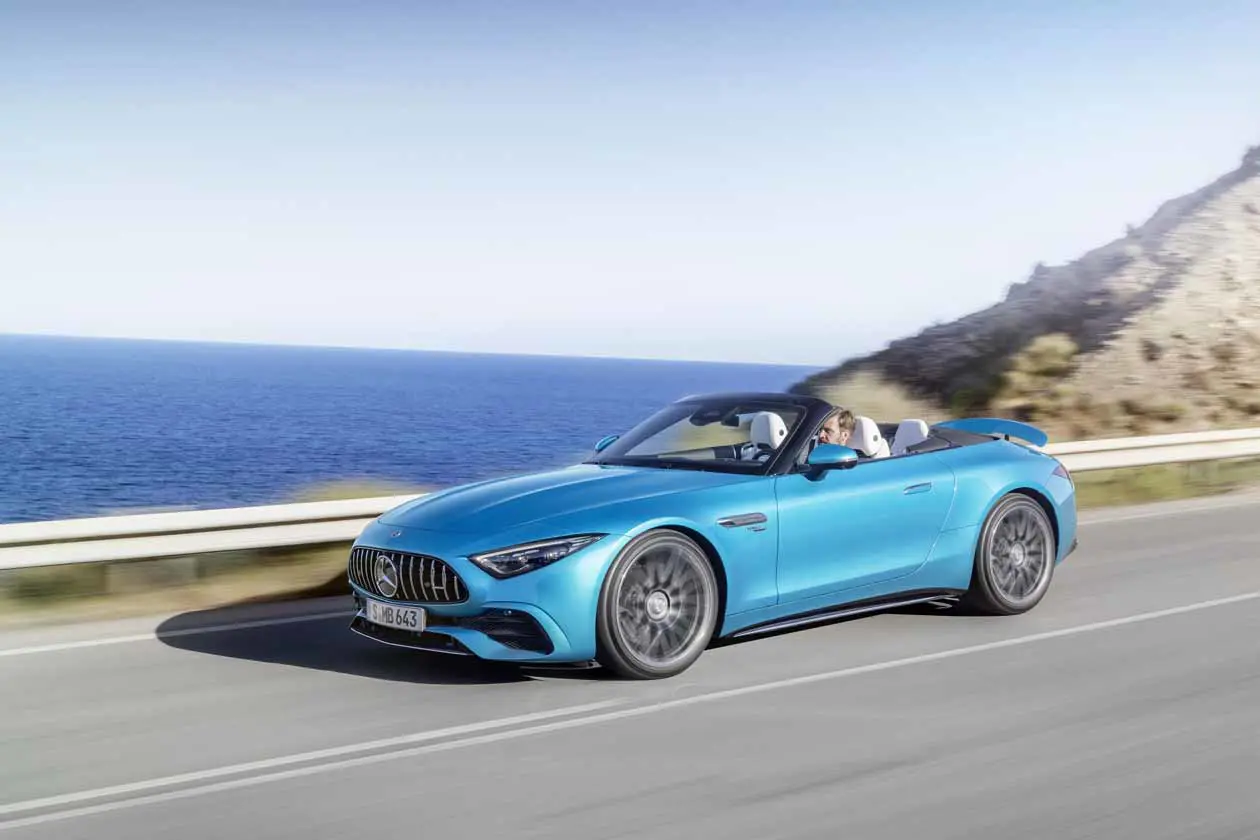 Mercedes-AMG SL 43 Roadster. Photo: Copyright © Mercedes-Benz Group AG.
In the 70 years of its development history, the SL experienced the transformation from a thoroughbred racing car to an open-top luxury sports car - and has long enjoyed legend status, not least for this reason. The new Mercedes-AMG SL now marks another milestone in the model's history. It combines the distinct sportiness of the original SL with the unique luxury and technological excellence of the modern Mercedes-AMG models. As the new entry-level model in the series, the SL 43 is a particularly good example of this. It is the world's first series-produced vehicle to feature an electric exhaust gas turbocharger. This technology comes directly from Formula 1™ and solves the trade-off between a small, fast responding supercharger that nevertheless achieves comparatively low peak power and a large supercharger with high peak power that only responds delayed. With its innovative engine concept, the new entry-level model of the 2+2-seater roadster is aimed more at particularly tech-savvy buyers. With its combination of a comparatively light four-cylinder engine on the front axle and rear-wheel drive, the SL 43 also displays distinctly discrete handling characteristics.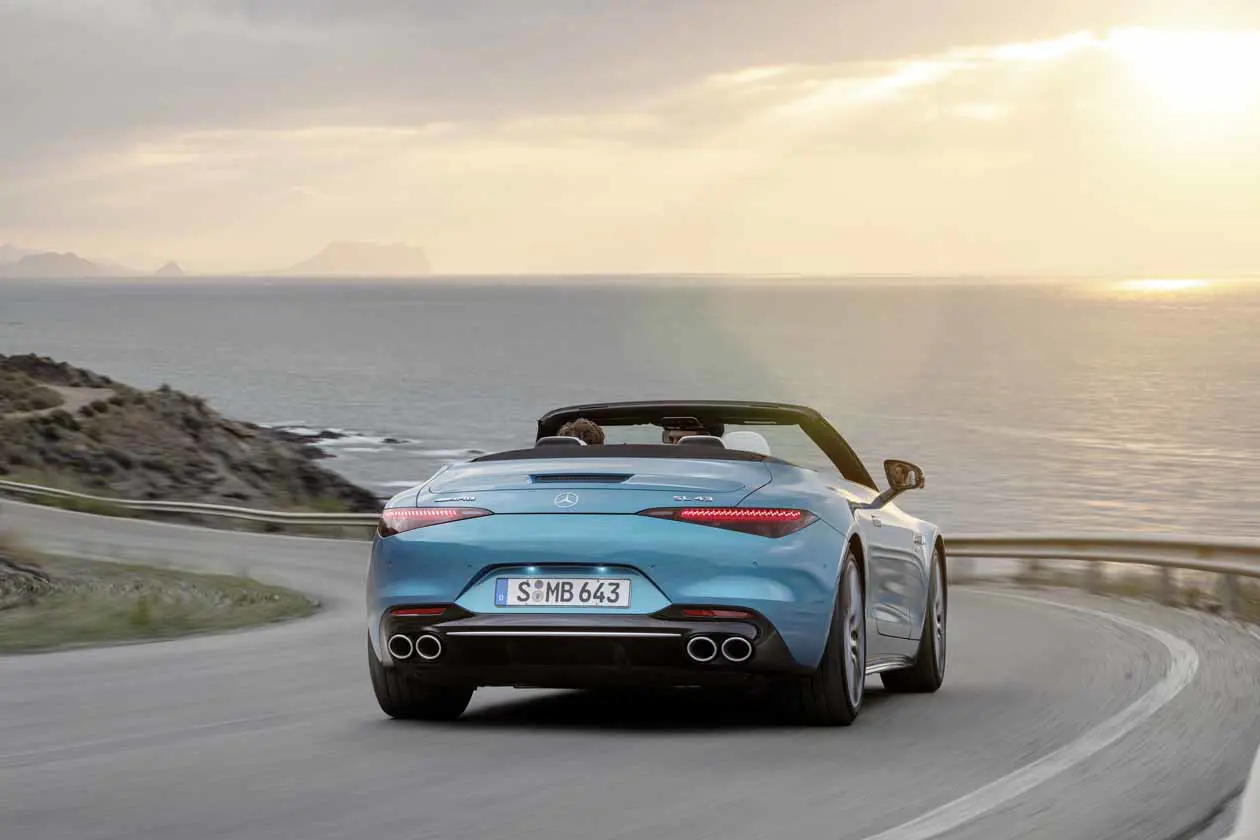 Mercedes-AMG SL 43 Roadster. Photo: Copyright © Mercedes-Benz Group AG.
AMG SPEEDSHIFT MCT 9G transmission with wet start-off clutch and rear-wheel drive. The driving performance is up to par: from a standstill, the SL 43 accelerates to 100 km/h in just 4.9 seconds if required, and the top speed is 275 km/h. In addition to the performance it offers, the entry-level model of the series is also distinguished by comparatively low consumption and emission figures.
Roadster architecture with aluminium composite structure for typical AMG Driving Performance. The new SL of the R232 series is based on a completely new vehicle architecture developed by Mercedes‑AMG. The new dimensional concept allows a 2+2 seating configuration for the first time since 1989 (Mercedes SL model series R129). This makes the new SL even more versatile. The rear seats increase daily practicality and offer space for people up to 1.50 metres tall (up to 1.35 metres with a child seat). If the extra seating is not needed, an insertable draft stop behind the rear seats can protect front-seat occupants from draughts on the back of their necks. Or the second row of seats can be used as additional stowage space and accommodate a golf bag, for example.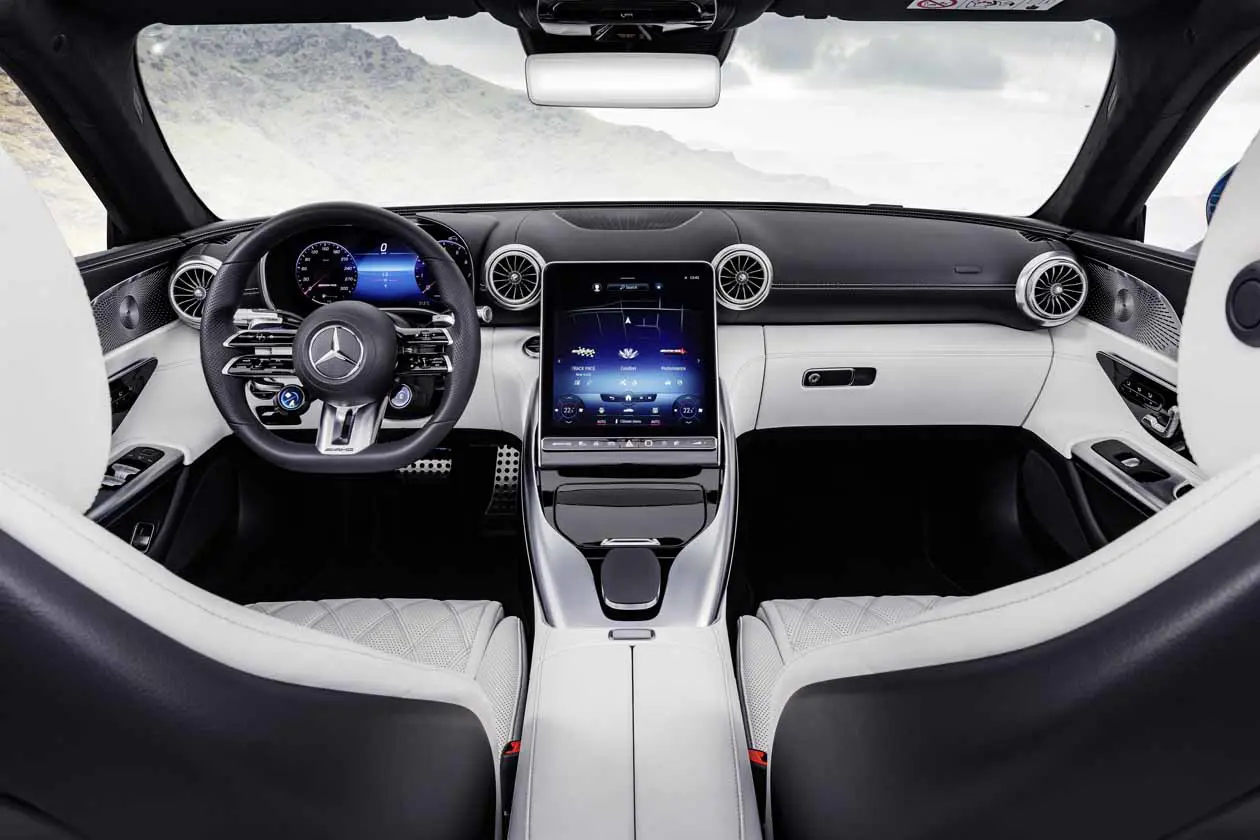 Mercedes-AMG SL 43 Roadster. Photo: Copyright © Mercedes-Benz Group AG.
The sportier positioning of the new SL also suggested the decision for an electric soft top instead of the previous metal vario-roof. The 21-kilogram reduction in weight and the resulting lower centre of gravity have a positive effect on driving dynamics and handling. The Z-fold saves space and weight, and makes it possible to dispense with a conventional soft-top compartment cover. The front header bow ensures that the open soft top is flush in its final position. At the same time, the developers were faced with the task of maintaining the high suitability for everyday use and the exemplary quiet-running. The three-layer design consists of a tightly stretched outer shell, a precisely finished roof liner and an acoustic mat made of high-quality 450 g/m² PES fleece inserted in between. Opening and closing takes only about 15 seconds and is possible up to a speed of 60 km/h. The soft top is operated using the switch panel in the centre console or the multimedia touch screen, on which an animation shows how the process is progressing.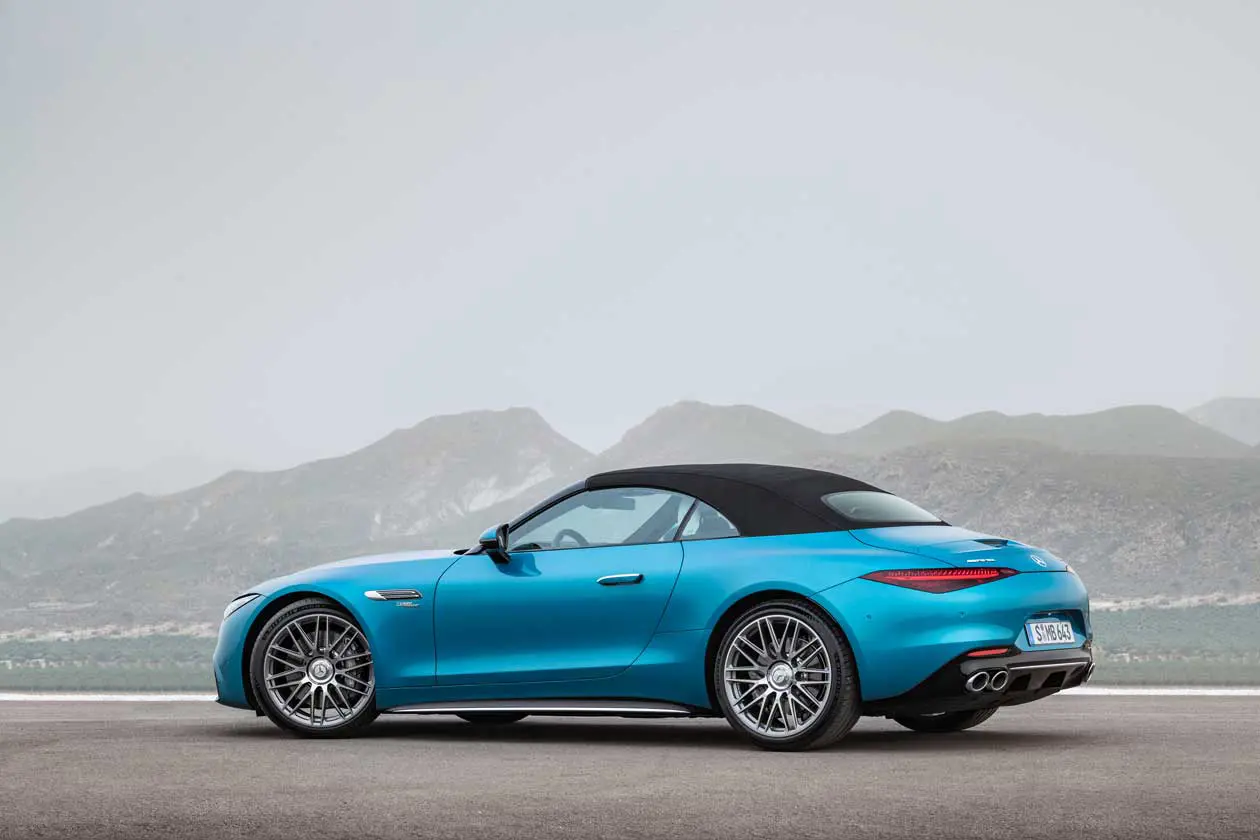 Mercedes-AMG SL 43 Roadster. Photo: Copyright © Mercedes-Benz Group AG.
The SL 43 is equipped as standard with a wide range of electrically and manually adjustable luxury seats in a combination of ARTICO man-made leather and fabric. Seat covers in leather, NAPPA leather and NAPPA AMG leather are optionally available, as are AMG sports seats and AMG Performance seats with their sculptural design. The optionally available upholstery in MANUFAKTUR macchiato beige/titanium grey or in MANUFAKTUR truffle brown/black ensures a particularly exclusive touch. The AMG Performance seats can also be upholstered in a combination of nappa leather and DINAMICA microfibre with yellow or red decorative topstitching.
In addition to the standard high-gloss black, the trim elements and centre console are also available in aluminium or carbon and in MANUFAKTUR chrome black. The AMG Performance steering wheel with optional steering wheel heater is available in nappa leather and nappa leather/MICROCUT microfibre.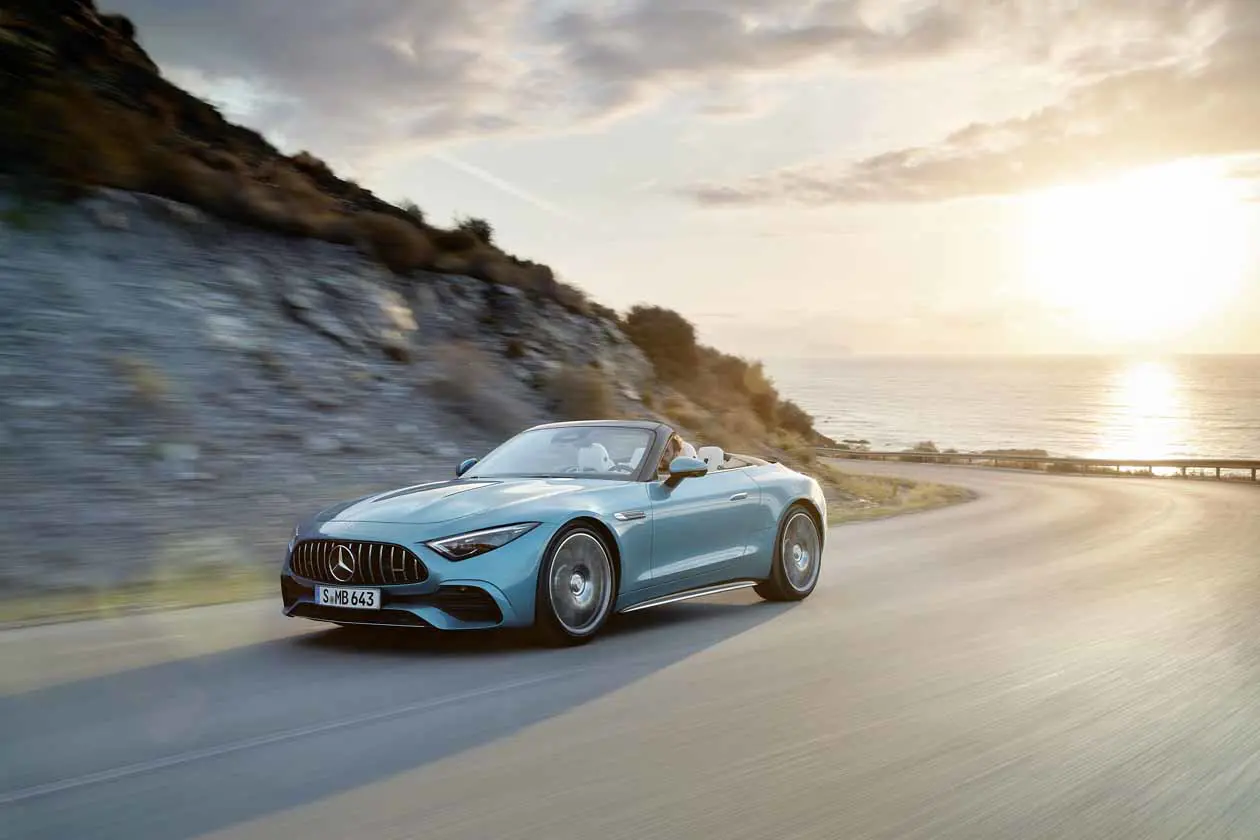 Mercedes-AMG SL 43 Roadster. Photo: Copyright © Mercedes-Benz Group AG.
The MBUX (Mercedes-Benz User Experience) infotainment system enables extensive operating options and many digital services from Mercedes me connect. The strengths include the intuitive operating concept via touch screen or touch control buttons on the steering wheel, Smartphone Integration of Apple CarPlay and Android Auto as well as hands-free operation via Bluetooth connection and Digital Radio (DAB and DAB+). In conjunction with MBUX, customers already have access to connectivity services such as Live Traffic Information. Mercedes me connect makes the new SL altogether more intelligent: Additional functions can be used before and after the journey or while on the road. All that is required is to link the roadster to a Mercedes me account in the Mercedes me Portal and accept the Terms of Use. Thanks to navigation with Live Traffic Information and Car-to-X communication, the customer drives with real-time traffic data. This way, traffic jams can be avoided efficiently and valuable time can be saved. Networked vehicles exchange information about traffic events by means of car-to-x communication.
[1] The stated figures are the measured "WLTP CO₂ figures" in accordance with Article 2 No 3 Implementing Regulation (EU) 2017/1153. The fuel consumption figures were calculated on the basis of these figures.
Edited by Lisa Maria River
Avion Luxury Magazine
Text source and photos: © Mercedes-Benz Group AG Press Office
Photos: Copyright © Mercedes-Benz Group AG. All rights reserved.

AVION LUXURY MAGAZINE
in digital version
DESTINATIONS Smart working alle Maldive e alle Mauritius. JETS Il lancio del Falcon 6X di Dassault Aviation e l'AS2 Supersonic Business Jet. CARS La Jarama GT di Lamborghini e la Wami Lalique Spyder. YACHTS Lussuosi superyacht e jet privati. WATCHES Ore e minuti preziosi. HAUTE COUTURE Dior Women Haute Couture, Spring-Summer 2021.