08 October 2018
Travel Insurance
Risk insurance policies
For those
traveling outside the European community
(outside the states of the European Union, Switzerland, Norway, Iceland and Liechtenstein), where
coverage of health costs is not guaranteed
, it is advisable to take out
supplementary travel insurance
that includes: coverage of medical and health expenses, services such as telephone medical advice or, for urgent cases, sending a doctor on the spot. Or, in more serious cases, the
air transfer
to another country or the
repatriation of the patient with an ambulance
.
Even if the travel package purchased is of the
"all-inclusive" type
, the
Tourism Code
, requires the traveler to provide all the necessary information about the forms of insurance provided and not, so that the
traveler can freely decide if signing a possible additional insurance contract
.
From 1 July 2018 the
rules relating to tourist packages and related tourist services have changed
with the entry into force of the
new legislative decree N62 of 21 May 2018
.
Travel insurance
guarantees the serenity of a
holiday covered by a medical assistance
and
medical services
necessary above all for trips abroad where, in certain countries, medical care is paid. Moreover,
in case of cancellation of the flight
, the
holiday insurance
is more protected with the
travel insurance
. The companies that offer travel insurance are different and on internet there are all types of travel insurance.
It is advisable to visit the official websites that offer the convenience of having free online price quotation in real time, which depending on the destination chosen, the number of travelers and the request for insurance on assets, persons and health services. In this way, travel insurance is customized based on personal needs.
In addition, many offer interesting offers such as:
unlimited medical expenses,
coverage for hospital expenses,
refunds for lost luggage,
assistance in case of injury or early return from vacation,
availability 24/24h,
the certificate sent directly by e-mail.
Sponsored contents
Traveling
for vacation or business with
insurance
that covers any inconvenience has become advisable. However, looking for the right
travel insurance
, customized to the personal needs, is not so simple. Here you can find a selection of the most qualified and specialized companies of travel insurance, like
Columbus Direct
.
Insurance packages designed ad hoc for travellers, protect in different situations: emergency medical expenses, travel illnesses and accidents, health care, trip cancellation, lost baggage and more.
Text by Editorial Staff
Photos: Sisterscom.com /
Shutterstock
Copyright © Sisterscom.com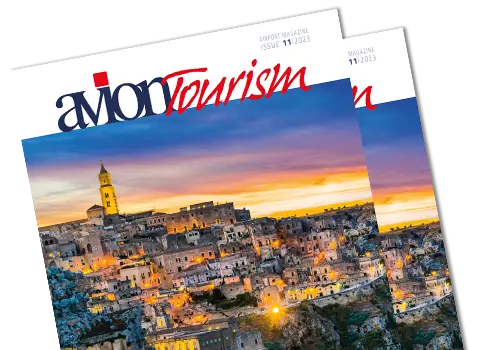 AVION TOURISM MAGAZINE
in digital version
On this issue: The World Heritage Sites of Basilicata and Puglia.