01 June 2023
First-ever commercial electric flight by SAS
On 2 June at 12:00 CET. SAS opens seat reservations for its first-ever commercial electric flight in Sweden, Norway, and Denmark
SAS invites travelers to join in writing this next chapter in aviation history with 30 seats available for reservation on each of the three inaugural flights – which are expected to take place during the course of 2028. SAS' goal is net-zero emissions by 2050. An important part of achieving this goal is to develop and use technological innovations such as electric aircraft on shorter trips.
The ticket price for the inaugural flight will be SEK/NOK/DKK 1946 – a tribute to the year when SAS first started flying. A start-up that also marks the beginning of SAS' innovative nature, with then-founder Wallenberg stating that "moving from the old to the new is the only tradition worth preserving".
Reservations can be made at flysas.com/electric starting 2 June at 12:00 CET. in Sweden, Norway, and Denmark. Maximum two seats per reservation and person. Departure day and Place of departure: to be communicated to travelers by email when decided.
"Since its inception in 1946, SAS has been one of the pioneers in the airline industry, being for instance the first commercial airline operator to fly over the North Pole to significantly shorten flight time between continents. A groundbreaking activity for which SAS received the Columbus Prize. The fact that we can now invite our passengers to the next major milestone in the future of aviation is a natural continuation of that pioneering spirit and a significant step on our journey towards more sustainable aviation," says Anko van der Werff, President & CEO of SAS.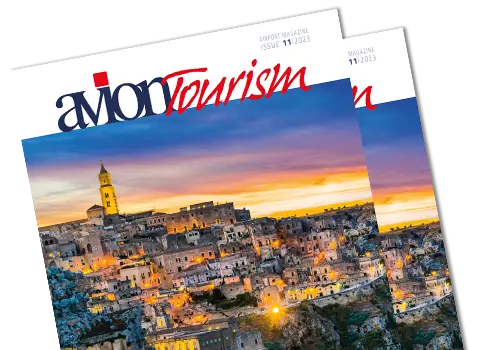 AVION TOURISM MAGAZINE
in digital version
On this issue: The World Heritage Sites of Basilicata and Puglia.