18 January 2022
Avion Tourism Magazine Special Edition for Albastar
The edition of the magazine dedicated to destinations by the Albastar airline
Avion Tourism Magazine
Special Edition for Albastar
, dedicated to the
destinations
served by the
airline
Albastar
, has taken flight and become an
inflight magazine
.
The partnership with the airline was born out of the need to entertain passengers on board their aircraft by offering useful and interesting tourist information on the destinations served by Albastar and its various services.
Directed by Angela Trivigno and published in a paper edition with a semi-annual frequency, with a bilingual layout (Italian and English) in a 21x26 cm format and printed on glossy coated paper with a minimum of 64 internal pages, the magazine was distributed to passengers on board all aircraft.
Additionally, the interactive digital PDF could be downloaded to all devices from either the Albastar or Avion Tourism websites.
The contents of the published issues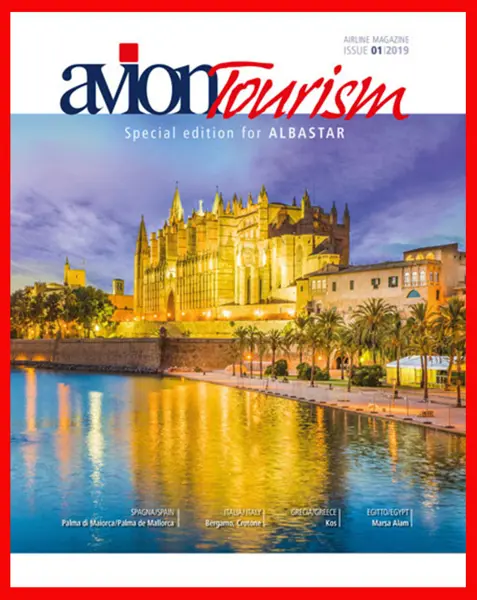 AVION TOURISM MAGAZINE #1
Special Edition for Albastar
EDITORIAL
The new edition of Avion Tourism Magazine has taken flight. Dedicated to the
destinations served by the airline Albastar, it offers useful and interesting tourist information to entertain passengers on board its aircraft. In the first issue of the magazine, we review an array of fascinating destinations that can be reached from the principal
European airports
such as
Palma de Mallorca
, lively and bustling at any
time of the year and an oasis of peace where the spirit can succumb to the beauty of the monuments and enjoy the contemplation of nature. We also suggest a visit to extraordinary
Bergamo
to discover this splendid city buil on a hill, which combines beautiful monuments and places that are witness to its ancient past. Remaining in Italy, we take a look at
Crotone
, splendour of Magna Graecia, which
will fascinate visitors with its cultural heritage, crystal-clear seawater and surrounding countryside
of hills and vast green spaces. In Greece, enchanting
Kos
, legendary island of the blessed, home of
Hippocrates, with its traditional villages, boundless golden beaches, azure waters and important archeological treasures, is one of the most popular tourist destinations of the Mediterranean.
Staying on the topic of crystal-clear waters of a thousand shades of blue, we lead you in discovery of Marsa Alam, a tropical multi-coloured paradise for lovers of windsurfing, snorkelling and scuba diving. Lastly, the Airline section highlights the history and values of the airline
Albastar
which, with its comfortable, modern and smart aircraft, aims to offer its passengers an impeccable flight experience, assisted by competent staff who enjoy looking after their passengers whatever their needs or travel programme. On the flight, all passengers can enjoy lealing through the paper issue or digital version of Avion Tourism Magazine Special Edition for Albastar by downloading it onto their devices (mobiles, tablets, computers) directly from the Albastar or Avion Tourism websites.
Have a good flight and enjoy reading Avion Tourism.
---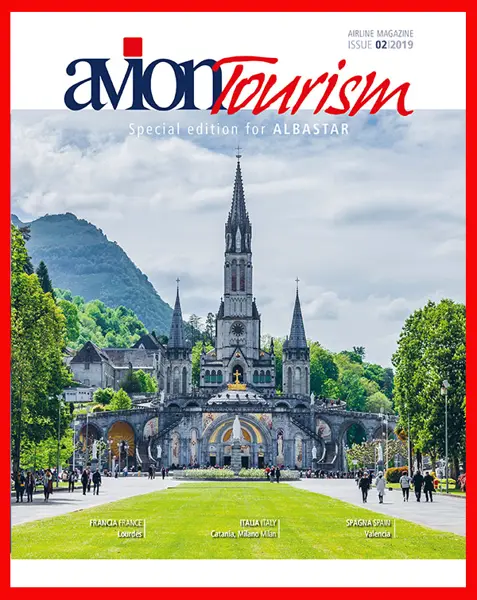 AVION TOURISM MAGAZINE #2
Special Edition for Albastar
In this issue, articles on Lourdes, Valencia, Milan and Catania.
Discover the destinations directly on the website or
EDITORIAL
This new issue of Avion Tourism Magazine will accompany you during your flight on board
Albastar
aircraft, presenting some of the destinations served by the airline and entertaining you with useful tourist information to enrich your travel experience. The destinations we propose are ideal for exploring and can all be reached by departing from the principal European airports served by Albastar. Milan, for example, known as the capital of fashion and design, charms with its buildings, such as the Cathedral, Sforza Castle and La Scala Theatre, as well as the Last Supper by Leonardo da Vinci and its museums with interesting exhibitions. A European leader for religious trips to Lourdes, Albastar flies to this mystical, holy place of pilgrimage, which, in addition to sanctuaries, also offers various exciting and interesting tourist and natural attractions, such as Pic Du Midi, Gavarnie Cirque, Pyrenees National Park and Tarbes, as well as many outdoor activities that can be enjoyed in the area around Lourdes. Another fascinating Italian city that can be reached with Albastar flights is Catania, the Queen of Baroque, with its buildings, Cathedral, numerous churches, castle, theatre and, naturally, the seaside with its golden beaches, as well as Etna, the highest active volcano in Europe.
We recommend that lovers of Spain, instead, fly to Valencia, which charms visitors not only with its sea and beaches but also with its old town centre, Gothic-style buildings, Cathedral with the Holy Grail, and the modern architecture of the City of Arts and Sciences: a place to enjoy all year round which offers cultural, artistic, gastronomic, sporting events and, naturally, Las Fallas. Lastly, you'll find an in-depth article on Albastar to learn more about the history and values of this airline which, with its fleet of safe, modern aircraft, offers passengers comfortable flights attended by professional cabin crew. Professionalism, commitment but also heart are the values that emerge by reading the interview with Daniela Caruso, President and shareholder of Albastar. Avion Tourism Magazine Special Edition for Albastar can be browsed not only on board, but an interactive issue is also available for download free of charge from the Albastar or Avion Tourism websites.
Have a good flight and enjoy reading Avion Tourism.
​​​​​​
---
The pandemic crisis that started in 2020, the inability to distribute the magazine onboard for reasons of health safety, and the resulting business choices of the airline company Albastar, which focused on on-demand leisure, business, and religious connections, caused its temporary suspension.
Edited by editorial staff, Avion Tourism Magazine
Photo visual: Copyright © Sisterscom.com / Shutterstock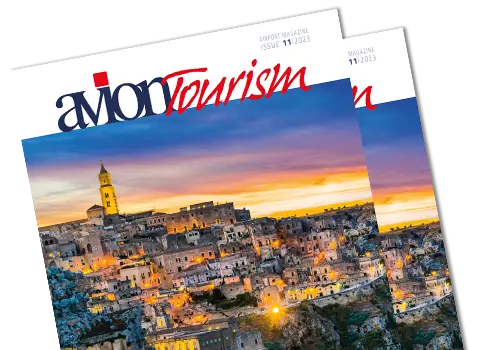 AVION TOURISM MAGAZINE
in digital version
On this issue: The World Heritage Sites of Basilicata and Puglia.