21 February 2019
In Milan the exhibition of Antonello da Messina
From 21 February to 2 June 2019 at the Palazzo Reale
Like so many great artists, Antonello da Messina (1430-1479) left only a handful of extraordinary works that managed to escape tragic natural events like floods, earthquakes, seaquakes, and the neglect and ignorance of humans. The surviving works are dispersed in various collections and museums in Italy, in Britain, and in Ameria; many have undergone heavy restorations that have permanently altered their original appearance, others have reached miraculously intact.
The exhibition, which will run from 21 February to 2 June 2019 at the Palazzo Reale, Milan, is the result of a collaboration between the Region of Sicily and the City of Milan; produced by Palazzo Reale and MondoMostre Skira, it is one of the key cultural events of 2019, both nationally and internationally. A unique occasion to enter the world of the greatest portraitist of the 15th century, an outstanding painter who left a lasting imprint on Italian art.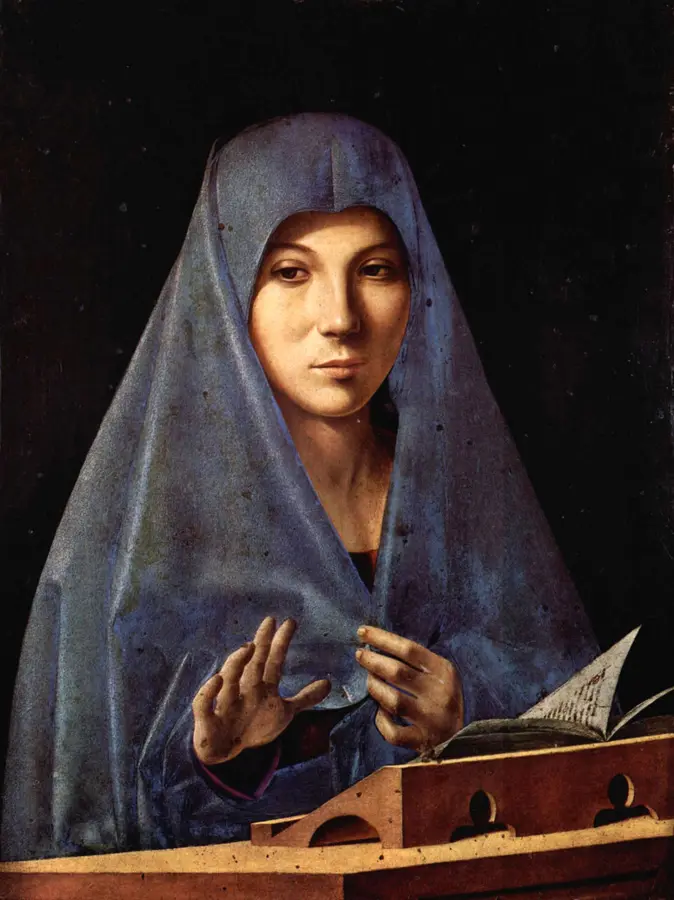 The exhibition will display
nineteen of
Antonello's 35 autograph works
: they include the
Virgin Annunciate
(c. 1475), a true icon and distillation of
Antonello's art
, one of the supreme
masterpieces of the Quattrocento
, with its highly moving portrayal of the Virgin, with her gaze and gesture responding to a mysterious presence beyond the picture plane; the elegant figures of
St Augustine
(1472-1473),
St Jerome
(1472-1473) and
St Gregory
(1470-1475), possibly part of the
Polyptych of the Doctors of the Church
(all from Palazzo Abatellis di
Palermo
); as well as the celebrated
Portrait of a Man
(1465-1476) with an enigmatic smile traditionally known as the "unknown sailor" that was originally used as a cupboard door and restored on several occasions (Fondazione Culturale Mandralisca di Cefalù).
"Thanks to our collaboration with numerous Italian and international institutions, we have brought together nineteen works by Antonello da Messina that will be on show for the first time ever in Milan in a historic exhibition that will give the general public the opportunity to get to know the fascinating story of an innovative artist who has lost none of his charisma in the intervening centuries", says Filippo Del Corno, councillor for the arts and culture.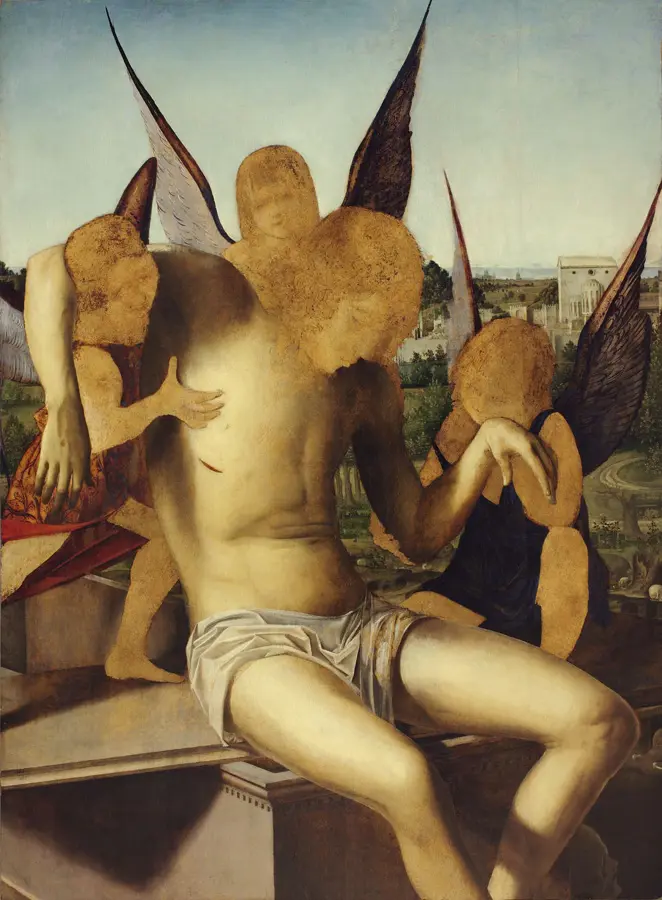 Also on display is
St Jerome in his Study
(1474-1475), a painting mingling classic inspiration with Flemish details (National Gallery,
London
); the
Crucifixion
(c. 1460), a work first attributed to Antonello by Karl Voll in 1902 and then by Bernard Berenson in 1932 (Mezeul National Brukenthal, Romania); the
Portrait of a Young Gentleman
(1474) (Philadelphia Museum of Art); the enchanting
Madonna and Child
(c. 1475) (National Gallery of Washington), and the
Portrait of a Young Man
(1478) (Staatliche Museen,
Berlin
).
The exhibition will also include a major triptych with
Madonna and Child, St John the Evangelist
– acquired in 1996 by the Ministry of Cultural Heritage and Activities – and
St Benedict
, a work of superb pictorial quality from the Uffizi Gallery (
Florence
) as well as an early work long thought to be a self-portrait of the artist (
Portrait of a Man
; 1468-1470: Pinacoteca Malaspina di Pavia); typically Antonellian in terms of its background, pose, and, above all, the slightly ironic gaze of the sitter, it was stolen from the museum during the night between 10-11 May 1970 and recovered seven years later by the art theft unit of the Carabinieri. Also on display is the celebrated
Ecce Homo
(1473-1476) from the Collegio degli Alberoni di Piacenza. Other notable works are the
Portrait of a Man
(
Michele Vianello
?) (1475-1476) from the Galleria Borghese,
Rome
; the moving
Dead Christ Supported by Three Angels
(c. 1474-1476) from the Museo Correr,
Venice
; and the
Portrait of a Man
(also known as the
Trivulzio Portrait
; 1476) from the Museo Civico d'Arte Antica, Palazzo Madama,
Turin
.
This section on the great Master ends with the lovely
Madonna and Child
(1480) from the Accademia Carrara at
Bergamo
, painted by Antonello's son Jacobello di Antonello in the year after his father's death: in his unusual signature, a moving display of filial devotion, he describes himself as the son of a "painter who was not human", in other words, divine. Jacobello, who was employed in his father's workshop, completed the works left unfinished at his father's death.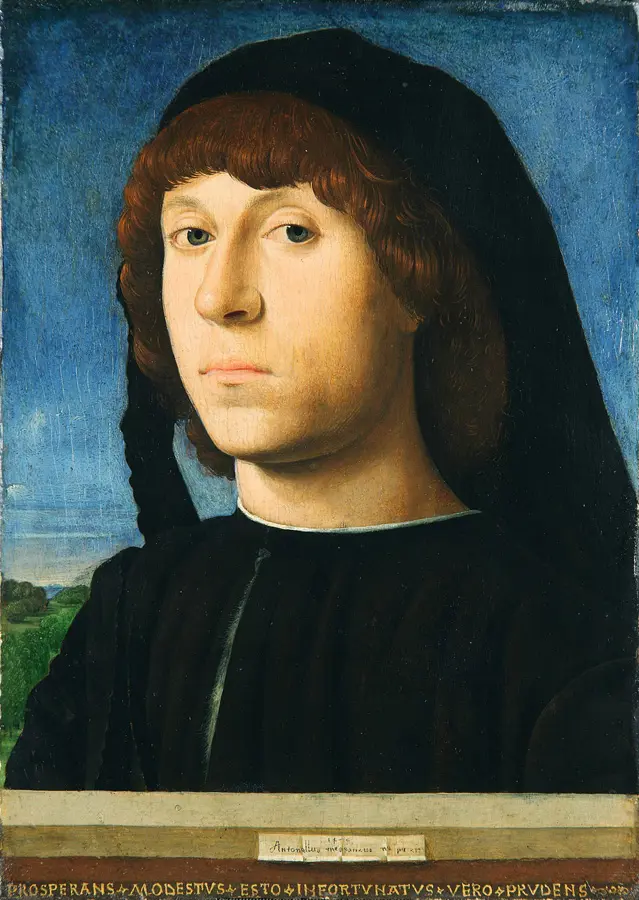 A truly fascinating and unique exhibition that will allow visitors to admire the profound psychological introspection revealed by the faces of these quintessentially Italian men and women portrayed by the great artist, and the technical virtuosity of the multilayered applications of paint and pigment mixtures that Antonello learned from contemporary Flemish painters, adapting the technique and mingling it with Venetian influences to develop his own unmistakeable and exquistely beautiful Mediterranean manner of painting.
The next section seeks to reconstruct the history of the San Cassiano altarpiece, one of the cornerstones of Italian art. Also on display is a 19th-century work dedicated to the myth of Antonello; Roberto Venturi's Giovanni Bellini Spies on Antonello to Discover the Secrets of Oil Painting (1870: Pinacoteca di Brera) normally hangs in the Court of Milan and has been restored especially for this exhibition.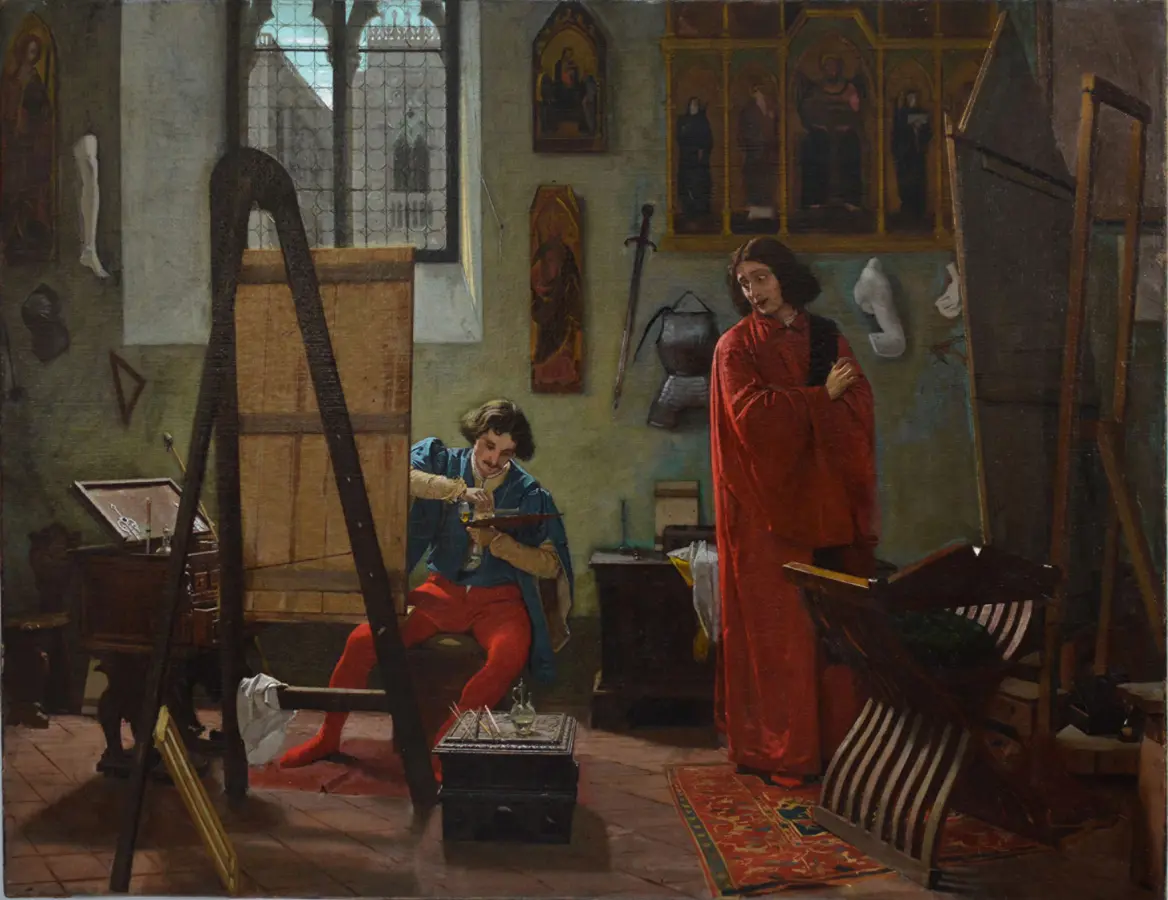 This exhibition has an exceptional guide in the great art historian Giovan Battista Cavalcaselle whose notebooks and drawings will offer visitors valuable insight into Antonello da Messina, one of the fathers of Western art. Thanks to an extraordinary collaboration with the Biblioteca Nazionale Marciana, Venice, the exhibition displays 19 wonderful drawings (7 notebooks and 12 sheets including folios) by Giovan Battista Cavalcaselle who was responsible for painstakingly reconstructing the first catalogue of Antonello's work.
The exhibition also focuses on the artist's relationship with his home town and the few documentary traces of the great Sicilian painter's life that have survived the many tragic natural events, earthquakes in particular. Following in Cavalcaselle's footsteps was a redoubtable Messinese scholar, Gaetano La Corte Cailler, who uncovered and transcribed notarial documents revealing details of the events in the life of the painter's family: his grandmother's will, the return of the painter's family from Calabria by brigantine, his daughter's dowry, and lastly Antonello's own will dated February 1479. Nothing else remains of him: a flood washed away his bones in an old cemetery and a series of earthquakes destroyed various archives in Noto and in other Sicilian towns. Old Messina was destroyed and rebuilt in 1783 before being definitively devastated at 5.21 am, Monday 28 December, 1908 by an earthquake with a Mercalli intensity of X followed by a tsunami, a catastrophe for this Sicilian city.
An exhibition of this scope and importance demands an equally unique book taking the form of an exhibition catalogue published by Skira with reproductions of all the surviving autograph works by Antonello da Messina; an art-historical section with essays by Giovanni Carlo Federico Villa, Renzo Villa, Gioacchino Barbera, and by five writers: Roberto Alajmo, Nicola Gardini, Jumpa Lahiri, Giorgio Montefoschi, and Elisabetta Rasy. The book is completed by a Biography and Annotated Bibliography.
Information
Antonello da Messina
. In
Milan
,
Palazzo Reale
, Piazza Duomo 12.
Date
: from
21 February to 2 June
2019. Opening hours:
Monday 14.30-19.30 (9.00-14.30 reserved for schools); Tuesday, Wednesday, Friday and Sunday 9.30-19.30; Thursday and Saturday 9.30am-10.30pm; last entry one hour before closing. Extraordinary hours: April 22 9.30am-10.30pm; 1 May 9.30-19.30.
Information
:
www.mostraantonello.it
and
www.palazzorealemilano.it
.
Where to sleep in Milan

Milan
is a welcoming city and offers different possibilities for accommodation.
To find the ideal hotel and the best offers you can do a search for the stars but also for districts or landmarks.
DISTRICTS
Hotels in the districts
LANDMARKS
Hotel in tourist areas
LANDMARKS
Hotel in tourist areas
AIRPORTS
Hotels near the airports
How to get to Milan by plane
Edited by Nicolò Villa
Source and photos: Exhibition Press Office
All rights reserved. Copyright © Sisterscom.com
Search a flight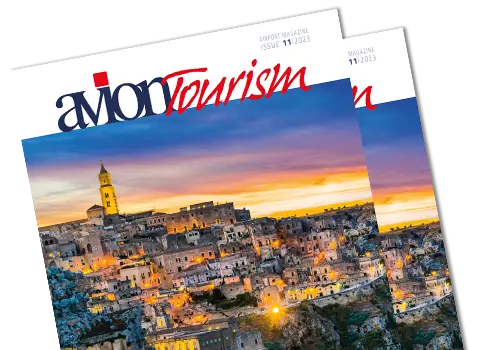 AVION TOURISM MAGAZINE
in digital version
On this issue: The World Heritage Sites of Basilicata and Puglia.