06 February 2023
Bill Viola exhibition in Milan
For the first time in Milan, a can't-miss exhibition dedicated to the genius of video art
From 24 February to 25 June 2023,
Palazzo Reale in Milan
will present a major exhibition dedicated to the man who since the 1970s has been considered the undisputed master of
video art
:
Bill Viola
. Promoted by the Municipality of Milan-Culture, the
Bill Viola exhibition
is produced and organized by Palazzo Reale and Arthemisia, with the collaboration of Bill Viola Studio. A survey of works from
Viola's entire artistic career
, it offers the publicfifteen masterpiecesin the halls at
Palazzo Reale
.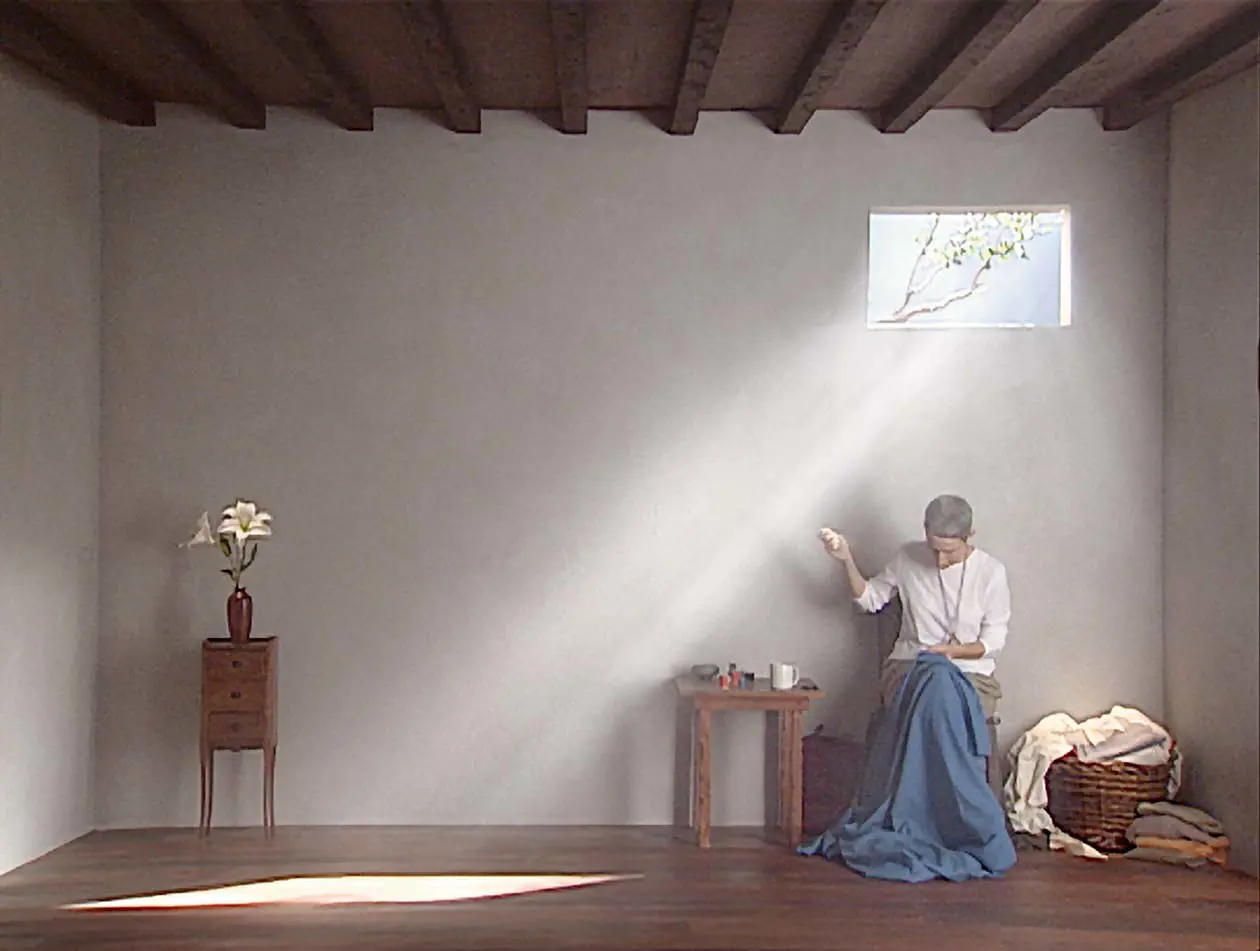 Bill Viola Catherine's Room, 2001 Color video polyptych on five LCD flat panel displays mounted on wall, 38x246x5,7 cm 18:39 minutes Performer: Weba Garretson Photo: Kira Perov © Bill Viola Studio
Born in
New York
in 1951 and of Italian-American origin,
Bill Viola
is internationally recognized as the artist who, through
experimentation with video art
, has produced unique works considered in all respects to be true
masterpieces of contemporary art
. Through the early study of
electronic music
, the potentialities of performance art and experimental film, for more than 40 years Viola has made works that, through a new artistic language, consistently address life, death, and the intervening journey, to explore deeper understanding of humanity and its relationship with the environment, the influences of Eastern and Western philosophies, the iconic importance of the natural world, and many other themes.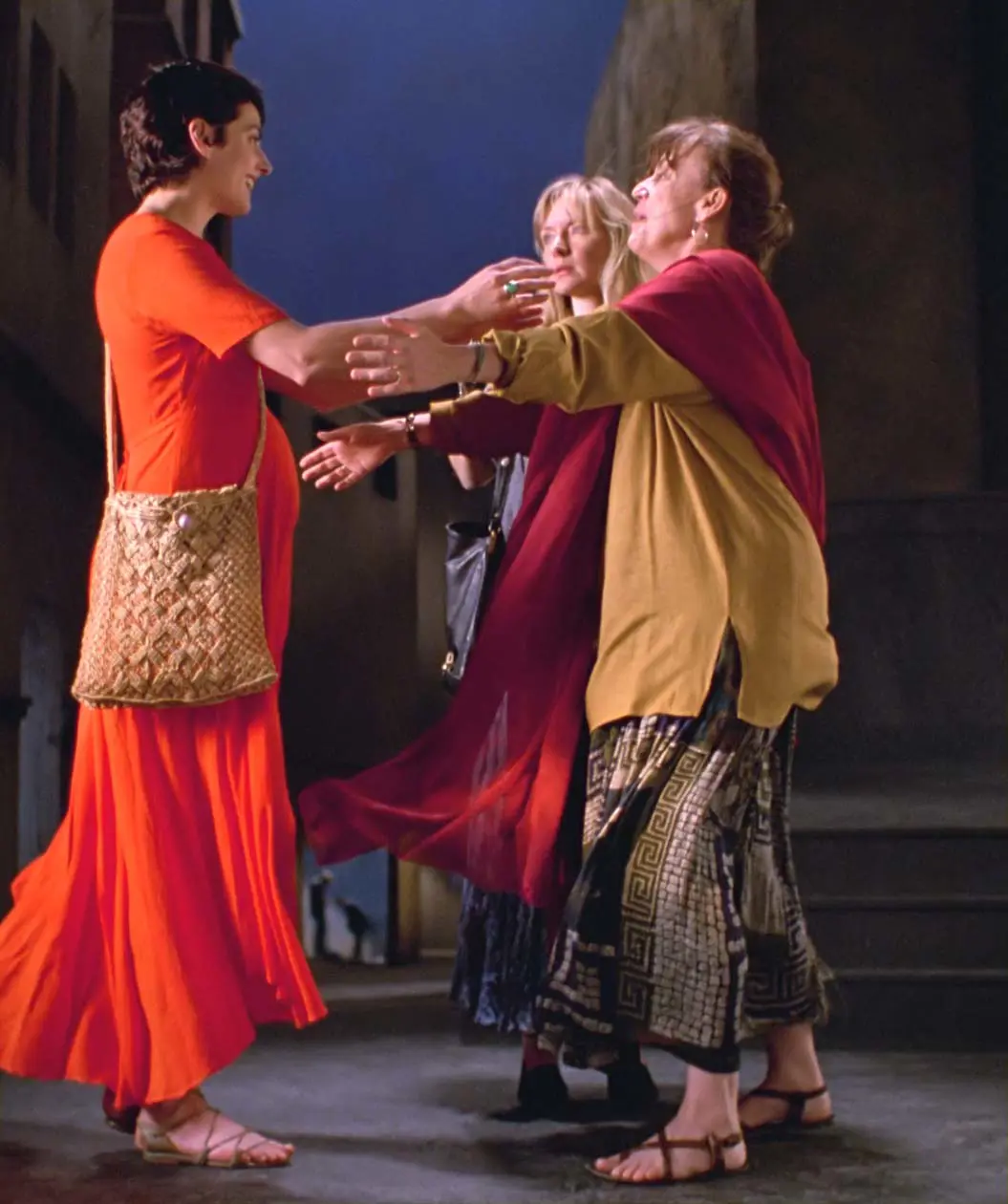 Bill Viola The Greeting, 1995 Video/sound installation Color video projection on large vertical screen mounted on wall in darkened space; amplified stereo sound Projected
image size: 2,8x2,4 m 10:22 minutes Performers: Angela Black, Suzanne Peters, Bonnie Snyder Photo: Kira Perov © Bill Viola Studio
For Viola, the
experience of travel
has been essential to the development of his work. Taking inspirationfrom the realities he encountered in his travels around the world with his wife K
ira Perov
, between the1970s and the 1980s Viola outlined his artistic path and achieved the creation of works that envelope theviewer with compositions and sounds, seeking to depict the infinite possibilities of the psyche and of thehuman spirit. Essential in these travels were the 18 months spent in
Florence
where he encountered for the first time Renaissance art. In 1997 during a Getty research project he continued to explore ancient Christian iconography, with a particular focus on Medieval, Renaissance, and Mannerist imagery in a continuous dialogue with altarpieces, polyptychs, and votive paintings by ancient artists. Viola then proposed a new composition of the image through the construction of elaborate theatrical scenes inspired by the Western historical and artistic tradition, cinematographic in the true sense of the word, with settings, actors, sets, lighting design, photography – and a director, too. Fireand water – symbolic elements for the transition from life to death, as well as from this life to the other; the digital world; an immaterial visual world; anexistence dependent upon pulses of electricity: everything brings to mind the fragility and fleetingness ofhuman nature.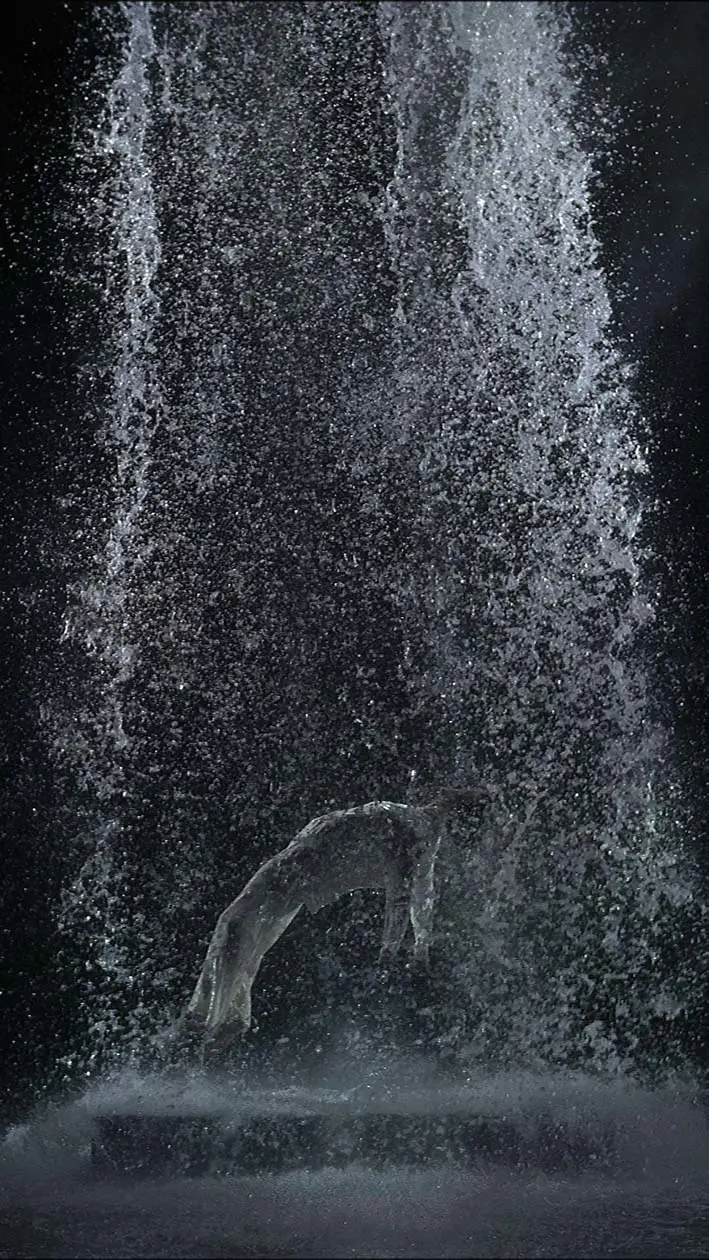 Bill Viola Tristan's Ascension (The Sound of a Mountain Under a Waterfall), 2005 Video/sound installation Color high-definition video projection; four channels of sound with subwoofer (4.1) Projected image size: 5,8x3,25 m 10:16 minutes Performer: John Hay Photo: Kira Perov © Bill Viola Studio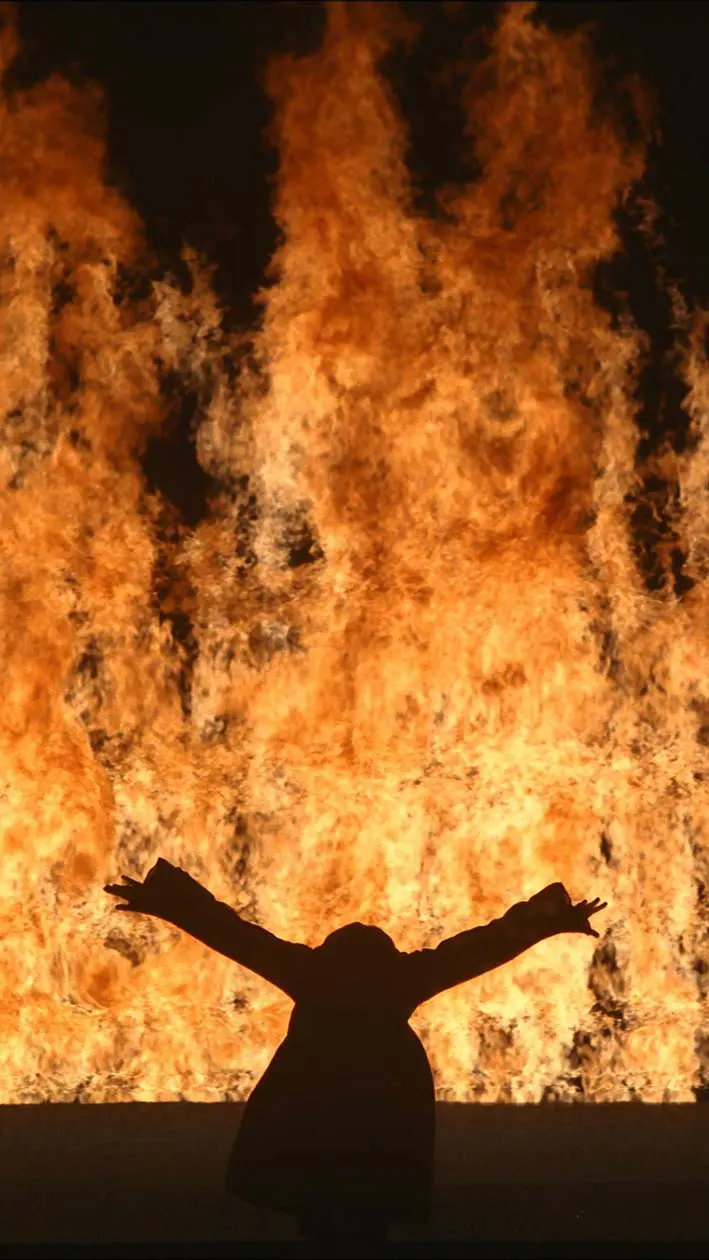 Bill Viola Fire Woman, 2005 Video/sound installation Color high-definition video projection; four channels of sound with subwoofer (4.1) Projected image size: 5,8x3,25 m 11:12 minutes Performer: Robin Bonaccorsi
Photo: Kira Perov © Bill Viola Studio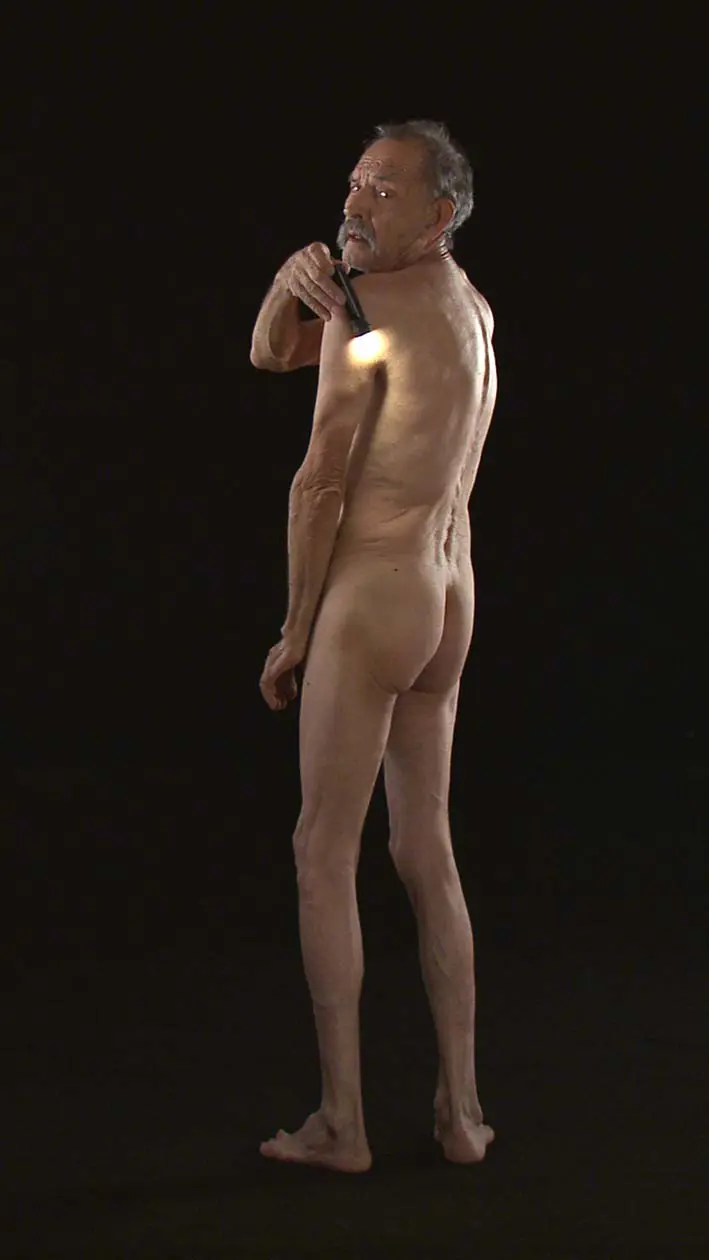 Bill Viola Man Searching for Immortality/Woman Searching for Eternity, 2013 (detail) Video installation Color high-definition video diptych projected on large vertical slabs of black granite leaning on wall, 227x128x5 cm each 18:54 minutes Performers: Luis Accinelli, Penelope Safranek
Photo: Kira Perov © Bill Viola Studio
The
Milan exhibition
offers visitorsa path on which they find themselves contemplating the profound issues that Bill explores with slow-motion imagesin which light, colour, and sound can create moments of deep reverence. Emotions, meditation, and passions can emerge from his videos, taking the vieweron an inner journey. This dimension emerges, for example, in his
Passions videos
(works that make clear reference to the Italian Renaissance), which in slow motion capture and extend details of human emotions impossible tosee in real time, or in
Ocean Without a Shore
(2007), a work born in
Venice
in the small,
deconsecrated church of San Gallo
, which describes a metaphorical threshold of the moment of transition in which life becomes death.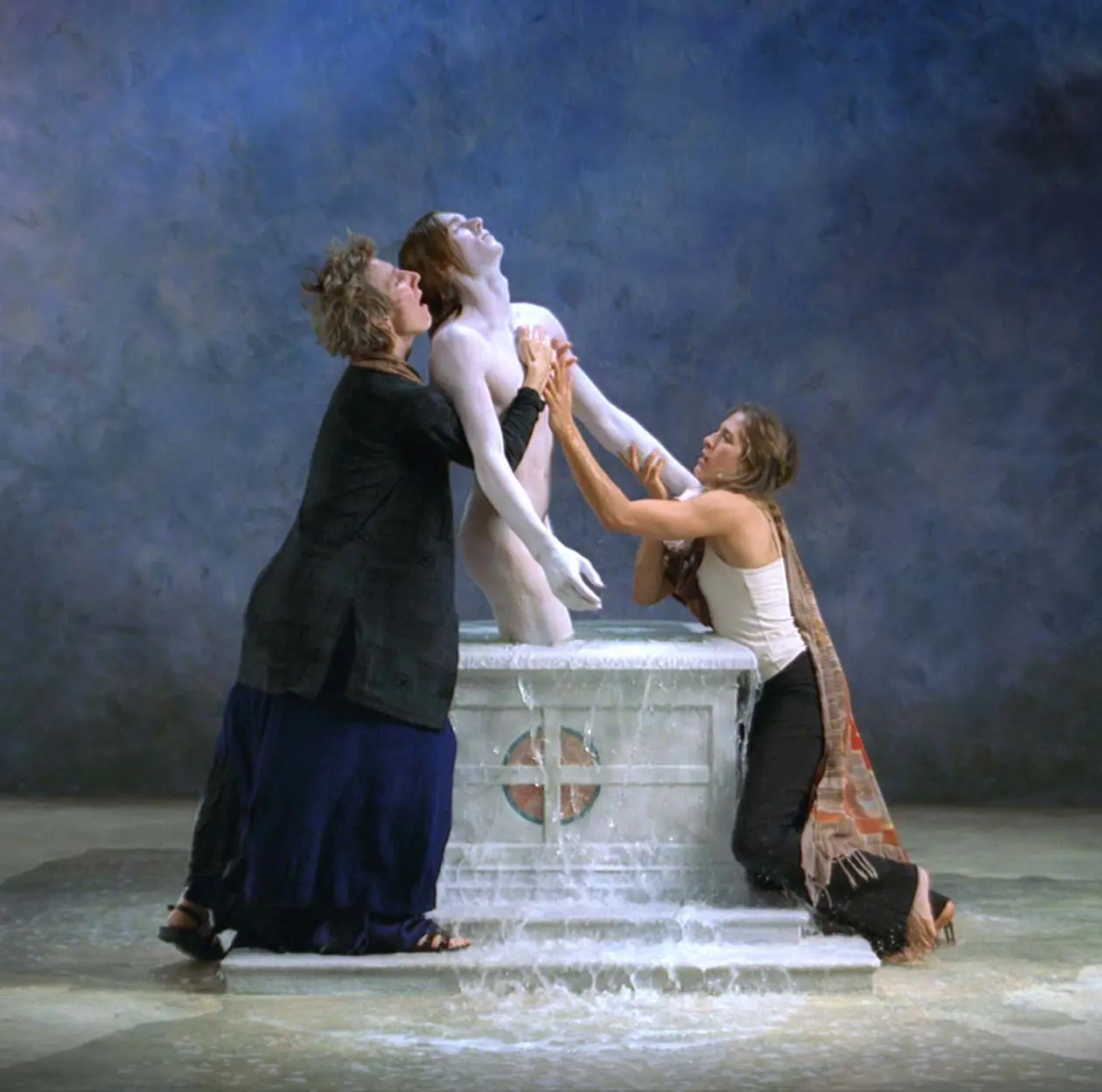 Bill Viola Emergence, 2002 Video installation Color high-definition video rear projection on screen mounted on wall in dark room Projected image size: 213x213 cm 11:40 minutes
Performers: Weba Garretson, John Hay, Sarah Steben Photo: Kira Perov © Bill Viola Studio
Alongside these, there is also the virtual encounter between man and woman in The Veiling (1995); the sudden and terrifying flood at the centre of The Raft (May 2004), an installation that reminds usof the importance of human collaboration for surviving natural disasters or unexpected crises; and the Martyrsseries (2014), depicting the courageous struggle of four people in the grip of the four natural elements, as they grow gradually able to accept their inevitable fate. And then there is the video diptych of projections on slabs of black granite – Man Searching for Immortality/Woman Searching for Eternity(2013) – and works, belonging to the Tristan series (2005), that depict the visual and auditory intensity of the transfiguration of fire and water, alongside works rarely shown in Italy like The Quintet of the Silent (2000), thus allowing the general public to enjoy a variety of exclusive content.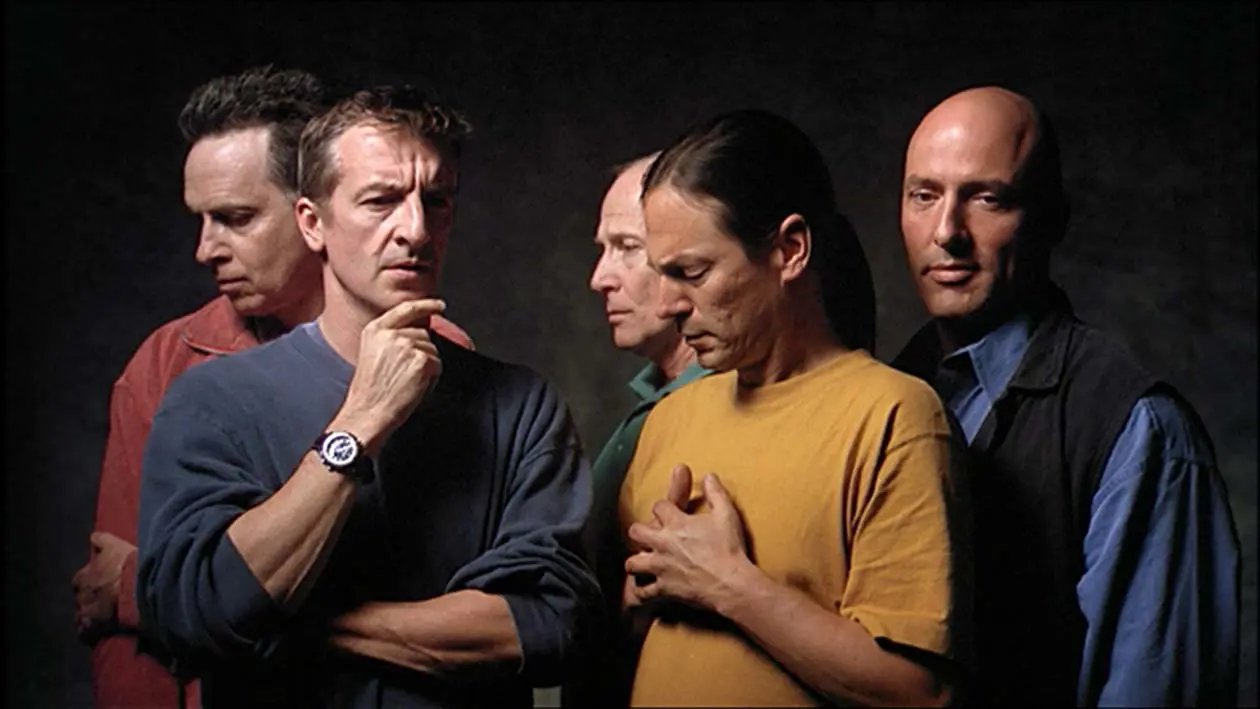 Bill Viola The Quintet of the Silent, 2000 Color video on flat panel display mounted on wall, 72,4x120,7x10,2 cm 16:28 minutes Performers: Chris Grove, David Hernandez, John Malpede, Dan Gerrity, Tom Fitzpatrick
Photo: Kira Perov © Bill Viola Studio
Thoughtfully curated by Kira Perov, the artist's wife and executive director of Bill Viola Studio, forty years of work are displayed through a careful selection of pieces, defining a unique event giving us the opportunity to reflect upon life, to set out on our own inner journey, and to immerse ourselves in analternative world entirely different from the one we left behind at the entrance. The show is accompanied by a catalogue edited by Valentino Catricalà and Kira Perov, which is intended not only as documentation of the exhibition, but aims to become genuine study material for future generations. The catalogue is edited by Skira. The event's media partner is Urban Vision and its mobility partner is Frecciarossa Treno Ufficiale. The exhibition is part of Milano Art Week (11-16 April 2023), the diffuse event coordinated by the Councill or ship for Culture of the Municipality of Milan, in collaboration with Miart, which networks the city's leading public institutions and private foundations active in modern and contemporary art, with adedicated programming of exhibitionsand activities
Information on the Bill Viola exhibition
Where
: Palazzo Reale, Piazza del Duomo, 12 -
Milan
.
Dates
: From 24 February to 25 June 2023.
Hours
: from Tuesday to Sunday 10-19:30; Thursday closing at 10.30pm. Last admission one hour before; Monday closed.
Info
: Tel. +39 02 884 45 181 (Mon-Fri from 9 to 16).
Edited by Nicolò Villa
Avion Tourism Magazine
Text source and photo: Copyright © Exhibition Press Office / Comune di Milano
Photo by Kira Perov copyrights Bill Viola Studio.
Visual: Bill Viola Four Hands,2001 Black-and-white video polyptych on four LCD flat panels mounted on shelf 22.9x129,5x20,3 cm Continuously running Performers: Blake Viola, Kira Perov, Bill Viola, Lois Stark Photo: Kira Perov © Bill Viola Studio.
---
Flights to and from Milan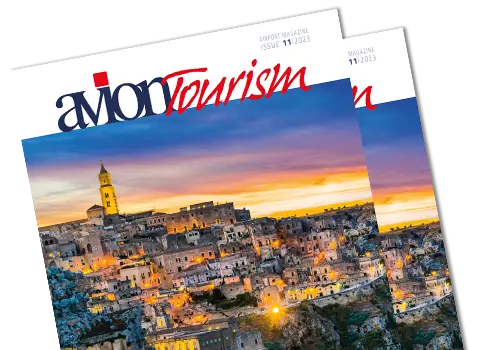 AVION TOURISM MAGAZINE
in digital version
On this issue: The World Heritage Sites of Basilicata and Puglia.