22 February 2022
Boryspil International Airport operates to ensure continuous operation
An action plan in case most airlines suspend flights to Ukraine
"The situation in Ukraine changes every hour, but we do have an action plan in case most airlines suspend flights to Ukraine," said Oleksiy Dubrevskyy, Adviser to the Minister of Infrastructure, Director General of Boryspil International Airport, at a press briefing with the participation of the Minister of Infrastructure Oleksandr Kubrakov and representatives of the aviation industry on February 21, 2022.
According to Dubrevskyy, Boryspil International Airport and the aviation industry in general are always ready to implement the plan regardless of the scenario. "The airport staff, air carriers coordinated by the Ministry of Infrastructure, State Aviation Administration and UkSATSE have a joint action plan. If such a scenario takes place, it will be implemented according to a plan that has been developed long time ago. It exists, and we can implement it at any time," said the Adviser to the Minister of Infrastructure.
The plan consists of joint actions, coordination of interaction between all airport services, airlines and agencies involved in the aviation industry. This includes communications, planning and coordination of ground services, passenger services, infrastructure, as well as first, second and third level processes. Oleksiy Dubrevskyy also commented on changes in the schedules of some foreign airlines.
"To date, changes have taken place in the schedule of about a dozen airlines. Changes in the schedule involve not only the change of an aircraft, but also a schedule – some flights they suspend, while changing to another time, some flights are suspended on certain dates and some – for a certain period, as, for example, Lufthansa Group, SAS, Vueling and KLM, suspending flights for the period from 21 to 28 February,"- said Alexei Dubrevsky.
Despite the escalation of information,
Ukraine's air connections with key European cities
are currently provided. In particular,
Ukraine International Airlines
has already opened ticket sales and increased the capacity of the aircrafts on additional flights from
Kyiv
to
Munich
and
Geneva
and backward. These flights cannot be operated by Lufthansa Group due to temporary suspension. As for this company's other
flights with Ukrainian connections
, the process of their transfer to Star Alliance members and other companies is underway.
Edited by Editorial Staff
Avion Tourism Magazine
Text source: Copyright © Boryspil International Airport Press Office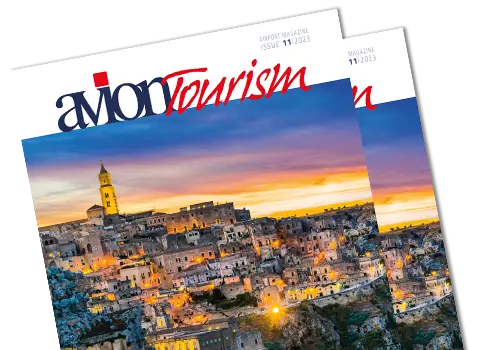 AVION TOURISM MAGAZINE
in digital version
On this issue: The World Heritage Sites of Basilicata and Puglia.