16 April 2020
easyJet Trading Update for the Six Months ending 31 March 2020 
easyJet is well positioned to endure a prolonged grounding and to resume flying when the pandemic is over
easyJet expects to deliver a first half headline loss before tax in the range of £185m to £205m, representing an improved year-on-year first half headline loss before tax (H1 2019: £275m). Decisive cost actions, deferring the purchase of 24 new aircraft and the raising of significant new finance ensure that easyJet has sufficient liquidity to endure a lengthy fleet grounding.
Johan Lundgren, easyJet CEO said: "Our first half trading performance was very strong prior to the impact of coronavirus, which shows the strength of easyJet's business model. Since then I have been immensely proud of our team, right across the business, and the way they have worked through these tough times to put us in the strong position we are in now. We took swift action to meet the challenges of the virus and in a period of around 7 weeks have:
 Launched a cost cutting initiative and dramatically brought down our cash burn
 Grounded our entire fleet in a well planned and executed process
 Delivered an updated fleet deal deferring 24 aircraft, while also maintaining a level of flexibility that will be very important when this crisis ends (This change, combined with the deferral and cancellation of a number of other projects has helped to drive a circa £1 billion decrease in capex over three years):
and finally
 Executed a funding programme which will add almost £2 billion in extra cash funding, strengthening our liquidity position.
These decisive actions mean that easyJet is well positioned to endure a prolonged grounding. We remain focused on doing what is right for the company for its long term health and to ensure we are in a good position to resume flying when the pandemic is over. While the vast majority of our people are not able to work at this time, there is a small number working tirelessly to help our customers, and to plan for our return to the skies, whenever that might be".
Edited by Alisè Vitri
Source text: Copyright © easyJet Press Office
Visual: Sisterscom.com / Stefano Garau /
Shutterstock
All rights reserved. Copyright © Sisterscom.com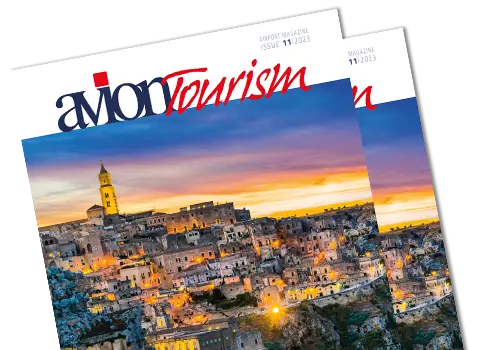 AVION TOURISM MAGAZINE
in digital version
On this issue: The World Heritage Sites of Basilicata and Puglia.