12 March 2019
Ukraine International Airlines welcomed 1st Embraer 195
The airplane across its medium-haul and domestic route network
Today, March 12, Ukraine International welcomes to its fleet a medium-haul Embraer-195. The plane received the registration number UR-EMG and became the 6th aircraft of the Embraer brand in the UIA fleet.
The aircraft accommodates 116 passengers in a two-class cabin configuration, i.e. Business and Economy Class. Therefore, passengers will be able to enjoy the benefits of a premium economy class product on the medium and domestic flights. UIA expects to operate the airplane across its medium-haul and domestic route network and is scheduled to operate its first commercial flights under UIA call sign in the first part of March.
«Embraer-195 UR-EMG is the first to be received in the framework of the UIA 2019 reengineering fleet program, – noted Evgeniya Satska, UIA Communications Director. – This type of aircrafts will improve service and efficiency on domestic and some short-haul international routes and will be a good replacement for the older Boeing 737 Classic aircraft decommissioned at the end of 2018. Such replacement will be particularly relevant on domestic flights, as some of the regional airports cannot accept the large Boeing 737-800 Next Generation».
In 2019, UIA expect to receive the second Embraer-195 aircraft, and will become the first airline in Ukraine, whose fleet will grow by at least three Boeing-737 fourth generation aircraft – Boeing 737 MAX 8.
The aircraft will enter commercial operation only when the required procedures are carried out, the aircraft complies with all safety requirements, and permission has been received for its flights from the aviation authorities of at least from the FAA, EASA and State Aviation Authority of Ukraine.
UIA's statement on the planned delivery of Boeing 737 MAX type aircraft. UIA in in a press release of March 13, specific: "Ukraine International Airlines (UIA) is interested in replenishing its fleet with modern types of aircraft. Currently, there are no Boeing 737 MAX aircraft in the UIA fleet, but delivery of three aircraft type is planned during 2019. In this case, the number one priority for us has always been and remains the safety of our passengers on board. UIA is currently engaged in an active dialogue with the manufacturer of the Boeing 737 MAX aircraft and is following the investigation process of the flight ET302 fatal accident."
Information
Ukraine International (UIA)
was founded in 1992. UIA is a 100% privately owned carrier. The airline connects
Ukraine
with over 50 capitals and key cities of Europe, Asia, America, Africa, the Middle East, and CIS countries and provides connections with its international partners' flights to over 3,000 other destinations worldwide. UIA operates over 1100
scheduled flights
per week. For today, UIA operates 41
aircrafts
with average age amounts to 11.6 years. The
base airport
for UIA is
Kiev Boryspil (KBP)
.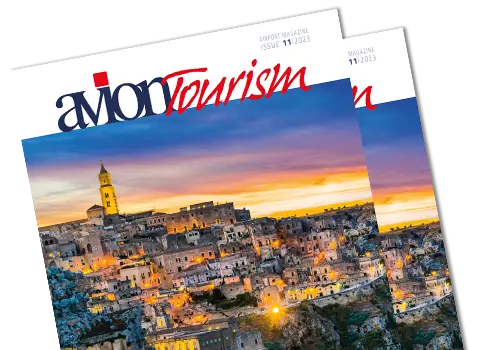 AVION TOURISM MAGAZINE
in digital version
On this issue: The World Heritage Sites of Basilicata and Puglia.