25 August 2023
Swiss to offer free internet chat on all its long-haul flights
'Flughafenfest' from 1 to 3 September and Swiss will be offering a host of activities and attractions during the three days of celebrations
Zurich Airport will be marking its 75th anniversary next month with a three-day 'Flughafenfest' from 1 to 3 September. SWISS offers its home hub its warmest congratulations on this landmark birthday, and will be well to the fore in the accompanying celebrations, giving visitors some exclusive behind-the-scenes insights over the three-day period.

SWISS will be offering a host of activities and attractions during the three days of celebrations. Throughout the long weekend, aviation fans will be able to view and inspect a SWISS Airbus A220, which is deployed on short and medium-haul routes, and one of the company's long-haul aircraft 'up close and personal' and put any questions they may have to SWISS's specialists on the spot.

SWISS pilots and cabin crew members will be on hand to offer extensive insights into their multi-faceted professions. And SWISS's technical apprentices have come up with an especially original idea: they'll be giving visitors the opportunity to work on a replica engine and try their hand as an aircraft engineer. Attendees will also be able to view an Airbus A320 simulator from close quarters.

On the Friday at 16:15, the Saturday at 12:45 and the Sunday at 11:15, 'Flughafenfest' visitors will be offered a close-up and detailed viewing of an aircraft turnaround, including the aircraft's fueling and its loading with cargo and its passengers' bags. The entire procedure will also be accompanied by a live expert commentary, and will continue all the way until the aircraft taxies off to depart.

Sustainable air travel is a key SWISS concern. And it will be duly focused on at the 'Flughafenfest', too, where specialists will be in attendance to explain just how Switzerland's biggest airline is working steadily towards its ambitious carbon goals.
A further highlight of the festivities is sure to be the formal naming of a SWISS aircraft on the party site. On Saturday 2 September at 15:30, visitors will be able to look on as a SWISS Airbus A220 is named 'Bad Zurzach'. Airfans young and old are warmly invited to witness the naming ceremony together with a surprise VIP guest and become part of the history of the aircraft concerned.
Edited by editorial staff, Avion Tourism Magazine
Text source and photo: © Swiss Media Relations
Visual: Copyright © Swiss
---
What to see in Zurich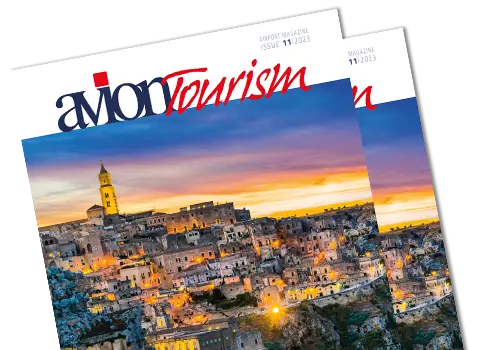 AVION TOURISM MAGAZINE
in digital version
On this issue: The World Heritage Sites of Basilicata and Puglia.