29 April 2020
Swiss recommends wearing a mouth-nose face covering on board for protection against SARS CoV2 transmission
The recommendation will initially apply from Monday, 4 May 2020 until 31 August 2020
With effect from Monday, 4 May 2020, all Swiss passengers will be asked to bring their own mouth-nose face covering to wear on board all flights. The airline also advises use of a face covering at the airport before or after flights, whenever sufficient social distancing cannot be adequately observed. Despite adjustments to procedures, social distancing is not always possible, and this measure provides an additional layer of protection against SARS CoV2 transmission for everyone.
Swiss is guided in this by the official positions adopted in numerous European countries where mouth-nose face coverings are now mandatory in public.
The recommended covering is a simple disposable mask (surgical mask), although any other type of covering such as reusable homemade fabric masks are also acceptable. Swiss will inform passengers of the new recommendation by SMS or email, and also via its company websites.
The recommendation will initially apply until 31 August 2020.
The current rule whereby every second seat in Economy Class is kept vacant will no longer apply as sufficient protection is afforded by mouth-nose face coverings. The likelihood of infection by the coronavirus while travelling by air remains low: there are no known cases of infection on board Swiss flights since the outbreak of the pandemic. All Swiss aircraft are equipped with high-performance air filters to guarantee air quality of the same standard as in an operating theatre and ensure vertical air circulation instead diffusion in the cabin.
Swiss
is in close contact with the relevant authorities to ensure the best possible
protection for passengers and crews
.
Edited by Alisè Vitri
Text source: Swiss International Air Lines Press Office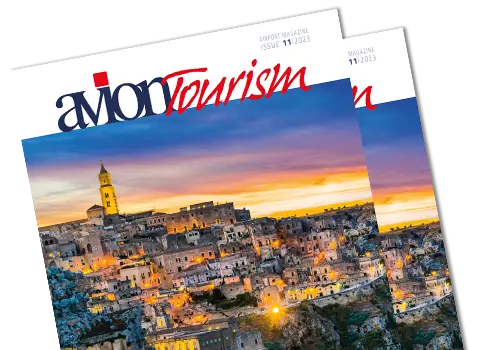 AVION TOURISM MAGAZINE
in digital version
On this issue: The World Heritage Sites of Basilicata and Puglia.