27 January 2023
Air France: direct relationship with customers via Whatsapp
Free service available 7 days a week in 22 countries and in 4 languages (French, English, Italian, Brazilian/Portuguese)
"We are delighted to see that this new channel has been an immediate success: it is now Air France's number two digital contact point," says Stéphanie Charlaix-Meyer, Air France-KLM Customer Service Director. "Its popularity confirms the proximity strategy adopted by Air France in terms of customer service, a strategy that we will continue to deploy in other markets."
Air France is offering a new communication channel with customers on WhatsApp. This free service is now available 7 days a week in 22 countries and in 4 languages (French, English, Italian, Brazilian/Portuguese).
Already present on several messaging and social media platforms, notably Facebook Messenger, Air France is continuing to strengthen its commercial relations by offering more proactive customer service.
This offer supports customers before, during and after their flight with:
Instant answers to common questions via the chatbot Louis (for more specific answers, contact with an Air France representative).
If customers opt in, notifications will be sent to them at each key moment of the journey: from boarding pass issuing to flight information (change in schedule or boarding gate; last call before the plane door closes, etc.) or the baggage delivery belt on arrival.
In addition, personalized promotions will allow customers to upgrade their travel experience, with the option of selecting more spacious seats or purchasing access to the Air France lounge at the airport.
Nicolas Farin, Head of Client Sales EMEA, Business Messaging at Metasays, "We are proud to connect Air France with both new and existing customers through one of their most used communication channels. We hope this partnership will continue to improve customer journeys on WhatsApp, offering better, faster and more personalized experiences at their fingertips."
To send a message to
Air France
via Whatsapp, click: https://wa.me/33699385720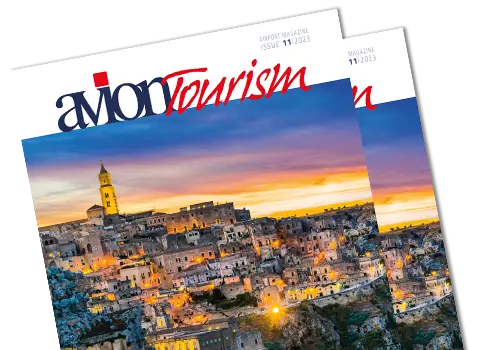 AVION TOURISM MAGAZINE
in digital version
On this issue: The World Heritage Sites of Basilicata and Puglia.