23 October 2018
Air France
New Economy and Premium Economy cabins on its 15 Airbus A330 from January 2019
New Economy and Premium Economy cabins for Air France, highlighting its offer of a new travel experience on board its 15 Airbus A330s which will be refitted as from January 2019.
These new cabins, and more widely the new Economy and Premium Economy offer, have been exposed on display at the Bhv Marais in
Paris
from September 26 to October 3.
In addition, customers of Air France will progressively discover a new colour scheme and additional products and services to improve the travel experience on all the airline's long-haul flights.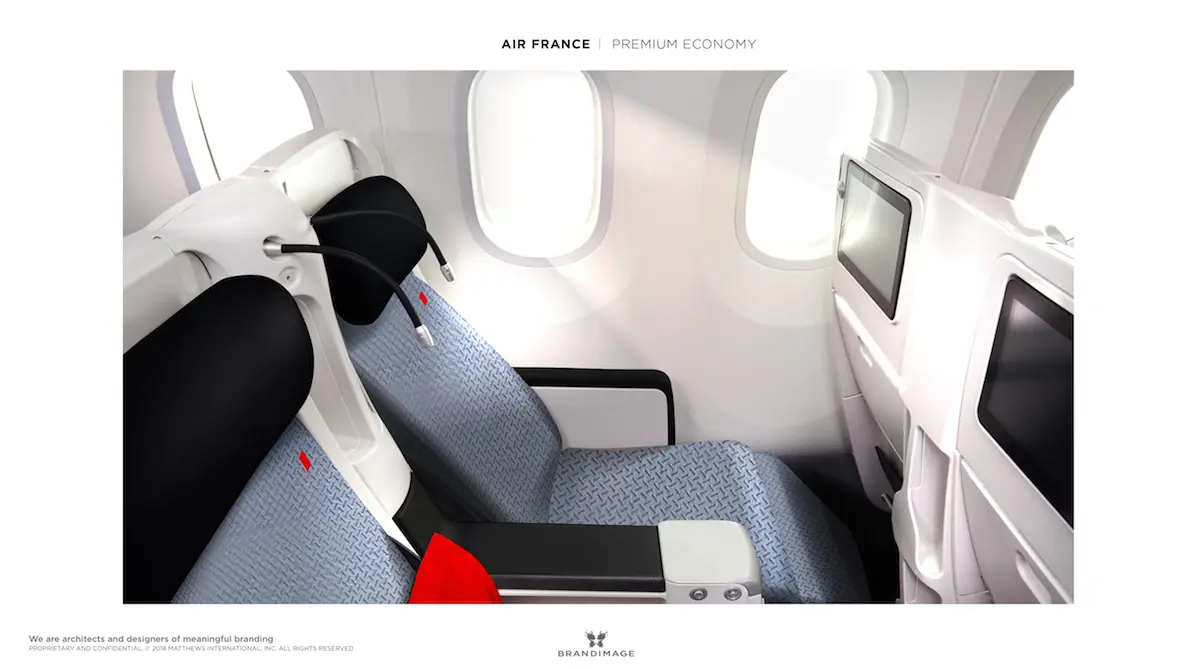 Economy
Economy, comfort for all.
The Economy seat is changing for even more comfort:
- more space between the armrests (44cm);
- reinforced ergonomic foam in the seat and a 118° recline;
- 79 cm legroom;
- a larger tray table and a wider, latest generation 11.7-inch (29.8 cm) 16:9 touch screen.
For an even more comfortable trip, a new design and new accessories are being introduced. A deep blue monochrome fabric signed with the accent, the symbol of the Air France brand, adorns the new cabin cushions and headrests. To accompany your most perfect dreams, a new bright red blanket, the company's iconic colour, as well as collectible night masks, inspired by the company's destinations, are also available.
The Economy seat allows you to use your electronic devices throughout the flight with a USB plug and an individual electric socket. Finally, customers can stay connected with Wi-Fi throughout their flight, which is being progressively installed on all Air France aircraft, and enjoy a wide range of entertainment with an audio headset available on each seat as soon as they settle in on board.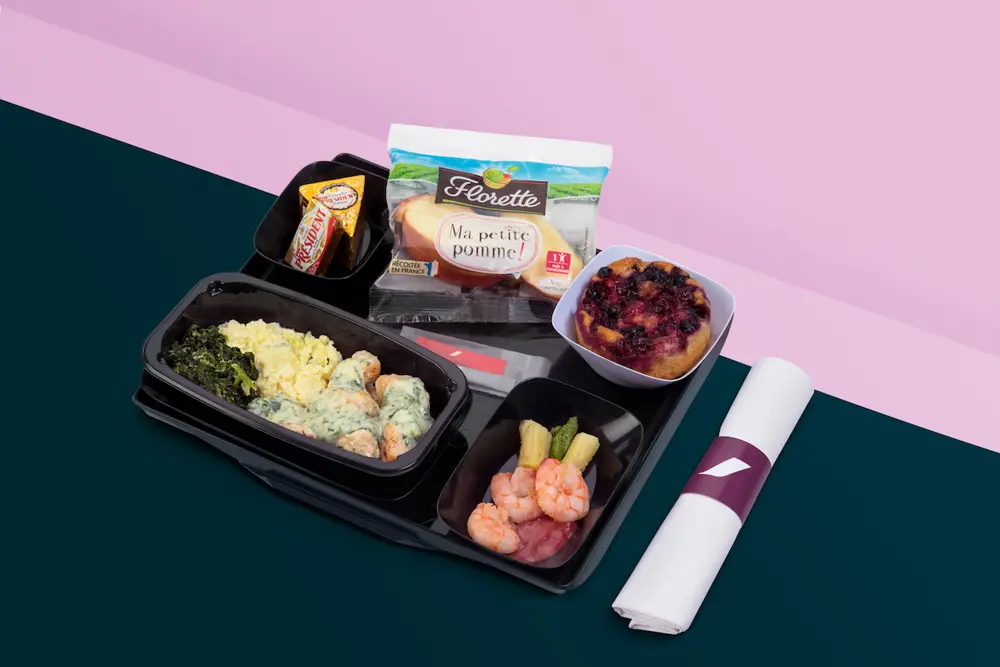 Restauration Premium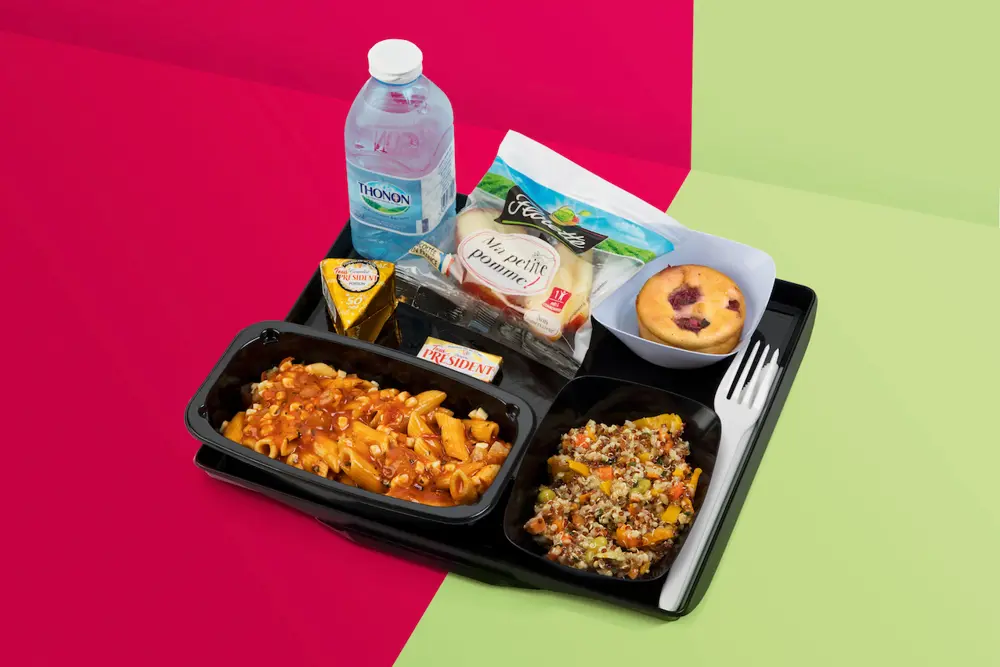 Restauration Economy
Premium Economy
In the Premium Economy cabin, privacy and elegance prevail.
Comfort is in the spotlight on the Airbus A330 with additional space.
- A 130° seat recline in a fixed shell;
- one of the widest seats with 48.3 cm;
- 102 cm seat pitch;
- lumbar support adapted to different body shapes;
- additional storage space;
- a wider footrest;
- A latest-generation 13.3 inch (33.9 cm) HD screen.
The softer seat cushions and wider leather armrests have also been redesigned.
On board all its long-haul aircraft, Air France also guarantees its customers moments of relaxation with a red feather pillow and a deep blue blanket. A comfort kit renewed every 6 months is also available.
Between relaxation and gourmet delights, each customer can enjoy Wi-Fi on board, an electric socket and two individual USB ports as well as a wide choice of entertainment.
Bonbon caramel à la française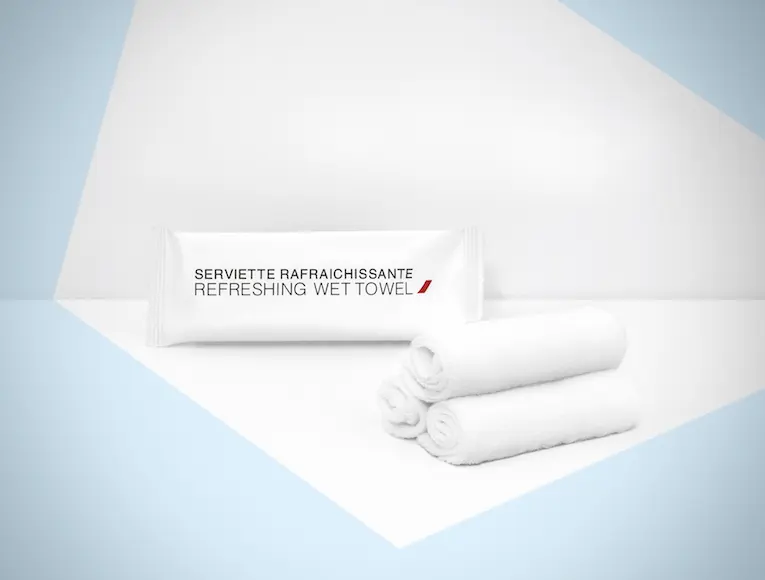 Oshibori
Champagne
In addition to new seats and a new Economy and Premium Economy colour scheme, Air France is providing its customers with even more special attentions.
As soon as they arrive on board, customers are welcomed with an oshibori (small hand towel distributed to customers, inspired by a Japanese hospitality tradition) to freshen up. At aperitif time, the cabin crew offer customers a complimentary glass of champagne in a brand new glass.
During the flight, the meal is served in a new collection of powder-coloured tableware on a black background and eco-designed in collaboration with Eugeni Quitllet. The tray also reveals a new design highlighting the Air France accent. A "My Little Gourmandises" gourmet snack is available on a self-service basis on flights longer than 8 hours 30 minutes.
On flights lasting between 8 hours 30 minutes and 10 hours 30 minutes, customers are offered a "Bon Appétit" breakfast bag containing delicious snacks to take with them or to eat on board. On arrival, customers receive a French-style candy, as a little gesture to say thank you for travelling with us.
Text edited by Alisè Vitri
Copyright © Sisterscom.com
Visual and interiors: © 2018 Matthews International inc. All rights reseved.
Source, photos: Air France Press Office
All rights reseved.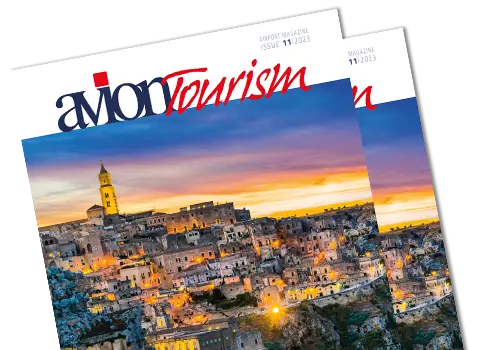 AVION TOURISM MAGAZINE
in digital version
On this issue: The World Heritage Sites of Basilicata and Puglia.