21 October 2023
Lagardère Travel Retail Italia rinnova la collaborazione con Assi Gulliver
Al via una nuova raccolta fondi per la ricerca scientifica sulla Sindrome di Sotos e sulla Sindrome di Malan
Lagardère Travel Retail Italia mette in campo una nuova raccolta fondi volta a sostenere Assi Gulliver, l'associazione italiana per la Sindrome di Sotos, che opera per favorire l'inclusione sociale delle persone affette da Sindrome di Sotos e da Sindrome di Malan, supportare le famiglie e incentivare la ricerca scientifica.
Tra il 3 e il 31 ottobre 2023, infatti, i clienti dei punti vendita Foodservice e Travel Essentials di Lagardère Travel Retail Italia, potranno donare 50 centesimi, o più, a fronte dell'acquisto di prodotti di caffetteria o di bottiglie di acqua.
I ricavati raccolti, verranno interamente devoluti ad Assi Gulliver, e supporteranno le attività dell'associazione, contribuendo a favorire il lavoro di sensibilizzazione e formazione che l'organizzazione quotidianamente svolge, affinché la Sindrome di Sotos e la Sindrome di Malan vengano conosciute e diagnosticate precocemente.
Lagardère Travel Retail Italia
Fornisce un variegato assortimento di prodotti e in Italia opera e garantisce lo sviluppo di tre linee di business:
Duty Free & Luxury: Lagardère è leader in Italia nell'ambito del Duty Free con il marchio "Aelia Duty Free", nonché uno dei principali operatori all'interno degli aeroporti italiani di Fine Food e​ Fashion, con negozi multibrand e boutique monomarca.​​
Foodservice: propone differenti brand che combinano modernità e tradizione con un'offerta Made in Italy, ma di respiro internazionale, sia con format in gestione diretta come Beercode, Decanto, Homeburger, Natoo e Rustichelli & Mangione, sia con realtà in franchising.​​
Travel Essentials: il patrimonio News & Convenience si riflette in un portafoglio unico di marchi di proprietà o in partnership, ideati per migliorare l'esperienza del viaggiatore attraverso prodotti come regali, souvenir e articoli di elettronica. A partire da RELAY, un brand di comprovata affidabilità a livello internazionale.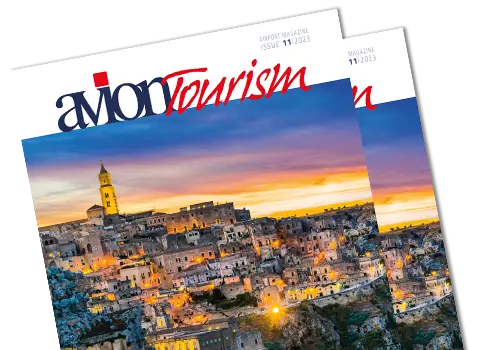 AVION TOURISM MAGAZINE
in digital version
On this issue: The World Heritage Sites of Basilicata and Puglia.