26 September 2023
I premi di Dufry e Autogrill ai Fab Awards 2023
L'azienda leader nel settore delle esperienze di viaggio, nata dalla fusione tra Dufry e Autogrill, è stata insignita di 6 premi e 3 encomi
Dufry e Autogrill
hanno vinto sei premi prestigiosi e tre encomi durante l'evento dei
Fab Awards 2023
, organizzato da The Moodie Davitt Report. Per le
migliori esperienze di food & beverage aeroportuale
Dufry e Autogrill hanno vinto per diverse categorie.
"In qualità di leader globale nel settore Travel Experience, siamo molto orgogliosi di aver preso parte a un evento di rilevanza internazionale come i FAB Awards", ha commentato il CEO di Dufry Xavier Rossinyol, che ha anche tenuto il discorso chiave della conferenza di due giorni. "Il 2023 è stato per noi un anno cruciale: le nostre due società, Dufry e Autogrill, si sono unite per creare un player unico sul mercato e i premi raccolti oggi confermano che come Gruppo unito possiamo creare valore per tutti gli stakeholder. In questa occasione speciale siamo molto felici di esserci uniti ai nostri partner commerciali nell'apprendimento e nella discussione, condividendo la nostra visione di rivoluzionare l'esperienza del viaggiatore basandosi sulla nostra strategia Destination 2027, che è stata realizzata sulla base di una profonda comprensione delle esigenze dei nostri stakeholder, informazioni sui clienti e l'evoluzione delle attuali tendenze del mercato".
I premi vinti da Dufry e Autogrill al FAB Superstars Awards 2023
FAB Superstar Awards winners
Star Team Europe - Back of House: innovazione di prodotto, sviluppo di concept e formazione in Europa e Italia, vari aeroporti, Autogrill Europa,
Star Team Americas - Back of House: F&B Team presso l'aeroporto internazionale Pearson di Toronto, HMSHost Nord America,
Star Individual APAC - Back of House: Arianna Brezigar, quartier generale, HMSHost International.
FAB Concept winner
Airport customer/ hospitality of the year: James Beard Foundation @ord chef series, Chicago O'hare international, Hmshost North America.
Airport food hall of the year: food hall dell'aeroporto Leonardo da Vinci Fiumicino terminal 1, Autogrill Italy.
Airport Health-Centred offer of the year: Exki – aeroporto di Bruxelles, Autogrill Europe.
Encomi speciali
Dufry-Autogrill ha ricevuto anche 3 encomi.
High Tide Bar - Vincitore regionale APAC per il Concept Award "Cliente dell'aeroporto/ospitalità dell'anno"
Iniziativa Path Water - Altamente lodato per il Concept Award "Campagna marketing dell'anno food & beverage"
Strategia ESG "Make it Happen" all'aeroporto di Seattle-Tacoma - Altamente elogiato per il premio ESG "Sostenibilità e iniziativa ambientale dell'anno".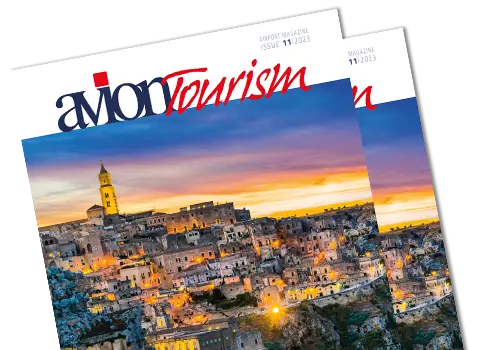 AVION TOURISM MAGAZINE
in digital version
On this issue: The World Heritage Sites of Basilicata and Puglia.