21 June 2021
Underground: Jieda's Spring/summer '22 collection
The collections silhouettes recall iconic and unique JieDa's shape, blending luxury sportswear with contemporary tailoring
Titled
Underground
,
Jieda's Spring/summer '22 collection
, will be presented within
Milan Fashion week's official show calendar
. On June the 21st at 11:30pm CET,
Intolerance
the movie
created for the event, will be broadcasted on CNMI platform (milanofashionweek.cameramoda.it).
For the fourth consecutive season, Japanese brand Jieda will present its collection at Milan Fashion Week in Milan. The brand will join once again in a digital format.
Jieda's Spring/summer '22 collection. Photo: Copyright © JieDa.
"Joining Milan fashion week has brought great visibility to Jieda. I feel Milan, with its brand portfolio is the right place for us and for our brand identity and values. I feel Jieda's mix of tailoring and sportswear and focus on fabrics cannot find a better stage" said Hiroyuki Fujita, Jieda's Creative director.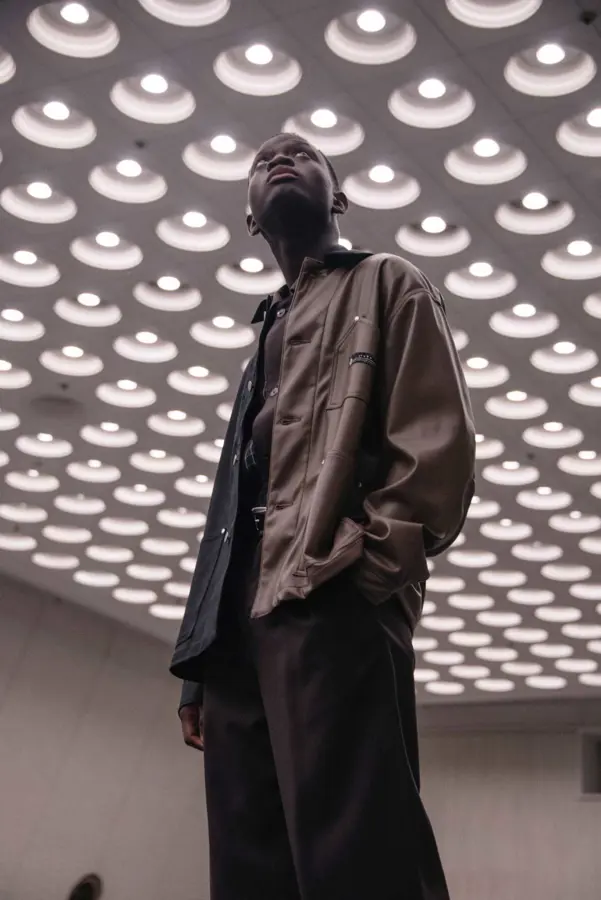 Jieda's Spring/summer '22 collection. Photo: Copyright © JieDa.
Intolerance - Jieda SS22 movie
Directed by Hireto Hotta Jieda SS22 collection is presented through the lenses of fashion movie Intolerance, a three-acts fashion film conveying the condition of distance between the oneself and the others. In the runway-like movie, human characters are translated through very diverse and contrasting settings, from a forest to a hyper-futuristic church/structure with ceiling rounds lights, to a dark underground austere vault.
The three diverse environments all powerful in their own unique nature, yet each one in its own way, they appear to isolate the characters from the rest of the society and trap them in an undefined time dimension with no possibility of connections and encounters. The slightest emotion and expression is suppressed by the humans that are either still or move just following their straight lines indifferent and careless of the surrounding others, as if anybody else was an alien and not perceived creature. The film reproduces the isolation and the lack of social interaction and osmosis produced by contemporary society.
Jieda's Spring/summer '22 collection. Photo: Copyright © JieDa.
Underground - Jieda SS22 collection
Inspired by the
photography album of Japan underground
, a well known 2000
Japanese photography study
on
Tokyo
undergrounds tunnels by
Hideaki Uchiyama
,
JieDa SS22 Underground collection
explores the
visual dichotomy of artificial light
spreading from deep darkness inside of earth and pays tribute to the
journey underground as a metaphor of humans' journey
into the unknown
, through
striping down the ego
and
reclaiming hope
. While working on SS22, Fujita comes across a
cover of Title #2 + #3
, a 2004 album by
Japanese DJ and producer Takkyu Ishino
, also member of the
90's well known group Denki
. The designer is taken by the cover image, which features a bottom-up image of Tokyo underground access shaft tunnel overlooking the light sky, with a bright and brilliant green light.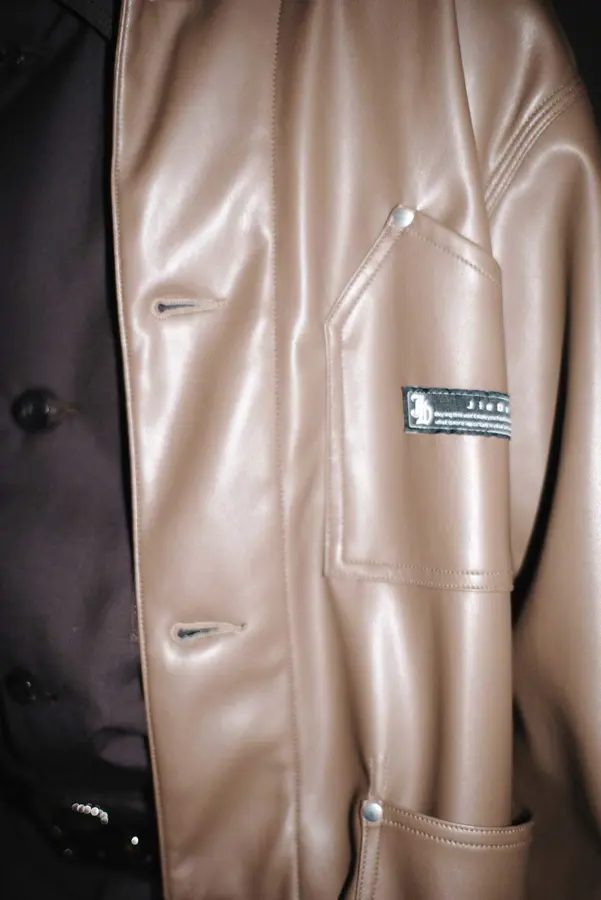 Jieda's Spring/summer '22 collection. Photo: Copyright © JieDa.
"I was impressed by those beautiful lights spreading out from the underground darkness, and I was inspired by that. It felt like those lights where a sort of a sign of life and of hope, struggling with all their strength to come from the darkness, which made think to the journey we are starting out of pandemic. In those lights, I saw the quests for freedom and connection of the humans out of the pandemic era, the struggle to get back to normality, out of dark into the light".
JieDa SS22 movie's contemporary settings, and in particular, the central and final acts' environment clearly pay homage to Uchiyama's work and the overall movie concept relates to to the balance of darkness and light in his underground photography. Uchiyama's images moulds the SS22 whole collection design process, from pattern details, to fabrics to colour palette. Underground features indeed details such as pants back knee wide slits on long pants and on sleeves, and a rather quite dark summer colour palette made of brown, sax black, and dark brown. Yet the overall range is refreshed by hints of lighter shades of beige and grey, and particularly by mint green and brilliant green resonating the colour of the shaft tunnel on the Takkyu Ishino cover. The use of shiny and glossy technical nylon fabrics, which pair Jieda's original signature fabrics developed by the designer in collaboration with Japanese textile manufacturers such as velvet ripple, corduroy, pure wool, reflects the attempt to catch and reproduce the light.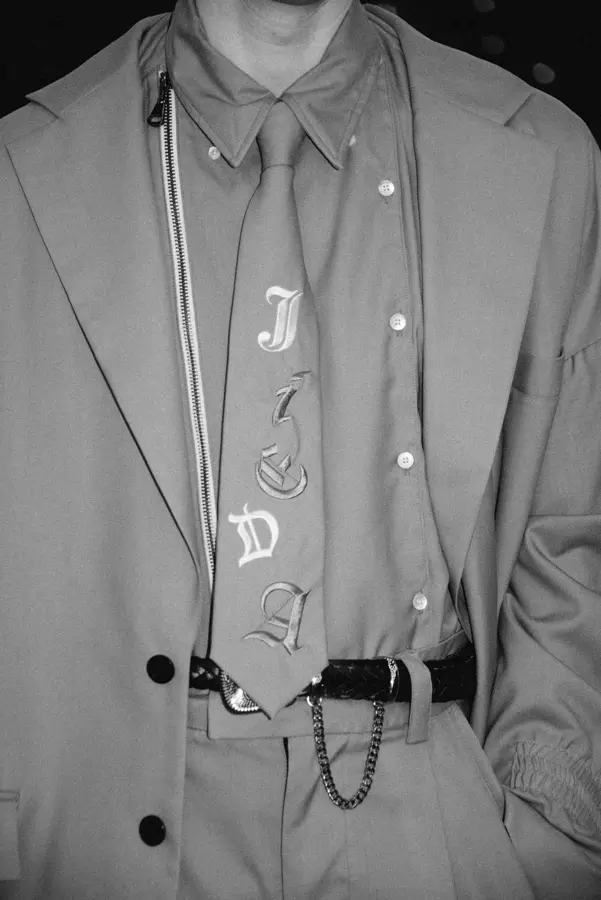 Jieda's Spring/summer '22 collection. Photo: Copyright © JieDa.
The collections silhouettes recall iconic and unique JieDa's shape, blending luxury sportswear with contemporary tailoring, yet in SS22 an even more pronounced and oversized fitting of tailored jackets and pants appears and their styling plays more with overlaying. Across the sportswear pieces, the logo JD 88, which embroidered on tracksuit jackets and pants and printed on jersey t-shirts refers to the designer's year of birth. Bleached denim in ecru and indigo are paired with styles in eco leather, this season produced in beige and brown, lease to AW21. Denim.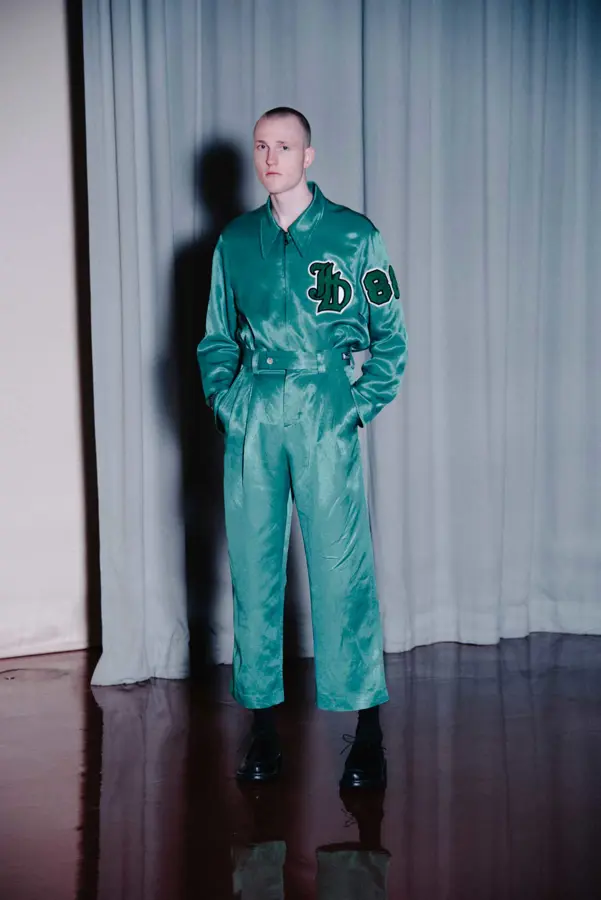 Jieda's Spring/summer '22 collection. Photo: Copyright © JieDa.
JieDa
JieDa expresses its own worldview against the backdrop of youth culture proposing its own original style. Founded by Hiroyuki Fujita in 2007, the brand finds its references in Japanese culture. Fujita draws inspiration from physical world around him and his design is based on Japanese street style. Hiroyuki Fujita's vision is expressed in a fresh mix of oversized tailoring combines with a retro athletic, drawing inspiration from the 80's and 90's and yielding a blend of contemporary Japanese street looks. It is from this appreciation of sportswear throwback era that Fujita has developed the iconic and unique JieDa's shape, blending luxury sportswear with contemporary tailoring. The unique style and attitude of JieDa has attracted the interest of brands such as Kappa and Elesse which have launched collaborations with the label. JieDa celebrates Made In Japan to the highest standard with great attention to details and finishing. The brand name JieDa contains a characters meaning 'individuality' and 'tree', to express the idea of a core originality that then spreads out like tree branches. Preserving Japanese tradition and the heritage of Japanese textile manufacturers is key to all collections, while also embracing a contemporary concern for the environment which has become an important thread of last collections with the increasing use of sustainable fabrics.
AVION LUXURY MAGAZINE
in digital version
DESTINATIONS Aruba, un viaggio ai Caraibi. HOTELS Un Bvlgari Hotel a Roma. JETS La serie Phenom 300 di Embraer - La cabina Executive di Bombardier. CARS Bugatti Chiron Profilée -1000 Miglia Experience UAE.
YACHTS Grande 26M di Azimut - Nautica e benessere con Arcadia. WATCHES Planetarium Dunes of Mars Limited Edition.