20 May 2023
Banyan Tree announces its first signed property in Europe
Banyan Tree Group, one of the world's leading multi-branded hospitality groups, is set to debut in Europe with the upcoming Banyan Tree Varko Bay
The new luxury resort to be developed on the Varko Peninsula in Pogonia, Aitoloakarnania, is the result of the successful collaboration between Banyan Tree and the French hospitality group, Accor. Targeting to open in 2026, the five-star resort will consist of approximately 116 villas and 45 branded residences, seamlessly embedded into the stunning coastal surroundings of the Varko Peninsula in Pogonia.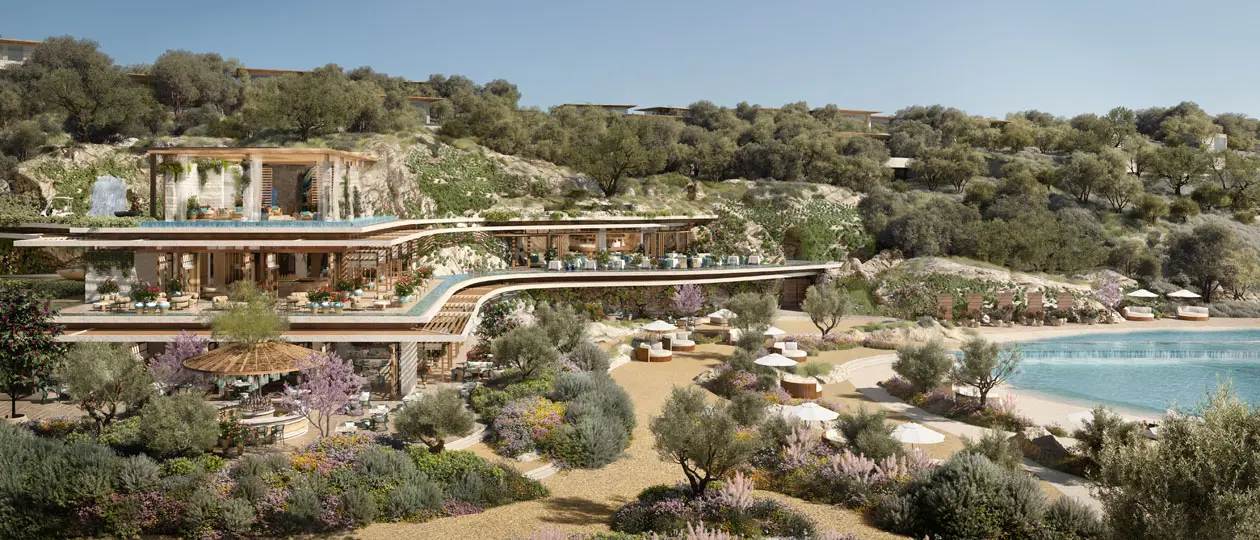 Banyan Tree Varko Bay (Render). Copyright © Banyan Tree Group
Applying Banyan Tree's pioneering expertise across the all-pool villa concept, the resort aims to offer a unique sense of place through tranquil, wellbeing-centred accommodations, backdropped by unforgettable views of the Ionian Sea and the surrounding islands of Lefkada, Meganisi and Skorpios, as well as luxurious facilities for rejuvenation of both mind and body. This includes the award-winning Banyan Tree Spa, a water sports center, several state-of-the-art venues for meetings and events, a beach club, several bars and three restaurants including the signature Saffron where guests can dine on delectable Thai fare.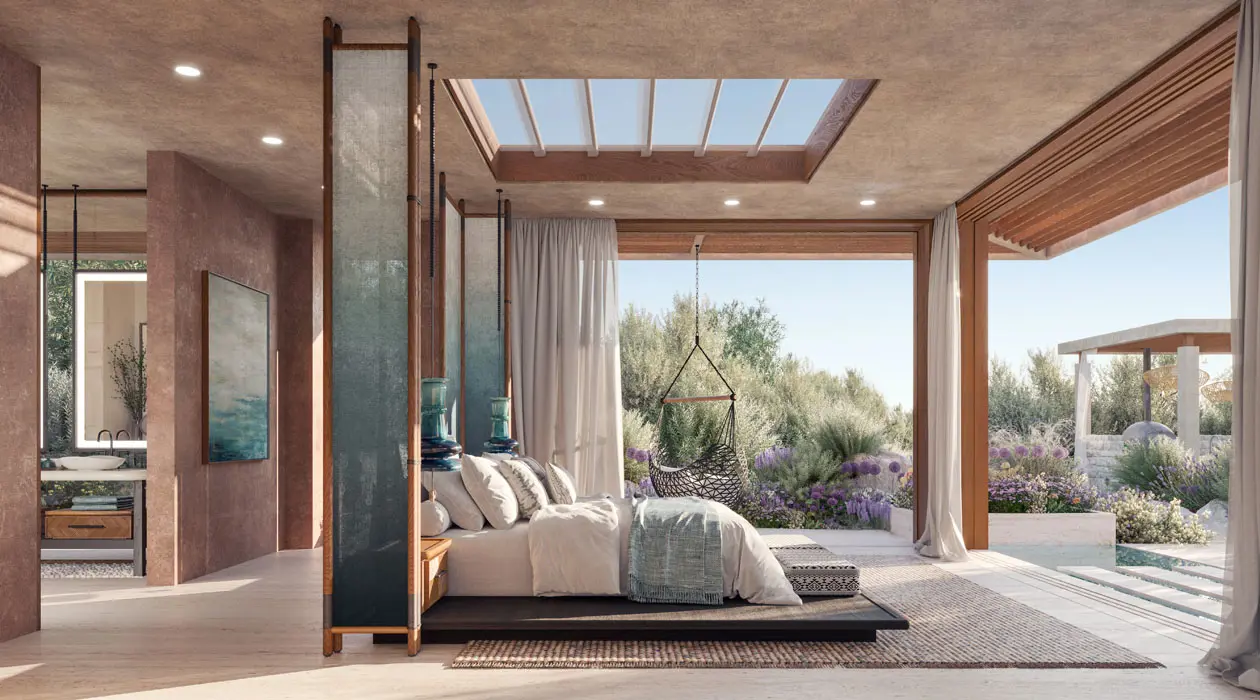 Banyan Tree Varko Bay (Render). Copyright © Banyan Tree Group
In keeping with Banyan Tree's core pillar of sustainability, Banyan Tree Varko Bay will be constructed and operated with an uncompromising approach to sustainability and eco-sensitivity, immersing guests in a flourishing natural environment. Built in partnership with the award-winning Greek Elastic Architects, the resort aims to be the first in Europe to achieve LEED Gold (Leadership in Energy and Environmental Design) certification and to become a model of sustainability for the hospitality sector. Mirroring existing Banyan Tree developments, the resort will prioritise responsible water use—70% of water will be reused for irrigation, the use of renewable energy sources and the encouragement of vegetation growth. By ensuring the majority of all its hotels are covered with vegetation and developing plant-centred tropical spas, Banyan Tree creates beautiful contemporary spaces that are also friendly to the surrounding environment.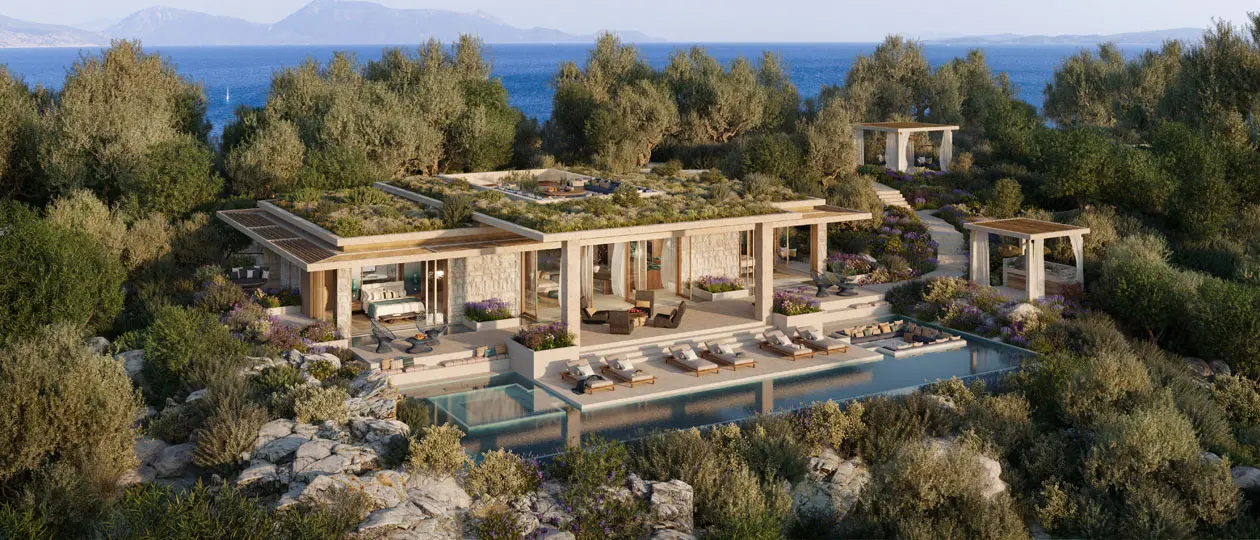 Banyan Tree Varko Bay (Render). Copyright © Banyan Tree Group
Banyan Tree Group operates over 60 hotels worldwide, with a potential pipeline of more than 50 projects by 2025. The addition of Banyan Tree Varko Bay will build on the brand's core concepts of sustainability and wellbeing-centred luxury, while reinforcing Banyan Tree's leadership in this highly demanding sector.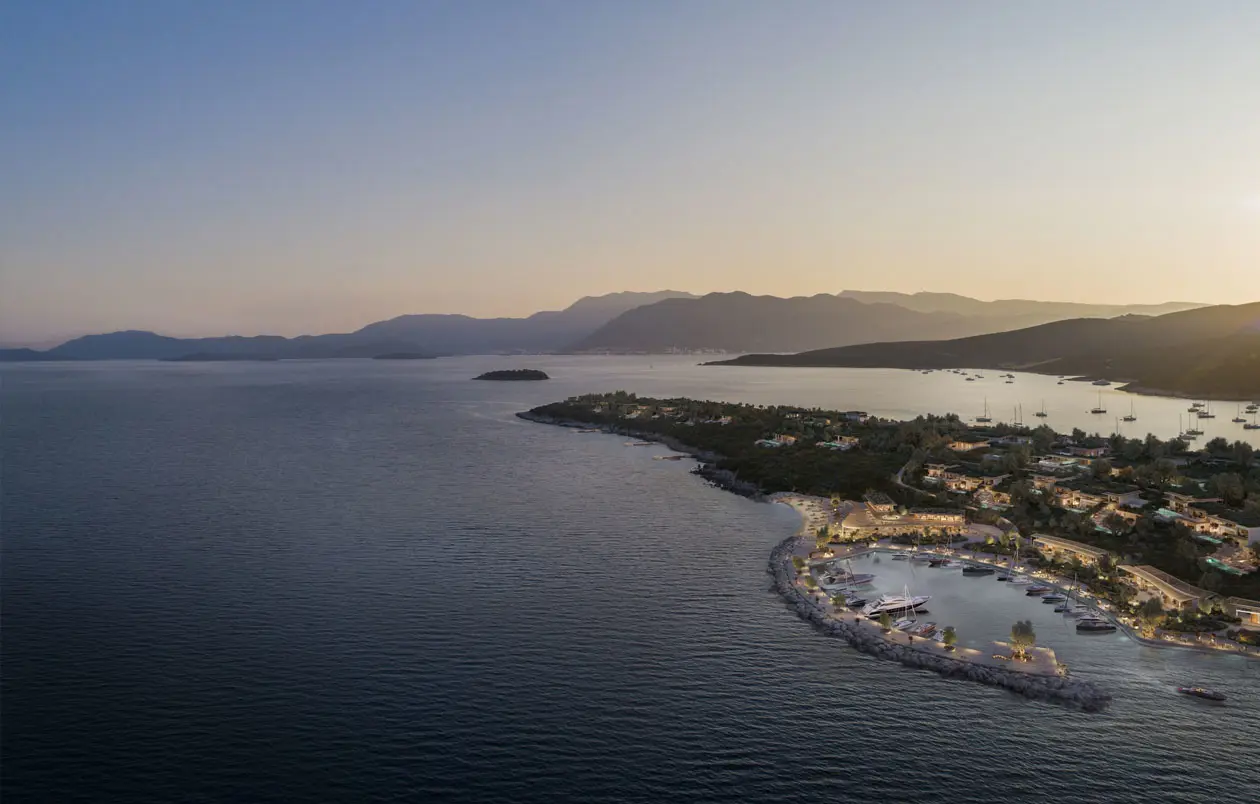 Banyan Tree Varko Bay (Render). Foto: Copyright © Ufficio Stampa Banyan Tree Group
Banyan Tree Group ("Banyan Tree Holdings Limited" or the "Group") is one of the world's leading independent, multi-brand hospitality groups centred on stewardship and wellbeing while offering exceptional, design-led experiences for the global travellers of today and tomorrow. The Group's diversified portfolio of hotels, resorts, spas, galleries, golf and residences is centred around an ecosystem of 10 global brands, including the award-winning Banyan Tree, Angsana, Cassia, Dhawa and Laguna, as well as the highly anticipated new brands of Homm, Garrya, Folio and two new Banyan Tree brand extensions, Banyan Tree Escape and Banyan Tree Veya.
Founded in 1994 on the core concept of sustainability, Banyan Tree Group seeks to create long-term value for all stakeholders and destinations across its network of properties, products and brands, through a purpose-driven mission. With 8,000 associates across 23 countries, Banyan Tree Management Academy (BTMA) was established in 2008 to support the Group's goals through advancing people development, management excellence, and learning with integrity and meaning.
Banyan Tree Group has received over 3,000 industry awards and accolades since inception over 25 years ago, most recently being named among the Top 25 Hotel Brands in the World by Travel + Leisure. It has also received recognition for its commitment to environmental protection and community development through its Banyan Tree Global Foundation (BTGF), which aligns the Group's efforts to the United Nations Sustainable Development Goals. Executing on its regionalised growth strategy, the Group's global footprint continues to grow with over 50 new hotels and resorts under design and construction in the pipeline, in addition to over 60 operating hotels in 17 countries. As a global industry hospitality leader, Banyan Tree Group firmly embeds its mission to be a business that benefits all stakeholders, for the greater good.
AVION LUXURY MAGAZINE
in digital version
DESTINATIONS Aruba, un viaggio ai Caraibi. HOTELS Un Bvlgari Hotel a Roma. JETS La serie Phenom 300 di Embraer - La cabina Executive di Bombardier. CARS Bugatti Chiron Profilée -1000 Miglia Experience UAE.
YACHTS Grande 26M di Azimut - Nautica e benessere con Arcadia. WATCHES Planetarium Dunes of Mars Limited Edition.