04 May 2023
Armani Beach Residences Palm Jumeirah in Dubai
The Armani Group, Tadao Ando and Arada announce their partnership. Sales at Armani Beach Residences will start in the second half of the year and the entire project is scheduled to be completed by the end of 2026
The
Armani Group
is pleased to announce a new partnership between
Armani/Casa Interior Design Studio
and UAE-based master developer
Arada
for the design of the residential units, common areas and amenities for an
ultra-luxury new addition to Dubai's skyline, Armani Beach Residences Palm Jumeirah
.
Designed by Tadao Ando, Armani Beach Residences Palm Jumeirah features the Japanese Pritzker-Prize-winning architect's longstanding emphasis on the association between nature and architecture. Located on the outer crescent of the iconic manmade islands in Dubai, the project will offer a luxurious spatial experience that also provides a visual and compelling connection between each residence and the sea.
Armani Beach Residences Palm Jumeirah will contain a range of beautifully appointed homes, including a select number of penthouses, as well as a series of world-class amenities carefully designed to allow every resident the chance to enjoy an elegant, productive and active lifestyle.
Sales at Armani Beach Residences will start in the second half of the year and the entire project is scheduled to be completed by the end of 2026.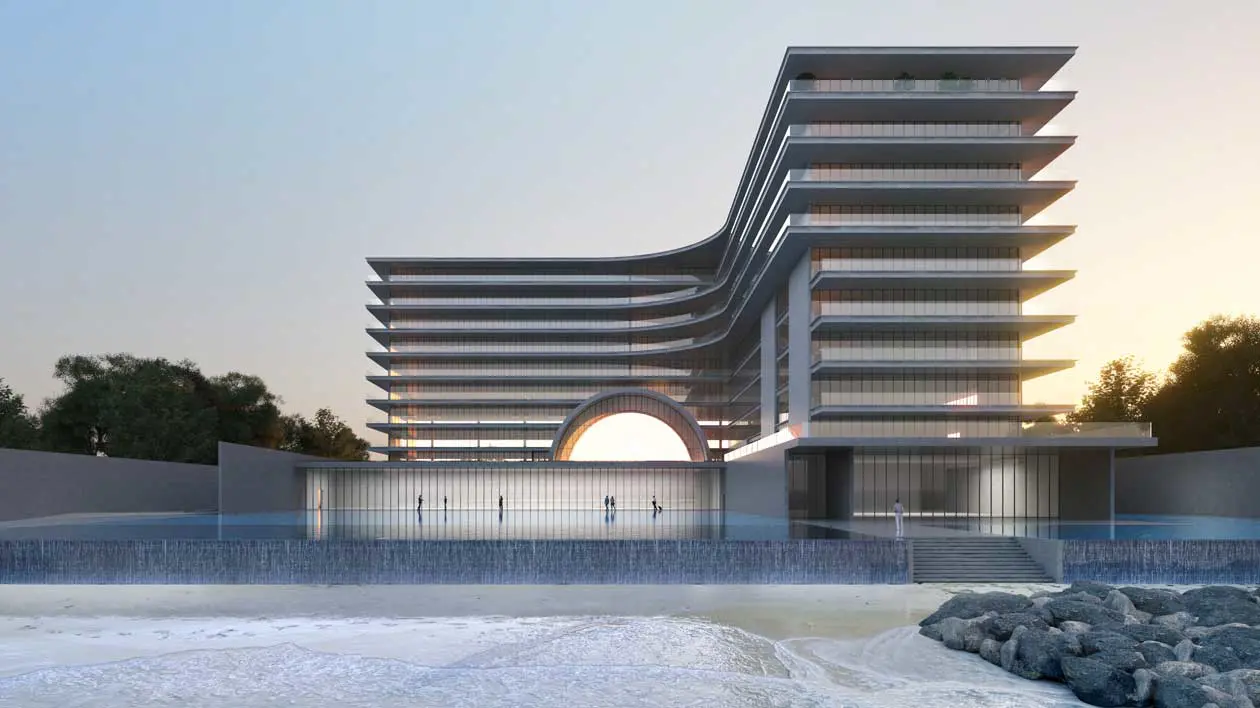 Armani Beach Residences Palm Jumeirah in Dubai. Rendering: Copyright © Armani/Casa
Giorgio Armani
, Chairman and Chief Executive Officer of the Armani Group, said:
"I am delighted to renew our collaboration with Tadao Ando, with whom the Armani Group has a long association, dating back to the design of Armani/Teatro in
Milan
in 2001. I believe that this new partnership with Arada and Tadao Ando will also result in an exceptional and magnificent place in which to live."
HRH Prince
Khaled bin Alwaleed bin Talal
, Vice Chairman of Arada, said:
"Armani Beach Residences Palm Jumeirah blends the elegance and luxury for which the Armani lifestyle is so celebrated with the globally renowned contemporary design aesthetic of Tadao Ando. With an outstanding location on the hugely in-demand Palm Jumeirah islands, we're excited at the prospect of bringing this truly unique residential opportunity to
Dubai
, the world's fastest-growing high-end real estate market."
Tadao Ando, Founder of Tadao Ando Architects & Associates, said: "Armani Beach Residences Palm Jumeirah will be a special place where residents and visitors will experience art and architecture coming together as a synthesis of the shared passions of Giorgio Armani and I. The architecture at this wonderful location is designed to pursue a visual and experiential continuity between the interiors and the seascape that surrounds the project, with the interplay of light and shadow helping to create a dynamic sequence from arrival to the public areas and finally to each impeccable residence."
AVION LUXURY MAGAZINE
in digital version
DESTINATIONS Aruba, un viaggio ai Caraibi. HOTELS Un Bvlgari Hotel a Roma. JETS La serie Phenom 300 di Embraer - La cabina Executive di Bombardier. CARS Bugatti Chiron Profilée -1000 Miglia Experience UAE.
YACHTS Grande 26M di Azimut - Nautica e benessere con Arcadia. WATCHES Planetarium Dunes of Mars Limited Edition.