21 October 2019
Paris-Le Bourget business airport has a new VIP terminal
The Astonsky Terminal is now open at Paris-Le Bourget Airport
After 9 months of construction work Astonsky, a subsidiary of the French Clair Group, inaugurated its 5-Star hotel standard terminal on 17 October 2019. The real estate complex, acquired in 2018, has three airplane hangars and a five-storey building. Now operational, Astonsky service is available for passengers and crew 24 hours a day.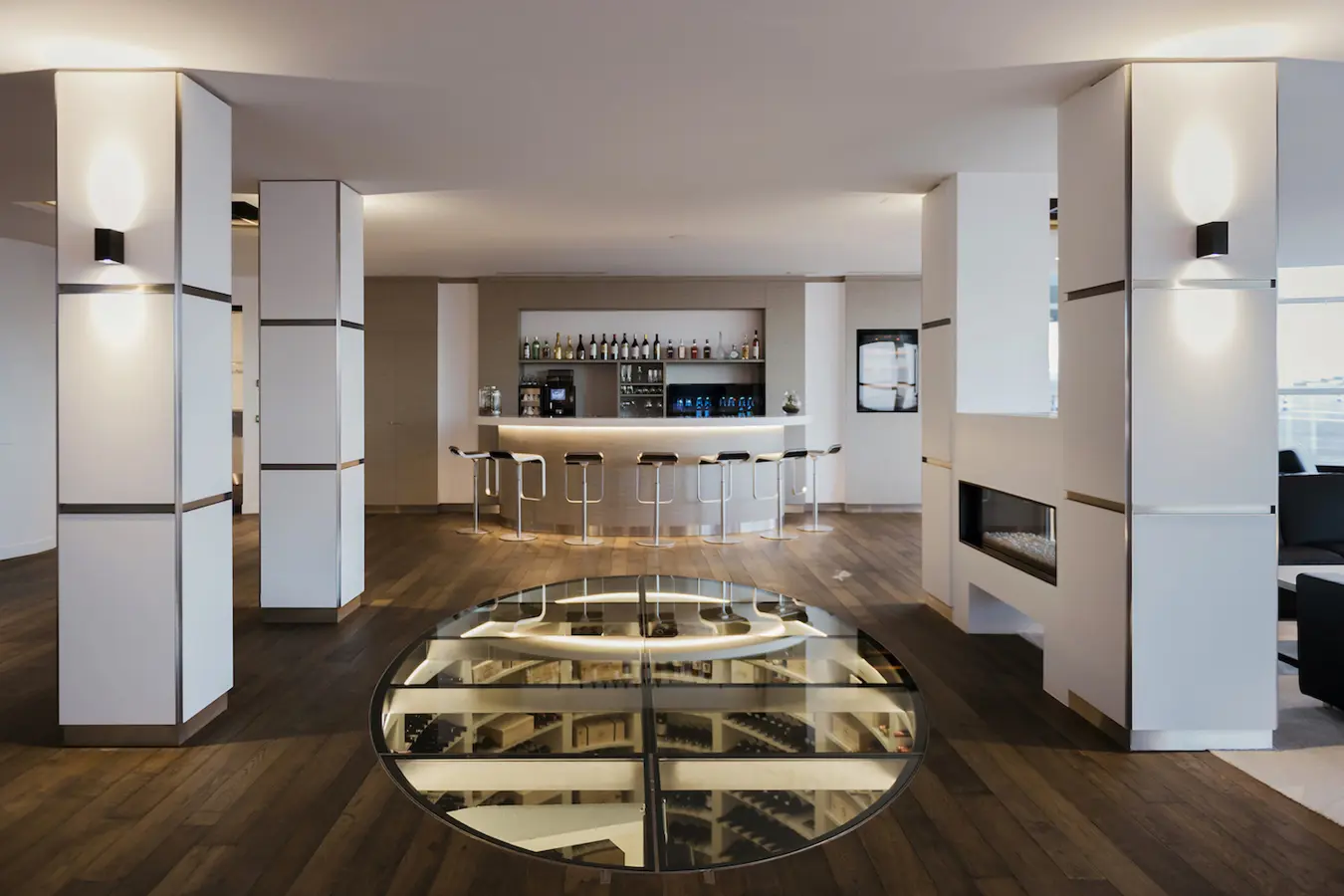 VIP terminal in Paris-Le Bourget business airport. Photos: © Protected by copyright and License Astonsky/Aurélia Blanc. All rights reserved. Reproduction prohibited.
The largest real estate complex at the airport
Acquired in 2018 from an
English company by Clair Group
, the
real estate complex
is on the north side of the
airport
, ideally located at the
airport gates
between
Roissy CDG
and the heart of
Paris
. The
Astonsky terminal
consists of a 6,920 m2
building spread
over six levels, 3
airplane hangars
and more than 16,000 m2 of
aircraft parking
.
Level zero
is reserved for
passengers
and
clients of the FBO
("
Fixed Base Operator
", term used to define
ground assistance companies at business airports
). The
1st floor
is reserved for
pilots
passing through. The
2nd floor
is occupied by the
air operations division
of
Astonjet
, the
group's airline
. The
3rd floor
already houses its first tenants: two
consultancy companies
, an
airline
and an
aircraft manufacturer
. The 4th and 5th floors are currently available.
The total investment, including purchase and renovation, came to 11 million euros. The
Astonsky terminal
was inaugurated on 17 October 2019, in the presence of the group's clients, businesses from the airport and the
Paris-Le Bourget Airport Director
Bruno Mazurkiewicz
.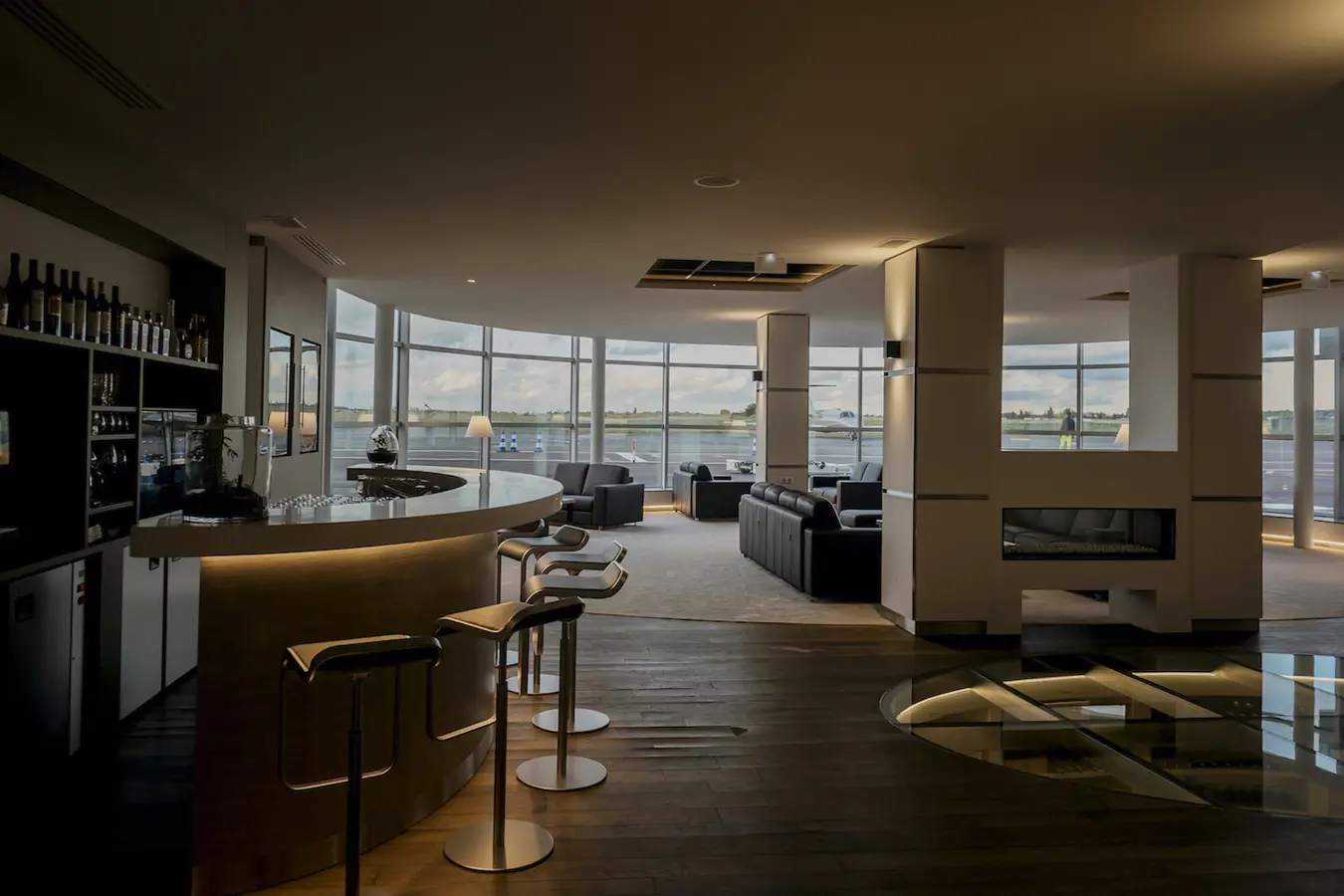 VIP terminal in Paris-Le Bourget business airport. Photos: © Protected by copyright and License Astonsky/Aurélia Blanc. All rights reserved. Reproduction prohibited.
French service in a luxury setting
Level zero consists of a private parking area, a valet service under a cantilever awning in the shape of an airplane wing, and a massive reception area with a fountain and a green wall. Further in, the first area, with lounge music and ambient perfume, proposes several rest and work spaces around a sculpture of "Kong" by Richard Orlinski. There is also a space reserved for pilots equipped with the latest computing systems and, finally a boarding lounge, unrivalled in its services and atmosphere.

This all gives directly on to the tarmac with a 360° view of the runways and exceptional decoration: deep-pile carpet that is cleaned several times a day, deep leather sofas, a kiosk with the latest press and travel, art and aviation books, as well as an aquarium with 6 tons of sea water, where several species of fish glide, allowing a transparent view of the planes in the hangars. The bar offers a very wide range of hot and cold drinks.

In addition to the interior decor, designed by Charles Clair himself, and the many special services offered to clients, the exclusive feature of the boarding lounge is its burried and glass wine cellar containing over 3,000 bottles of great wines from all over the world.

The central fireplace will provide an extra touch of comfort as soon as the first weeks of winter arrive.
The 1st floor, reserved for flight crew, offers R and R space to the same standards as those in the passenger areas, with a view over the hangar and the runway, bar and café games, 4 snooze rooms, showers and a sports centre. An air operations service is available to crew for any questions linked to flight plans and meteorological updates.

Finally, a concierge and catering service is available at all times to respond to client needs in the lounges or to prepare flights. A house chef is attached to the terminal and offers refined French cuisine, in close collaboration with the sommelier.

Parking, storage and cleaning services are available for all aircraft.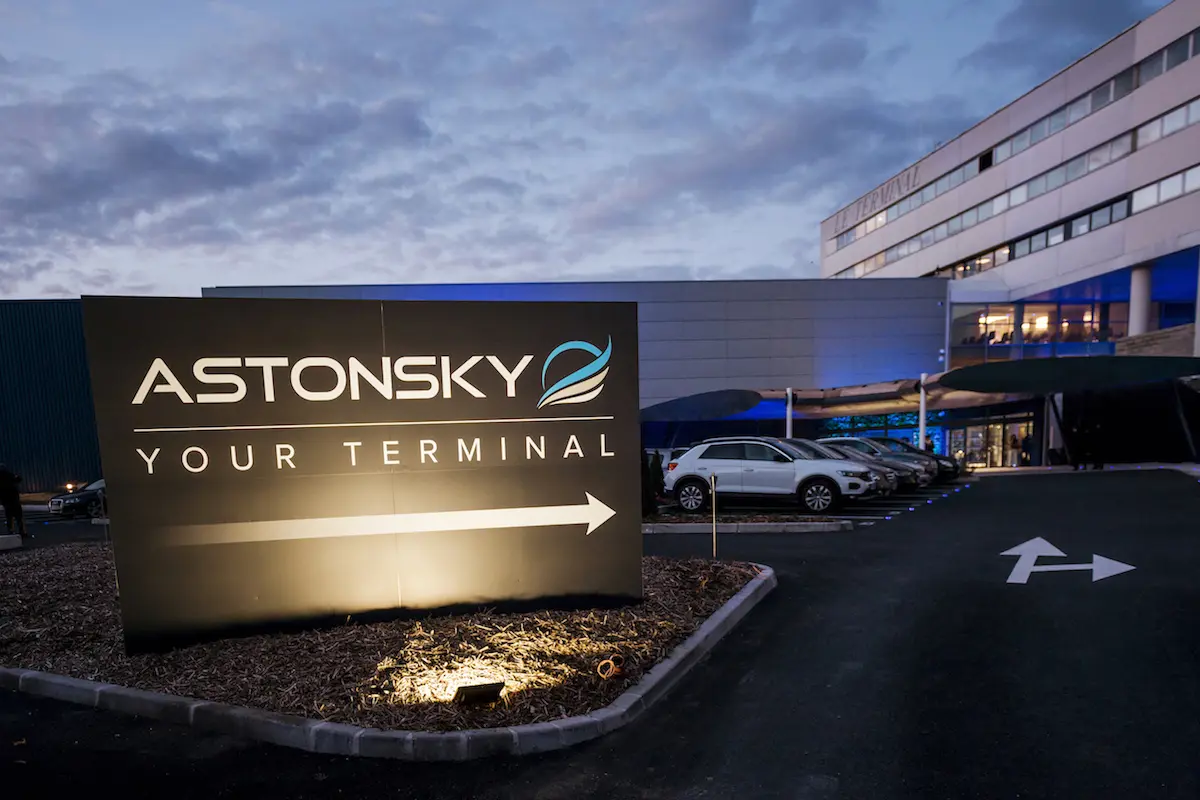 Àbout Clair Group
Clair Group is an aviation group founded in 2004 by Charles Clair. It consists of several subsidiaries:
Astonjet, an airline that operates a large fleet of private jets;
Astonsky, a company providing stopover assistance services for aircraft, crews and passengers;
Astonfly, France's leading aviation school, for private and professional pilots, whose campus is located at Toussus-le-Noble (78),
Astontec, a maintenance centre based at Toussus-le-Noble airfield.
Clair Group is currently developing at
Paris-Le Bourget
after the acquisition and renovation of a real estate complex.
"Astonsky's signature slogan is "be astonished". The sign over the hangar says "your terminal". These two phrases say all that needs to be said: we wanted to surprise, innovate and offer unrivalled service to an international clientèle that constantly requires more and better. Our ambition is to make Astonsky the French reference for luxury."
said
Charles Clair
, Group President.
Edited by Lisa Maria River
Text: © Press Office Astonsky - Clair Group
Photos: Protected by copyright and License © Astonsky/Aurélia Blanc
All rights reserved. Reproduction prohibited.
Copyright © Sisterscom.com
AVION LUXURY MAGAZINE
in digital version
DESTINATIONS Aruba, un viaggio ai Caraibi. HOTELS Un Bvlgari Hotel a Roma. JETS La serie Phenom 300 di Embraer - La cabina Executive di Bombardier. CARS Bugatti Chiron Profilée -1000 Miglia Experience UAE.
YACHTS Grande 26M di Azimut - Nautica e benessere con Arcadia. WATCHES Planetarium Dunes of Mars Limited Edition.