29 December 2020
Covid-19: Japan closes its borders to foreigners until January 31, 2021
Japanese government measures for entry into the country
Foreign citizens who have stayed in countries subject to an entry ban (as per the list of areas subject to an entry ban) in the fourteen days prior to the request to enter Japan cannot enter the country after 0:00 on January 4th until January 31, 2021, even if in possession of a visa with "EX-R" issued by Japanese diplomatic missions abroad.
It was also decided to suspend the issuance of new "EX-R" visas by all Japanese diplomatic missions abroad (with the exception of Thailand, Vietnam, Malaysia, Cambodia, Laos, Myanmar, Taiwan, Singapore, Brunei, Korea and China) from 28 December 2020 until the end of January 2021.

Visas for tourism continue to be suspended until otherwise determined by the competent authorities of Japan. Until new provisions, foreign citizens who have stayed in the United Kingdom or South Africa in the fourteen days prior to the request to disembark in Japan cannot enter the country even if in possession of a visa with "EX-R", issued by the Representations Japanese diplomats abroad.
Areas subjected to entry ban
Foreign nationals categorized below are denied permission to enter Japan for the time being, unless there are exceptional circumstances. Foreign nationals who have stayed in any of the areas listed in the following table within 14 days prior to the application for landing.
countries
Asia
Bangladesh, Federal Democratic Republic of Nepal, India, Indonesia, Kingdom of Bhutan, Malaysia, Maldives, Republic of the Union of Myanmar, Pakistan, Philippines
North America
Canada, United States

Latin America

and the Caribbean

Antigua and Barbuda, Argentine, Bahamas, Barbados, Belize, Bolivarian Republic of Venezuela, Bolivia, Brazil, Chile, Colombia, Costa Rica, Cuba, Dominica, Dominican Republic, Ecuador, El Salvador, Grenada, Guatemala, Guyana, Haiti, Honduras, Jamaica, Mexico, Nicaragua, Panama, Peru, Republic of Paraguay, Republic of Suriname, Republic of Trinidad and Tobago, Saint Christopher and Nevis, Saint Vincent and the Grenadines, Uruguay
Europe
Albania, Andorra, Armenia, Austria, Azerbaijan, Belarus, Belgium, Bosnia and Herzegovina, Bulgaria, Croatia, Cyprus, Czech, Denmark, Estonia, Finland, France, Georgia, Germany, Greece, Hungary, Iceland, Ireland, Italy, Kazakhstan, Kosovo, Kyrgyz Republic, Latvia, Liechtenstein, Lithuania, Luxembourg, Malta, Moldova, Monaco, Montenegro, Netherlands, North Macedonia, Norway, Poland, Portugal, Republic of Uzbekistan, Romania, Russia, San Marino, Serbia, Slovakia, Slovenia, Spain, Sweden, Switzerland, Tajikistan, Ukraine, United Kingdom, Vatican
Middle East
Afghanistan, Bahrain, Iran, Iraq, Israel, Jordan, Kuwait, Lebanon, Oman, Palestine, Qatar, Saudi Arabia, Turkey, United Arab Emirates
Africa
Algeria, Cameroon, Cape Verde, Central African Republic, Côte d'Ivoire, Democratic Republic of the Congo, Djibouti, Egypt, Equatorial Guinea, Eswatini, Federal Democratic Republic of Ethiopia, Federal Republic of Nigeria, Federal Republic of Somalia, Gabon, Ghana, Guinea, Guinea-Bissau, Kingdom of Lesotho, Libya, Mauritania, Mauritius, Morocco, Republic of Botswana, Republic of Congo, Republic of Kenya, Republic of Liberia, Republic of Madagascar, Republic of Malawi, Republic of Namibia, Republic of Rwanda, Republic of Sierra Leone, Republic of The Gambia, Republic of Tunisia, Republic of Zambia, Republic of Zimbabwe, Republic of South Africa, Sao Tome and Principe, Senegal, The Republic of South Sudan, The Republic of the Sudan, Union of Comoros
The
Government of Japan
announced "
Phased Measures for Resuming Cross-Border Travel
" whereby it intends to establish a special quota pertaining to
cross-border business travelers
and others for
entry into and departure from Japan
, that operates separately from general procedures for
cross-border travelers
. For details, check the
following page
Strengthened quarantine
All nationals arriving from the areas listed in paragraph 1 above within 14 days prior to their application for landing into Japan are subjected to undergo PCR tests for the time being.
All nationals arriving from all regions are requested to wait 14 days at a location designated by the quarantine station chief and to refrain from using public transportation.
Restrictions on airport/ports for arrival
The Government of Japan restricts arrival airports for passenger flights from China or Republic of Korea to Narita International Airport (NRT) and Kansai International Airport (KIX) only.
The Government of Japan suspends passenger transportation departing from China or Republic of Korea.
Precautionary measures taken by railway/airline companies and airports
Railway / airline companies and airports listed below implement various measures to prevent the spread of COVID-19.

For more details, please refer to the following links:
Airline companies
Airports
Travel & Safety Tips
Temporary closure of
attractions in Japan
can be found in
the table below.
Take precautionary measures, such as wearing a mask if you have a cough and washing your hands. Medical expenses may be high in the event that you become sick or get injured and need to go to the
hospital whilst in Japan
so do not forget to take out the necessary
travel insurance
.
Info
: direct telephone number of the
Japanese National Tourist Board
(JNTO): +8150 38162787, h24, provides
tourist information
and
advice related to the coronavirus
.
Edited by editorial staff
Text source: Farnesina Press Offices - Viaggiare Sicuri and the Japanese National Tourist Board
Visual photo: Copyright © Sisterscom.com / tonellophotography /
Depositphotos
All rights reserved. Reproduction prohibited.
Copyright © Sisterscom.com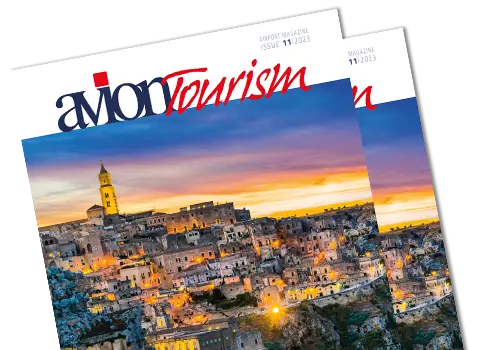 AVION TOURISM MAGAZINE
in digital version
On this issue: The World Heritage Sites of Basilicata and Puglia.