04 April 2023
Swiss to trial passenger count using artificial intelligence in Zurich
The use of artificial intelligence to conduct its passenger count during boarding on selected flights between April and June
Swiss International Air Lines
(SWISS) plans to conduct a three-month trial together with an external partner of using
artificial intelligence (AI) to conduct its passenger count during the flight boarding process
. The digitalization of the passenger count procedure is intended to enhance security and simultaneously ease the workload of the airline's cabin personnel. To these ends, on selected SWISS flights from
Zurich
between April and June, a camera will be temporarily installed in the cabin for the boarding process, to
record passengers as they embark
and determine their total numbers.
The recordings will be used solely to train the AI application in the boarding process. It must be able, for instance, to distinguish whether a passenger is carrying an infant in their arms, and must also function faultlessly even in challenging lighting conditions. Results will be constantly analyzed throughout the trial phase to steadily improve the AI's reliability. In view of the new approach's trial nature, the cabin crew will also conduct a parallel passenger count using the established manual procedure on the flights concerned.
SWISS attaches the highest importance to data security and data protection. All the recordings made will be processed in full compliance with the strict European (GDPR) and Swiss (FADP) data protection provisions, and will then be deleted. The data recorded will be used solely for passenger count purposes. No persons will be identified from them. In addition, only visual images will be recorded, and only in the aircraft door area. No further recordings (such as audio) will be performed. Passengers on the flights concerned will be informed of the trial before they embark. After the trial is concluded, SWISS will analyze the results and then decide on the further course of action as well as on a possible introduction.
Edited by editorial staff, Avion Tourism Magazine
Text source and photo: © Swiss Media Relations
Visual: Copyright © Swiss
---
What to see in Zurich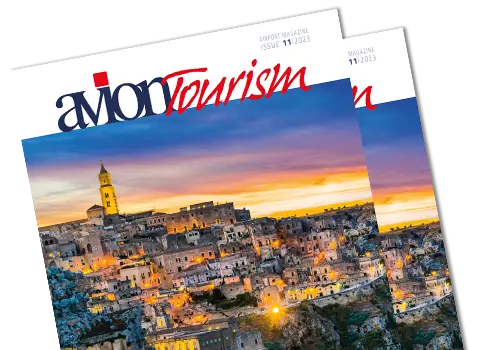 AVION TOURISM MAGAZINE
in digital version
On this issue: The World Heritage Sites of Basilicata and Puglia.