17 January 2020
British Airway and Iberia reach NDC agreement with Travix
Thanks to NDC connection, Travix will have access to exclusive NDC content from both airlines via NDC-based connections
British Airways and Iberia have today announced a worldwide connection to NDC with Travix, a global online agency with operations in 39 countries.
This distribution model facilitates access to a richer and more complete inventory of the airlines and the services they offer than was possible through legacy systems. Both airlines are expanding the exclusive content offered through this channel, with more fares only being distributed through NDC.
In Dec 2019 IATA awarded the two airlines with the highest certification level on the NDC standard, the IATA NDC@Scale Certification. This award recognises that the two airlines have the capability to drive volumes of NDC transactions, enable servicing and support of customers effectively, proving that our NDC solution works, is robust, and scalable.
Travix will have access to exclusive NDC content from both airlines via NDC-based connections and Travix customers will be able to access hand baggage fares and up to three times more price points on NDC.
Rogier van Enk, British Airways Head of Distribution, said: "Travix have been at the forefront of technological change for a number of years. We are thrilled to join forces with them as we take NDC to the next level. This partnership means that even more customers will benefit from BA exclusive NDC content. This demonstrates our continued focus and investment in delivering a robust and scalable BA solution for both partners and customers."
Cliff Trotta, Iberia's Head of Distribution, commented: "Iberia is delighted to add Travix to our growing list of NDC partners. With over half of our fares not otherwise available in legacy channels, NDC is the only opportunity to get instant access to our best in class content"
John Mangelaars
, CEO of
Travix
, said:
"We are very excited about this important collaboration with two leading airlines; British Airways and Iberia. This enables us to deliver unique offerings to our customers and improve our value to airlines as a partner."
About Travix
Travix is a global online travel company operating in 39 countries from offices in the Netherlands, Australia, Curaçao, Germany, India, Singapore, the UK and the USA. With 5 brands and an extensive portfolio of 43 websites we are market leader in several countries and growing rapidly on all continents.
Edited by Alisè Vitri
Text source: Copyright © Ufficio Stampa British Airways
Visual: © Sisterscom.com / Fasttailwind /
Shutterstock
Copyright © Sisterscom.com
All rights reserved. Reproduction prohibited.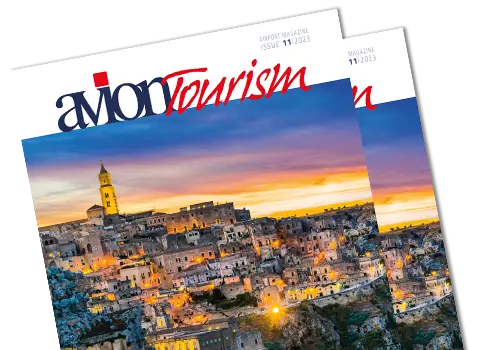 AVION TOURISM MAGAZINE
in digital version
On this issue: The World Heritage Sites of Basilicata and Puglia.