07 October 2023
TFWA World Exhibition & Conference 2023
Il settore duty free e travel retail mondiale si è riunito a Cannes per condividere le idee, sviluppare business e networking
La TFWA World Exhibition & Conference 2023, tenutasi dall'1 al 5 ottobre a Cannes, si è conclusa ospitando un totale di 7.385 visitatori, una cifra in aumento del 23% rispetto ai 6.017 del 2022. La cifra si confronta con 7.531 visitatori dell'evento del 2019, che rimane il record di presenze. L'evento del 2023 stabilisce un nuovo record di partecipazione di 2.761 delegati, con un aumento significativo del 15% rispetto al dato del 2019.
Erano 1.762 i delegati presenti alla Conferenza mondiale TFWA, che si è aperta a Cannes lunedì 2 ottobre. 177 delegati hanno partecipato al workshop Airport Forum martedì 3 ottobre, mentre 125 hanno partecipato al workshop Duty Free mercoledì 4 ottobre.
Con un gran numero di marchi che hanno ospitato stand più grandi rispetto agli anni precedenti, la fiera del 2023 ha occupato una nuova superficie record di 25.212 m², rispetto ai 20.751 m² del 2022 e ai 23.443 m² del 2019. 450 aziende hanno esposto, 92 gli espositori nuovi o di ritorno. Gli espositori provenivano da 8 settori e addirittura da Uruguay, Giordania e Perù.
L'innovazione era in cima all'agenda del TFWA i.lab nel Golden Village del Palais des Festivals. L'hub delle idee, sponsorizzato da Alipay, JCDecaux e BW Confidential, ha visto la partecipazione di 15 aziende.
1.588 ospiti hanno partecipato all'evento "Opening Cocktail" di TFWA a Carlton Beach, mentre un picco di 686 ospiti ha goduto delle sessioni post-lavoro della TFWA Lounge. La partecipazione notturna alla TFWA Lounge ha raggiunto il picco mercoledì sera, con 2.238 ospiti che hanno goduto dell'ospitalità del partner principale Qatar Duty Free e di un'ampia gamma di rinfreschi offerti dagli stimati sponsor di TFWA.
Gli espositori hanno presentano migliaia di
marchi del duty free e del travel retail
. Le organizzazioni che hanno partecipato rappresentano un'ampia varietà di
rivenditori leader a livello mondiale
,
aeroporti internazionali
,
compagnie aeree
, compagnie di traghetti e crociere, e includono il ritorno di molte compagnie asiatiche in seguito alla revoca delle restrizioni di viaggio nella regione.
Tra le aziende presenti:
China Duty Free Group,
Dufry,
Gebr. Heinemann,
Duty Free Americas,
Heathrow Airport,
Lagardère Travel Retail,
The Shilla Duty Free,
Changi Airport Group,
Lotte Duty Free e molti altri.
Ora
TFWA
è pronta ad accogliere il settore del
travel retail
a
Singapore
per la
TFWA Asia Pacific Exhibition & Conference
il prossimo maggio.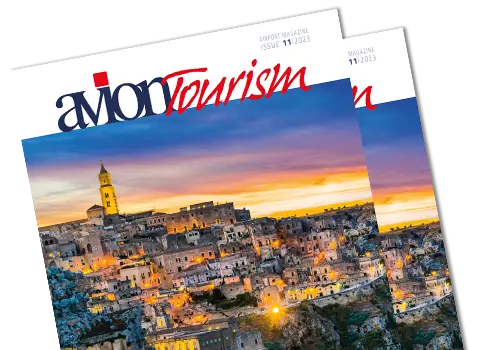 AVION TOURISM MAGAZINE
in digital version
On this issue: The World Heritage Sites of Basilicata and Puglia.