AIRPORT SERVICES FOR PASSENGERS
---
the exclusive HELLOSKY LOUNGE
The Vip Lounge welcomes passengers with 130 seating capacity and 10 different areas
with meeting room, work area, F&B area, smokers' room, bar, catering and more
The new Hello Sky Lounge, with a dimension of 750 sqm and 130 seating capacity, will be dedicated to international and domestic traffic in Milan Bergamo Airport. It is located in airside right before the new passport control area of the terminal extension (extra-Schengen) carried out in 2020.
Video: Copyright © Milan Bergamo Airport.
The lounge is divided in 10 different areas as; relax zones, work area, meeting room, F&B area, smokers' room and toilets with shower which this variety of areas allowing passengers to enjoy the space and services as they prefer. The lounge will offer a tailor-made experience that adapts to the priorities of its valuable guests' demands. The cluster of services appears as hospitality, bar, catering, à la carte dining, including with business entertainment and resting areas which will be presented by a friendly and welcoming staff.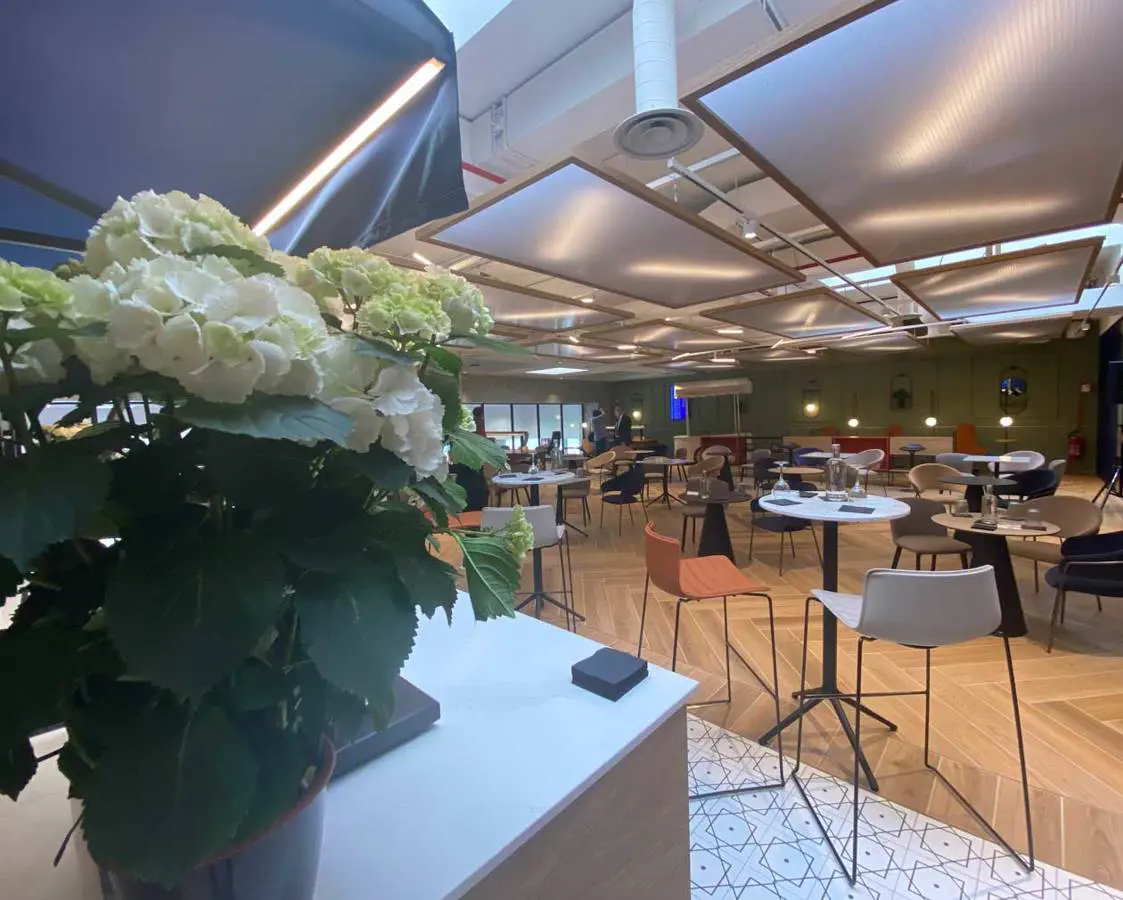 Hellosky Lounge - Milan Bergamo Airport. Photo: Copyright © Sisterscom.com
HelloSky offers a new concept of Vip Lounge, which focuses on the sustainability and recycling. The creation of an oasis in the customer journey through the stimulation of senses and the purpose of sustainability focus. It is a modern and well-designed lounge, with elegant style and furniture that offers a high level of quality and comfort to customers. With natural light and materials, passengers will feel the relaxing atmosphere during their stay.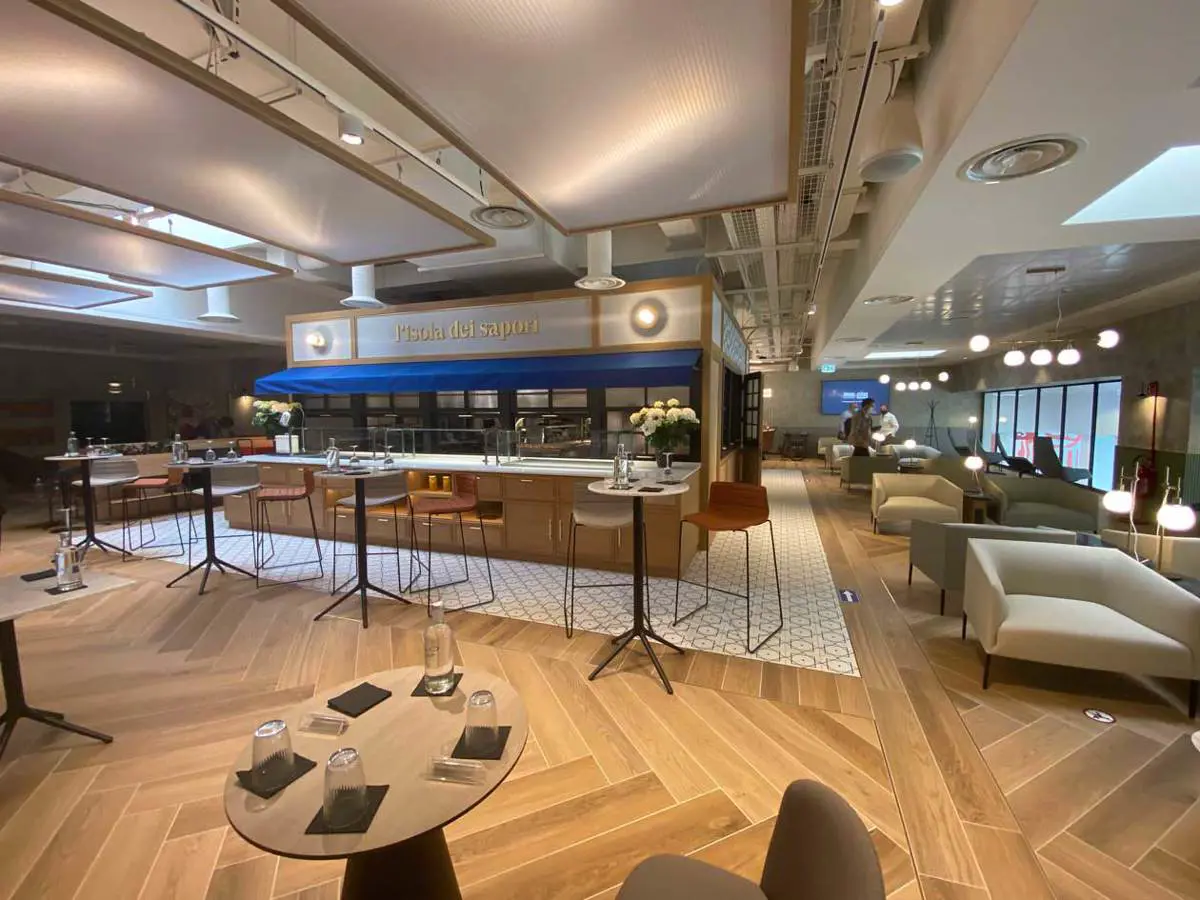 Hellosky Lounge - Milan Bergamo Airport. Photo: Copyright © Sisterscom.com
In the HelloSky Milan Bergamo lounge all amenities are perfectly designed to serve any need of passengers including shower areas or reading spaces. The menu is served with a dynamic approach and adapted to different hours of the day providing a variety of selection including local taste. Pay-per-use premium options will also be available for convenience.
CHECK-IN LOUNGE
Milano Bergamo Airport has one Lounge which allow you to wait for your flight in a welcoming setting equipped with services and facilities especially designed for all types of travellers. The Check-in Lounge is situated in the departures area beside the security checks (open from 04:30 to 20:00). The maximum stay in the Lounge is 3 hours.
Video: Copyright © Milan Bergamo Airport
---
Fast Track plus
Photo: Copyright © Milan Bergamo Airport
Fast Track Plus is a service that speeds up check-in operations, providing access to the Check-in Lounge for check-in and luggage check-in procedures with a dedicated member of staff. The service also includes priority access to security controls, allowing passengers to quickly get to the gate.
Fast Track is a reserved lane which gives fast access to security checks. Access to the Fast Track is through an optical reader and is active 24 hours a day.
Video: Copyright © Milano Bergamo Airport.
bgy top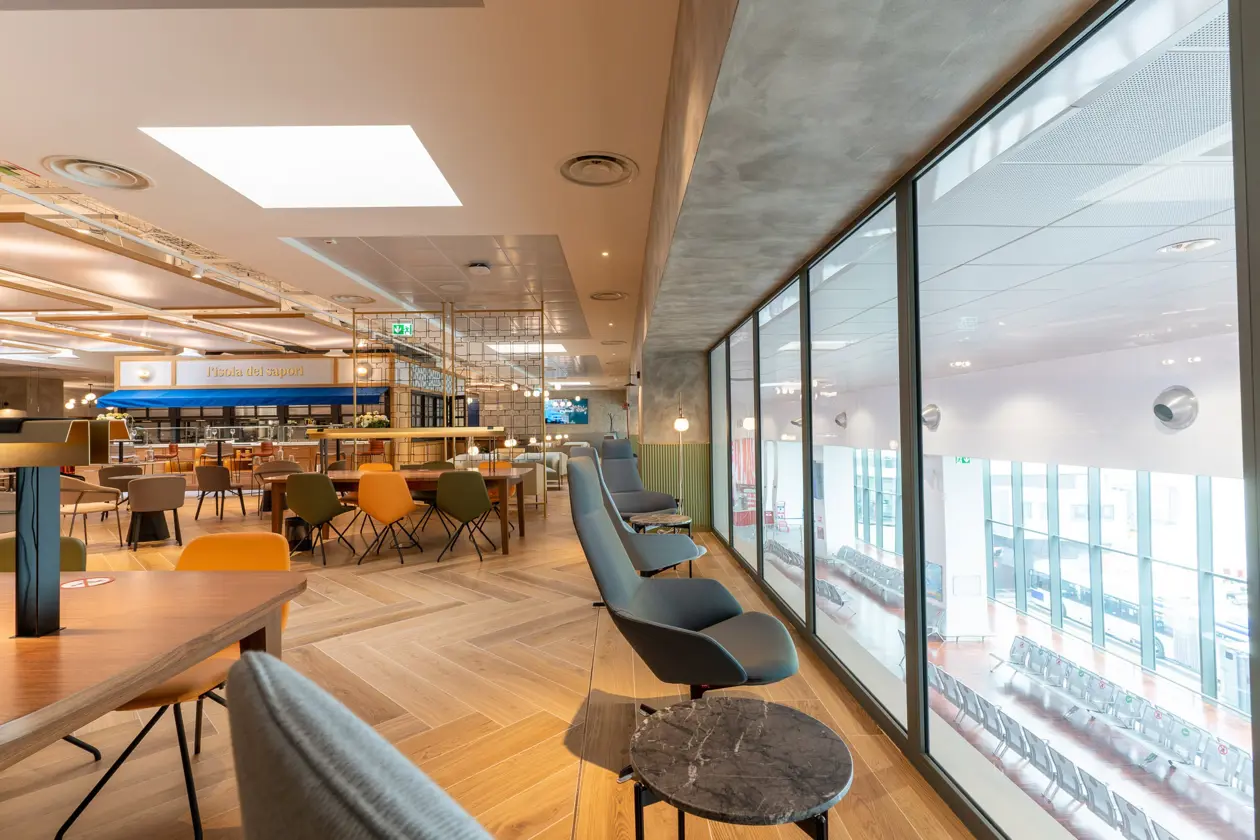 Photo: Copyright © Milan Bergamo Airport
For those who want an exclusive airport experience, BGYTOP provides a luggage porter service, a welcome service from a dedicated hostess in the Check-in Lounge and a check-in procedure assistance service which is also extended to travel companions. The BGYTOP service also allows access to the HelloSky Lounge located in the departures area before passport control.
Parking at the airport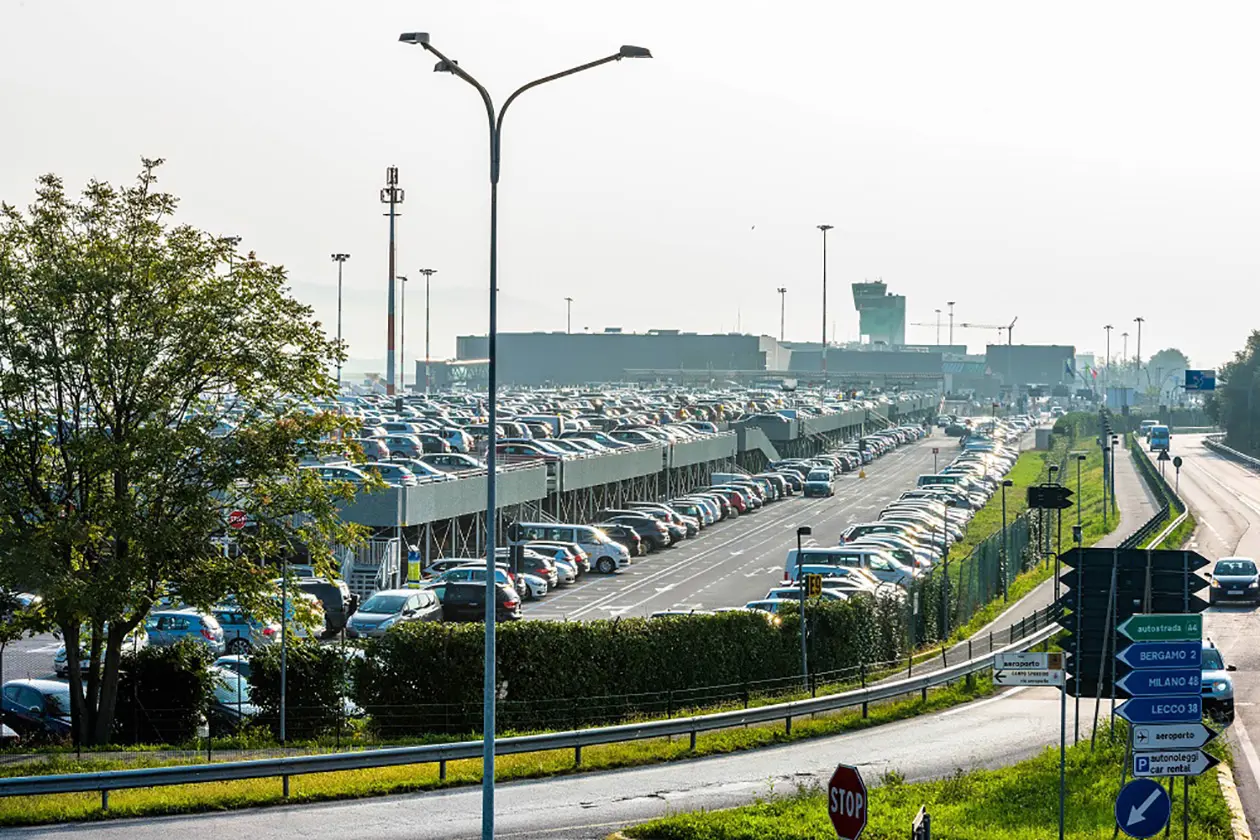 Foto: Copyright © Milan Bergamo Airport
At the airport there are 8,000 parking spaces with the most complete choice of rates and sectors. ViaMilano Parking is the convenient, quick and effective solution for parking your car in total tranquillity. Park inside the airport with ViaMilano Parking and bring the keys of your car with you. Find the staff always present, 7 days a week and 24 hours a day.
---
WIFI At the airport
Milan Bergamo Airport has increased the performance of the Wi-Fi network within the terminal, in order to supply a constantly improved service, capable of catering for the devices of the thousands of passengers and staff present over the course of every 24-hour period.
To offer greater clarity regarding use of the SACBO Wi-Fi network, a video tutorial has been produced, providing step-by-step explanations on how to gain access to the service and utilise its capacity to the full.
Video: Copyright © Milano Bergamo Airport.
AIRPORT SHOPPING
The terminal area at Milan Bergamo Airport is home to a variety of businesses with a wide range of offerings and products, in a spacious and comfortable environment. There are many retail businesses in the departure terminal, with well-known brands from the international fashion scene, as well as the stylish 'walkthrough' Duty Free, and various catering outlets, including bars and restaurants.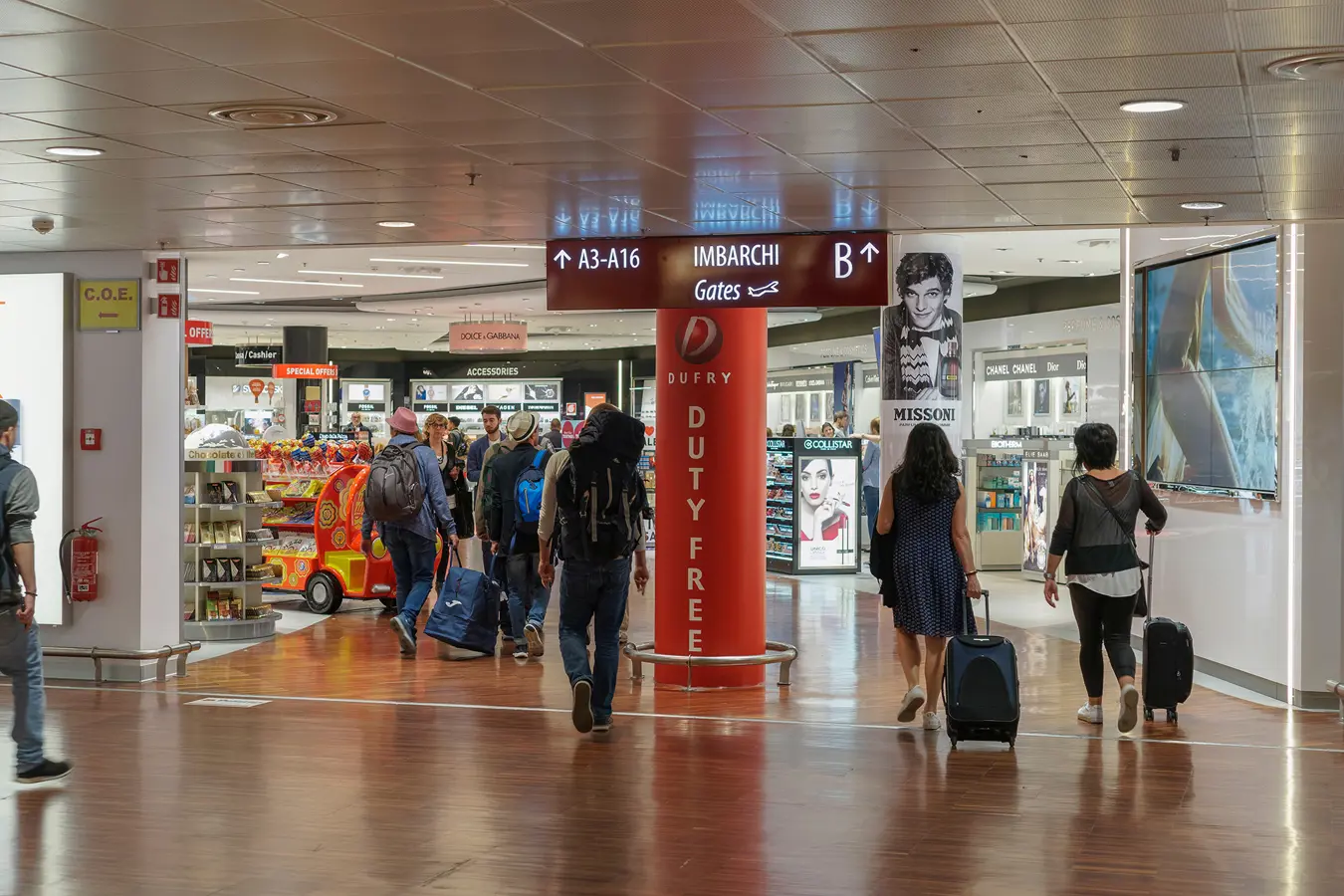 Duty Free - Milan Bergamo Airport. Photo: Copyright © Sisterscom.com /
Shutterstock
Exclusive shopping in the airport
Shopping in the airport in one of the many boutiques or duty-free shops for perfumes and beauty products make the wait for a flight all the more enjoyable.
We have chosen for you some floral, perfumed scents to reawaken your senses.
L'Occitane en Provence
Essence Trifase Immortelle Reset from L'Occitane en Provence is essential for healthy skin. Each day, stress, tiredness and smog have a negative impact on our skin's equilibrium. Enriched with natural ingredients, it helps to balance the skin. It is composed of a trio of potent active ingredients: Immortelle essential oil, extract of Marjoram and extract of Acmella oleracea, which bring out the skin's natural luminosity. It also contains an innovative blend of two oily phases and a water phase which offer a sensorial experience as well as rapid absorption.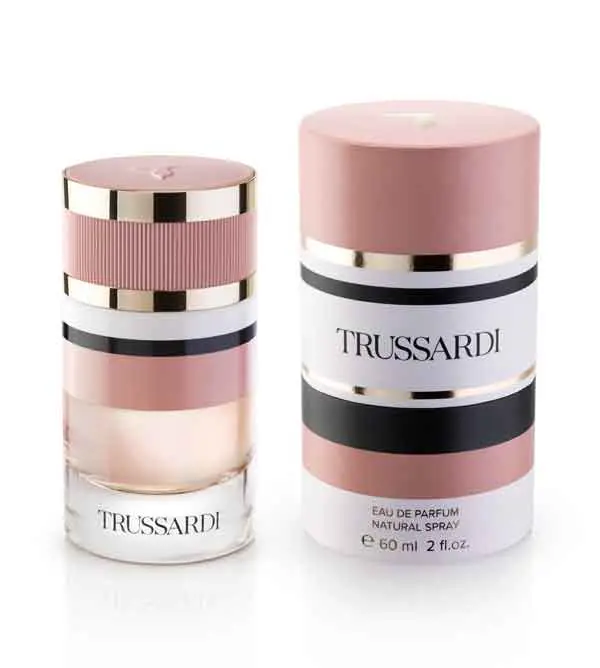 Trussardi
Trussardi is the first perfume from Trussardi Parfums. An Italian olfactory creation, developed by Julie Massé and Violaine Collas, which using quintessential ingredients evokes a sunny, elegant, positive and serene Italy. The top notes reveal the freshness of mandarin intermingled with the sweetness of neroli. Lavender embraces the heart with notes of jasmine and white dahlia.
To close, velvety base notes are distinguished by violet, patchouli and suede accords, together with an olfactory seal of patchouli essential oil.
Laura Biagiotti
Roma Uomo Green Swing is the fragrance that Laura Biagiotti dedicates to an active lifestyle: the new frontier of masculine elegance.
The Maison's passion for the world of golf led to the idea of a perfume with a green heart (geranium, violet leaves and tonka beans), which "swings" from the citrusy freshness of bergamot and the spicy aroma of cardamon to the bitter sweetness of quince. Daphné Bugey, a talented "nose" at Firmenich, closes the olfactory score with woody notes of cedar, vetiver and cashmere wood: a vibrant, dry woody note that also has soft musky facets.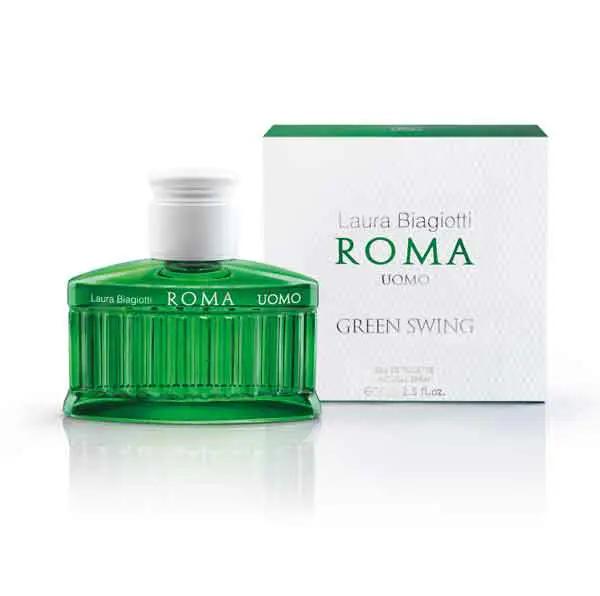 ​​​​​​
Moschino
Moschino Toy 2 Bubble Gum
, encased in an original, fun pink bottle, was developed thanks to the artistic flair of Jeremy Scott, creative director of Moschino. Fun, outgoing and playful notes explore the nuances of the rose, evoking ironic, iconic bubble gum.
The pop vibrations of the fragrance: sweet, spicy and intense bubble gum; candied citrus, juicy peach and spices; a luxurious cocktail of wood and musk. A perfume that frees the spirit from negative thoughts, pampers the body and stimulates the mind.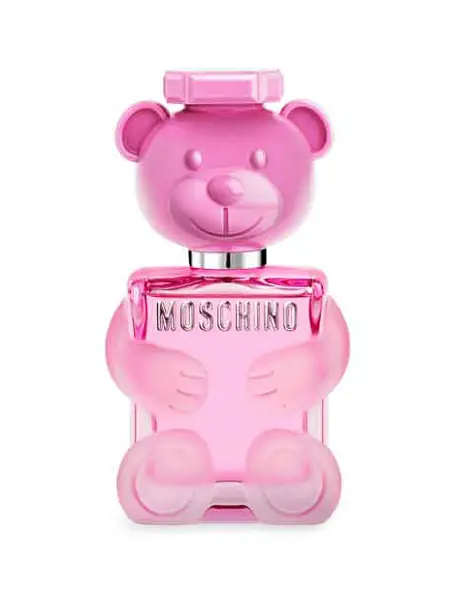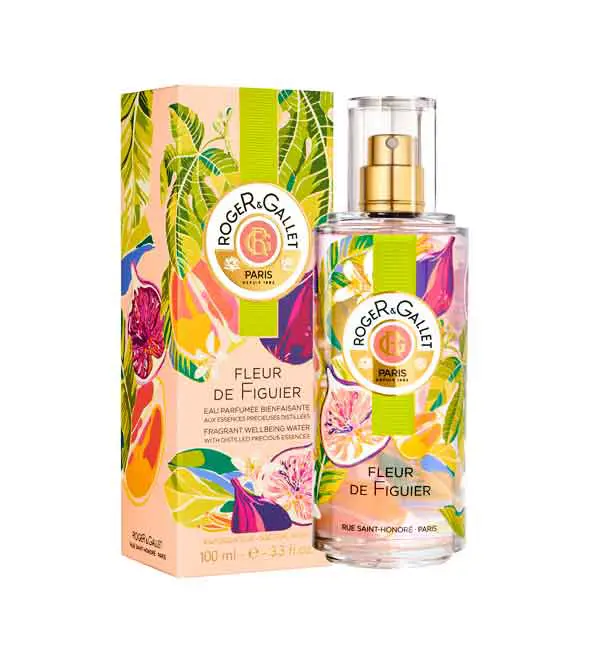 Roger&Gallet
Star among the "Les Eaux Bienfaisantes", a collection of fragrances that enhance the mood, Fleur de Figuier from Roger & Gallet unites delicious, seductive notes with a calming sillage.
The floral-fruity fragrance evokes a relaxing day in the shade of fig trees on the Mediterranean coast.
The freshness is intensified by mandarin zest, grapefruit pulp and the light touch of spicy caraway.
Fig leaves are delicately revealed in the heart notes, which complement deliciously velvety fig milk, before finishing with base notes of white musk.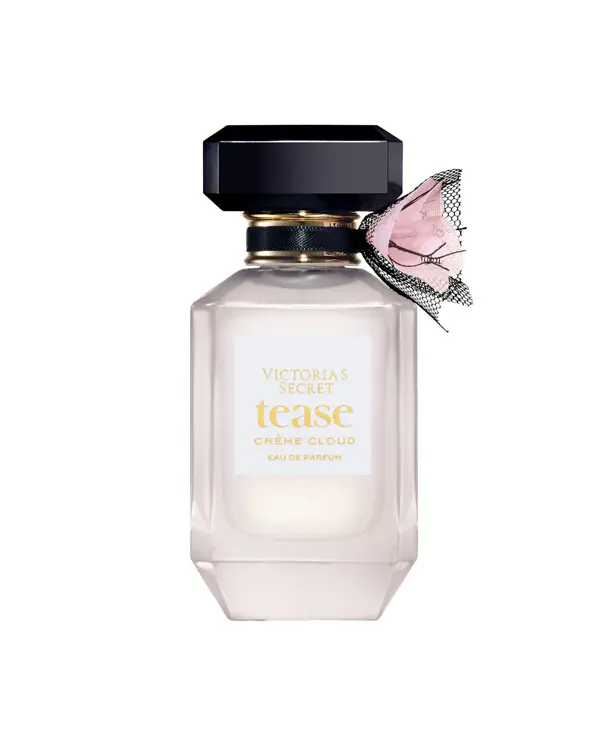 Victoria's Secret
Tease Crème Cloud Eau De Parfum, soft and dreamy, from the Master perfumer Stephen Nilsen for Victoria's Secret.
The fragrance starts with a creamy, light sweetness: whipped vanilla meringue. It then opens up to a luminous floral heart of exotic santal flower - the rare bloom of the sandalwood tree. At the base, sheer amber and a bare musk accord add warmth that softly floats on the skin. A perfume like an extravagant dream, a delicious cloud that floats in the sky. ​​​​​
Versace
The fragrance Versense by Versace has been renewed and expresses a contrast between freshness and sensuality. The colour of the essence brings to mind a sense of nature, open spaces, energy, balance and spirituality. A fresh, inebriating, glamorous, sensual and feminine perfume. Top notes of bergamot and green mandarin give the scent a natural freshness; notes of prickly pear mix with the crisp character of citrus, evoking vital energy. The heart reveals the purity of flowers: sea lily, cardamom and jasmine. The base is loaded with precious woods: cedarwood, sandalwood, olive and musk.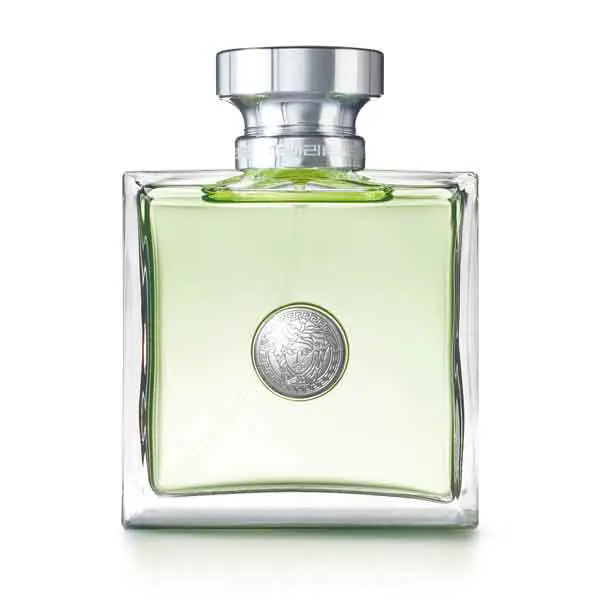 Salvatore Ferragamo
Ferragamo Intense Leather men's perfume by Salvatore Ferragamo: an iconic fragrance for a modern, inspiring, secure and passionate man. Created in collaboration with the senior perfumer Antoine Maisondieu (Givaudan), Ferragamo Intense Leather is a leathery-aromatic-salty fragrance. The freshness of mandarin intertwines with the vivacity of pink pepper, while the herbaceous magnetism of Salvia sclarea captures the senses. An intimate sensation emerges from a heart of accents: Annurca apple, Lily of the Valley, Musk and Oak moss.
The products of the brands and the most exclusive international fashion brands can be purchased at Milan Bergamo Airport: fragrances, body care products, lingerie, luxurious leather goods, clothing and accessories, innovative business accessories, luggage, products technology and much more.
Text by Alisè Vitri
Sponsored content
At
airports
the
shopping
is a fundamental part of the
journey
.
Shopping
and moving from one
boutique
to another makes the
wait for a plane more fun
. There are many brands to
brighten up your time
in the airport
, which offer the latest promotions and collections in
stores
or
Duty Free
; collections that can also be bought conveniently online, such as on the websites of
Bottega Verde
,
Desigual
,
Legami
,
L'Occitane en Provence
or
Canon
.
food & DRINK
Tourists arriving or departing from Milan Bergamo Airport can indulge in delicious flavours in a large area specifically dedicated to eating, which features bars, cafes and well known restaurant chains. Whilst in the new "Italy love food", delicious Italian products can be tasted and bought.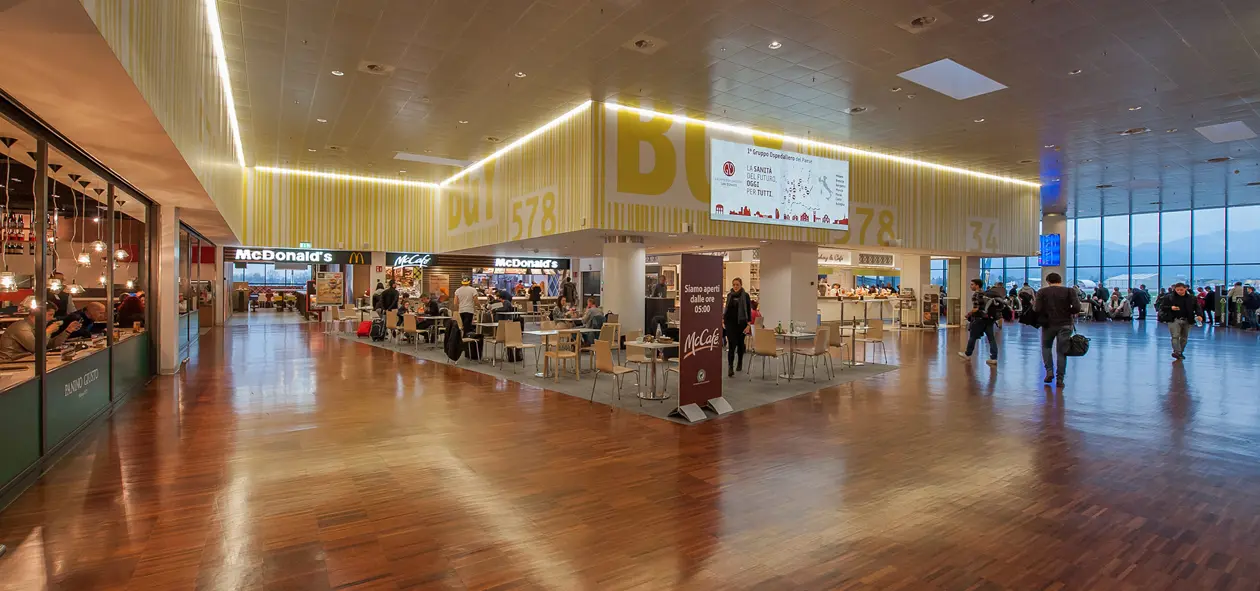 Food Airside Area - Milan Bergamo Airport. Photo: Copyright © Sisterscom.com /
Shutterstock
Italy Loves Food
Italy Loves Food, the innovative food court that offers a selection of superior Italian food and wine products, situated in the Schengen departures terminal. Milan Bergamo Airport offers its passengers the opportunity of tasting high-quality products in order to encourage appreciation of the rich cuisine of Italy, Lombardy and Bergamo and its province. In addition, passengers can buy many quality ingredients at the airport: an excellent travel souvenir.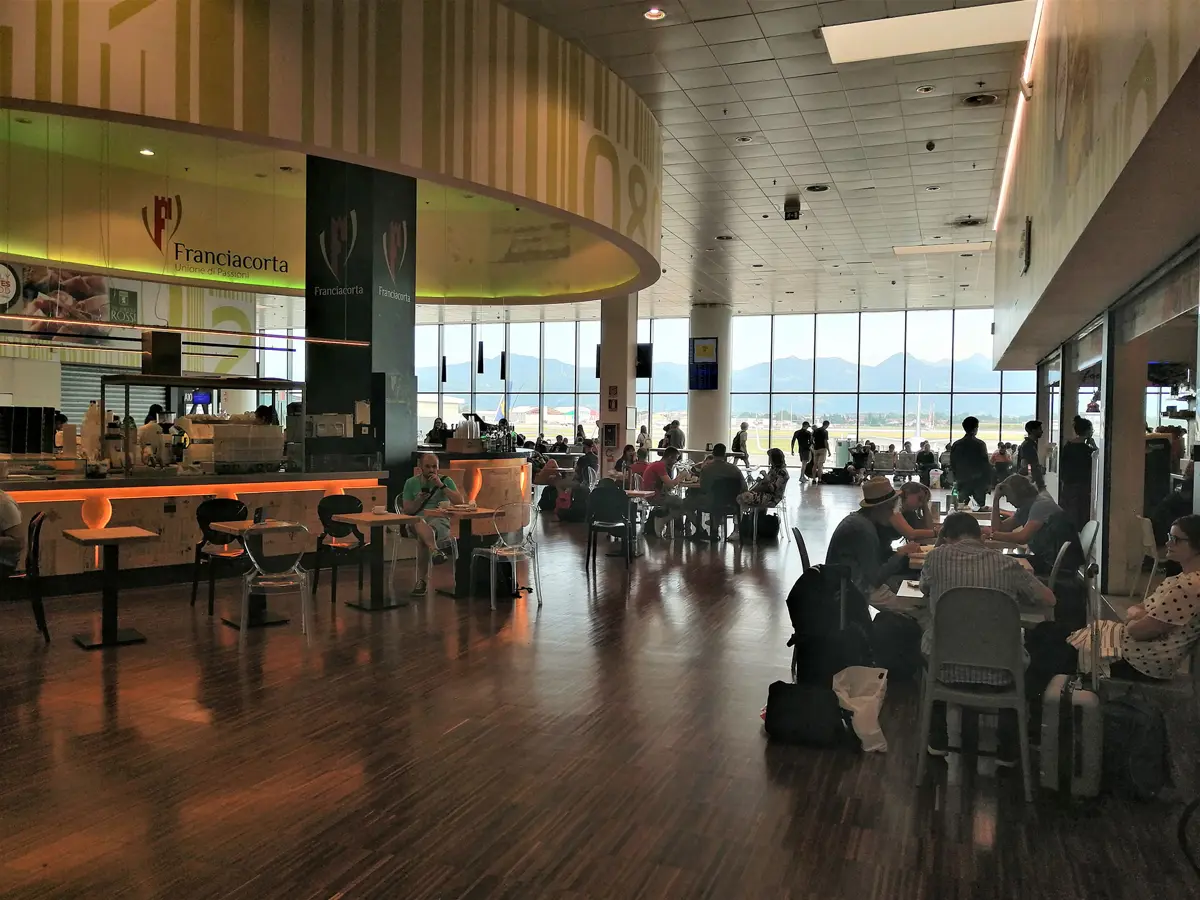 Italy Loves Food - Milan Bergamo Airport. Photo: Copyright © Milan Bergamo Airport.
SUMMARY
The Html digital edition of Avion Tourism Magazine enables anyone to read the contents published on any device and access the website pages and multimedia content. It can be read vertically, scrolling the articles DESTINATIONS, AIRPORTS, AIRLINES and NEWS & USEFUL INFO, and horizontally, passing directly from one item to another in the navigation menu found under the header. After reading the in-depth articles proposed, you can return to the Html digital version of the magazine by clicking on the relevant key "Return to Avion Tourism Magazine".
You might be interested in
Avion Tourism Magazine N75/2021 Special Edition for Milan Bergamo Airport
Issue closed by Editorial Staff on 18 November 2021.
Editor in chief: Angela Trivigno. Contributors: Angela Trivigno. Collaboratori: Alisè Vitri, Anna Glik, Enzo Cuppatri, Eugenio Sorrentino, Isabella Duse, Lisa Maria River, Luca Lembi, Maria Salini, Nicolò Villa. Translations: Juliet Halewood. Cover photo: Copyright © Sisterscom.com Snc / Jovannig / Depositphotos.com. Photographs Archive of Sisterscom.com Snc. Images used with purchased license. Copyright © Sisterscom.com Snc / Shutterstock.com and Depositphotos.com (Photo for editorial use only: Copyright © Sisterscom.com Snc / Photographers specified under each published photo / Shutterstock.com / Depositphotos.com). Press Office: Tourism boards indicated in the published tourist destinations; Euroitalia Srl; Pressjam; Sacbo S.p.A.; VideoPr Srl-Lulop.com. Avion Tourism Magazine Special Edition for Milan Bergamo Airport N.75/2021: issue closed by Editorial Staff on 18/11/2021 and published on www.aviontourism.com Registration: Registered at Bergamo Law Court N.1 of 09/01/2003 and N.9/2019 of 03/07/2019. Periodicity: semiannual. Publisher, Editing, Administration and Advertising: Sisterscom.com Snc - Via Piave, 102 - 23879 Verderio (Lc) - Italy. P.Iva/C.F. 03248170163 - Registro delle Imprese di Lecco Numero LC-304260. Literary and artistic property: Copyright © Sisterscom.com Snc. All rights reserved. Reproduction prohibited in any form and medium.