Milan Bergamo Airport
Video: © Milan Bergamo Airport.
---
With SEA, Milano Bergamo organised World Routes* Milan 2021. What was the outcome of this important event?
Results were excellent. At last, after many months during which meetings were held exclusively online, airlines and airports have once again begun to meet face-to-face, and the feeling is completely different. Excellent results, in part because presentation in Milan as one of the airports at the service of Milan itself, and of the whole of Lombardy, was very useful. Many interesting meetings were held, and the overall "mood" was very good: in my opinion, the sector has faith in a new start.
In what way did World Routes give Bergamo and Lombardy an important opportunity for consolidating its global dimension and reinforcing its role as a "gateway" to the heart of Europe?
Milan and Lombardy are without doubt amongst the most powerful economic players in Europe. To this has to be added the tourist component which, over the years, has become increasingly important (though unfortunately slowed by the events linked to the pandemic). World Routes is one of the most significant events in the commercial aviation sector worldwide; it enables supply and demand to meet, introduce themselves and discuss possible forms of cooperation. It is without doubt a place for "contacts" (rather than "contracts") and for launching discussions. For Milan Bergamo Airport, taking part in World Routes means presenting its distinctive features and its geographical location, to an audience of possible future business partners. All this in addition to recommencing face-to-face discussions with consolidated partners.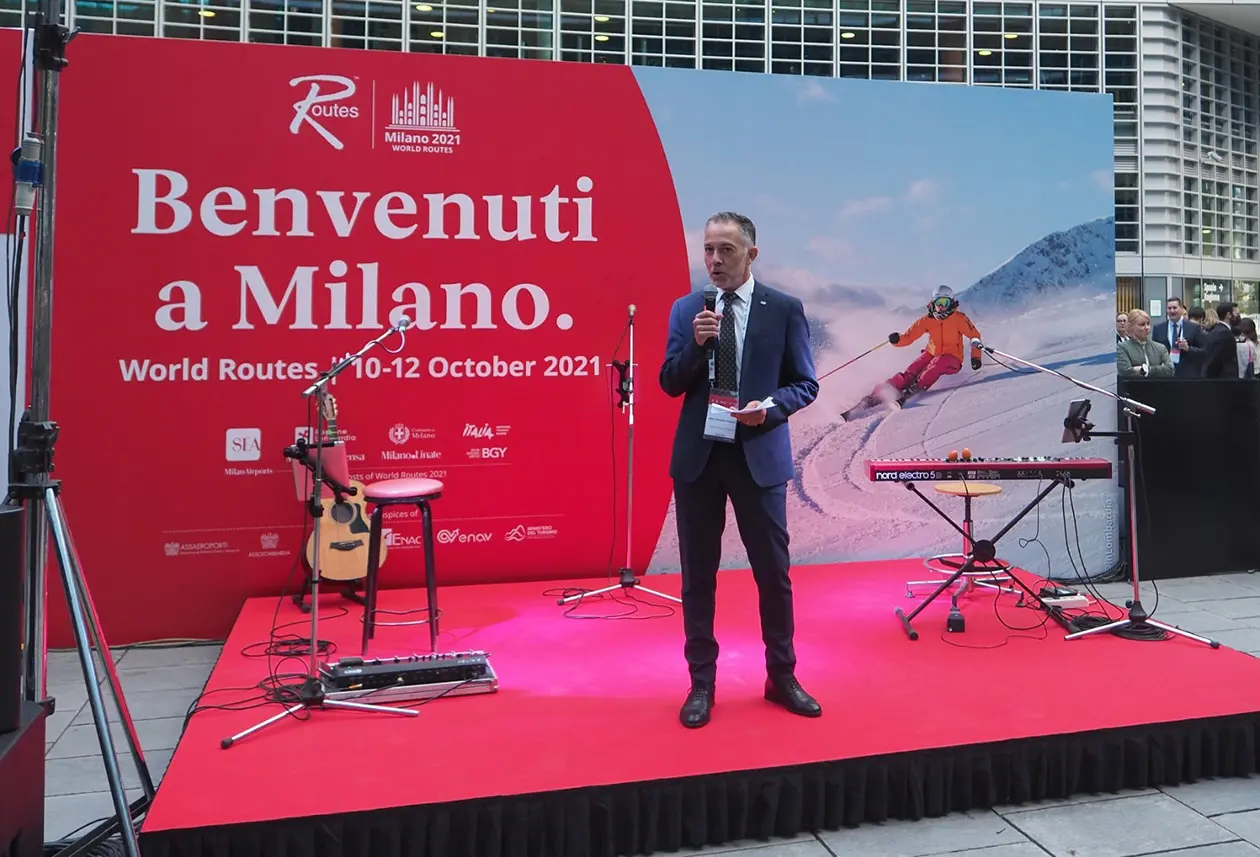 Giacomo Cattaneo in one of the talk of World Routes Milan - Photo © Milan Bergamo Airport.
What are the positive effects of an increase in flight connections for passengers in transit in Milan Bergamo airport, and what sorts of services do you offer?
Milan Bergamo Airport has its own self-connections programme, or virtual interlining, named bergamolynk (powered by Kiwi.com). Whoever purchases a connection between two flights using bergamolynk receives benefits such as free fast track transit, or, if they are travelling with hold luggage, the possibility of rechecking-in the luggage at the pre-security VIP lounge named the "check-in lounge". From this lounge, they can use the internal fast track route for rapid transit through security checks. The increase in the number of destinations and frequencies therefore offers a notable opportunity for boosting the airport's "connecting" users. And we are sure that some of these passengers will notice the fine views of the city of Bergamo seen from our airport, and will perhaps return in the future, with the intention of taking some time to visit our local area, and not just passing through BGY.
Today, travel is still very complicated. What is needed to encourage passengers to return to travelling by air?
Travelling is more complicated than in the pre-Covid period, but nonetheless I wouldn't say that it "is still very complicated". The greatest degree of complexity lies in the regulations that change over time and that differ according to the destination country. But there is still a great desire for travel: there is a tangible feeling of recovery. Many airlines have launched, and are still launching, promotions to stimulate demand, and undoubtedly this has assisted the return of satisfactory volumes. The travel experience will provide momentum, generating the inclination for more trips in the future. The recovery will be more marked if there is a perception of clarity in the rules, above all as regards Covid documentation and requisites. The increasing adoption of vaccination is, I dare to say, the fundamental tool in this sense.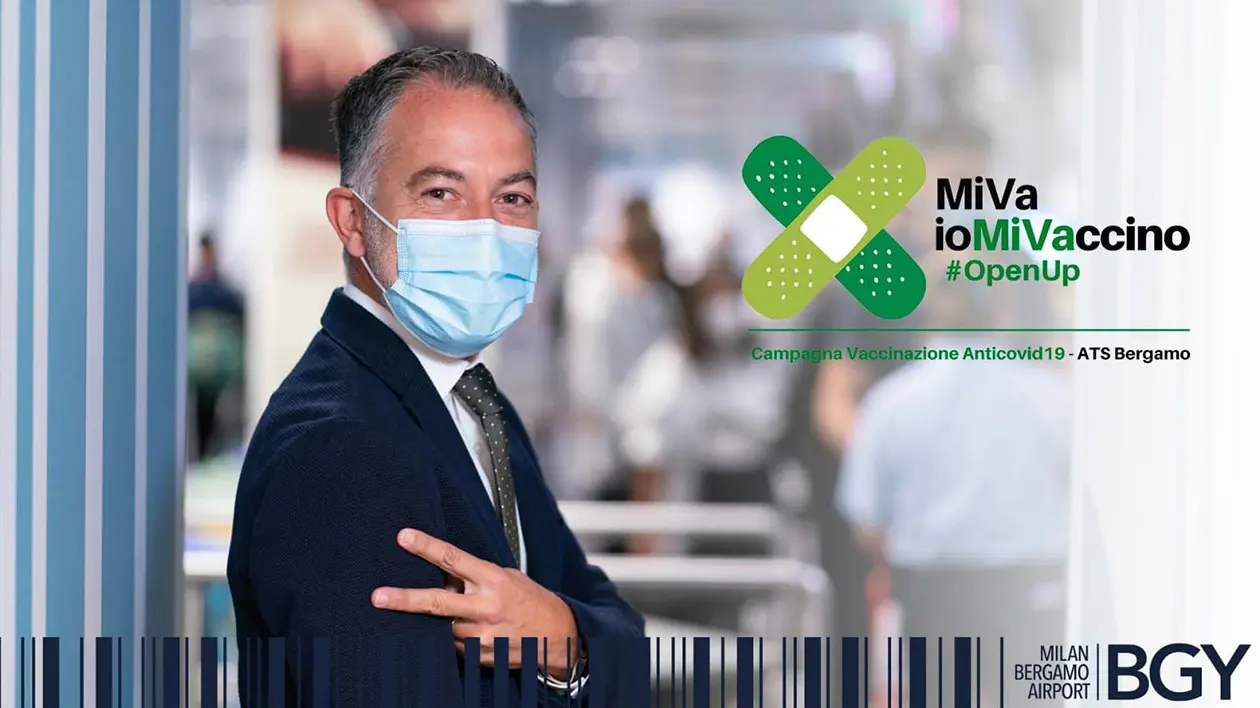 Giacomo Cattaneo and the Staff of Milan Bergamo Airport have joined the ATS Bergamo anti Covid-19 vaccination campaign. Let's get vaccinated together! - Photo: © Milan Bergamo Airport.
In terms of safety, what preparations have you made to deal with the increase in passenger traffic at the airport?
By always complying with all the rules issued by the respective authorities: the airport management company does not define its mode of operation independently, but applies the decisions taken by the various authorities and organisations concerned. For example, there are temperature scanners that monitor everyone entering the terminal, at every transfer to the security area, and for all arriving passengers. There are automatic boarding card readers to ensure that the boarding cards are handled only by the respective passengers. There are automated systems that show, for every WC area, whether the maximum capacity in terms of distancing has been reached or not. And so forth.
What's new for winter 2021/22, and what are the forecasts for passenger traffic volumes?
There is some important news already now, at the start of the Winter 2021/22 season. Ryanair is launching five new destinations: Helsinki, Toulouse, Birmingham, Liverpool and Stockholm Arlanda. EasyJet is initiating flights to London Gatwick; Eurowings is opening in BGY with flights to Dusseldorf; Vueling is making its debut at our airport with flights to Paris Orly. From January, Flyr will run flights between Oslo Gardermoen (OSL) and BGY (for the moment, for the winter period).
The estimated traffic for 2021 is about 6.2 million passengers (a lot will depend on what happens in the final months of the year). This is a long way off our record of 13.8 million in 2019, but monthly figures have been growing fast from July on. For 2022, it is still too early to say; however there is no doubt that we can be optimistic about our future. The terminal is ready, and more than ever before, it has the right dimensions to handle more passengers, both Schengen and non-Schengen, both in departure and in arrival.
Interview by Angela Trivigno
All rights reserved. Copyright © Avion Tourism Magazine / Sisterscom.com
Photo © Milan Bergamo Airport
Sponsored content
Discover all the proposals of Bergamolynk

Bergamolynk - Vip Lounge Service. Video: © Milan Bergamo Airport.
Bergamolynk - Fast Track Service. Video: © Milan Bergamo Airport.
---
SACBO IS THE FIRST ENTERPRISE IN ITALY "BIKE-FRIENDLY COMPANY"
FIAB's "Bike-Friendly Company" certification for Milan Bergamo Airport
SACBO, Bergamo Orio al Serio Civil Airport Company, has been awarded the first "Bike-Friendly Company" certification (CFE-ITA: Cycle-Friendly Employer - Italy, Silver level) by FIAB (Italian federation for the environment and the bicycle), with an official ceremony during the conference "The bicycle as an economic opportunity for local areas and companies" at the Local Areas Trade Fair in Bergamo.
FIAB's "Bike-Friendly Company" certification (CFE-ITA - Cycle-Friendly Employer) gives official recognition to enterprises that have won distinction for having created a workplace that promotes and supports use of the bicycle within their corporate structure.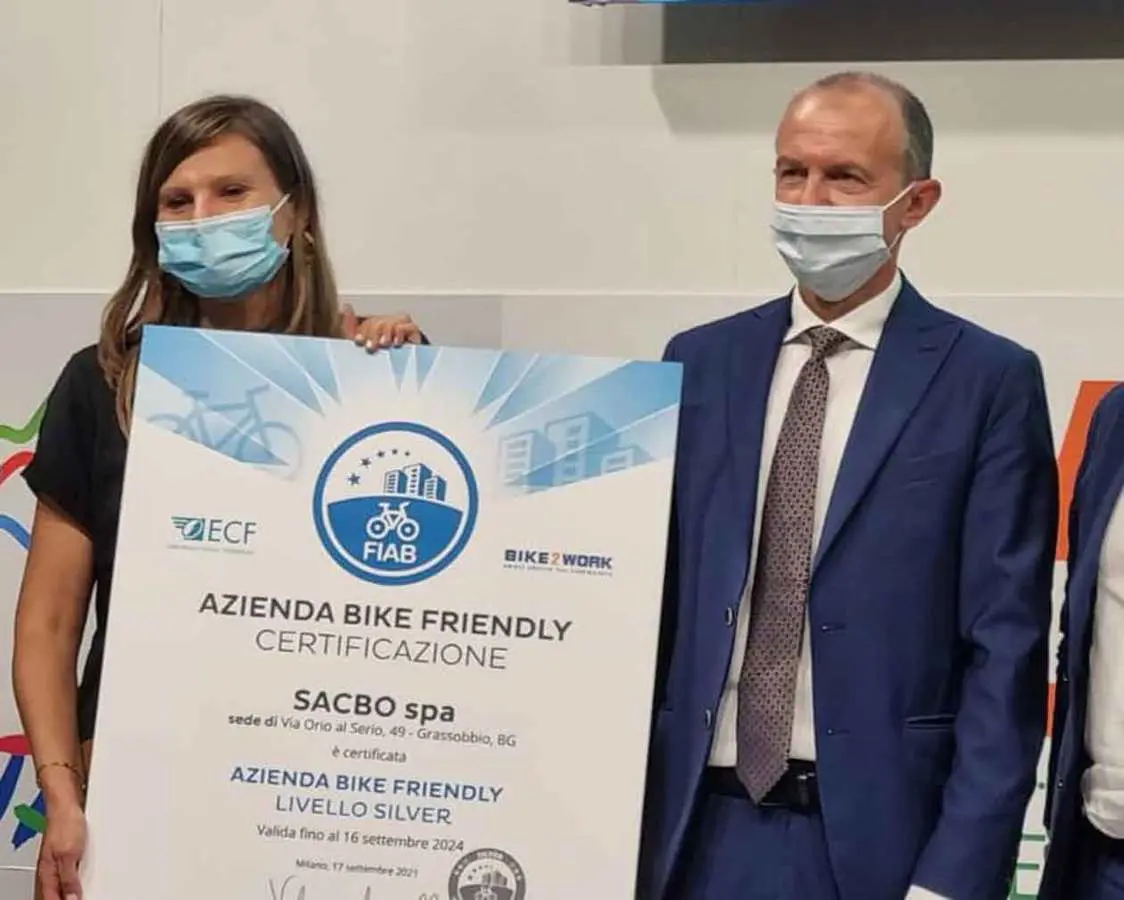 FIAB: for SACBO the first "Bike-Friendly Company" certification. On left V. Lorenzelli (National FIAB Councillor) and on right G. Sanga (Chairman of Sacbo).
Photo: Copyright © Fiab-Italian federation for the environment and the bicycle.
Air transport is a sector destined to involve significant changes, and we predict a future in which sustainability will take centre stage. The European Union's Green Deal together with growing social awareness is generating projects that adopt an integrated approach to tackle the challenge of decarbonisation.
In your opinion, what should airports and airlines do to reduce CO2 emissions and comply with European Union targets for 2050?
They should implement operations designed to optimise facilities and infrastructure in terms of energy efficiency and digitalisation.
In what way does Milan Bergamo airport intend to pursue its own energy efficiency?
By continuing to fulfil its environmental management policy, whose pillars and goals comprise management and/or operational efficiency, in order to attain a constant improvement in the company's environmental performance – as specified in the sustainability report – to reach levels of performance exceeding those required by the regulations currently in force, and therefore achieving an increasingly greater environmental "quality" in the outlook of optimising consumption and costs. All this is brought about by means of a series of operations improving efficiency, such as building structures and infrastructure incorporating high energy efficiency technology, the introduction of green energy supplies (initially 30%, reaching 50% from this year on) for electrical power, in addition to new technologies such as LED lighting and the selection of building materials with low environmental impact. Other measures include the definitive implementation, in 2020, of the ACDM system (a message system that enables greater flight punctuality, with environmental benefits in terms of reduced emissions), the introduction of 400Hz technology, and the renewal of operational and corporate fleets with electric vehicles.
SACBO has reached the third level of Airport Carbon Accreditation certification, which involves airport infrastructure alone, demonstrating the attention dedicated to the theme of atmospheric pollution and the reduction of emissions by methods that include energy efficiency objectives.
Airport infrastructure also has to be reformulated in an outlook of sustainability. What are the operations that Milan Bergamo airport intends to implement in the short and medium-term?
The operations can be subdivided into a series of projections:
Sustainability in its widest sense is one of the fundamental pillars underpinning the compilation of the airport's 2030 Master Plan, starting from the implementation of work hallmarked by technologies minimising the energy requirements for their operational needs, launching the transition towards a fleet of electric operational and corporate vehicles along with an infrastructural network capable of refuelling them, with a further progressive consolidation of the use of a significant quota of green energy.
In this outlook, the Master Plan also specifies the introduction of plant for the production of renewable/high performance energy by building a photovoltaic array and a trigeneration plant (which together will make it possible to cover over 80% of the terminal's energy requirements).
Of no lesser importance, we have already partly created - with completion expected in the near future - a series of transfer fuel lines so that aircraft can be refuelled without the use of tanker vehicles, reducing the consumption of these vehicles and also minimising the amount of traffic in the immediate vicinity of aircraft. All this will be linked to a new jet-fuel distributor capable of also handling so-called SAF (sustainable aviation fuel), whose adoption by air carriers is growing, and that is being strongly promoted by the European Union.
In the transport sector, "interconnection" and "sustainability" will be increasingly linked. In what way will Milan Bergamo airport be interconnected and sustainable?
Milan Bergamo Airport has a significant programme of operations from this point of view, regarding various modes of interconnection.
First and foremost, there is the RFI (Rete Ferroviaria Italiana, Italian railway network) project according to which the rail network will also comprise Bergamo Orio al Serio Airport, giving the link between Bergamo and Milan a high level of efficiency. SACBO is playing an important part in this project, with the prospect of building the structures involved in the connection between the new airport railway station and the passenger terminal.
In addition to this, there is a series of operations designed to improve accessibility to the airport, by separating the flow of passengers entering the terminal from that of airport staff (some of this work has already been completed, while other portions are currently in progress), with the future prospects of new car parks for airport users.
In addition, at our airport, considerable attention is dedicated to so-called soft mobility: not only has the airport helped build a series of cycle paths around the airport over the years, with the objective of completing the "orbital cycle route" around the structure, it has also launched a new project that has enabled the airport to attain CFE - Cycle-Friendly Employer - certification at "Silver" level in September this year, becoming the first Italian company, and the first airport management company in Europe, to attain this certification. The objective is to give the entire airport "bike-friendly" certification, therefore involving the entire Airport Community in the use of this means of transport, and enabling passengers themselves to reach the airport in this way, if they so wish.
All these forms of mobility have a focal point inside the airport, the so-called "Mobility Plaza" from which, in just a few minutes, it will be possible to reach all types of transport, from trains to public transport, taxis, coaches and of course aircraft.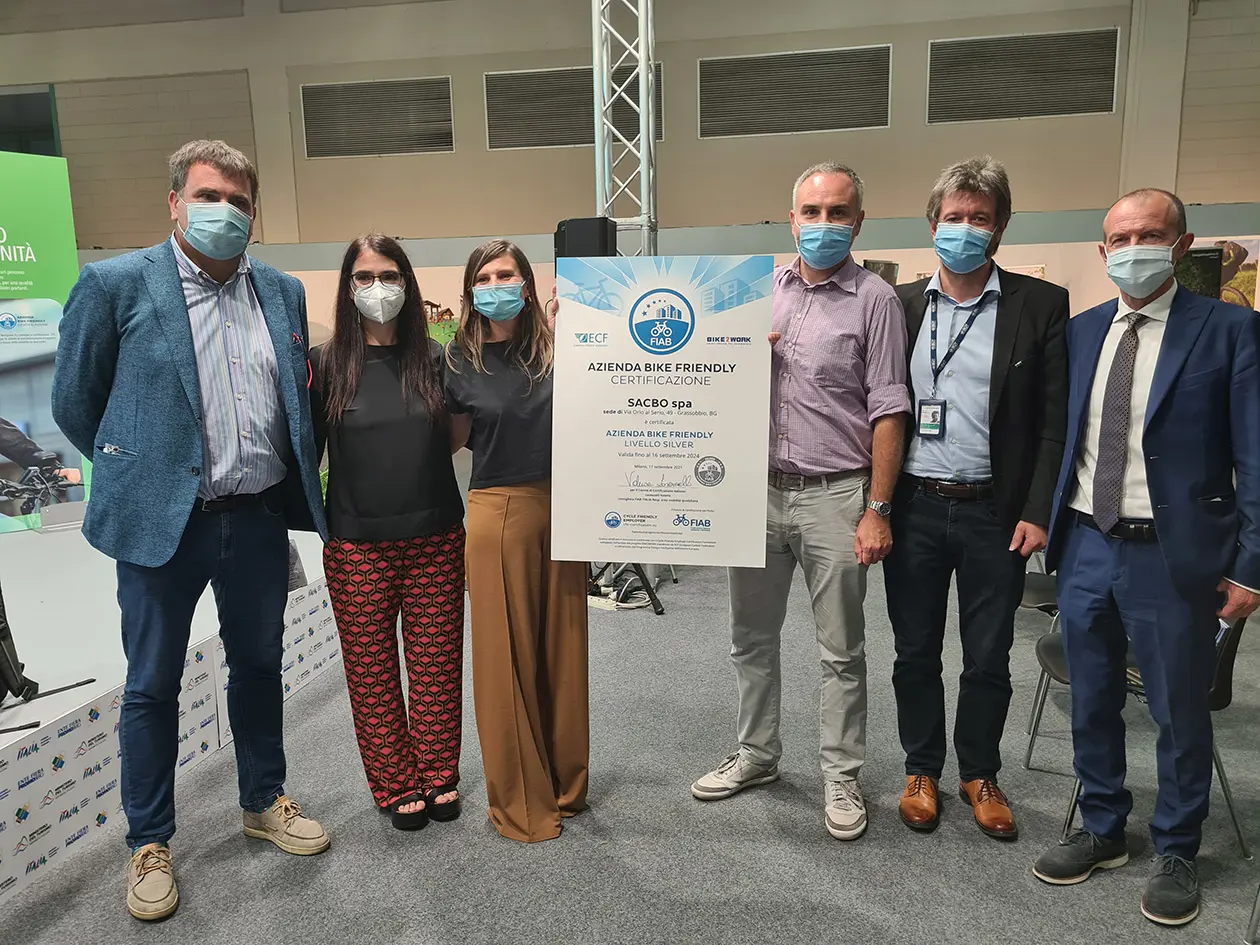 FIAB: SACBO receives the first Bike Friendly Company Certification. Photo: Copyright © Fiab-Federazione Italiana Ambiente e Bicicletta.
Cooperation with airlines is fundamental. How does Milan Bergamo airport intend to incentivise airlines to adopt sustainability?
By means of ongoing interchange and discussions regarding the introduction of new technology, innovations, and projects for increasing efficiency currently under way, so that the structural interventions that are necessary to guarantee the use of these improvements can be planned.
What will be the benefits for passengers in transit through sustainable airports, and how can they themselves help make the sector increasingly green?
A sustainable airport offers greater possibilities and greater opportunities to make the travel experience even more "comfortable", with the possibility of organising the airport in such a way that it is capable of handling the added values that passengers - stakeholders in this process - can themselves bring to sustainability while reaching the terminal and spending time there. Considering the most direct actions, such as the use of digital technology made available to them or choosing the means of transport to reach the airport, right through to everyday gestures such as separate disposal of the waste that remains after having consumed something, passengers in a sustainable airport should be able to discover the ways of performing them as naturally as possible.
Interview by Angela Trivigno
All rights reserved. Copyright © Avion Tourism Magazine / Sisterscom.com
Photo © Milan Bergamo Airport
---
ANTI COVID PROVISIONS AND MEASURES
Airport procedures. Video: © Milan Bergamo Airport.
MILAN BERGAMO AIRPORT
CERTIFICATE FOR ANTI COVID-19 MEASURES
ACI World renews Airport Health Accreditation for SACBO
SACBO, the company that manages Milan Bergamo Airport, has been granted renewal of its Airport Health Accreditation, issued by ACI World, the International Airport Association. This is a form of recognition that, following assessment, confirms the correct and effective application of anti-COVID-19 procedures.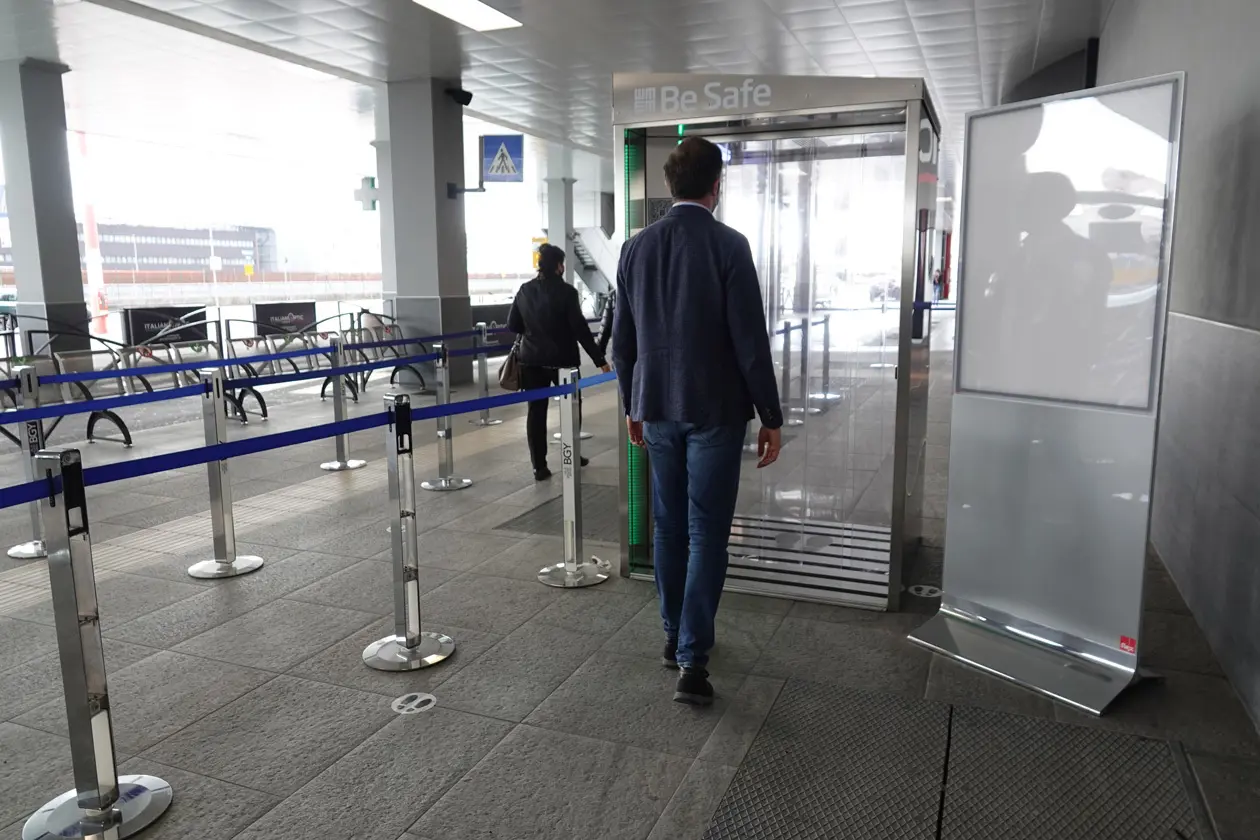 Cabin of sanitation at Milan Bergamo Airport. Photo © Milan Bergamo Airport.
Airport Health Accreditation provides a clear comparison between the health measures applied by the majority of airports worldwide in order to combat the spread of Covid-19 and is granted following verification that said measures comply with the guidelines set out by international health organisations and best sector practices.
---
the utmost levels of respect for COVID-19 protocols BY Milan Bergamo Airport
Tüv Süd has renewed Hygiene Synopsis Certification for Sacbo for prevention of Covid-19 risk
SACBO has received recognition from TÜV SÜD, one of the most prestigious certification bodies, with the renewal of Hygiene Synopsis certification for the full and correct application of methods to prevent the risk of Covid-19 in airport passenger areas and in the airport management offices.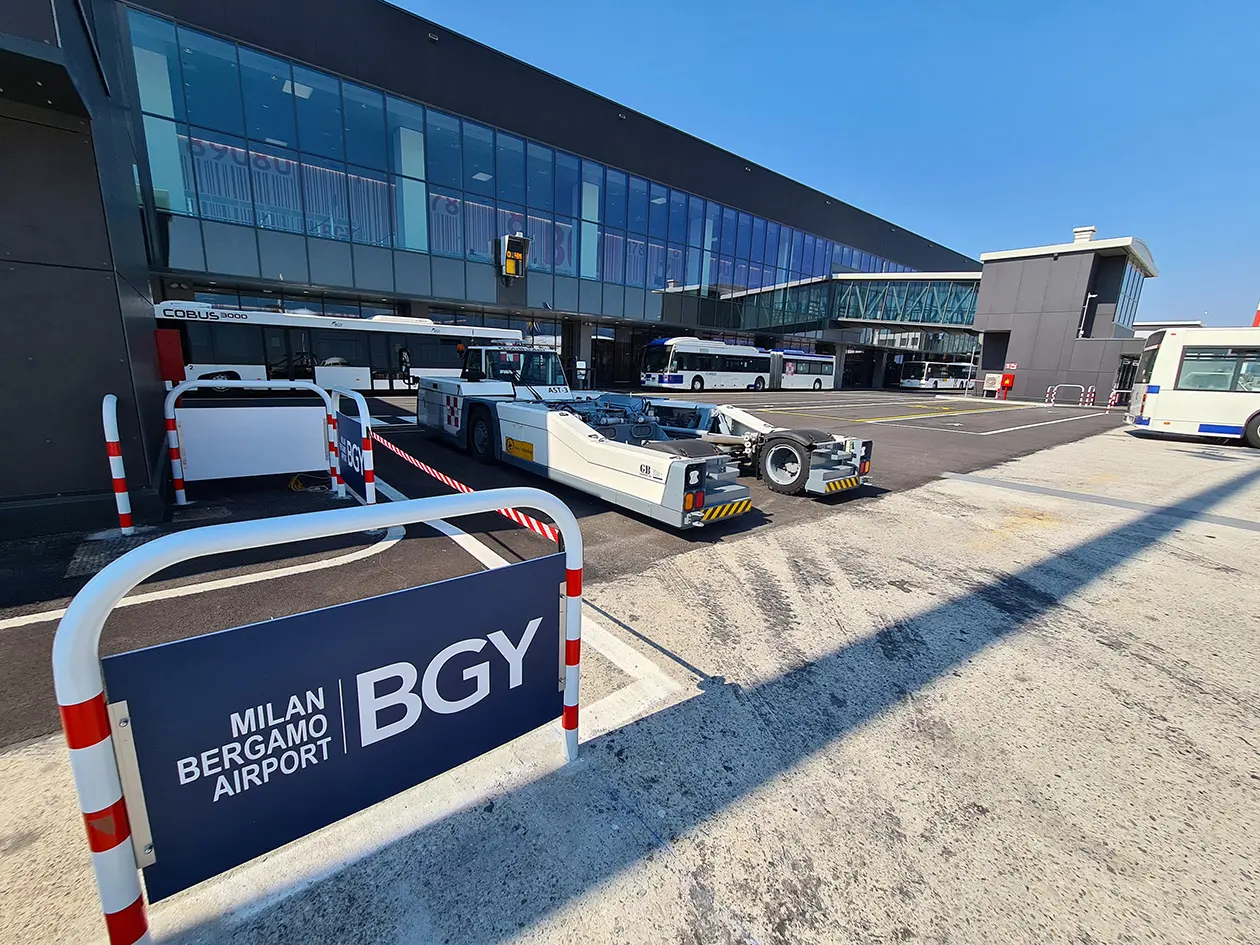 Air Side view of Milan Bergamo airport. Photo: © Milan Bergamo Airport.
The renewal of the certification, previously obtained in July 2020, granted on 23 June 2021, took place following strict controls of documentation and detailed inspections, and confirms the attention to preventative measures implemented since March 2020 to guarantee a focus on passenger safety involving all the staff at Bergamo airport.
Passengers have confirmed their
appreciation of Milan Bergamo airport
The airport has achieved significant improvements in customer satisfaction index for its services
The comparative analysis for the third quarter of 2021, compiled by Airports Council International – ACI World (the global airports association) across a sample of 250 airports, reveals a Customer Satisfaction Index of 4.3 on a scale of 5 for Milan Bergamo Airport, in substantial alignment with the average global value (4.4) and second highest in Italy, behind just Rome Fiumicino, and above the value for Italian airports overall, for which the average Customer Satisfaction Index is 4.0. It is important to remember that the average global value of 4.4 is affected by scores close to the maximum possible for airports in Far Eastern and Gulf countries.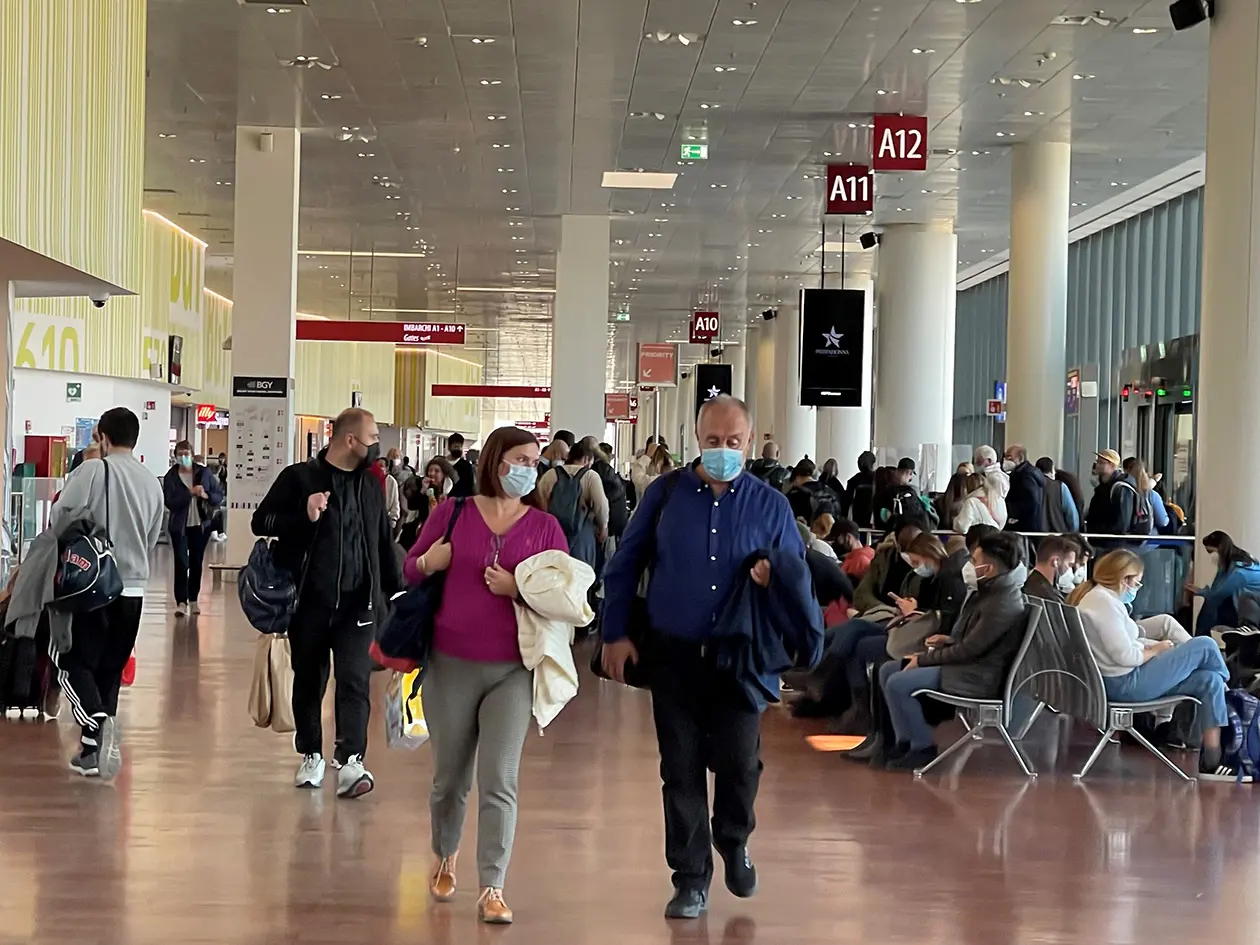 The boarding gates of Milan Bergamo airport. Photo: © Milan Bergamo Airport.
For Milan Bergamo Airport, a particularly important factor is the customer satisfaction index for business passengers, which reaches the value of 4.5, higher than both the average value for Italy (4.0), and the average global value (4.3).
The efforts that SACBO has made to meet the demands of passengers interested in ancillary services have led to good results for the airport, with a high degree of satisfaction for the new airside area Vip Lounge (customer satisfaction index 4.2), higher than the index for analogous lounges both in Italian airports (average value 3.9) and also better than the global average (4.1).
When compared to many
Italian and international airports
,
Milan Bergamo airport
shows better levels of customer satisfaction for the following aspects as well:
ground connections,
car park accessibility and quality/price ratio,
staff courtesy and efficiency,
ease of reaching boarding gates, and easy passenger mobility inside the terminal,
variety of stores and catering venues, and their quality/price ratio.
Overall, Milan Bergamo Airport shows improvements in customer satisfaction index values when compared to preceding quarters, and further improvements are to be expected following the extension of the terminal on the west side, with more space for Schengen gates and for arriving passengers, and the completion of access infrastructures, which include, in the medium term, the rail link.
---
TOURIST PROMOTION of lombardy
at MILAN BERGAMO airport
An agreement signed with Sacbo for the tourism promotion of Lombardy
The aim of the agreement is to render the airports the "main port of arrival" for tourism in Lombardy. Lombardy climbs to new heights in its promotion of tourism and the beauty of the area on an international level.
In the wake of collaborations with the airlines Ryanair and easyJet, an agreement has now been signed between the Lombardy Region, represented by the councillor for Tourism, Territorial Marketing and Fashion Lara Magoni, and SACBO, the company managing Milan Bergamo Airport, represented by the managing director Emilio Bellingardi.
The agreement between the Lombardy Region and SACBO has a number of objectives. First of all, to raise awareness and promote the inLombardia tourism brand on an international level. Furthermore, the collaboration provides for the sharing of information on passenger flows and air traffic for monitoring international mobility.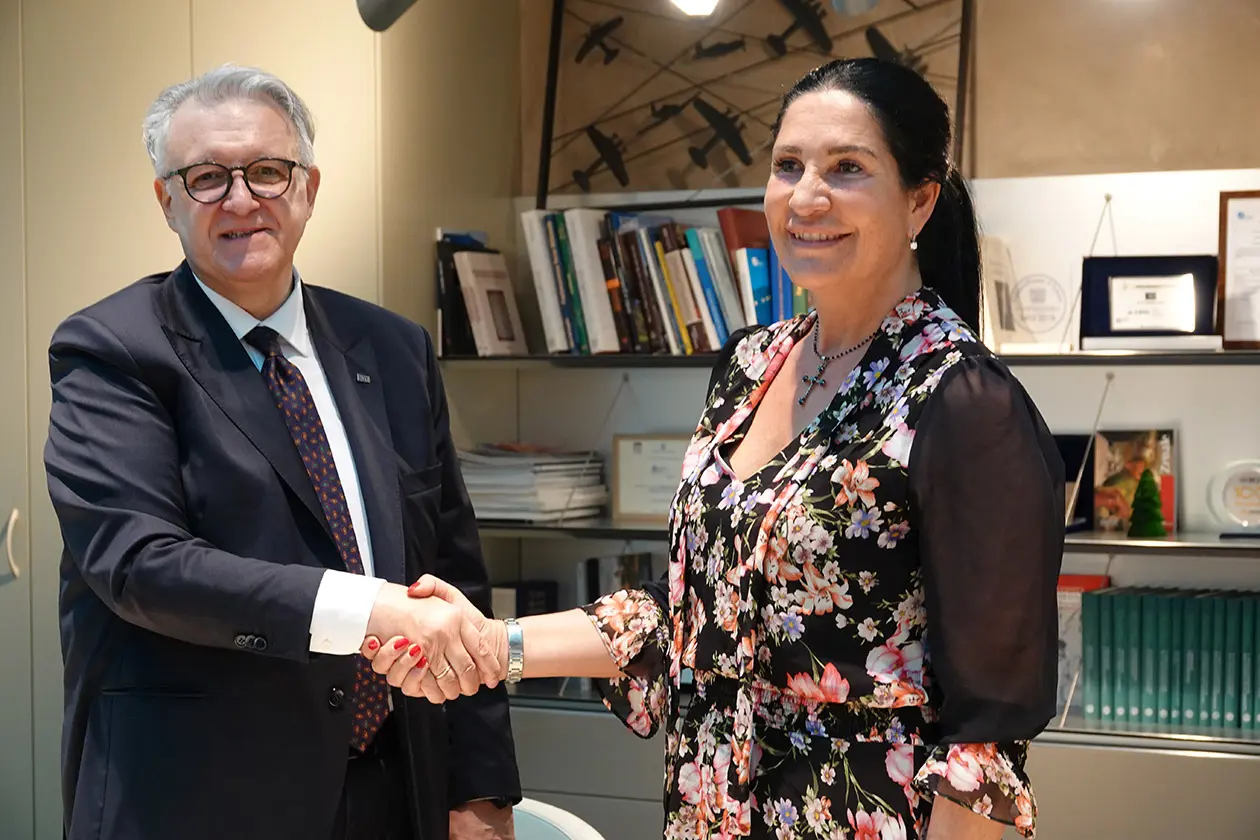 Emilio Bellingardi e l'Assessore regionale Lara Mangoni. Foto Copyright © Aeroporto di Milano Bergamo.
The agreement will also allow for collaboration in communication for the competitive repositioning of the Lombardy destination and the recovery of international tourist movement. To this end, the aim is to develop initiatives of reciprocal interest, focusing on digital instruments for the promotion of the Lombardy area (internet and social network channels, LCD monitors in the airport...). Lastly, it will also ensure reciprocal hospitality for B2B and/or B2C activities of common interest.
"The collaboration with Milan Bergamo Airport is strategic, said the councillor Magoni. It is one of the most important airports in Italy, counted among the top destinations in Europe, and represents a fundamental access point not only for the Bergamo area but also for the entire Lombardy region and Northern Italy, considering the annual movement of almost 14 million passengers in 2019".
"The objective of the airport is to serve as an ideal calling card for tourists arriving in Lombardy, added Lara Magoni. Efficient services, cutting-edge infrastructure and attractive proposals for tourists. The Lombardy airports, from Bergamo to Malpensa and Linate, well-connected to the main motorway and railway hubs, allow the general public to quickly reach the main tourist destinations in our region; first and foremost Bergamo, as well as all the cities of art, the lakes and the mountains. The airports are therefore an excellent driver for tourism in our territories. They will play a fundamental role in the recovery of movement following these difficult months".
Sponsored content
Transfer to/from Milan Bergamo Airport
Among the various
transfers from/to Bergamo Airport
you can choose a
private transfer
with
driver
offered on the
GetTourGuide
website, a specialized online platform that brings together the best travel experiences around the world, or you can book the bus with
Autostradale
,
Flixbus
or
Terravision
, conveniently online before traveling.
SUMMARY
The Html digital edition of Avion Tourism Magazine enables anyone to read the contents published on any device and access the website pages and multimedia content. It can be read vertically, scrolling the articles DESTINATIONS, AIRPORTS, AIRLINES and NEWS & USEFUL INFO, and horizontally, passing directly from one item to another in the navigation menu found under the header. After reading the in-depth articles proposed, you can return to the Html digital version of the magazine by clicking on the relevant key "Return to Avion Tourism Magazine".
Avion Tourism Magazine N75/2021 Special Edition for Milan Bergamo Airport
Issue closed by Editorial Staff on 18 November 2021.
Editor in chief: Angela Trivigno. Contributors: Angela Trivigno. Collaboratori: Alisè Vitri, Anna Glik, Enzo Cuppatri, Eugenio Sorrentino, Isabella Duse, Lisa Maria River, Luca Lembi, Maria Salini, Nicolò Villa. Translations: Juliet Halewood. Cover photo: Copyright © Sisterscom.com Snc / Jovannig / Depositphotos.com. Photographs Archive of Sisterscom.com Snc. Images used with purchased license. Copyright © Sisterscom.com Snc / Shutterstock.com and Depositphotos.com (Photo for editorial use only: Copyright © Sisterscom.com Snc / Photographers specified under each published photo / Shutterstock.com / Depositphotos.com). Press Office: Tourism boards indicated in the published tourist destinations; Euroitalia Srl; Pressjam; Sacbo S.p.A.; VideoPr Srl-Lulop.com. Avion Tourism Magazine Special Edition for Milan Bergamo Airport N.75/2021: issue closed by Editorial Staff on 18/11/2021 and published on www.aviontourism.com Registration: Registered at Bergamo Law Court N.1 of 09/01/2003 and N.9/2019 of 03/07/2019. Periodicity: semiannual. Publisher, Editing, Administration and Advertising: Sisterscom.com Snc - Via Piave, 102 - 23879 Verderio (Lc) - Italy. P.Iva/C.F. 03248170163 - Registro delle Imprese di Lecco Numero LC-304260. Literary and artistic property: Copyright © Sisterscom.com Snc. All rights reserved. Reproduction prohibited in any form and medium.