09 December 2022
Classic Micro-Rotor "Série Atelier" Magnetic Green by Laurent Ferrier
In a limited edition of 20 pieces, it is a masterful timepiece that combines emotional allure, technical perfection and design harmony in a single creation
Swiss watchmaker Laurent Ferrier presents the Classic Micro-Rotor Magnetic Green as part of its all-new "Série Atelier". The brand is turning its production upside down and taking the time to thank its community. This new addition in the "Série Atelier" collection is indeed a tribute. Firstly a tribute to the previous "Série Atelier", but above all a tribute to its community of collectors some of whom have supported it since its creation.
It's no secret that globally the watch industry has been enjoying a nice upturn for some time. But the latter can sometimes put collectors at a disadvantage because of the reduced accessibility of timepieces. Although Laurent Ferrier does not have a miracle solution to this supply problem, the House has been offering an initial response for two years now. The idea is to enable a handful of the most reactive collectors to obtain a precious #laurentferrier timepiece in less than two months.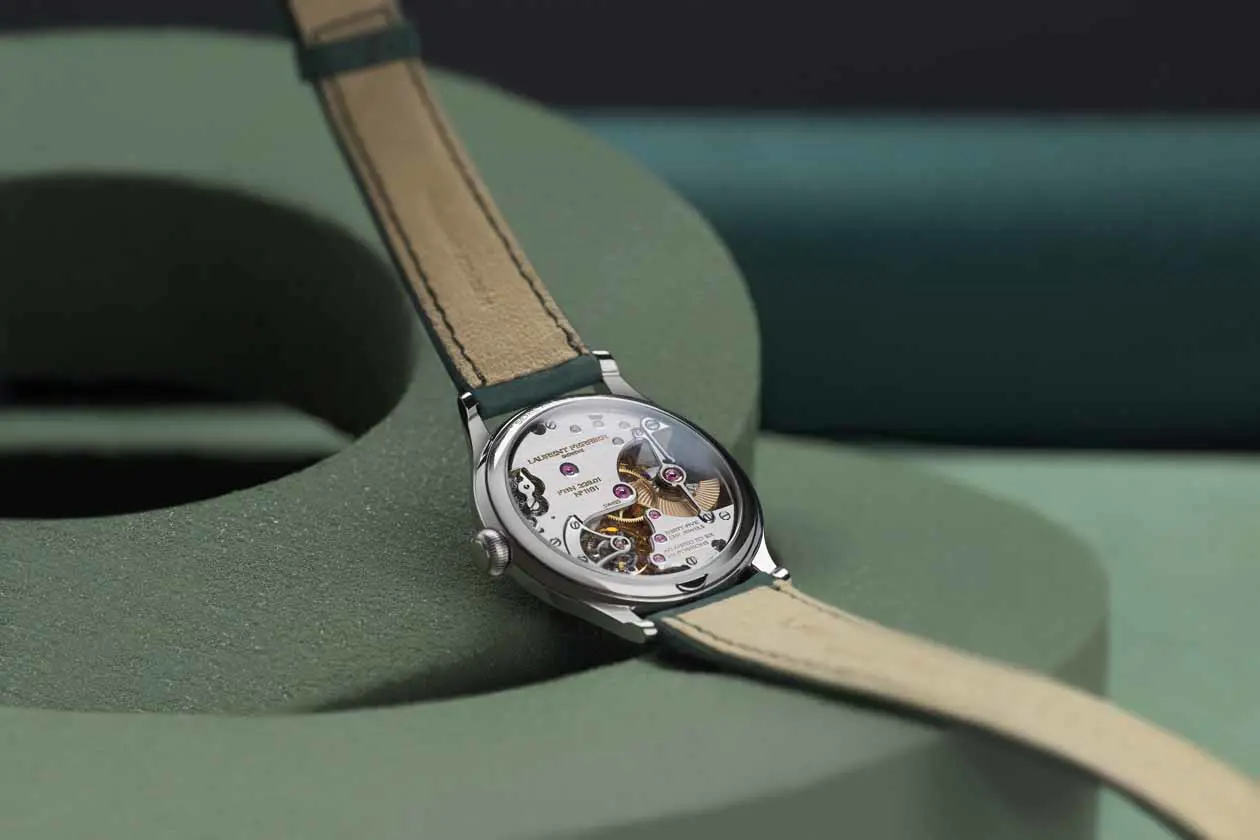 Classic Micro-Rotor "Série Atelier" Magnetic Green, Laurent Ferrier. Copyright © Laurent Ferrier.
These direct-to-consumer collections are called "Série Atelier" and are limited and numbered editions. This strategy is part of the ongoing policy to deliver an exclusive experience that supports the brand's values and heritage. By limiting these collections to rare numbered series, Laurent Ferrier intends to maintain confidential exclusivity by closely controlling the availability of the timepieces and by creating a link between the collector and one of its watches. Time is of the essence when it comes to delivering a grail watch to its aficionado. On the occasion of this direct sale, #laurentferrier undertakes to reduce delivery times by guaranteeing shipment within 40 days of purchase.
Previously used to adorn the Classic Traveller, this magnetic green dial features striking vibrant green hues and has been designed exclusively for discerning connoisseurs who seek not only watchmaking precision and quality but also distinctive style. Laurent Ferrier offers a new luxurious interpretation of this distinctive green.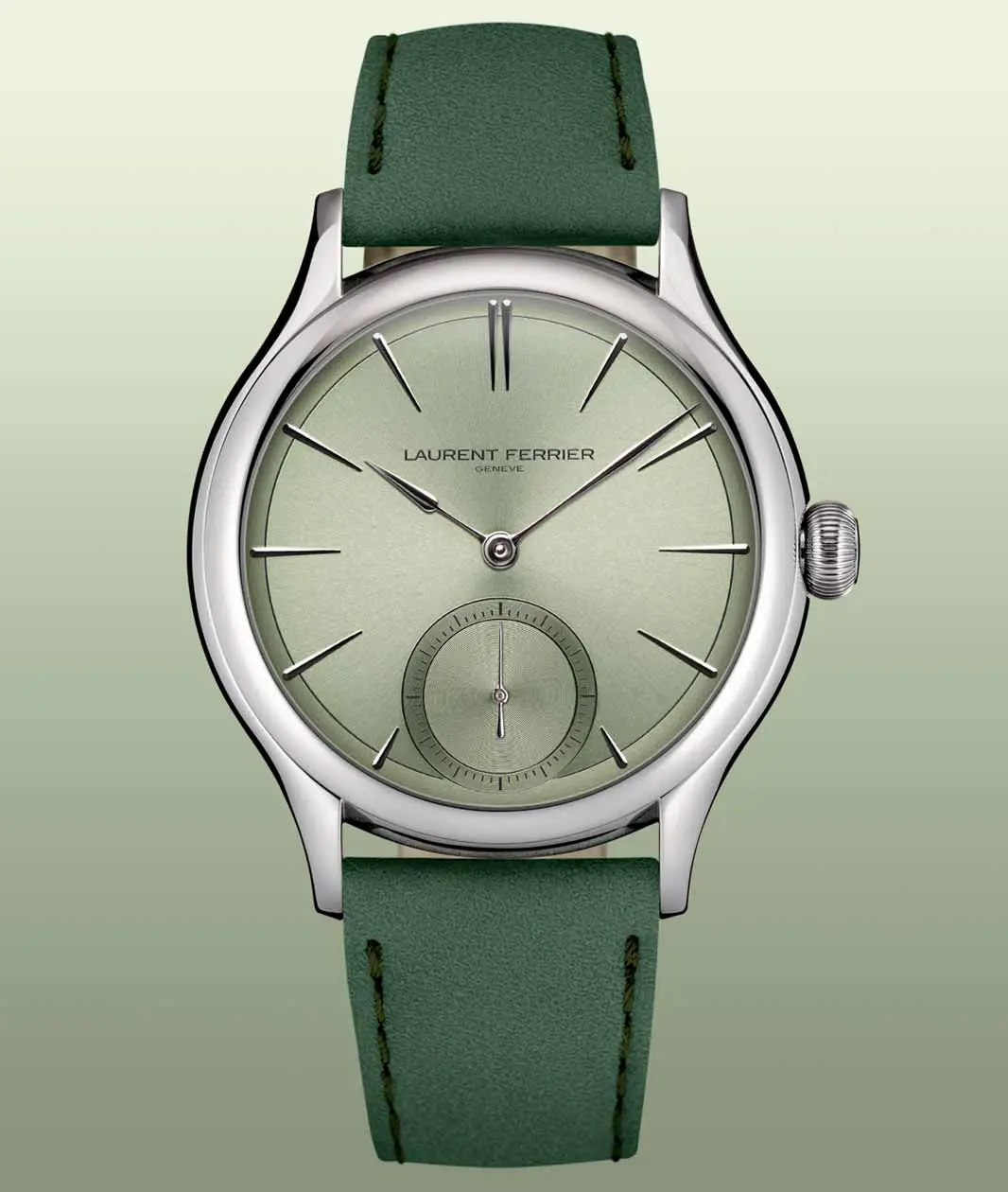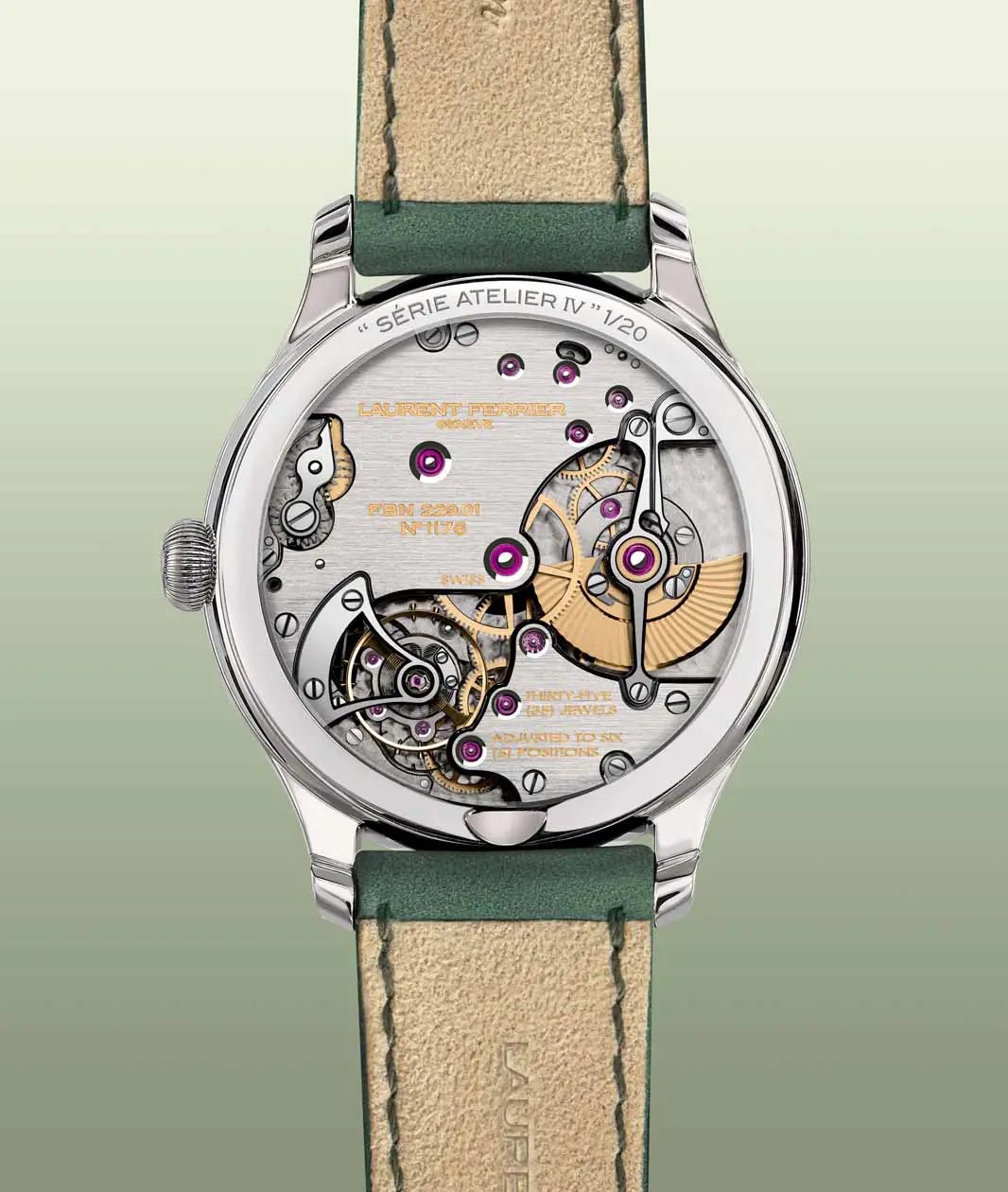 Classic Micro-Rotor "Série Atelier" Magnetic Green, Laurent Ferrier. Copyright © Laurent Ferrier.
The dial is made up of two different finishes, which provides a unique, undulating visual effect as the dial evolves, creating a hypnotic ballet of shadow and light. The drop-shaped 18ct white gold indexes complete the highlighting of the dial and add an undeniable touch of elegance. Then comes the small seconds, at 6 o'clock, set back from the thickness of the dial, to paradoxically highlight it. Its markers are transferred in slate grey, with extreme finesse. The concentric circular snailed pattern, creates a demarcation, a geometry, which gives the hand a space to express itself.
Extremely fine, baton-shaped, this second hand is balanced by a slightly convex counterweight, one of the brand's favourite shapes, with which the dial of the Classic Micro-rotor "Série Atelier" is dotted. This same relief can also be found on the stamped hour and minute hands, anchored in the centre. They adopt the fetish shape of #laurentferrier, known as Assegai, like these spears with a long and slender blade. As soon as the surprise of discovering their cut-out has passed, the gaze lingers again on the shine, the reflections, the subtle roundness.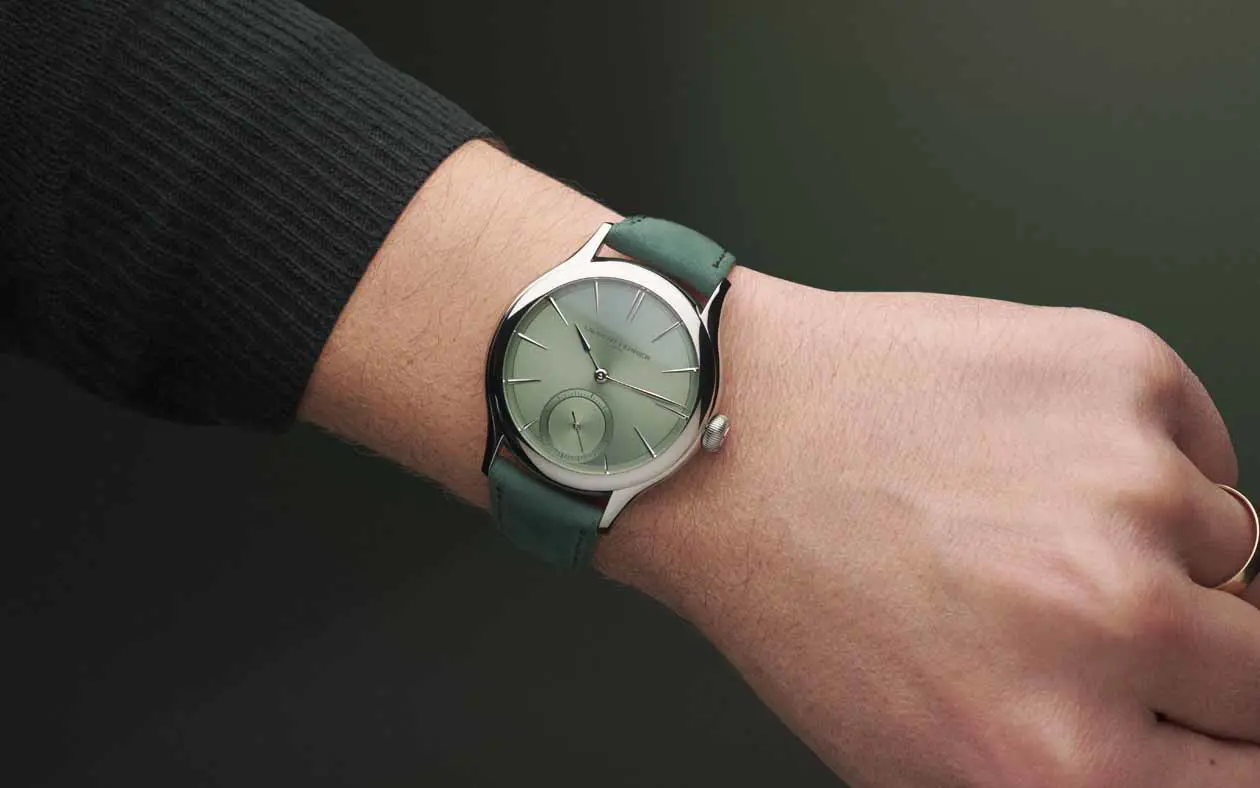 Classic Micro-Rotor "Série Atelier" Magnetic Green, Laurent Ferrier. Copyright © Laurent Ferrier.
.
The bewitching magnetic green dial is housed in a 40mm case in grade 5 titanium. This case offers the softness, the domes and the curves specific to the "pebble"-shaped cases created by #laurentferrier from the beginning. Its sides, bezel and lugs are polished. This operation gives the Classic Micro-rotor "Série Atelier" a sophisticated finish, just as precious as white gold, but with a wear that is overwhelmed by the properties of titanium. Four times lighter than 18 ct white gold, it makes the Classic Micro-rotor "Série Atelier" featherweight, the feel of which disappears on the wrist. In addition, titanium is a very hard material which is extremely resistant to wear and tear. However, here the polishing is obtained by friction operations which border on the caress. This choice, devoid of compromise, is made for a single purpose: the Classic Micro-rotor "Série Atelier" must, from all angles, be pleasant to wear, to touch and contribute to the comfort of its wearer.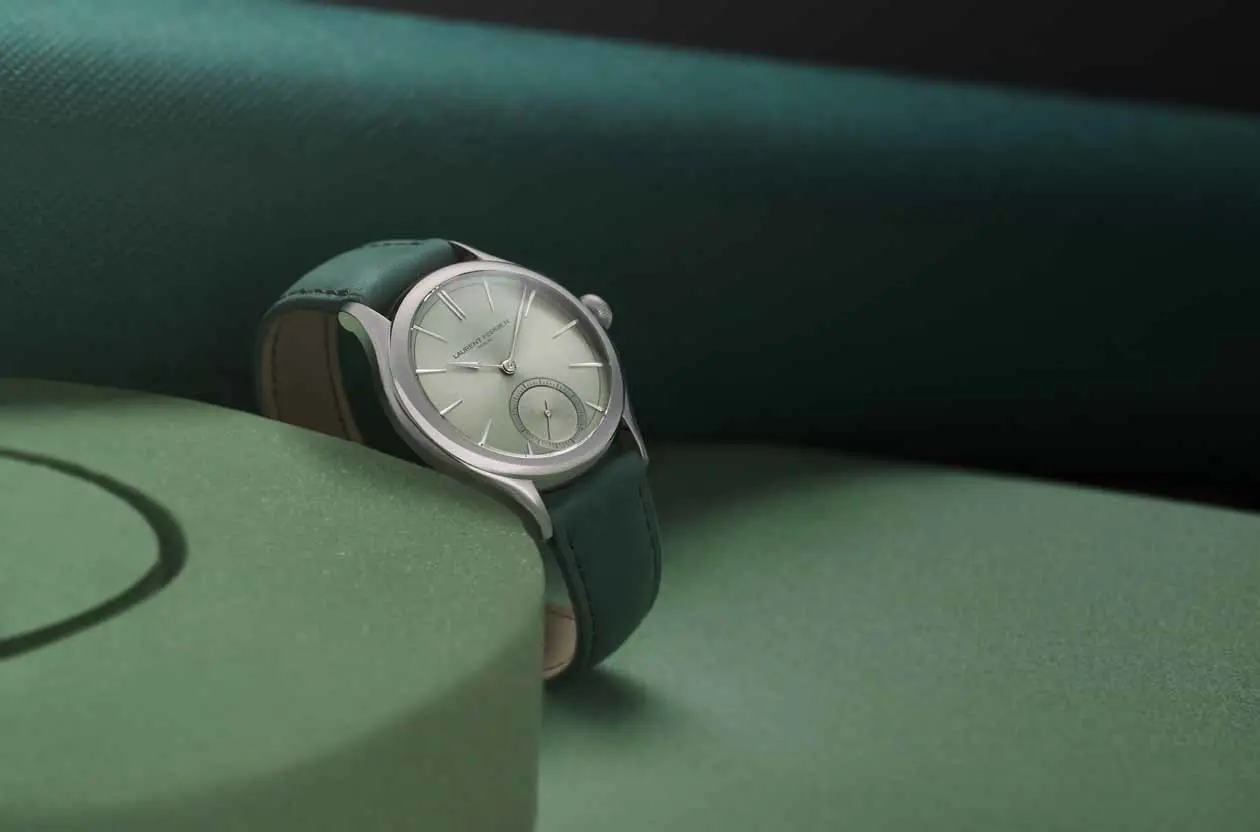 Classic Micro-Rotor "Série Atelier" Magnetic Green, Laurent Ferrier. Copyright © Laurent Ferrier.
The movement that powers the Magnetic Green dial is Laurent Ferrier's famous Micro-Rotor, a cutting-edge technology that enables precise timekeeping and an optimised power reserve. The FBN 229.01 calibre with natural escapement, a movement resulting from an historic collaboration, is equipped with a micro-rotor with an 18-carat gold oscillating weight with unidirectional winding. The sapphire crystal caseback offers an unobstructed view of the high-quality finishing, of which Laurent Ferrier is one of the most emblematic practitioners. Finely circular-grained plate, hand-bevelled bridges decorated with a rhodium-plated horizontal satin-brushed finish, mirror-polished and openworked pallet bridge to reveal exceptional hand-made inward angles, rotor bridge also mirror-polished and hand-bevelled, bevelled and guilloché rotor, so many details that bring relief, brilliance and a rendering faithful to the most demanding traditional watchmaking timepieces. This double direct impulse escapement on the balance, just as rare as it is complex to make, was inspired by the father of modern watchmaking, Abraham-Louis Breguet. The Classic Micro-rotor therefore offers a substantial power reserve of more than 72 hours.
Il Classic Micro-Rotor Magnetic Green sostiene la reputazione di Laurent Ferrier per la creazione di segnatempo magistrali che uniscono fascino emotivo, perfezione tecnica e armonia del design in un'unica costruzione. In conformità con le edizioni precedenti, questo Micro-rotore Classico "Série Atelier" Magnetic Green è prodotto in una quantità limitata di soli 20 pezzi ed esposto al prezzo di CHF 49.500 IVA esclusa, disponibile esclusivamente sul sito di Laurent Ferrier.
The Classic Micro-Rotor Magnetic Green upholds Laurent Ferrier's reputation for creating masterful timepieces that combine emotional appeal, technical perfection and design harmony in a single construction. In accordance with previous editions, this Classic Micro-rotor "Série Atelier" Magnetic Green is produced in a limited quantity of 20 pieces only and displayed at the price of CHF 49,500 excluding tax, exclusively available on the website of Laurent Ferrier.
AVION LUXURY MAGAZINE
in digital version
DESTINATIONS Aruba, un viaggio ai Caraibi. HOTELS Un Bvlgari Hotel a Roma. JETS La serie Phenom 300 di Embraer - La cabina Executive di Bombardier. CARS Bugatti Chiron Profilée -1000 Miglia Experience UAE.
YACHTS Grande 26M di Azimut - Nautica e benessere con Arcadia. WATCHES Planetarium Dunes of Mars Limited Edition.