20 July 2020
Dior Autumn-Winter 2020-2021 Haute Couture Collection
Unparalleled mastery and detail in a poetic universe of a wonderful collection
Alchemy is a form of magic, so the transformation of images, or bodies, in art acts on dream/psychic
substance. (Leonora Carrington)
Excerpt from Surrealist Women: An International Anthology, edited by Penelope Rosemont.
"Surrealist images manage to make visible what is in itself invisible. I'm interested in mystery and magic, which are also a way of exorcising uncertainty about the future," says Maria Grazia Chiuri of her Fall-Winter 2020-2021 Haute Couture Collection.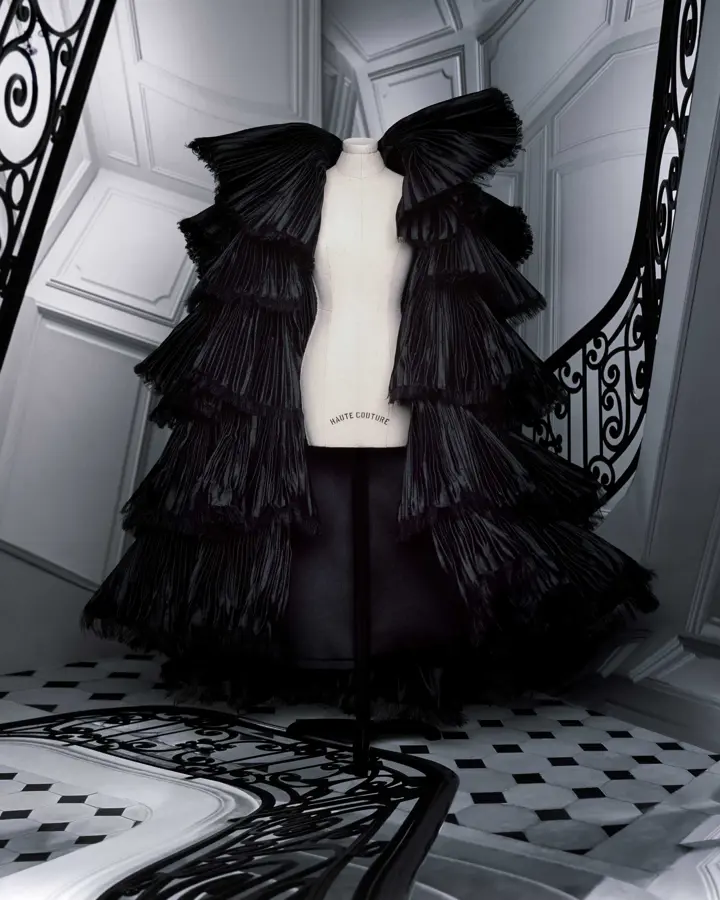 Dior Haute Couture Autumn-Winter 2020-2021 Collection. Photo: Copyright © Dior.
During this unprecedented period, the Creative Director of Dior women's collections chose to focus on the work of artists such as Lee Miller, Dora Maar and Jacqueline Lamba, who transcended the role of "muses" to which their beauty had initially relegated them in order to champion – in their lives and surrealist works a different femininity.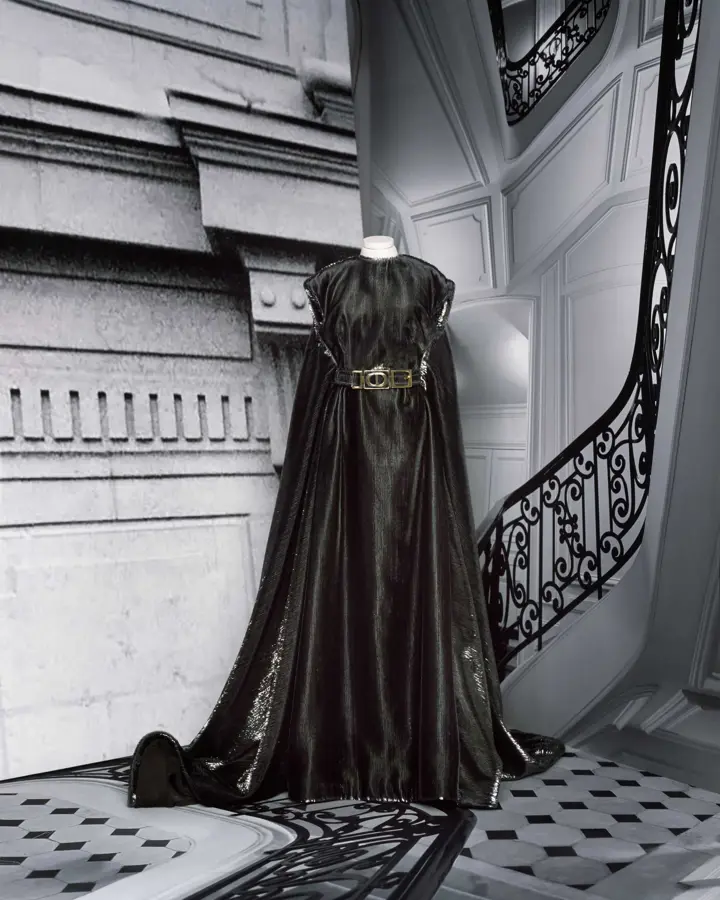 Dior Haute Couture Autumn-Winter 2020-2021 Collection. Foto: Copyright © Dior.
The new collection is imbued with that attitude: one that is connected, attuned to nature and transformation. Certain pieces display spectacular gradations of red, like a coral reef swaying in the glimmer of the ocean. The colors of paintings by Leonora Carrington and Dorothea Tanning live on in these creations through luminous hues and dreamworlds.
The surrealists' female body also conjures a reinterpretation of the miniature mannequin, a poetic emblem at the heart of the couture universe. The artist Cindy Sherman appropriates this almost magical object in one of her first video projects, which oscillates between the history of fashion and the possibility of a new representation; today, these miniatures make it possible to invent a different ritual.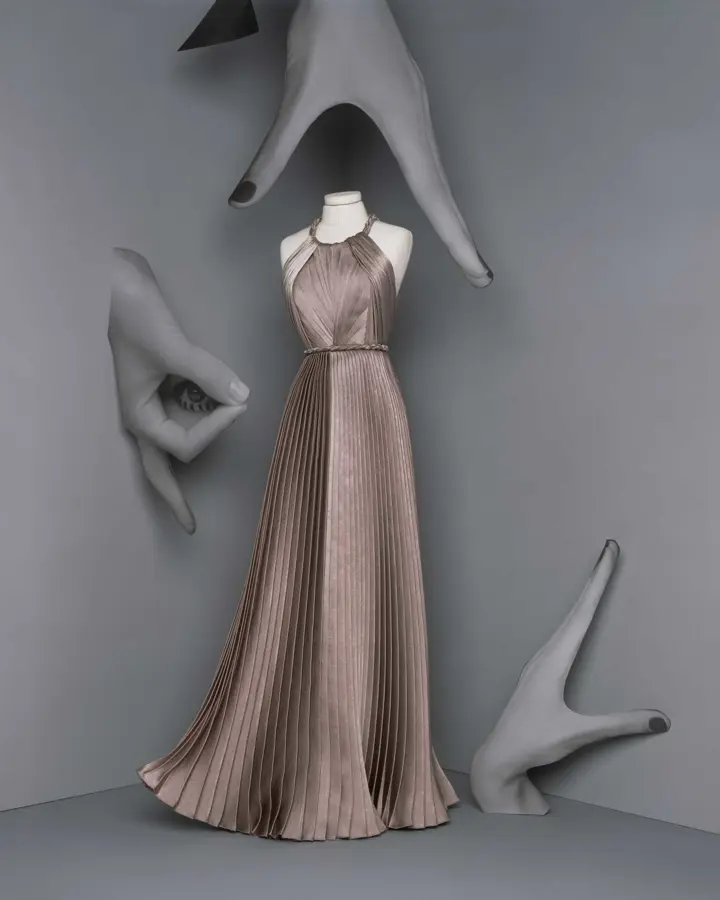 Dior Haute Couture Autumn-Winter 2020-2021 Collection. Foto: Copyright © Dior.
And so, in a magical trunk embodying 30 Avenue Montaigne, the Haute Couture Collection embarks on its world tour. Evoking Monsieur Dior's own odyssey, it echoes the Théâtre de la Mode, a roving exhibition of styles by French couturiers that traveled between Europe and America right after the war.
The Dior Ateliers also played a major role in that adventure. Starting with haute couture "day looks", with suits in men's fabrics of exceptional architecture representing a virtuoso feat, that of a perfectly-crafted, miniature creation.
A coat reveals pleated layers. Draping evokes antique statues. Luminescence sublimates the gray and golden yellow tones, offering a dazzling brilliance.
Produced entirely by hand, the folds dressing these miniatures celebrate the beauty of the creative gesture, which is the essence of couture. And for the grand finale: a wedding gown, in keeping with tradition, a symbol forgotten over time.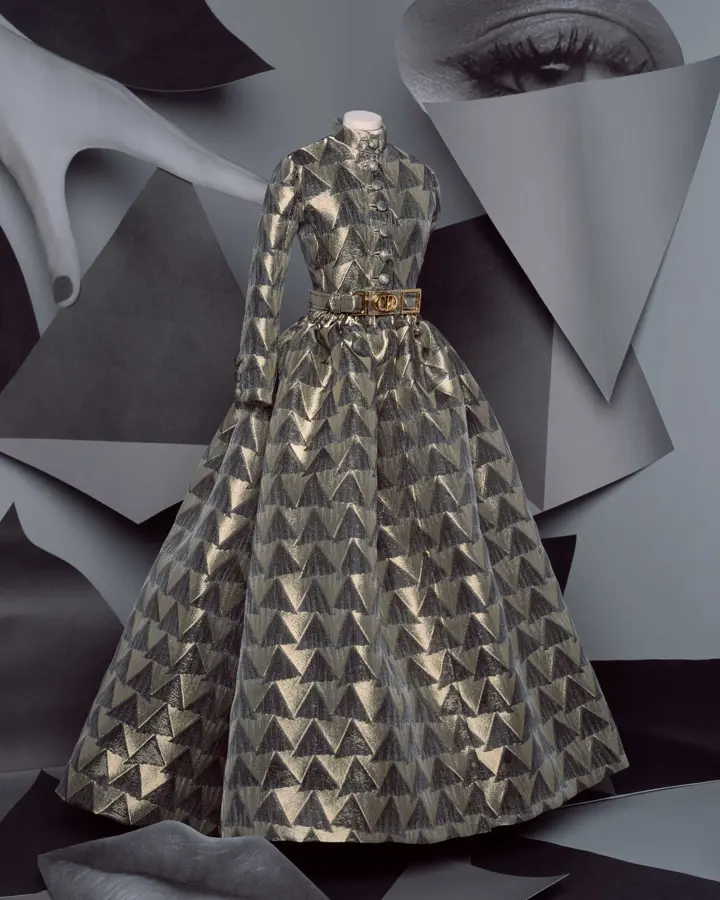 Dior Haute Couture Autumn-Winter 2020-2021 Collection. Foto: Copyright © Dior.
In this way, it feels only natural to recount the story of extraordinary haute couture silhouettes by reinterpreting the female body through the singular prism of the fashion doll.
Dior Fall-Winter 2020-2021 Haute Couture Collection
The Dior Autumn-Winter 2020-2021 Haute Couture Collection by Maria Grazia Chiuri, showcased in an exclusive film directed by Matteo Garrone. A poetic, fascinating and fantastic universe, authentically reinventing Dior's dream.
Edited by Lisa Maria River
Text source: Copyright © Press Office Christian Dior Couture
Photos and video: Copyright © Dior, Christian Dior Couture
AVION LUXURY MAGAZINE
in digital version
DESTINATIONS Smart working alle Maldive e alle Mauritius. JETS Il lancio del Falcon 6X di Dassault Aviation e l'AS2 Supersonic Business Jet. CARS La Jarama GT di Lamborghini e la Wami Lalique Spyder. YACHTS Lussuosi superyacht e jet privati. WATCHES Ore e minuti preziosi. HAUTE COUTURE Dior Women Haute Couture, Spring-Summer 2021.