02 April 2021
Kenneth Cobonpue: an ode to the spring in his design
Delicacy, lightheartedness, vivacity. Spring is the awakening of the earth which returns vibrant with lifeblood
Kenneth Cobonpue wants to pay homage to this very special moment, the Spring, through furnishing accessories that draw inspiration from nature around him but with an international outlook. As it is in his design style.
The
Filipino designer
studied
Industrial Design
in
New York
and completed his training in Europe (Italy and Germany) where he also worked. Returned to
Cebu
(his hometown) he discovers that
modern design
could have a new face using
natural fibers and materials
. So, he starts creating
pieces of functional art
, offering an
alternative to the Western definition of modern design
.
Its unique and wonderful organic design, such as the Bloom armchair, the Fandango and Poppy lamps and the Bouquet coffee and end tables, is born from the balance between the research for materials and innovative handmade production processes. Poetry and amazement accompany us in everyday life.
Bloom easy armchair
Bloom easy armchair, design by Kenneth Cobonpue. Photo: Copyright © Kenneth Cobonpue.
Welcome the organic beauty of the garden indoors. Inspired by a delicate blossom, Bloom is composed of hundreds of fine running stiches that radiate from the center of the seat. Handmade in microfiber stitched over a fiberglass-reinforced top, it sprouts from a revolving steel base. It won the SIDIM Prix D'Excellence Coup De Coeur in Montreal in 2011 and the Maison et Objet Coup De Coeur Award by Home Magazine in 2009.
Fandango hanging lamp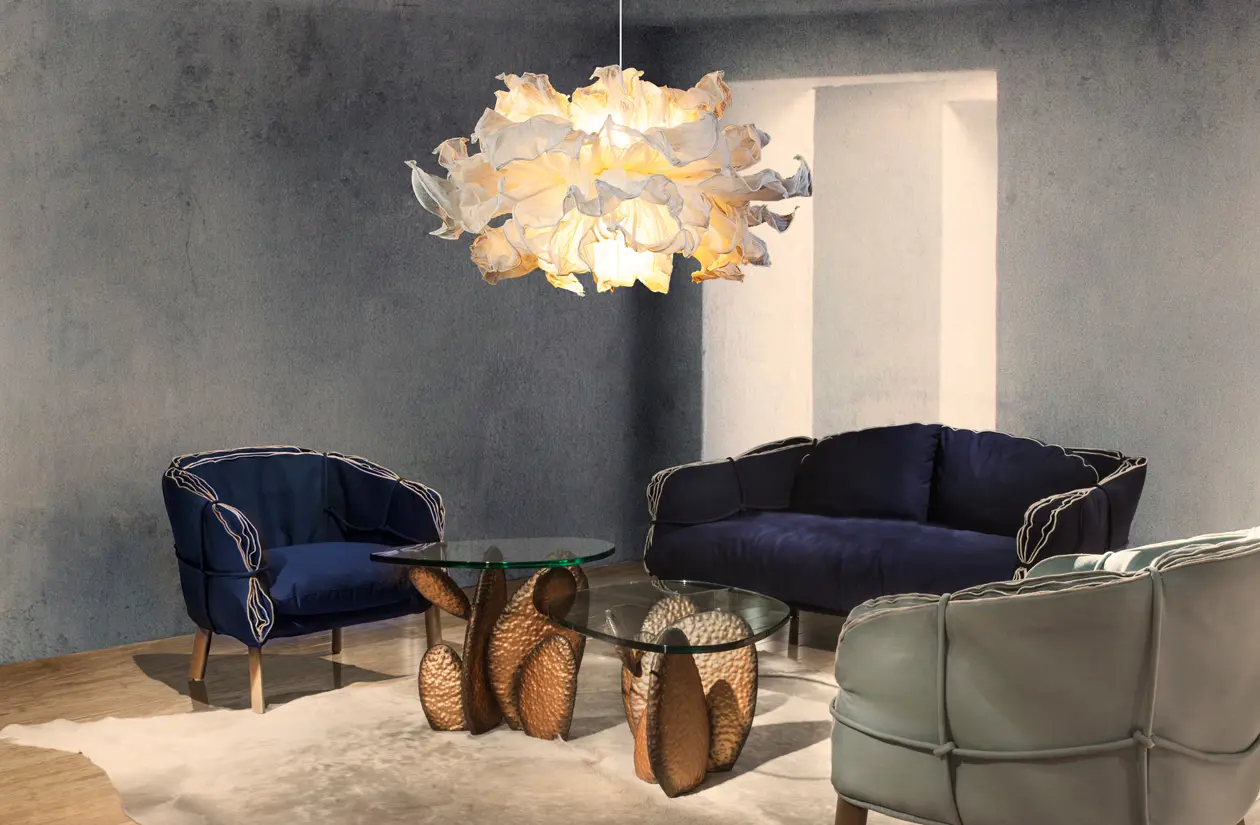 Fandango hanging lamp, design by Kenneth Cobonpue. Photo: Copyright © Kenneth Cobonpue.
Fandango captures the power and expression of a Flamenco dancer twirling in space. Petals of cotton fabric are shaped to diffuse light and portray the drama of dancing in the wind.
Poppy hanging lamps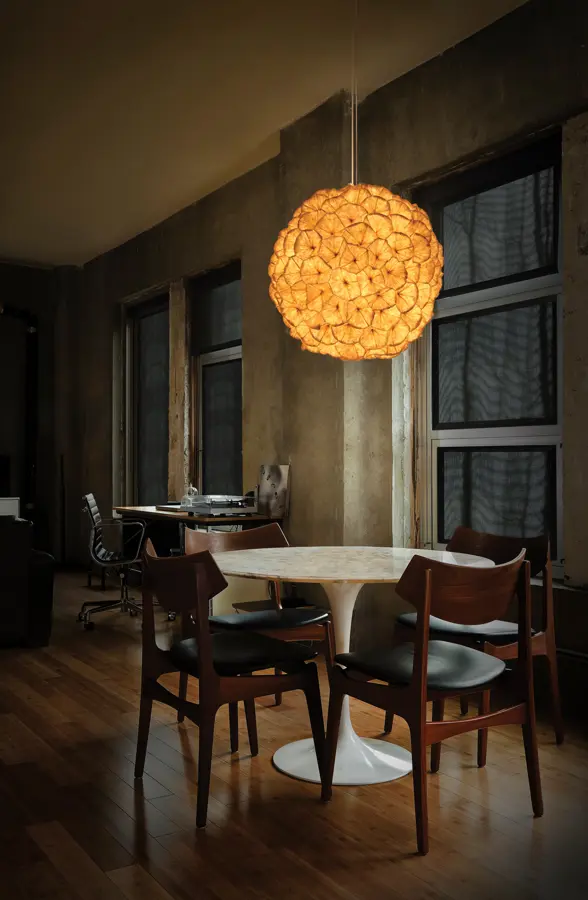 Poppy hanging lamps, design by Kenneth Cobonpue. Photo: Copyright © Kenneth Cobonpue.
Poppy is an assemblage of handmade paper blossom reminiscent of flowers freshly plucked from a garden. The folded petals are laminated with Tyvek and attached to each other over a wire frame, giving a warm glow to any room.
Bouquet coffee and end table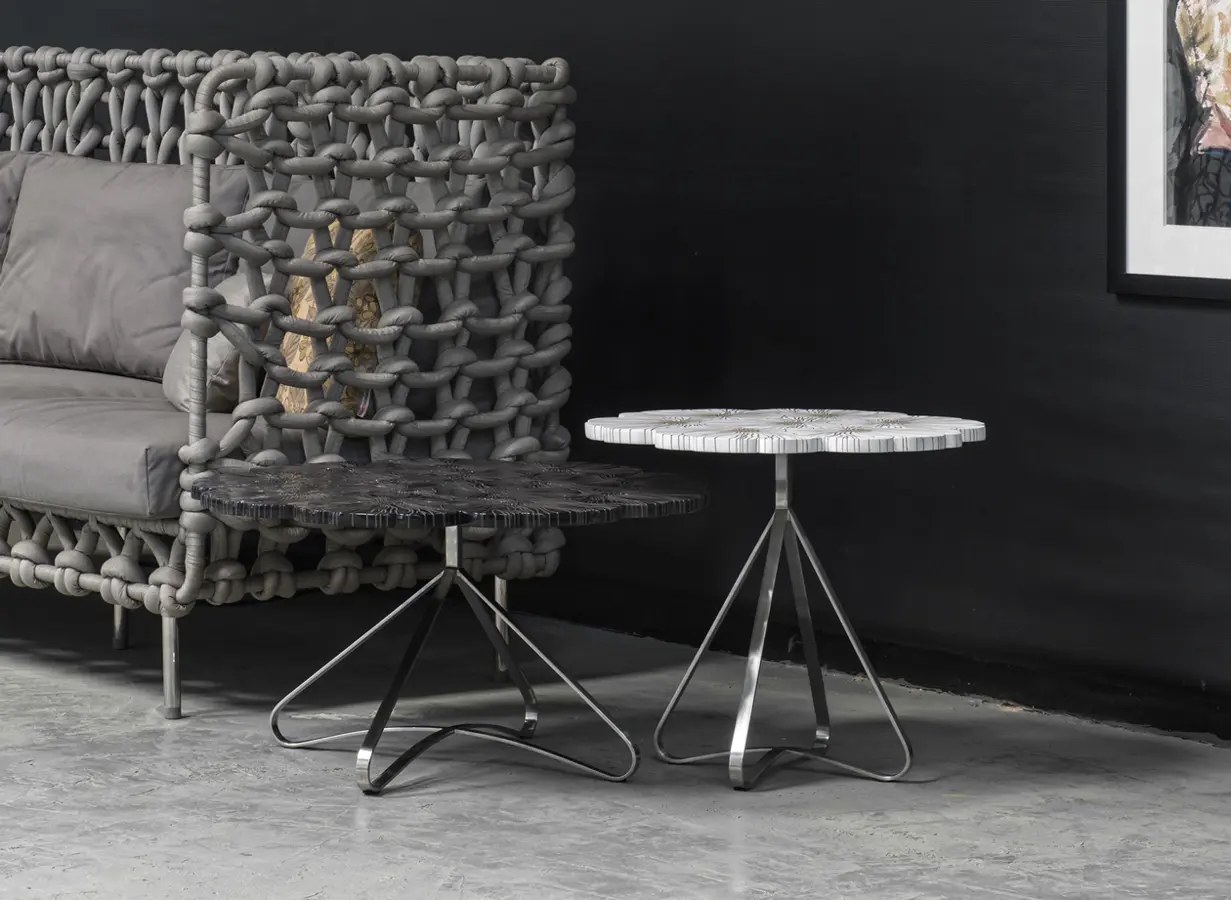 Bouquet coffee and end table, design by Kenneth Cobonpue. Photo: Copyright © Kenneth Cobonpue.
Bouquet cattura l'attenzione dello spettatore in quanto si erge prominente in un paesaggio organico. Le linee delicate del caratteristico motivo floreale in rilievo decorano un piano in polimero rinforzato con fibra di vetro con una base in acciaio inossidabile a contrasto.
Bouquet catches the spectator's eye as it stands prominent across an organic landscape. The delicate lines of the signature floral relief pattern decorate a fiberglass reinforced polymer top with a contrasting stainless steel base.
AVION LUXURY MAGAZINE
in digital version
DESTINATIONS Aruba, un viaggio ai Caraibi. HOTELS Un Bvlgari Hotel a Roma. JETS La serie Phenom 300 di Embraer - La cabina Executive di Bombardier. CARS Bugatti Chiron Profilée -1000 Miglia Experience UAE.
YACHTS Grande 26M di Azimut - Nautica e benessere con Arcadia. WATCHES Planetarium Dunes of Mars Limited Edition.