22 June 2023
MHS Aviation Group adds 3rd Falcon to its fleet
Dassault's most popular business jet in the fleet of MHS Aviation established as a key player in the European charter jet market and in the high-end segment
MHS Aviation, a leading German aircraft management company, is proud to add a new Falcon 2000LXS aircraft from Dassault Aviation. It joins two highly capable 2000LX aircraft already available for charter by the company, which operates 13 aircraft in all. The acquisition of the new aircraft by MHS shareholders reflects a major commitment to expanding service to its clients.
With this new order, MHS Aviation strengthens its position as a key Falcon operator and key charter provider of the Falcon 2000LX/LXS aircraft family. The 10-passenger 2000-series aircraft is a mainstay of charter operations around the world and is Dassault's most popular business jet with nearly 700 delivered.
MHS selected the 2000LXS based on its key features: the most comfortable cabin in its category and range of 4,000NM / 7,400 KM. MHS Aviation conducts frequent trans-Atlantic flights with the aircraft and considers it to provide the most price efficient service on these long routes. It has the lowest direct operating cost in its class, second-to-none operational performance, combined with high reliability, which allows high utilization. Falcons are known to be able to operate from short runways, often those close to city centers, while cruising comfortably at high speeds en route.
About MHS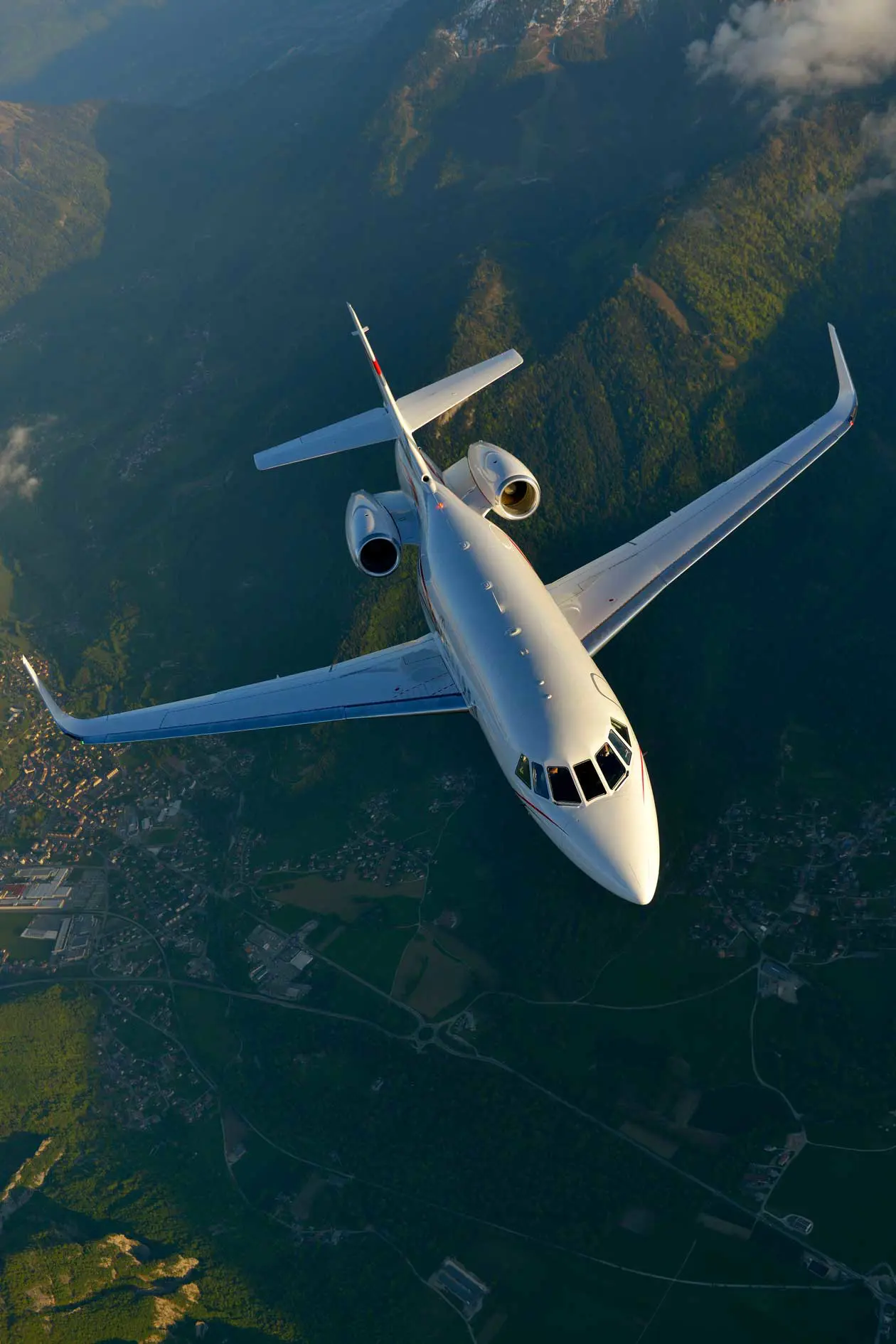 Falcon 2000LX. Copyright © Dassault Falcon Jet Corp.
MHS Aviation is a leading aircraft management company with more than 40 years of experience, operating aircraft of all brands in Europe, the Middle East and Africa. MHS Aviation has established itself as a key player on the charter market in Europe and beyond in the high-end segment. In 2022 its Austrian sister company Elangeni joined the MHS Aviation Group, offering aircraft management customers the additional choice of an Austrian AOC (air operator's certificate).
Steffen Fries, CEO of MHS Aviation Group, lauded the performance, comfort, reliability, and economy of the 2000-series aircraft. "These are perhaps the ideal charter jets, considering their flexibility to carry large teams and to do so economically over short and long distances. And into and out of short fields, when necessary. Our clients love them." The company's 2000-series aircraft fly up to 1,000 hours each per year - a high utilization rate for a business jet.
AVION LUXURY MAGAZINE
in digital version
DESTINATIONS Aruba, un viaggio ai Caraibi. HOTELS Un Bvlgari Hotel a Roma. JETS La serie Phenom 300 di Embraer - La cabina Executive di Bombardier. CARS Bugatti Chiron Profilée -1000 Miglia Experience UAE.
YACHTS Grande 26M di Azimut - Nautica e benessere con Arcadia. WATCHES Planetarium Dunes of Mars Limited Edition.