20 May 2023
Embraer returns to the EBACE 2023
Embraer showcases Phenom 300E, Praetor 500 and Praetor 600 in Geneva
Embraer
returns to the
2023 European Business Aviation Convention & Exhibition
(
EBACE
2023
) taking place from May 23-25, 2023 in
Geneva
, Switzerland. The company will showcase three of its industry-leading
jets
: the
Phenom 300E
, the
world's best-selling light jet
for 11 consecutive years, and the
Praetor 500
and
Praetor 600
, the most revolutionary and technologically advanced
midsize and super-midsize business jets
, respectively.
Embraer continues its strong momentum, with demand for its executive jets portfolio resulting in a backlog into 2025. Earlier this month, NetJets and Embraer announced a new deal for up to 250 Praetor 500 jet options, including a comprehensive services and support agreement. The deal, valued in excess of US $5 billion, signifies NetJets' trust in the most advanced product portfolio from each business jets segment, and in Embraer's top-ranked support, offering the best customer experience for NetJets' clients.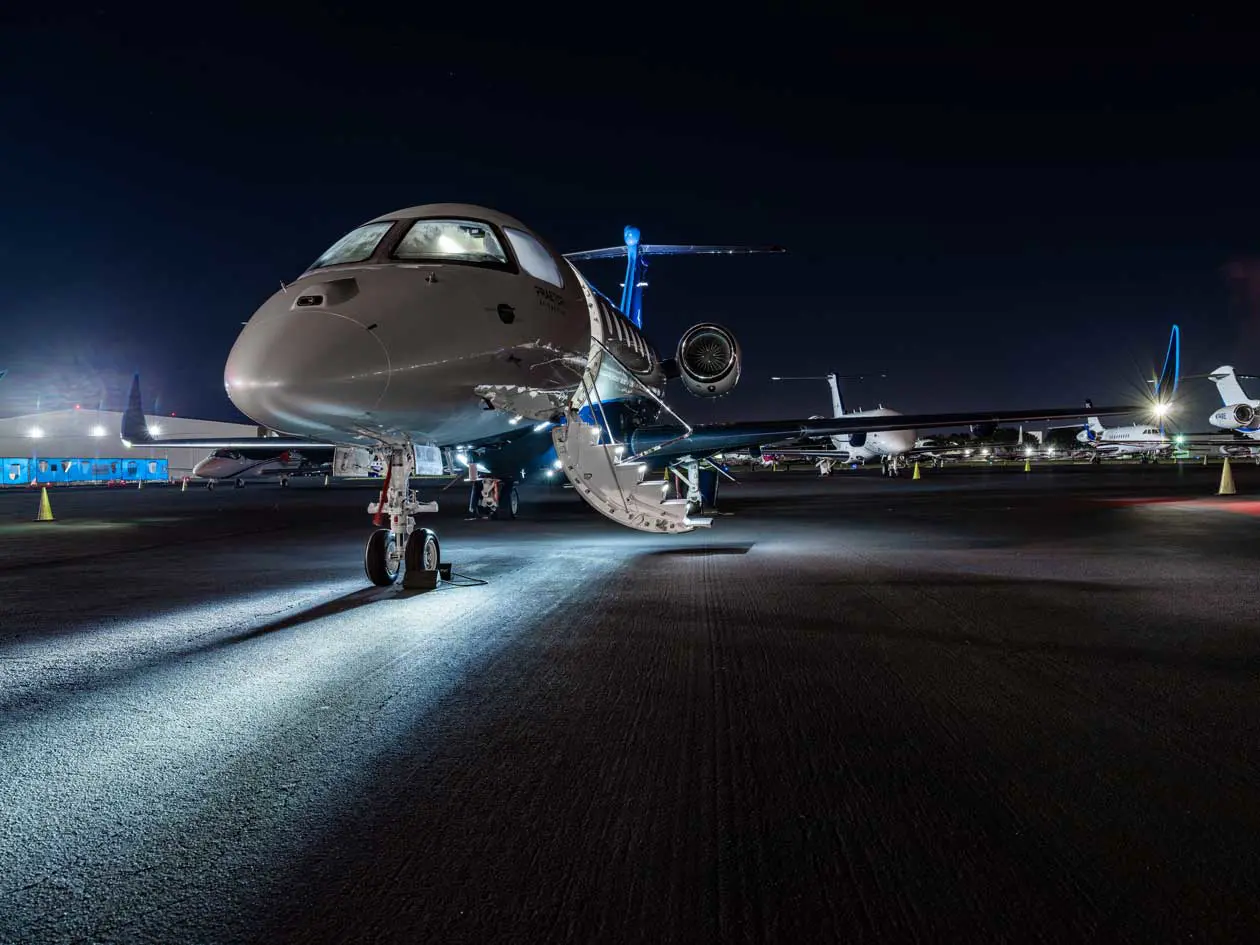 Praetor 600 Copyright © Embraer.
Additionally, Embraer continues to ramp up
sustainability
efforts to reach
ESG goals
that include
carbon neutrality in operations by 2040
,
net-zero aviation emissions by 2050
, and
100% renewable energy sources by 2030
. To uphold its commitment, all three aircraft will fly to the show using book-and-claim. Once arriving in
Geneva
, the aircraft will be fueled with
Sustainable Aviation Fuel (SAF)
for departure from the show. The company has continued to increase its use of SAF, including at its headquarters in
Melbourne, Florida
, while investing in the development of
low-to-zero emission alternative propulsion technologies, such as electrification, hybrid electric, and hydrogen
.
At last year's EBACE, Embraer and 4Air announced a carbon offsetting program for new Executive Jets customers that enrolled in the Embraer Executive Care Program. Upon enrollment, customers received 25 complimentary carbon-neutral flight hours through 4AIR, offsetting their carbon emissions during their first year of ownership. Projects funded by 4AIR carbon offset credits include renewable energy programs, the enhancement of carbon-absorbing forests, and the support of local projects that reduce deforestation, generating social and economic benefits. As of today, more than 30 certificates have been issued through the program.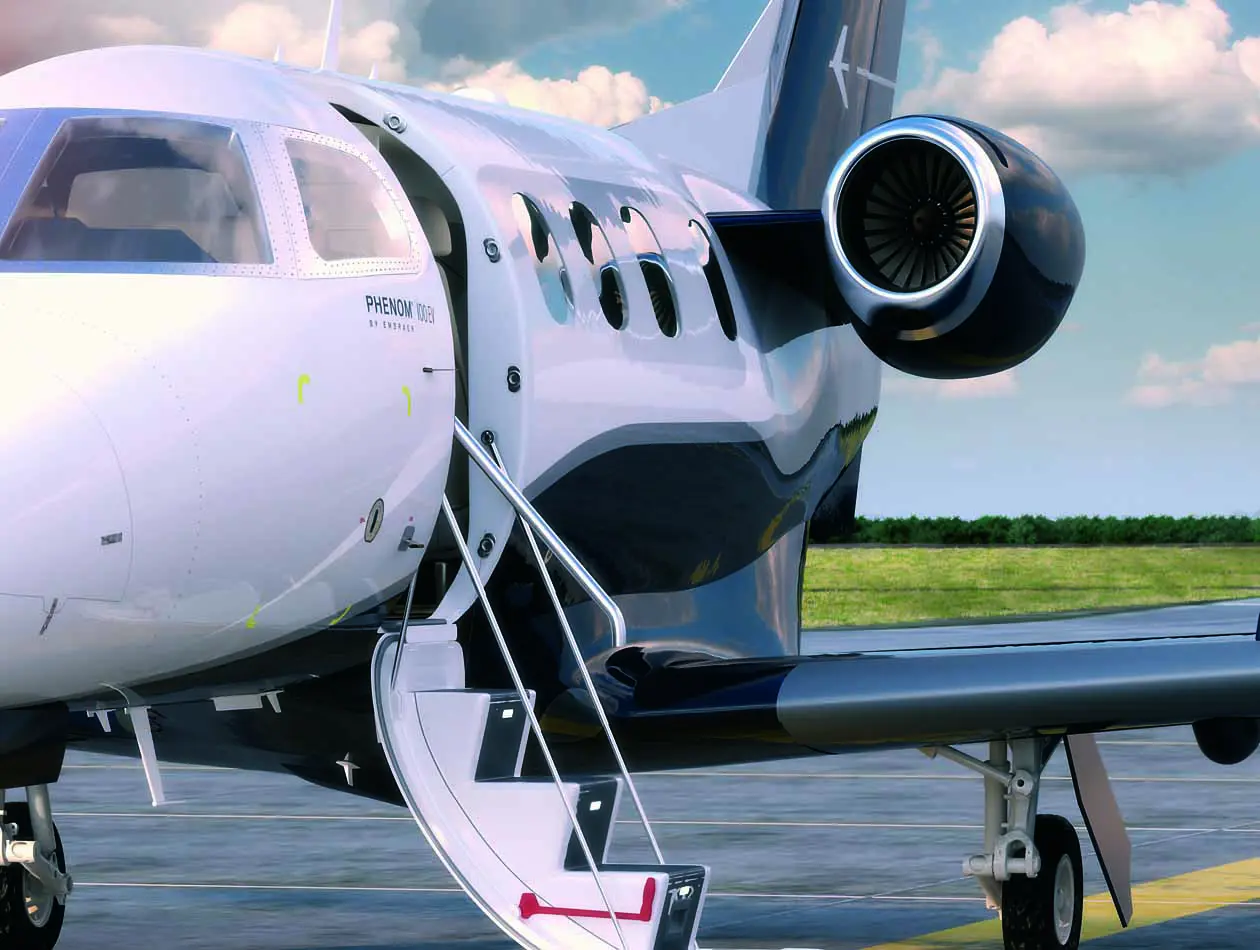 Phenom 100EV Copyright © Embraer.

Phenom 100EV
The Phenom 100EV features modified Pratt & Whitney Canada PW617F1-E engines, with 1,730 pounds of thrust, reaching a 405 ktas high-speed cruise and up to 15% more thrust at hot-and-high airports, which equates to more range and a faster time to climb. The aircraft has a four-occupant range of 1,178 nautical miles (2,182 km), with NBAA IFR reserves. The pilot-friendly cockpit enables single-pilot operation, with situational awareness enhanced by the advanced man-machine interface of the touchscreen-controlled Prodigy Touch flight deck, based on the Garmin G3000, with larger HD displays, split screen capability, and a new weather radar.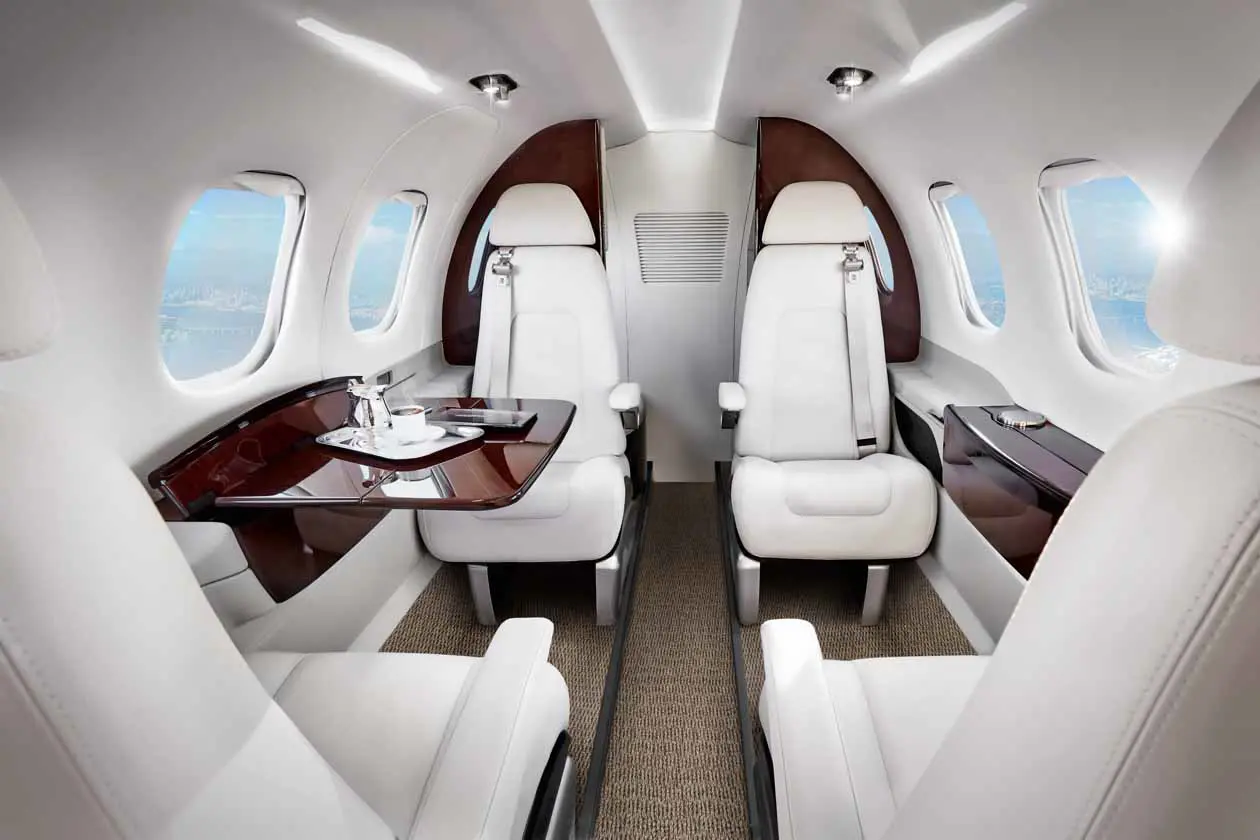 Phenom 100EV Copyright © Embraer.

Phenom 300E
The Phenom 300E is the fastest and longest-ranged single-pilot jet, with a high-speed cruise of 464 knots and a five-occupant range of 2,010 nautical miles (3,724 km) with NBAA IFR reserves. With its class's best climb and field performance the, the Phenom 300E costs less to operate and maintain than its peers.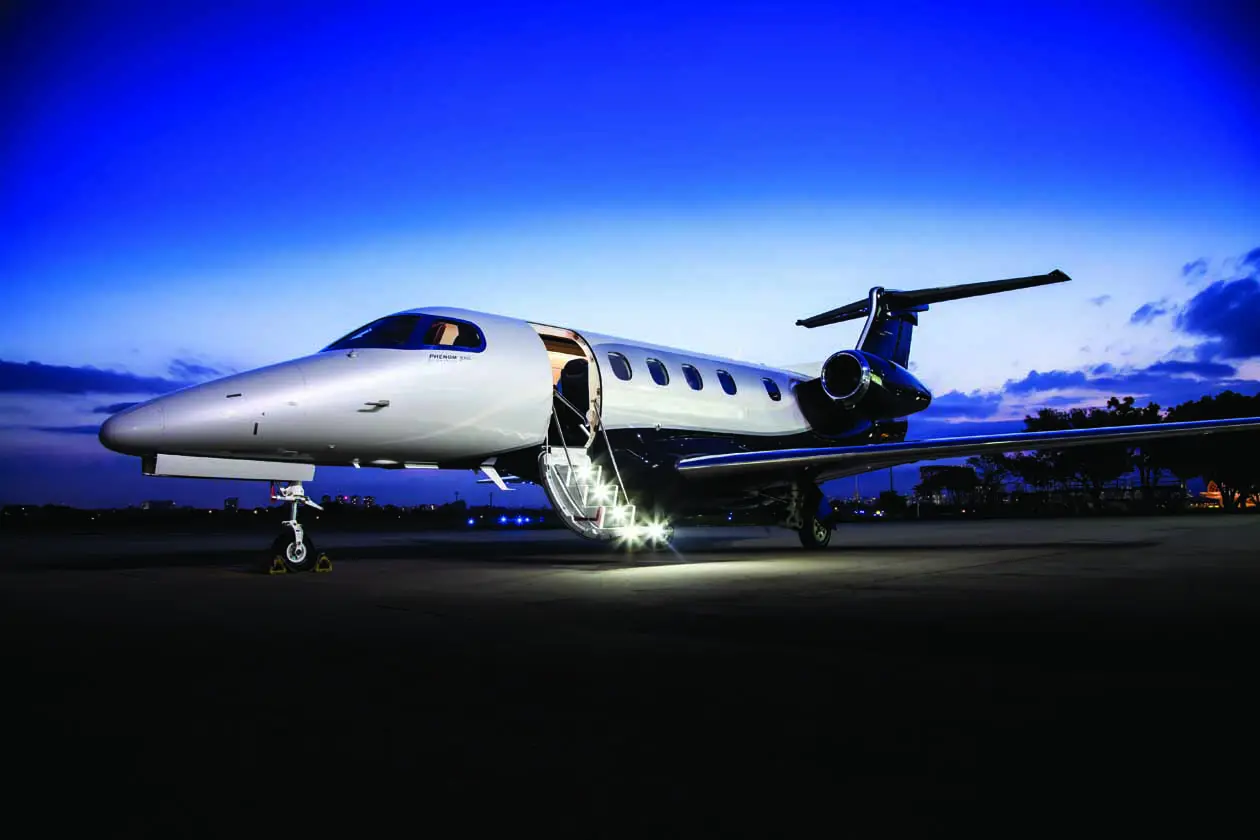 Phenom 300E Copyright © Embraer.
The aircraft is capable of flying at 45,000 feet (13,716 meters), powered by two Pratt & Whitney Canada PW535E1 engines with 3,478 pounds of thrust each. The Phenom 300E offers a spacious cabin with the Embraer DNA Design and its baggage compartment is among the largest in its category. The largest windows in the class deliver abundant natural lighting in the cabin as well as in the private lavatory. The comfort of the seats, with reclining and full movement capability, is enhanced by the best pressurization among light jets (6,600 ft. maximum cabin altitude). The Phenom 300E features distinct temperature zones for pilots and passengers, a wardrobe and refreshment center, voice and data communications options, and an entertainment system. The pilot-friendly cockpit enables a single-pilot operation and offers the advanced Prodigy Touch Flight Deck, based on the acclaimed Garmin 3000 avionics suite. The aircraft features carried from a class above include single-point refueling, an externally serviced lavatory, and an airstair.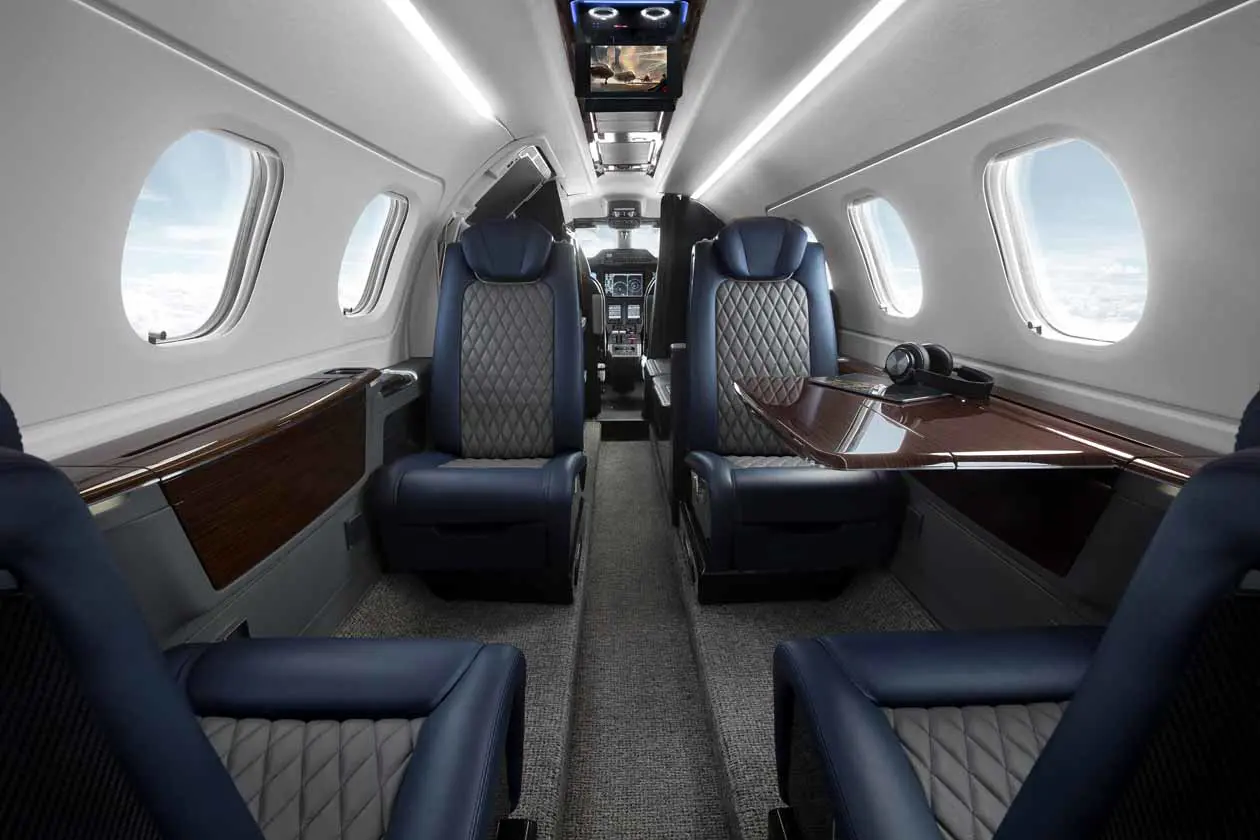 Phenom 300E Copyright © Embraer.
Praetor Jets
The Praetor 500 and the Praetor 600, both of which received FAA, EASA and ANAC certifications less than one year after they were first announced at NBAA-BACE 2018, are the most technologically advanced aircraft in their categories. The Praetor 500 surpassed certification goals, achieving an intercontinental range of 3,340 nautical miles (6,186 km) with four passengers and NBAA IFR Reserves. The Praetor 500 is the farthest- and fastest-flying midsize jet, capable of true North America corner-to-corner, nonstop flights, such as Miami to Seattle or Los Angeles to New York. Its sibling, the Praetor 600, is the farthest-flying super-midsize jet in the world, capable of nonstop flights from Paris to New York or São Paulo to Miami. With four passengers and NBAA IFR Reserves, the Praetor 600 has intercontinental range of 4,018 nautical miles (7,441 km).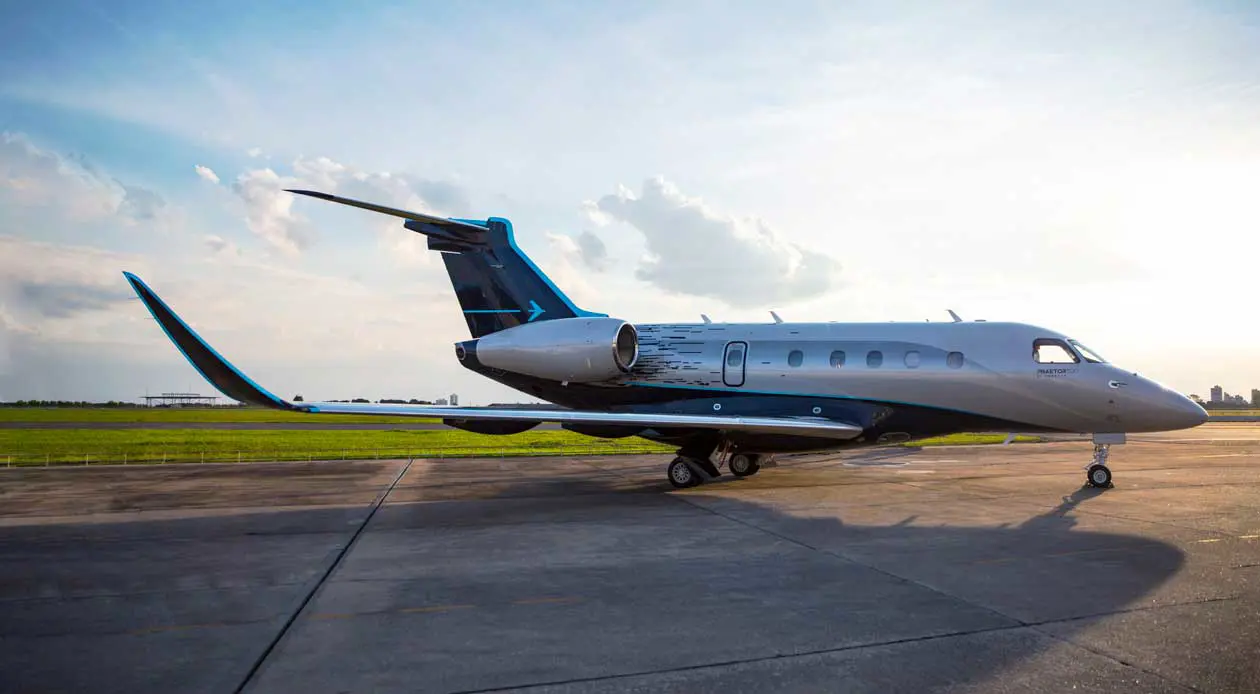 Praetor 500 Copyright © Embraer.
The Embraer DNA Design interior eloquently explores every dimension of the cabins of the Praetor jets, including a six-foot-tall, flat-floor cabin, with stone flooring, and a vacuum service lavatory. The class-exclusive turbulence reduction capability and 5,800-foot cabin altitude, complemented by a whisper-silent cabin, have set the highest standards in customer experience in both the midsize and super-midsize categories. The largest baggage compartment in the class is complemented by a generous wardrobe and a full vanity in the rear private lavatory.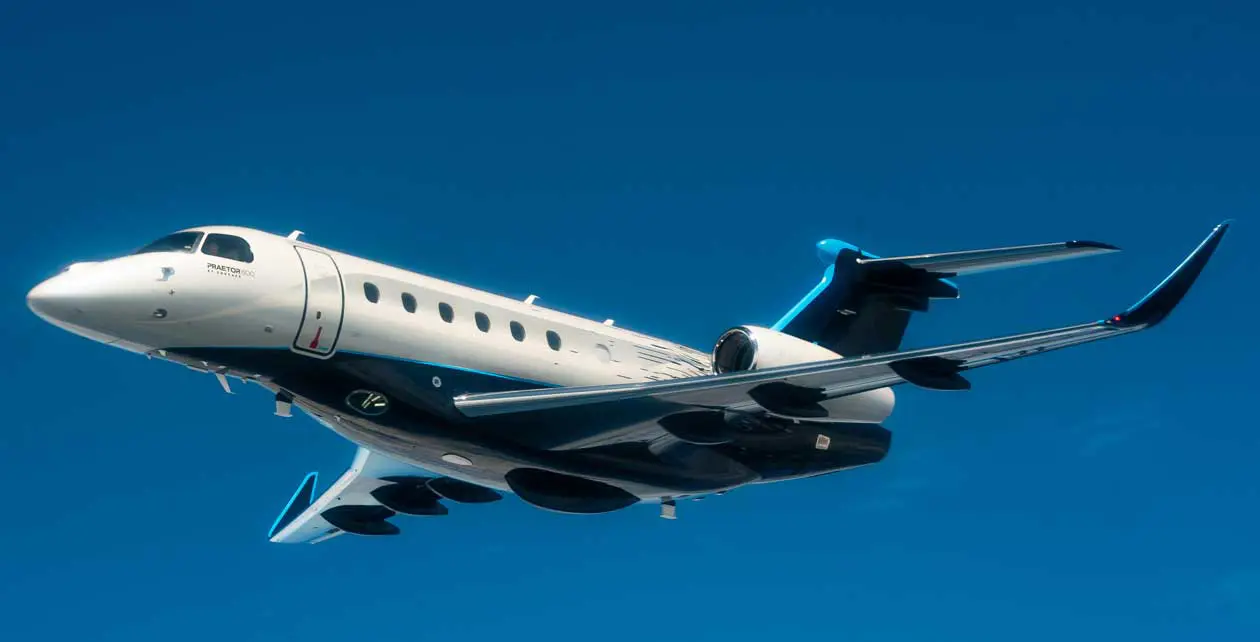 Praetor 600 Copyright © Embraer.

Advanced technology throughout the cabin is also a trait of the Embraer DNA Design, beginning with the industry-exclusive Upper Tech Panel that displays flight information and offers cabin management features also available on personal devices through Honeywell Ovation Select. High-capacity, ultra-high-speed connectivity for all aboard is available through Viasat's Ka-band, with typical speeds of around 20Mbps and video streaming capability, another industry-exclusive in midsize jets.

Embraer Executive Jets
design, and technology - all the while incorporating sustainable and socially responsible practices. As a global company with more than 50 years in aerospace, Embraer delivers the ultimate experience in business aviation through aircraft that feature disruptive performance, technology and comfort. Its portfolio consists of the Phenom 100EV, which offers the business aviation experience in its purest form; the Phenom 300E, which is the best-selling light jet for the past 11 consecutive years; and the Praetor 500 and the Praetor 600, which with best-in-class flight range, are the most disruptive and technologically advanced midsize and super-midsize business jets, capable of continent-crossing and ocean-spanning missions, respectively. Every day, Embraer business aircraft operate around the globe, supported by a strong, responsive customer support network that's top-ranked in service across the industry.
Edited by editorial staff, Avion Luxury Magazine
Text source: © Embraer Press Office
AVION LUXURY MAGAZINE
in digital version
DESTINATIONS Aruba, un viaggio ai Caraibi. HOTELS Un Bvlgari Hotel a Roma. JETS La serie Phenom 300 di Embraer - La cabina Executive di Bombardier. CARS Bugatti Chiron Profilée -1000 Miglia Experience UAE.
YACHTS Grande 26M di Azimut - Nautica e benessere con Arcadia. WATCHES Planetarium Dunes of Mars Limited Edition.