02 August 2023
Dassault's ExecuJet MRO Services in Dubai
New maintenance, repair and overhaul facility at Dubai South's Al Maktoum International Airport (DWC). The new service center spans 163,000 square feet and can service 16-20 aircraft at once, including the Falcon 6X and Falcon 10X
"Our fleet is global, and our service must be global, as well," said Jean Kayanakis, SVP, Worldwide Falcon Customer Service & Service Center Network. "By constantly investing in new facilities and the skills of our people, we are making it easier for customers to base and operate Falcons anywhere."
Dassault's ExecuJet MRO Services will soon be celebrating the grand opening of its new maintenance, repair and overhaul facility at Dubai South's Al Maktoum International Airport (DWC). But it's already hard at work. The new service center spans 163,000 square feet and can service 16-20 aircraft at once, including the Falcon 6X and Falcon 10X. Dassault is upgrading its service center network worldwide, and Dubai is a good example.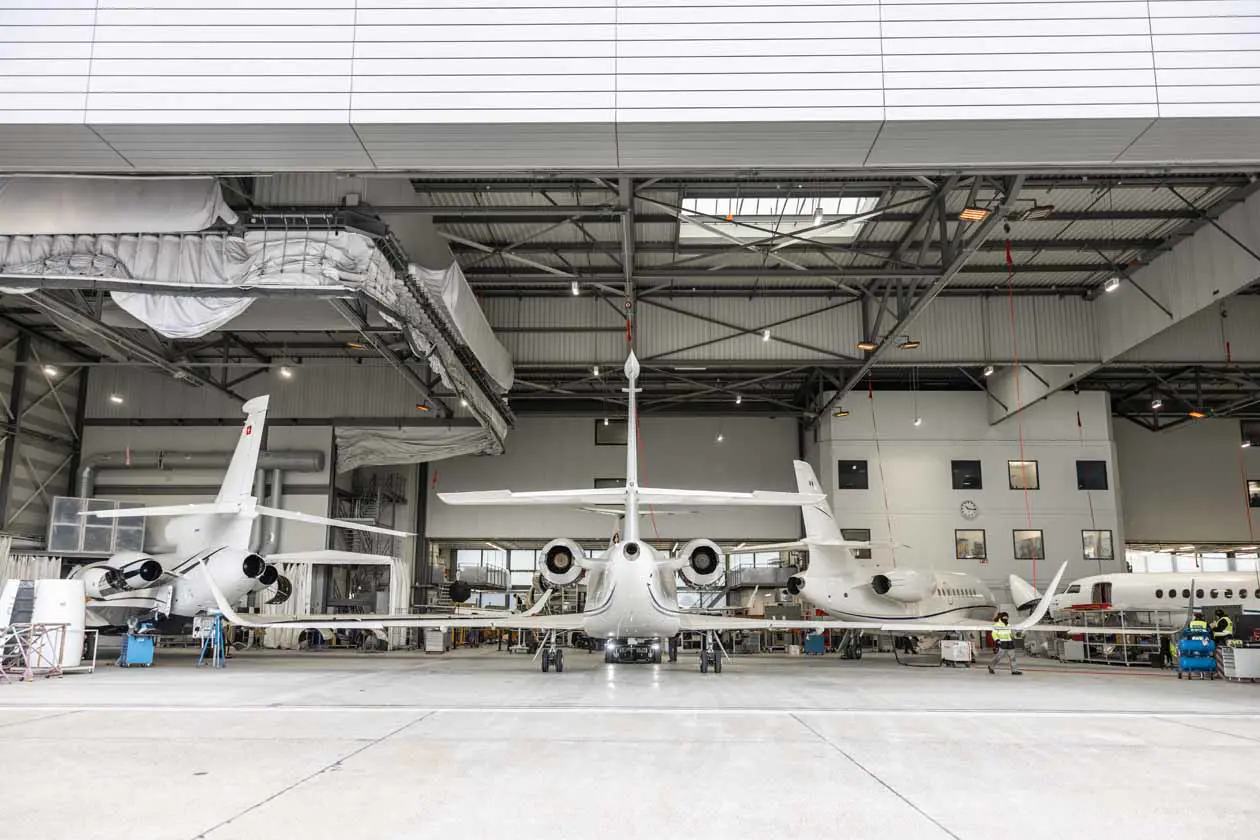 Dassault MRO. Copyright © Dassault Falcon Jet Corp., Dassault Aviation
Dassault Aviation is investing in a wider global maintenance footprint with modernized and expanded MRO factory-service facilities, and more resources flowing toward authorized facilities. Since 2019, the network has approximately doubled in size to 40 factory service centers and 21 authorized facilities. Among the benefits of this expanded network, Dassault is moving the capability to perform major inspections and upgrades closer to customers—all with one uniformly high standard of excellence.
The company is expanding the locations that can perform major C checks and the installation of the latest technologies, including the Easy IV flight deck, FalconEye Combined Vision System, and the FalconConnect high-speed Internet connectivity package.
Dassault MRO Dubai Copyright © Dassault Falcon Jet Corp., Dassault Aviation
Here are some of the most recent steps Dassault is taking to further strengthen MRO support.
Dubai: a major new ExecuJet MRO facility able to handle the latest and largest Falcons, as well as other brands, has just opened at the new Al Maktoum International Airport, also known as Dubai World Central (DWC). The growing airport is a new hub of business aviation activity in the Middle East. The new 15,000 m2 facility can service 15 aircraft at once. It will support a growing fleet of Falcons in the Middle East and from surrounding regions. Dassault Aviation will retain AOG service at Dubai International Airport, as well.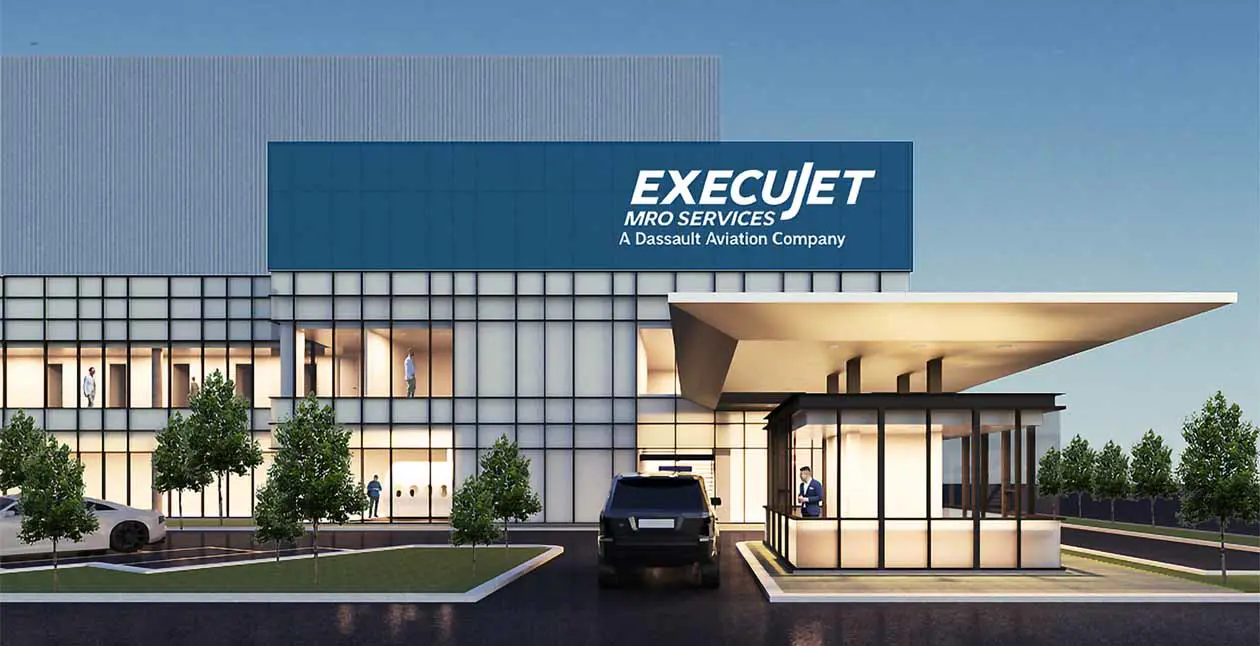 Dassault MRO Kuala Lumpur. Copyright © Dassault Falcon Jet Corp., Dassault Aviation
Malaysia: A brand new ExecuJet MRO facility also opens at Subang Airport in Kuala Lumpur in early 2024. The new state of the art 12,000 m2location is larger than the facilities it replaces and is also able to accommodate the new ultra wide cabin Falcons. Dassault is finding new and growing markets in Southeast Asia, including Vietnam and Indonesia. The new KL service center handles major maintenance and provides on-site support through technical representatives in Vietnam and elsewhere.
Melbourne, Florida: A new, state-of-the art MRO facility with a capacity for 15 aircraft is scheduled to open in early 2025. The 12,000 m2 facility will service aircraft from North and South America. It will also be the site of a new paint facility. The Melbourne facility brings new capacity to the Eastern U.S., which has a high concentration of Falcon aircraft.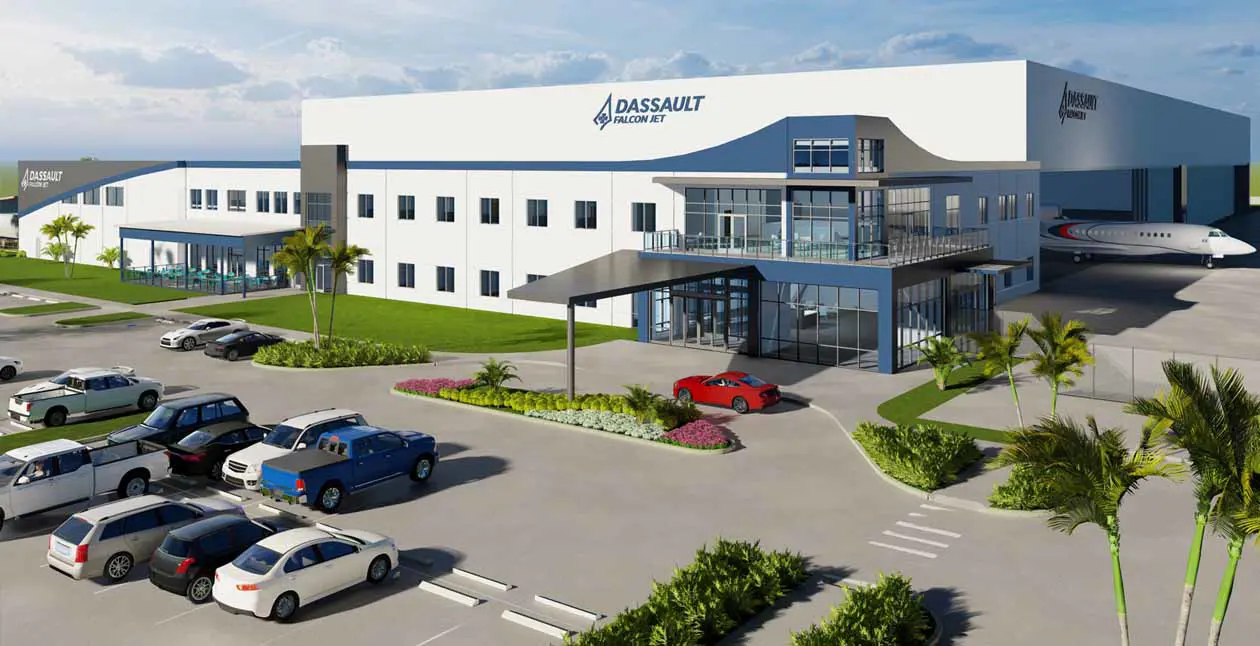 Dassault MRO Melbourne. Copyright © Dassault Falcon Jet Corp., Dassault Aviation
New Delhi: Falcon operators now have a new Authorized Service Center to choose from in India - Indamer, located at Indira Ghandi International Airport in New Delhi. There are now three ASCs in India, with two in Mumbai. India today has one of the world's best performing economies in terms of GDP growth. A new service location supports more business aviation activity.
First Falcon 7X 2C check: Dassault Falcon Jet-Little Rock has completed the most extensive inspection required for the Falcon 7X. A "C" check is required every eight years or 4,000 cycles, and in this case the aircraft received its second C check and a complete landing gear overhaul after 16 years in service.
Dassault MRO. Copyright © Dassault Falcon Jet Corp., Dassault Aviation
The entire Dassault MRO network has been gearing up for more than a year to perform these all-encompassing inspections on the 7X fleet, including by providing on-site structural engineers to speed the process if repairs are required. Customers now have more options on where to take their aircraft for C checks, including Dassault's long-standing facilities in Paris-Le Bourget, Bordeaux and Little Rock, AR or newer locations closer to their home base. This expansion is part of the company's strategy to maximize customer choice and convenience.
Planning and preparation for the 2C checks will also benefit the Falcon 8X fleet, which will start their first C checks in 2023 and several are already planned into factory-owned facilities later this year.
AVION LUXURY MAGAZINE
in digital version
DESTINATIONS Aruba, un viaggio ai Caraibi. HOTELS Un Bvlgari Hotel a Roma. JETS La serie Phenom 300 di Embraer - La cabina Executive di Bombardier. CARS Bugatti Chiron Profilée -1000 Miglia Experience UAE.
YACHTS Grande 26M di Azimut - Nautica e benessere con Arcadia. WATCHES Planetarium Dunes of Mars Limited Edition.