The
desert of the Emirate of Sharjah
offers an essential experience for those visiting the city of
Sharjah
and its region, as it provides exciting adventures through golden dunes in a sea of sand. Thanks to its vastness, the
Sharjah desert
offers a unique opportunity for adventure enthusiasts to immerse themselves in the wilderness and discover the traditional culture of the United Arab Emirates.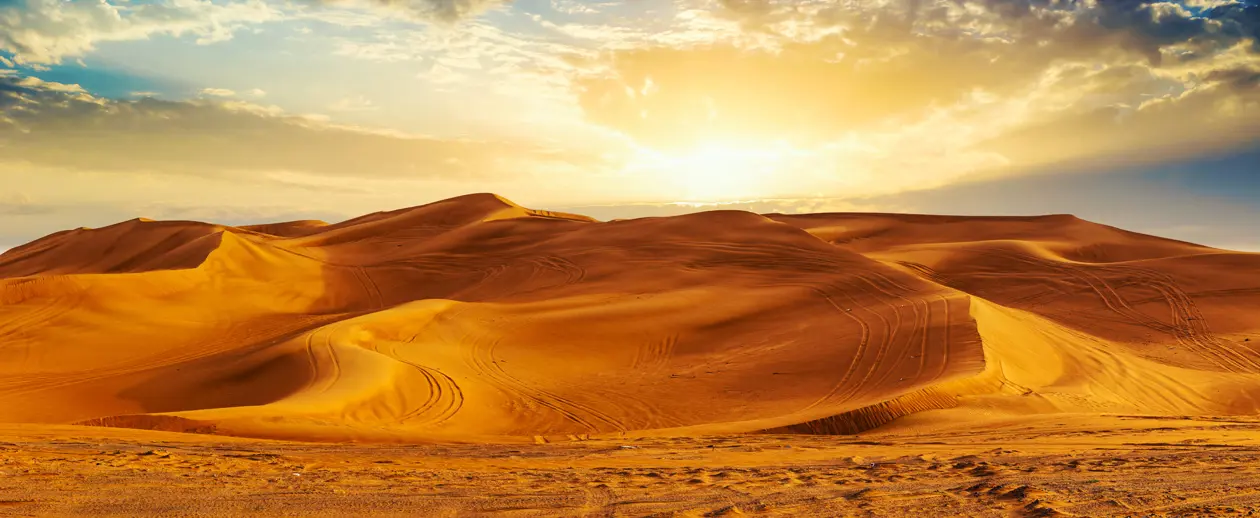 Sharjah Emirate Desert Photo: Copyright © Sisterscom.com / Depositphotos
This desert is a true paradise for those seeking thrills, spectacular landscapes, and an authentic experience. There are many tours and excursions available, suitable for families with children, and you can choose from various activities, whether more or less challenging. Options include the classic desert safari, leisurely walks among the dunes to explore the vast sandy expanses, camel rides, enjoying a dinner under the stars accompanied by traditional music and folk dances, visiting archaeological sites, or engaging in more educational experiences focused on learning about endangered animals, the wildlife of Sharjah, or falconry.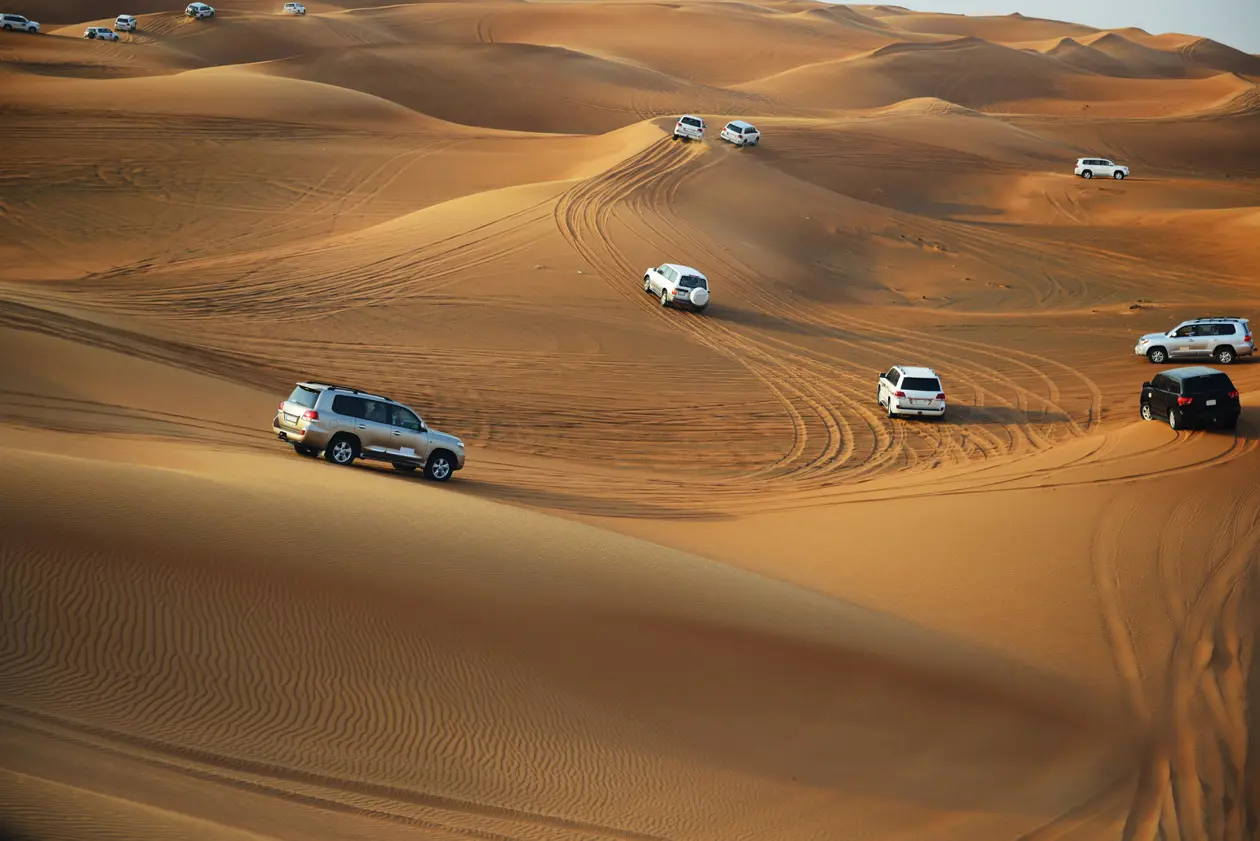 Sharjah Desert Safari Photo: Copyright © Sisterscom.com / Depositphotos
All experiences in the Sharjah desert, from the more tranquil to the more adventurous, offer a captivating connection with nature and add unique excitement to your journey in Sharjah.
Text by Enzo Cuppari, Avion Tourism Magazine
Text source: Copyright © Sharjah Tourism Development Authority
Photos: Copyright © Sisterscom.com /
D
epositphotos
Copyright © Sisterscom.com
Video: Copyright © Ente del turismo di Sharjah.
Tourism Board
www.sharjahtourism.ae
Where to sleep in Sharjah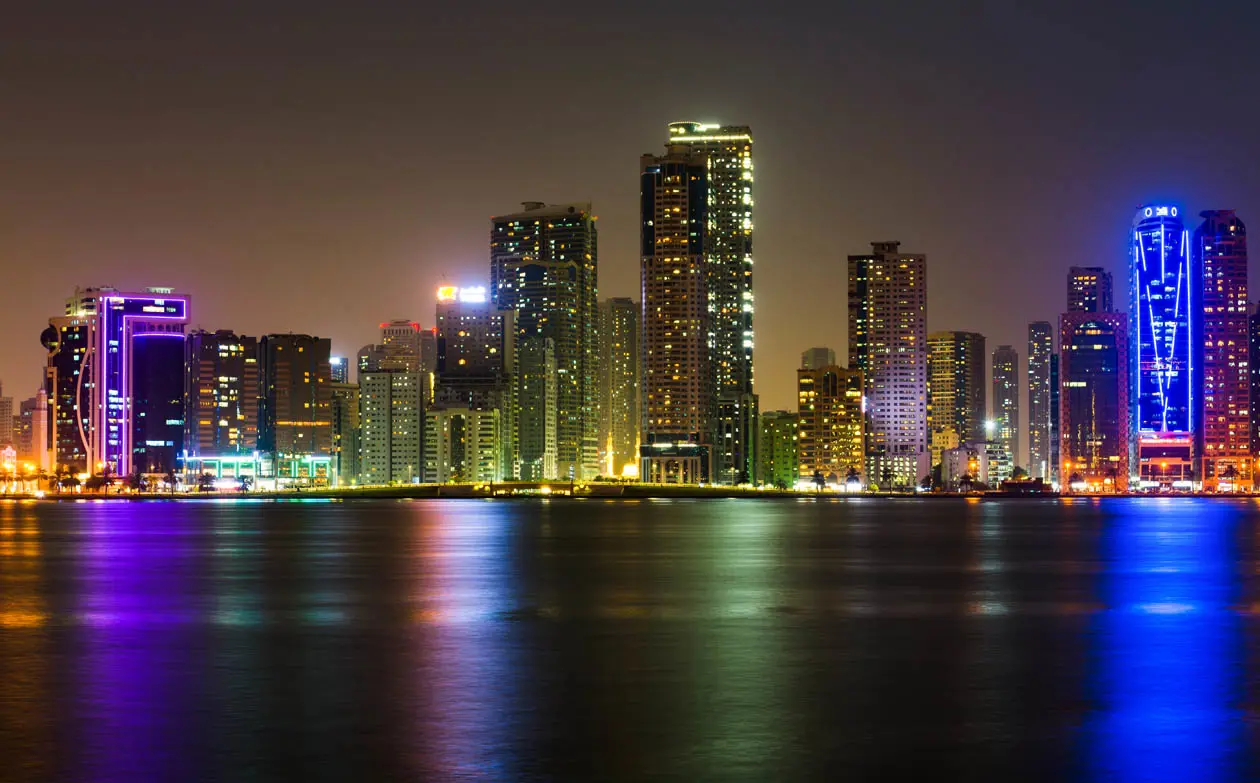 Sharjah Photo: Copyright © Sisterscom.com / Depositphotos
Sharjah offers endless possibilities to stay in facilities equipped with the best services.
To find the ideal hotel and the best offers you can do a search by stars but also by neighborhoods or places of interest.
HOUSES, APARTMENTS, B&Bs
LANDMARKS
Hotels in tourist areas
LANDMARKS
Hotels in tourist areas
LANDMARKS
REGION
Hotels in the region
TOURS AND EXCURSIONS IN THE SHARJAH DESERT
Off-Road Vehicle in the Desert Photos: Copyright © Sisterscom.com / Depositphotos
In the Sharjah desert by 4x4 Off-Road
You depart for the desert from Sharjah on a six-hour guided 4x4 off-road tour in air-conditioned vehicles with qualified drivers, heading to the Mleiha Archaeological Centre, located approximately 65 km southeast of the city. This excursion allows you to admire the landscapes of the region, ascend imposing sand dunes, cross spectacular rock formations, and ultimately explore pre-Islamic archaeological sites while taking in panoramic views from three different peaks.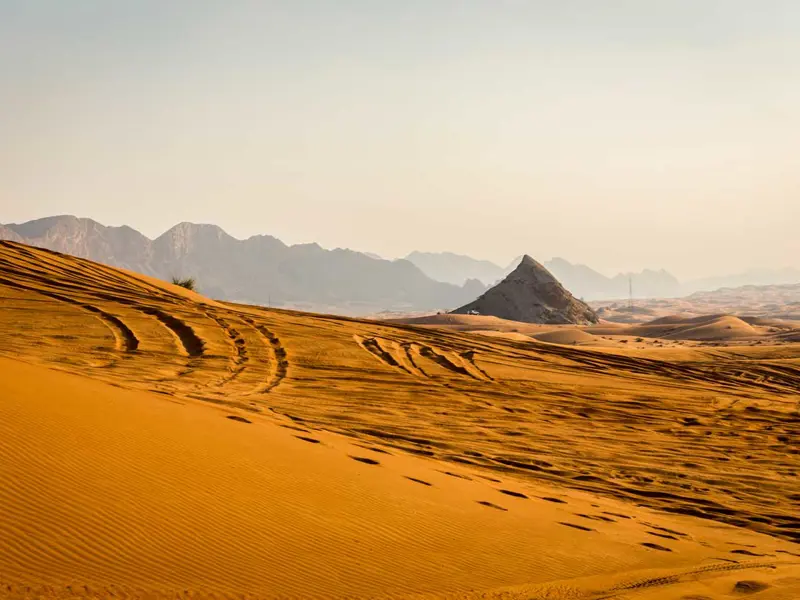 Off-Road Adventure Park
Located in the Mleiha area, less than 80 kilometers from the center of Sharjah, this is the perfect place for a variety of adventures right in the heart of the desert: off-road cycling, four-wheel driving, off-road driving, mountain trail exploration, and other adrenaline-pumping challenges. In the adventure park, you can also savor a traditional barbecue and spend the night camping with friends and family, a unique experience in the heart of Sharjah's desert near Mount Al Faya.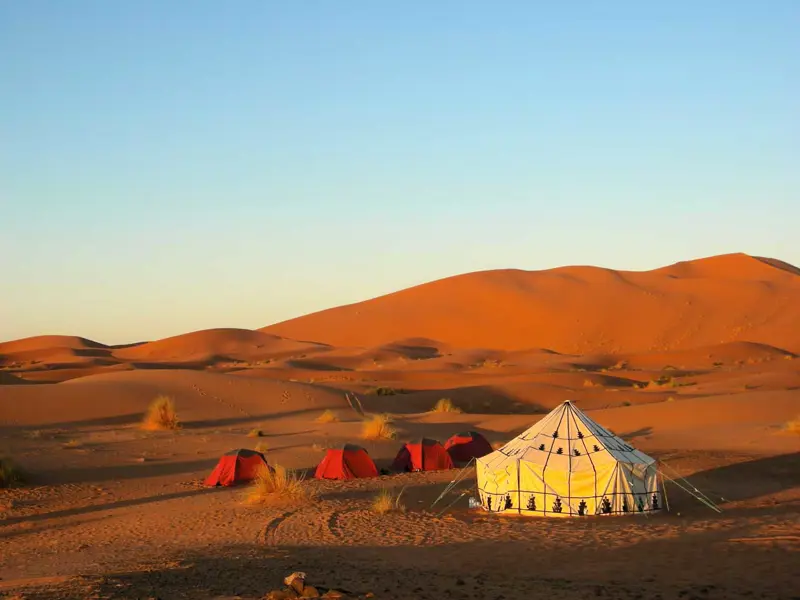 Desert Camping Under the Stars
Depart from Sharjah to the Mleiha Archaeological Center where you can discover the beauty of the sandy desert landscape with walks among the dunes or a guided trek to spot flora and fauna.
At the Mleiha campsite, you can experience an Arabian feast under the stars in a traditional Bedouin-style majlis, and after dinner, gaze at the stars under a clear and dark sky. After spending the night in a traditional tent, visit Fossil Rock with unique dunes from which you can spot birds, reptiles, and camels. Indeed, Sharjah's desert is a natural reserve, and its sand dunes host species that thrive only in the desert habitat.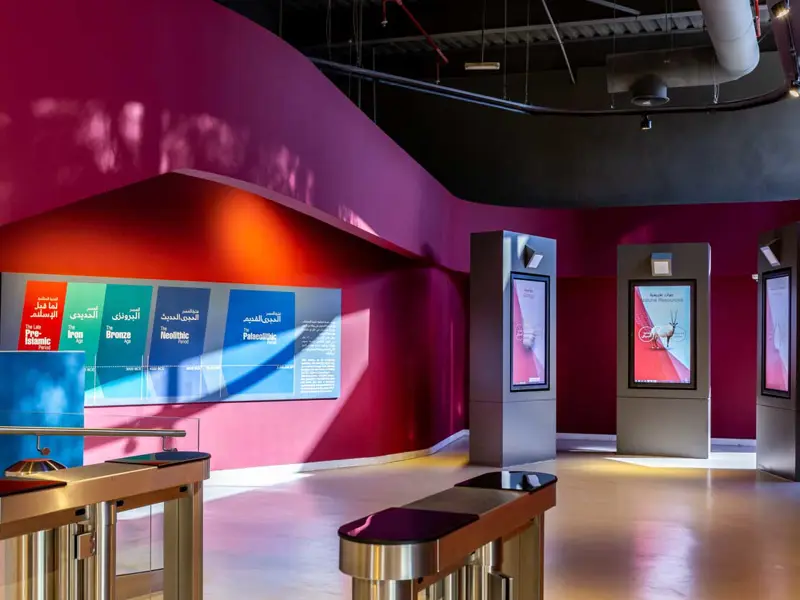 Mleiha Archaeological Center Museum Photo: Copyright © Sisterscom.com / Depositphotos
Mleiha Archaeological Center
The Mleiha Archaeological Center is located in Mleiha near Jebel Fayah, 65 kilometers southeast of the city of Sharjah. It is a significant Arab archaeological site ideal for discovering the ancient history of the United Arab Emirates and the secrets of early humanity on the Arabian Peninsula. You can visit Umm an-Nar tomb (a Bronze Age round tomb) to delve into the history of the ancient Bedouin civilization or explore Fossil Rock, a large rock formation rich in marine fossils. In the area, you can go on hikes, treks, dune bashing, quad biking, desert safaris, glamping, paragliding from the high peaks of Mleiha, or spend a night under the stars among the sand dunes.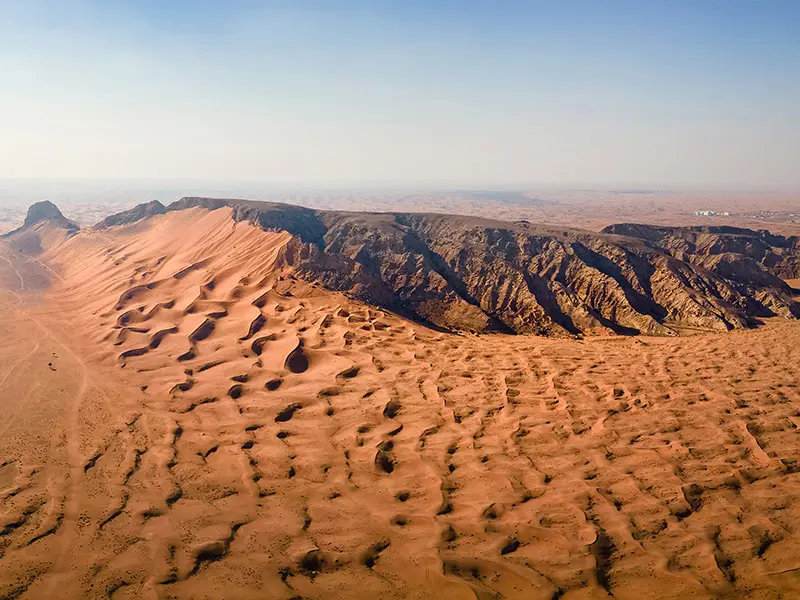 Fossil Rock
It is an ancient rock formation visible from over 25 kilometers away and rises above sand dunes in the desert of the United Arab Emirates near Mleiha, an hour's drive from the city of Sharjah. The area is renowned for its numerous archaeological sites.
Here, you can go trekking through the desert sands and fossil-rich rocks, embark on a safari, or experience desert camping. Nearby, you'll find the Mleiha Archaeological Center for a more in-depth understanding of the history of the United Arab Emirates and early life in the desert. In fact, millions of years ago, much of Arabia was submerged under the ocean, and many of the fossils found here are said to be over 80 million years old.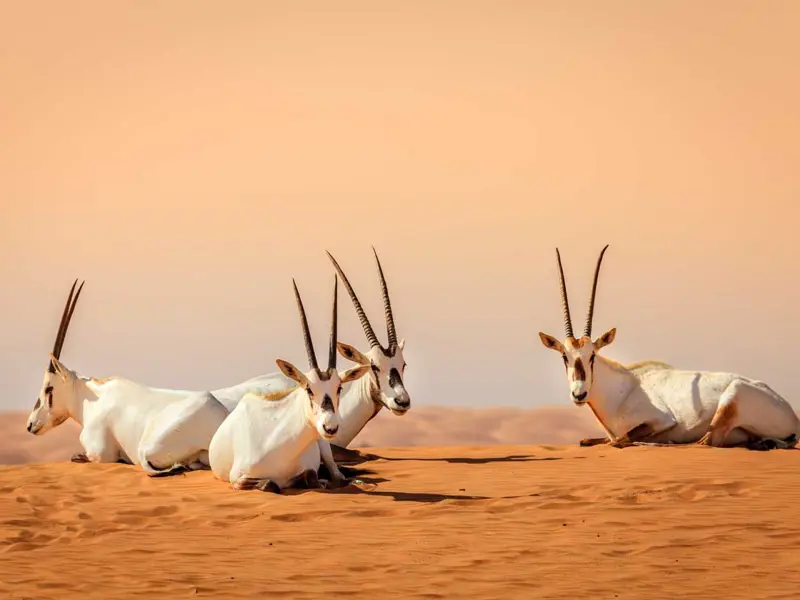 Sharjah Desert Park
Located approximately 30 kilometers from the city, Sharjah Desert Park is a must-visit destination for wildlife enthusiasts and families with children. It offers an educational farm, a botanical garden, and a breeding center for rare and endangered animals saved from the desert habitat. The Arabia's Wildlife Centre houses the Arabian leopard, oryx, and other rare animals that can be observed up close. At the Natural History Museum and the Botanical Garden, you can learn more about the flora and fauna of the Arabian Peninsula. Additionally, you can take walks amid the flora and fauna in the nature reserve, and children can visit the petting zoo with farm animals.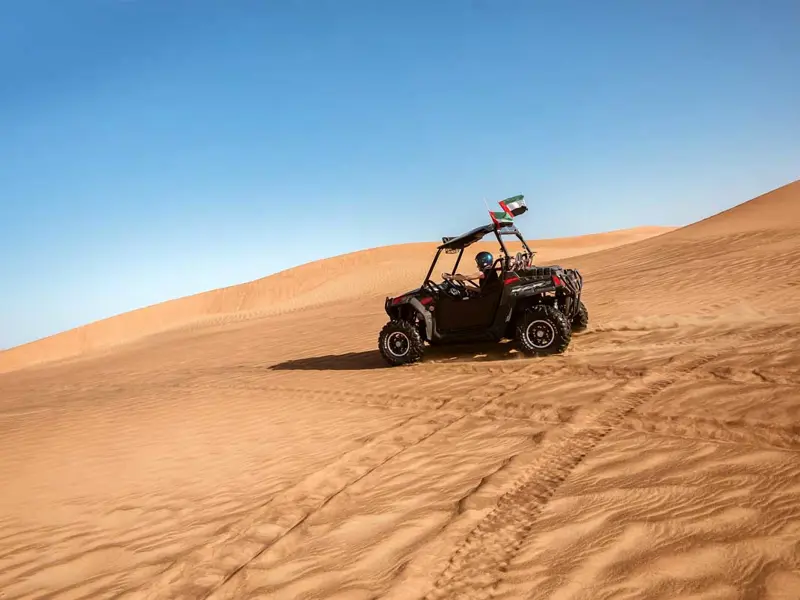 Adventure at Big Red
Al Badayer (Big Red) is a historic desert formation perfect for adventurous activities and is located near Al Badayer, approximately 65 kilometers southeast of downtown Sharjah. Big Red is the largest sand dune near the city, an ideal spot for desert sports and panoramic views. Here, you can engage in dune bashing (riding the sand waves in off-road vehicles), four-wheel quad biking, and sand skiing. You can also rent quads, dirt bikes, and buggies on-site. Big Red offers adventurous sports suitable for children as well, and they can enjoy short family hikes and sunset picnics on a sea of red sand.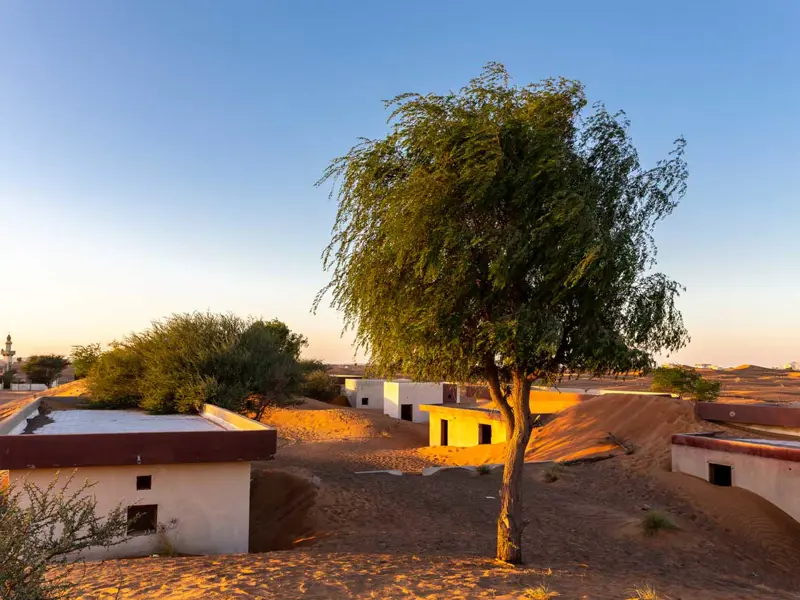 Al Madam Buried Village Foto: Copyright © Sisterscom.com / Depositphotos
Al Madam Buried Village
It's a small abandoned village nestled among the desert dunes in the Madam area, shrouded in mystery: a captivating destination to explore, appealing to adventure enthusiasts, explorers, and photographers.
You can stroll through the abandoned houses and points of interest that are said to have imaginary stories.
Built as part of a public housing project after the formation of the United Arab Emirates in 1971, the Buried Village once housed a semi-nomadic Bedouin tribe. About twenty years later, it is presumed that the residents were forced to leave the village due to tumultuous natural conditions and desert winds.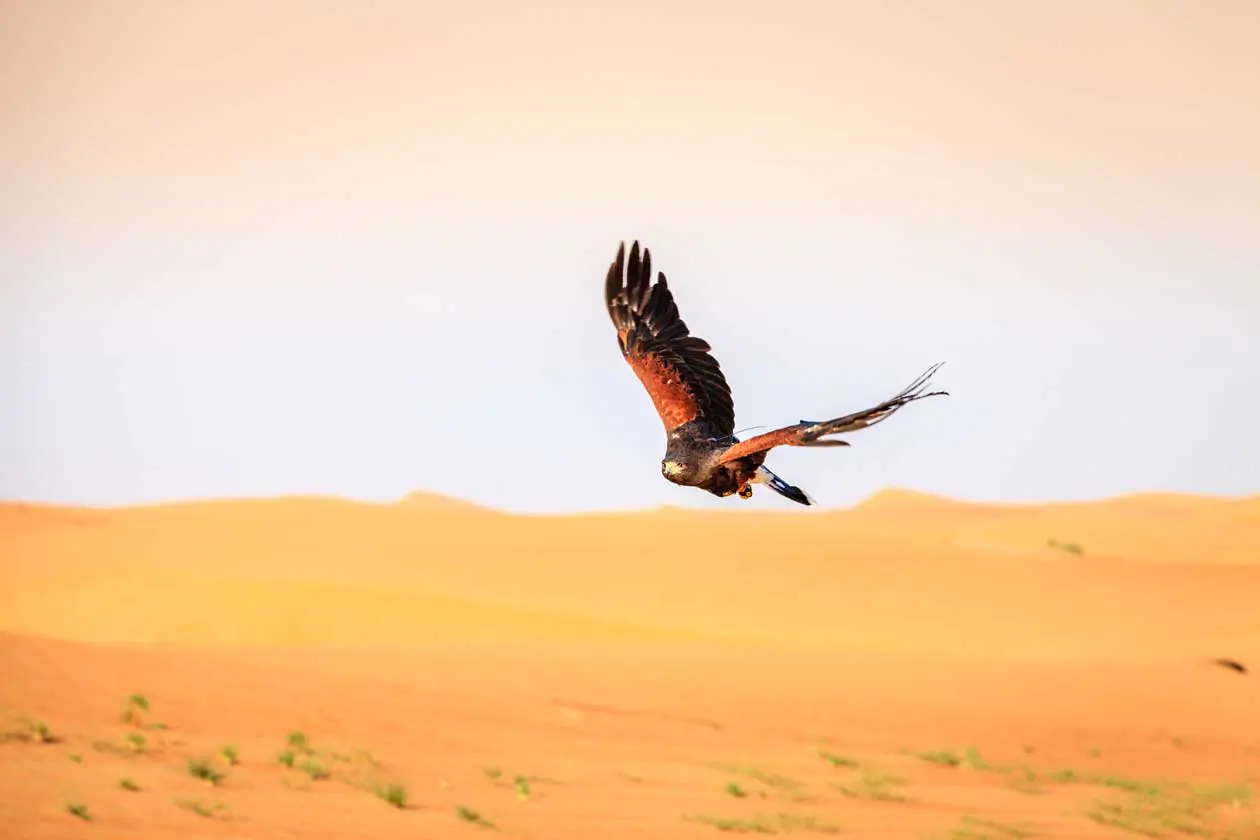 Falconry in the desert. Photo: Copyright © Sisterscom.com / Depositphotos
Khor Kalba Nature Reserve with Bird of Prey Observation and Falconry
Bedouin tribes have a long tradition of hunting with native raptors and falconry. Enthusiasts can visit the Kalba Bird of Prey Center, a wildlife center in Sharjah dedicated to birds of prey, offering free-flight demonstrations, aviaries featuring owls, eagles, hawks, vultures, and, of course, falcons. It's a wonderful experience to share with family and children, providing educational entertainment about Sharjah's wildlife. The center is located in Kalba, within the Khor Kalba Nature Reserve, one of Sharjah's must-visit places.
You might be interested in
Destinations found in the vicinity
Airports nearby Sharjah Desert Tour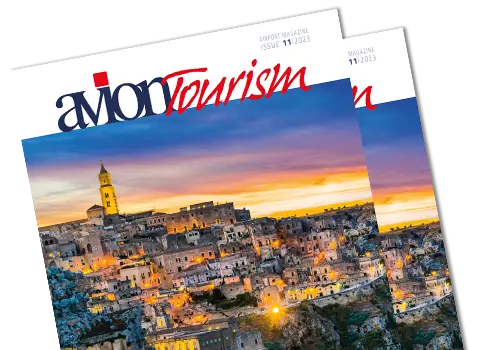 AVION TOURISM MAGAZINE
in digital version
On this issue: The World Heritage Sites of Basilicata and Puglia.