Toronto Pearson is Canada's largest and busiest airport.
Toronto Pearson Airport
is located in the city of Mississauga about 25 km northwest of
Toronto
, in Canada. It is the primary airport of the southern
Ontario region
.
Toronto Pearson International Airport is the main hub of
Air Canada
, the Canadian flag carrier. 

INFORMATION
Management company: Greater Toronto Airports Authority (GTAA)

TECHNICAL DATA
IATA code: YYZ
ICAO code: CYYZ
National code: CA

Flights

Transport to/from the airport
Train
Train to / from downtown
Toronto
and surrounding suburbs.
Union Pearson Express is a rail connection, dedicated to passengers of Toronto Pearson International Airport, with Union Station, in the heart of downtown Toronto.
The journey takes 25 minutes, with trains leaving every 15 minutes. There are also stops at Bloor and Weston stations. Trains operate from 5:30 am to 1:00 am.
Terminal Link Train
Terminal Link train offers 24/7 transportation and connect to:
Terminal 1
Terminal 3 and the Sheraton Gateway Hotel
Viscount Station and the Value Park, Lot Park and ALT Hotel
Bus
From every area of ​​Toronto, Toronto Airport can be reached by public transport and vice versa.
Local bus service of the city of Brampton and vice versa.
Bus to / from downtown Toronto and surrounding suburbs. Bus service is available directly from the airport terminal.
Bus with daily routes from destinations in Ontario and the northern United States to the airport and vice versa.
Local bus service from the city of Mississauga to the airport and vice versa.
Express bus and underground to / from downtown Toronto and airport to T1 and T3.
Shuttle services and extra-urban buses
Several companies offer bus and shuttle services to and from Toronto Pearson to destinations in Ontario, US cities such as Buffalo and Detroit.
Car
The airport is 25 kilometers from Toronto, via Gardiner Expy W and ON-427 N, in about 25 minutes.
Taxi 
Taxis and limousines serve Toronto Pearson to / from the city and suburbs. Pick-up at the airport at T1 and T3.

Car hire
The main car rental companies are at the airport.
Text by Alisè Vitri
Photo: Sisterscom.com, 
Shutterstock
Copyright © Sisterscom.com
Updated July 2018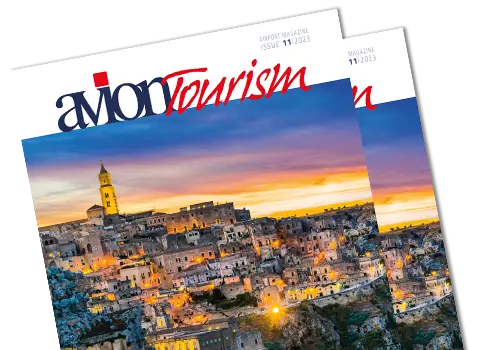 AVION TOURISM MAGAZINE
in digital version
On this issue: The World Heritage Sites of Basilicata and Puglia.