Shanghai Pudong International Airport
is one of the main
hubs of China
, and mainly offers international flights. It is located about 30 kilometers from the city
center of Shanghai
.
The airport is the main hub of several airlines such as Air China, China Eastern Airlines, Shanghai Airlines, China Southern Airlines, Juneyao Airlines and Spring Airlines.

Pudong Airport has two passenger terminals and four runways and is engaged for expansion with a third passenger terminal, a satellite terminal and two more runways.
Another major airport in the city is Shanghai Hongqiao International Airport serving national and regional flights and is connected to Pudong Airport via the Shanghai Metro Line 2 and Shanghai Maglev train via the airport station Pudong International.
INFORMATION
Management company: Shanghai Airport (Group) Co., Ltd.
Address: S1 Yingbin Expy, Pudong Xinqu, Shanghai Shi, Cina
Telephone
: Service Hotline: 021-96990,Complaints Hotline: 021-68347575
Website
: 
www.shairport.com

TECHNICAL DATA
IATA code: PVG
ICAO code: ZSPD
National code: CN

Flights


Transport to/from the airport
Metro
Terminal 1 and Terminal 2:
Metro Line 2 (Pudong International Airport - Guanglan Rd)
Main Stops: Haitiansan Rd, Yuandong Avenue, Lingkong Rd, Chuansha, East Huaxia Rd, East Chuangxin Rd, Tang Town.
Metro Line 2 (Guanglan Rd - East Xujing Subway Station)
Main Stops: Longyang Rd, Zhangjiang Hi-Tech Park, Century Park, Lujiazui, People's Square, Jing'an Temple, Zhongshan Park, Hongqiao Airport Terminal 2.
Bus
From Terminal 1 and Terminal 2 Bus to:
Hongqiao Traffic Hub East Center, City Terminal (Jing'an Temple), Hongkou Football Stadium (Huayuan Rd), Shanghai Railway Station, Shanghai South Railway Station, Nanhui Bus Station, East Xinjian Rd - Baocheng Rd, Hangcheng Park, Disney's West Transit Hub.
Shuttle Bus
Shuttle bus terminal between T1 and T2.
Car
To and from the center of Shanghai via S20 外环 高速 and S32 申 嘉湖 高速 in about 40 minutes.
Taxi 
Outside the 2 terminals, taxis are available for all destinations of the city.
Text by Alisè Vitri
Photo: Sisterscom.com, 
Shutterstock
Copyright © Sisterscom.com
Updated July 2018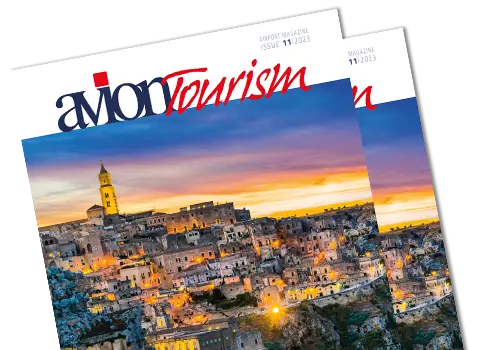 AVION TOURISM MAGAZINE
in digital version
On this issue: The World Heritage Sites of Basilicata and Puglia.