Incheon International Airport
is the largest airport in
South Korea
, and one of the busiest airports in the world. Is is located approximately 1 hour from downtown
Seoul
.
The airport opened for business on 2001 to replace the older
Gimpo International Airport
, which serves mostly domestic destinations and flights to several East Asian metropolitan areas.
Incheon Airport has spa, hotel, indoor gardens, Smoking Area, Movie Theater, duty-free shopping mall, Kids Zone, Observatory deck and Exhibition/Museum of Korean Culture. 
In 2018, it recorded 68M passengers and 2.9M tons of cargo with the new opening of Terminal 2, and is one of the top 5 airports in the world in terms of international passengers. 

As a Northeast Asian hub airport, it is an innovative airport and, through a new construction project, it will expand capacity to 100M passengers by 2023.
INFORMATION
Management company: Incheon International Airport Corporation
Telephone: 1577-2600
Address:
 Incheon Jung-gu Gonghang-ro 424 beon-gil 47
Terminal 1: 272, Gonghang-ro, Jung-gu, Incheon, Repubblica di Corea 22382
Terminal 2 : 446, Je2terminal-daero, Jung-gu, Incheon, Repubblica di Corea 22382
Website
: 
www.airport.kr

TECHNICAL DATA
IATA code: ICN
ICAO code: RKSI
National code: KR

Flights


Transport to/from the airport
Train
Railway line (Arex)
The railway line (Arex) connects downtown Seoul with Incheon International Airport and
Gimpo Airport
.
The lines are two:
the All Stop train that stops at each station and takes about 60 minutes.
the Express train that connects Incheon Airport to Seoul Station in about 40 minutes.
Maglev Train / Airport Train
The line connects Incheon Airport with Yongyu Station and vice versa. Located at Terminal 1, Transit Center Floor 2.
Stops: Incheon International Airport; Long-Term Parking; Complex; Paradise city; Water park; Yongyu Station.
Bus
Limousine bus (Seoul/Gyonggi/Local)
Urban public transport with buses available from/to Incheon airport (Terminals 1 and 2) from all major areas of
Seoul
.
Incheon Bus
This line operates only from Terminal 1 and to go to Terminal 2 take the free shuttle to Terminal 1.
Taxi 
Taxis are located outside Terminals 1 and 2 at Arrivals.
Car Rental
At Incheon Airport you can rent cars at the airport with AJ Rent Car and Lotte Rent Car both at Terminal 1 and at Terminal 2.
Updated September 2019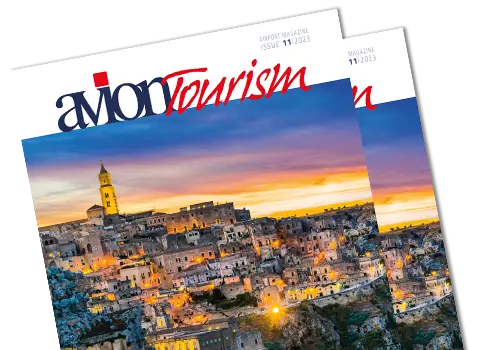 AVION TOURISM MAGAZINE
in digital version
On this issue: The World Heritage Sites of Basilicata and Puglia.